Who doesn't love Browned Butter? Who doesn't love homemade Cake? Combine them together to make one bada** Browned Butter Christmas Cake that even Santa will come down the chimney for!
Browned Butter is really the star of this cake opera. Something magical happens when sweet cream butter becomes buerre noisette. The layer of complexity that is added to a fairly straightforward vanilla cake, can only be described as "OMG! What is in this cake?". Only you will know… shhhh buerre noisette! 
Last week, after a pretty long day of Trunk Show madness, my mom convinced me that we needed to make this cake. She sent me out to forage for pinecones and branches while she pulled out all of the cake and frosting ingredients. We turned on some Christmas music, poured a few glasses of wine and together made this delicious beauty. Seldom are cakes as good to look at as to eat, but I promise you this Browned Butter Cake with the easiest Cream Cheese frosting will not disappoint. The smell of browned butter wafting through your kitchen is reason enough to bake this baby!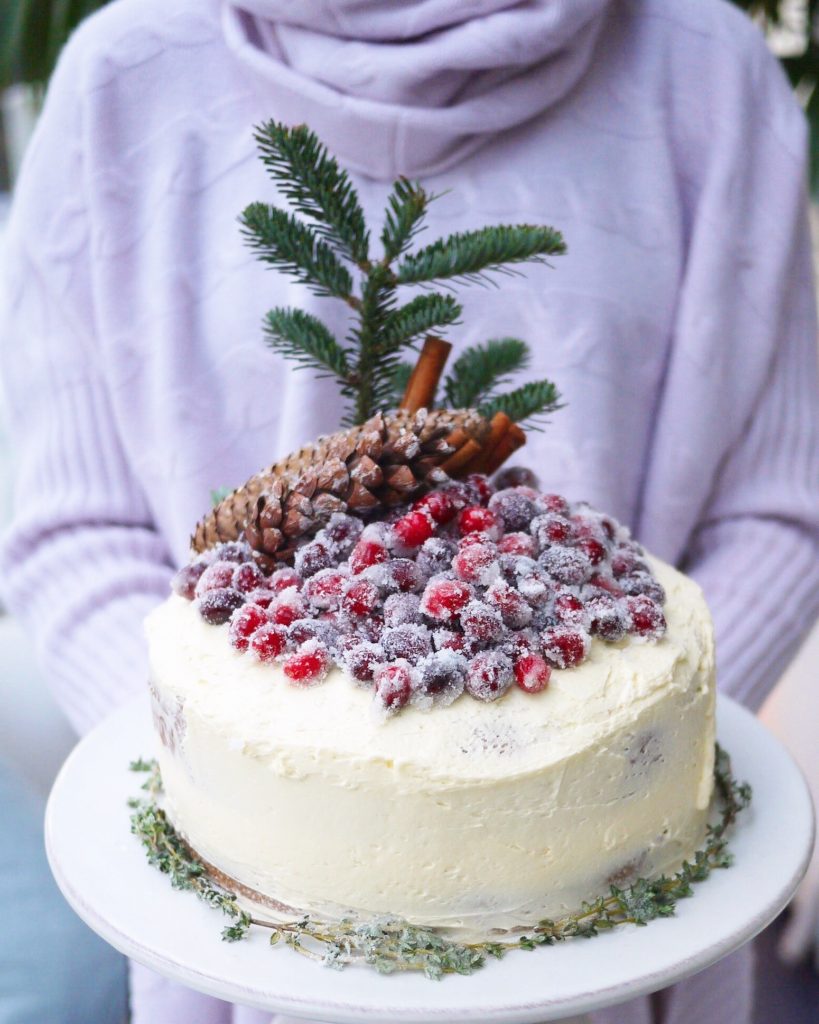 I Spy with my little eye… Buggy Lavender Sweater!
In the spirit of giving, I gave my mother the task of putting pen to paper and forced her to share her Browned Butter Cake Recipe! Enjoy!

Browned Butter Christmas Cake
Ingredients
3½ cups cake flour
1 teaspoon salt
1 teaspoon baking powder
2 teaspoons baking soda
1¾ cups sugar
2 sticks (1 cup) unsalted butter, softened
4 large eggs
1½ cups whole milk
2 teaspoons vanilla
1 vanilla bean, split in half lengthwise and seeds scraped*
*if you do not have a vanilla bean, replace with 2 teaspoons of rum or bourbon if desired for additional depth of flavor for a grown up tasting cake!


Cream Cheese Frosting
2 sticks (1/2 pound) unsalted butter
1 pound cream(2 boxes) cheese
2 teaspoons vanilla
pinch of salt
2 cups confectioners sugar,sifted


Sugared Cranberries and Thyme Leaves
1 egg white
1 tablespoon water
2 cups sugar
2 cups cranberries
6-8 sprigs thyme
Instructions
Preheat oven to 350F. All ingredients should be at room temperature. Butter and flour 2, 8 or 9 inch cake pans. (8" will make for a higher cake and 9" will feed a crowd with ease). Make sure to tap out excess flour. Set aside.
Brown your butter! Place 2 sticks of butter preferably in a light colored pan (it's easier to judge how dark your butter is becoming). Heat butter on medium high, swirling constantly. The butter will melt, then bubble and finally will foam. As foam subsides you will smell the most wonderful nutty aroma. The butter should be a deep caramel color. At this point, lower your heat and swirl a few more times. Et voila! Browned Butter!
Pour butter in a freezer safe bowl (Pyrex is great) and chill for about 15 minutes. When there is some congealed fat on the sides and some of the solids have solidified you're in business.
Mix Dry Ingredients: Whisk together flour, salt, baking powder, baking soda. Set aside.
Mix Wet Ingredients: In a separate bowl combine milk, vanilla extract and vanilla beans (or bourbon, rum if you don't have vanilla beans). Set aside.
In the bowl of a mixer add chilled butter and beat for about one minute. Add the sugar and beat until a bit fluffy and slightly paler in color, about 1 minute. Add the eggs, one at a time. Beat until well combined. Scrape down the bowl to make sure everything is well incorporated.
Add the wet and dry ingredients you have set aside. Beginning with flour, alternate adding dry and wet ingredients into the batter in thirds. Do NOT over mix or you will have a dry, tough cake.
Pour cake mixture evenly into prepared cake pans. Tap down to release any air bubbles. Bake at 350 degrees for approximately 30-35 minutes. Cool in pans for 10 minutes. Turn out onto wire rack to cool.


Cream Cheese Frosting
Whip Cream cheese until softened. Add butter, salt and vanilla. Continue beating until smooth and glossy, about one minute. Lower mixer speed, add confectioners' sugar slowly. Continue beating until well combined. Do not over beat.
*If you have a KitchenAid Stand mixer, use your paddle attachment. Alternatively, a hand held mixer is fine, just beat a while longer. Just remember beat the cream cheese and butter until light and fluffy but once you add confectioners sugar do not over mix or you will have a gummy tasting frosting!
To Assemble the cake: Put a teaspoon of frosting on center of cake stand to secure the cake. Place one layer, top side down and spread with frosting. Place second layer on top of first.
If you desire a completely flat cake with no dome, use a serrated knife to square off the top. Frost top and sides of cake with remaining frosting.
For a very smooth looking cake, crumb coat top and sides with approximately ⅓ of frosting and chill for 20 minutes. Spread remainder of frosting on top and sides of cake. Wet a palette knife with warm water. Wipe off water and quickly smooth top and sides.


Sugared Cranberries and Thyme
Make egg wash: whisk together egg white and water in a small bowl. Pour granulated sugar on a flat plate or shallow bowl (a pie plate works great). Dump cranberries in egg mixture. Mix to combine.
Roll each cranberry in sugar mixture and place on waxed or parchment paper to dry. Repeat process with thyme.
*the amount of cranberries you use is completely up to you.Should you have any leftover sugared cranberries they are quite delightful with a glass of bubbly!
*don't throw away egg wash mixture just yet. If you are planning on decorating your cake with pinecones and evergreen branches, a little bit of egg wash brushed onto the cones and branches, then sprinkled with sanding sugar will send your cake over the top!
*This is totally up to you! But for the Holiday Season, I say why not gild the lily? Cranberries, pine cones, tree branches and cinnamon sticks are all welcome to this party!
Enjoy!!!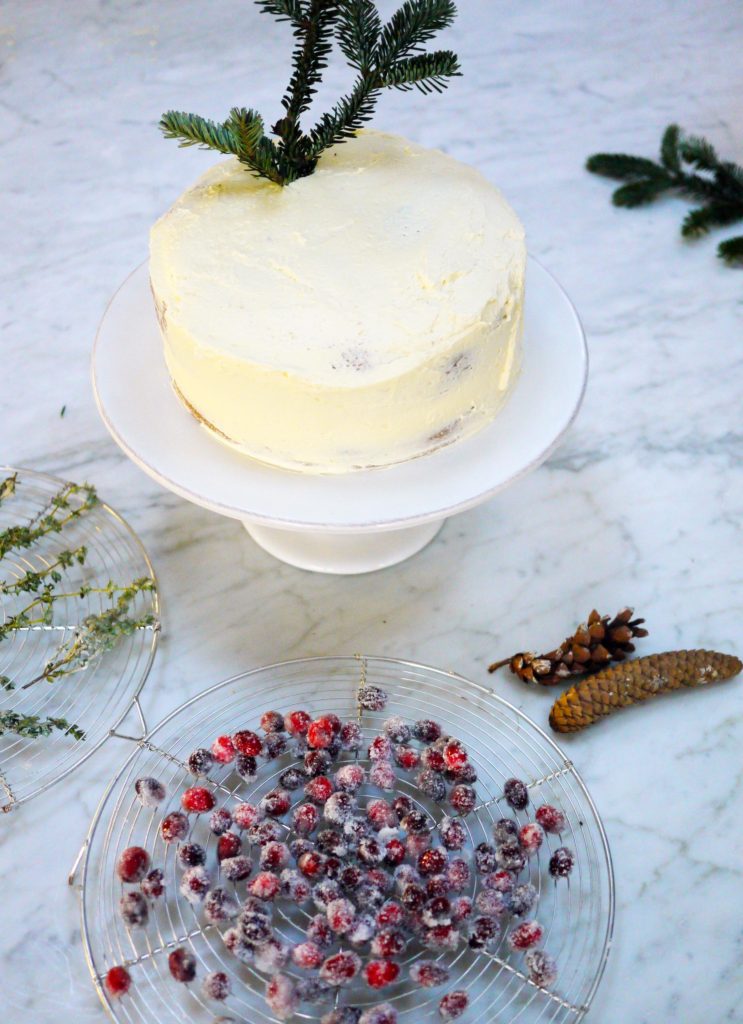 This Browned Butter Cake might look complicated, but broken down into steps it's actually pretty easy! In a rush? Forgo the cranberries and add Christmas ornaments, pinecones, cinnamon sticks or clip a few branches from your Christmas tree!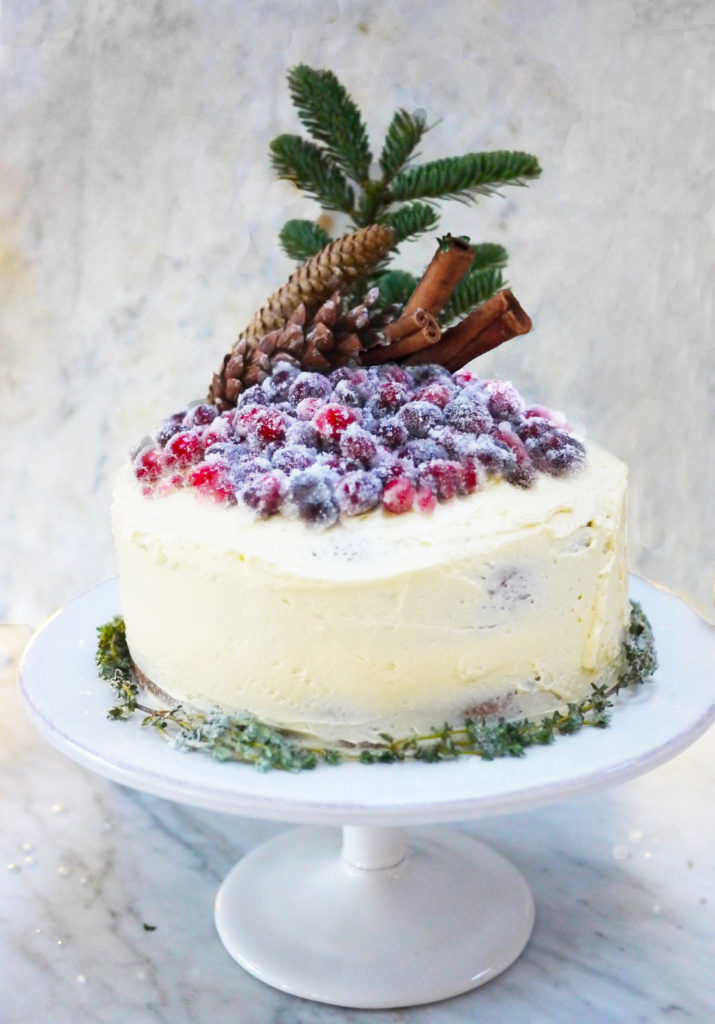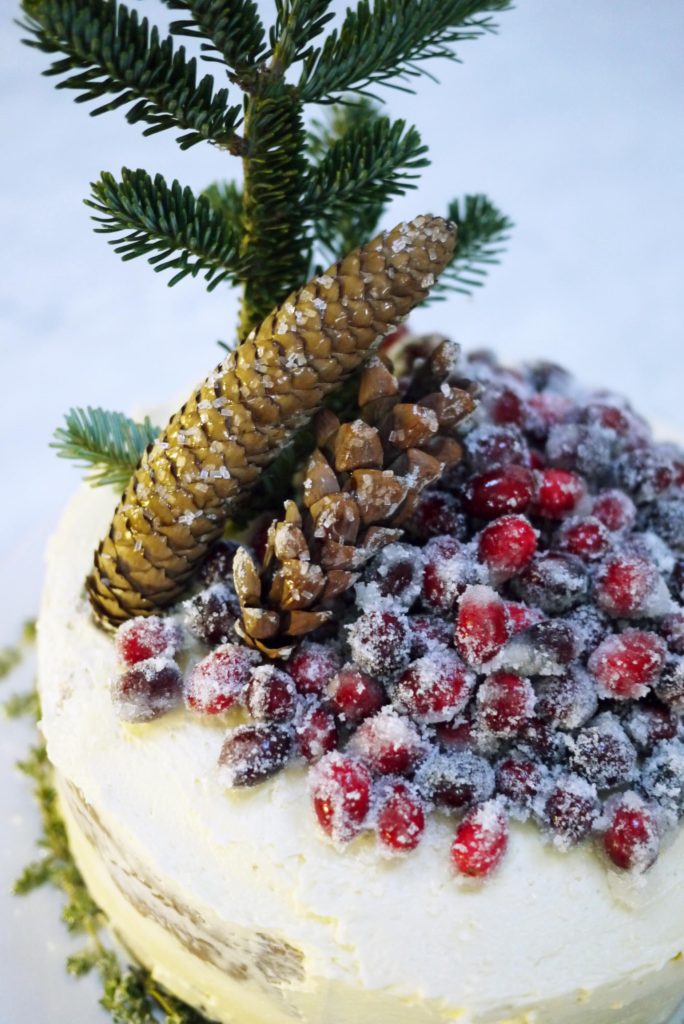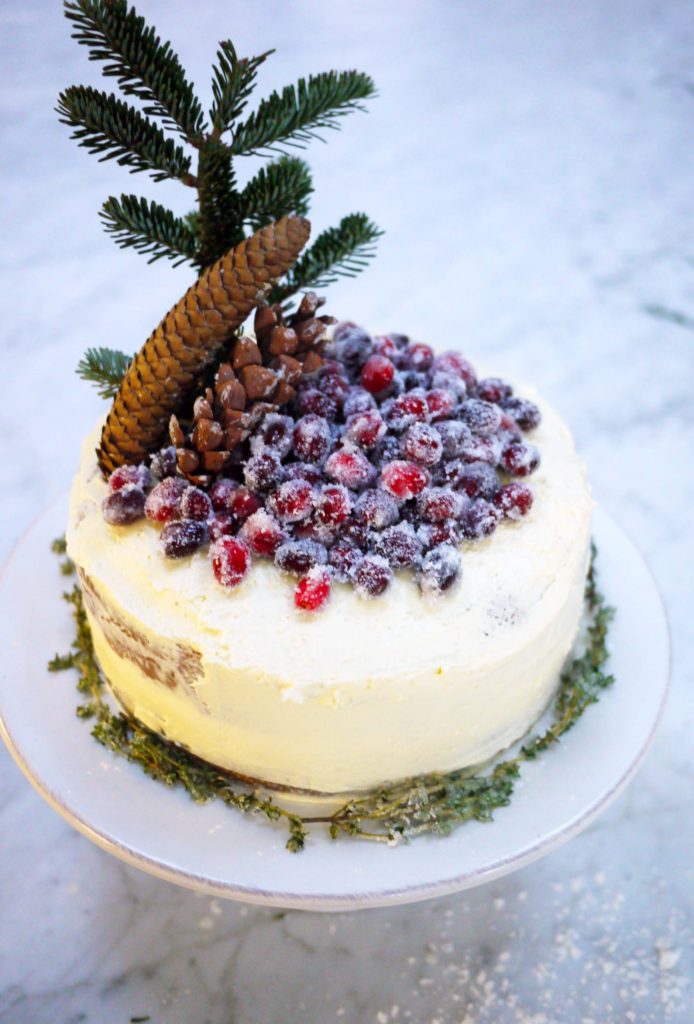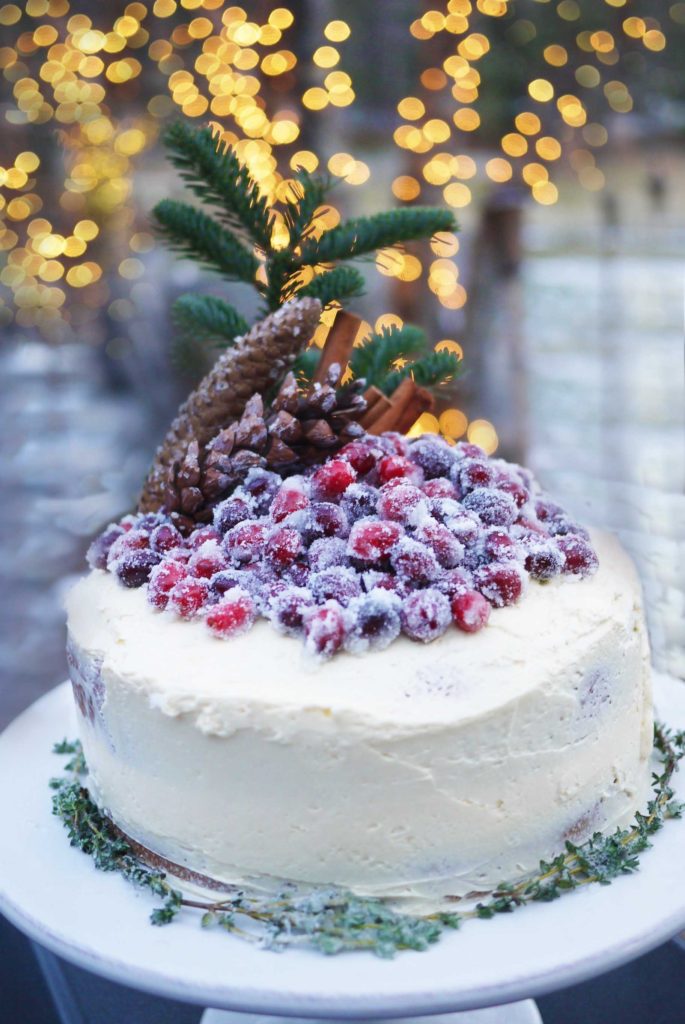 Merry Christmas and the Happiest of Holidays!! xxx Bug