New Year resolutions can be a double edged sword. Proclaim you are ready to diet, swear off alcohol and sugar, and learn to budget/save better at your own peril! For if you fail sometime in January with your resolution proclamation you risk having any semblance of street cred just shot!!! "Things" can get in the way of well intentioned resolutions. A cute boy, a cold night and a dirty martini (extra olives please!) in front of a fire- well there goes 300 calories…but I digress.
If you're like me, you have pressed the restart button, vowing to get healthier in the New Year! Well, week 2 is upon us and so far so good. I sadly ditched ClassPass as my work schedule proved to be too unpredictable and have joined Equinox. Yup, I feel like a real a grownup! The NYC SoHo and Union Square Equinox locations have been great. There are tons of classes and grabbing a treadmill has been pretty easy. For those of you on the go, Union Square has great salads at pretty affordable prices. If you love the convenience of smoothies and juices and don't live near a juice bar I have a recipe I think you will love- and super easy to make!
Juices and smoothies are an excellent way to get a boost of nutrients and vitamins. However, smoothies not only stain your teeth but can actually permanently damage them. This is due to the natural sugars in fruits and vegetables that can cause tooth decay or dental erosion. The acid in fruits and vegetables can cause the enamel to erode, making teeth vulnerable to staining. Additionally, dark fruits like blackberries and blueberries can also cause your teeth to discolor. Consequently, if you are embarking on a diet that incorporates large quantities of juices or smoothies, you must remember to arrange a check-up with a Dentist in Brentwood or a dentist in your area at least once every six months for an overview of your oral health. Ultimately, as with any health-related matter, it is vital that you do your research before trying any diets.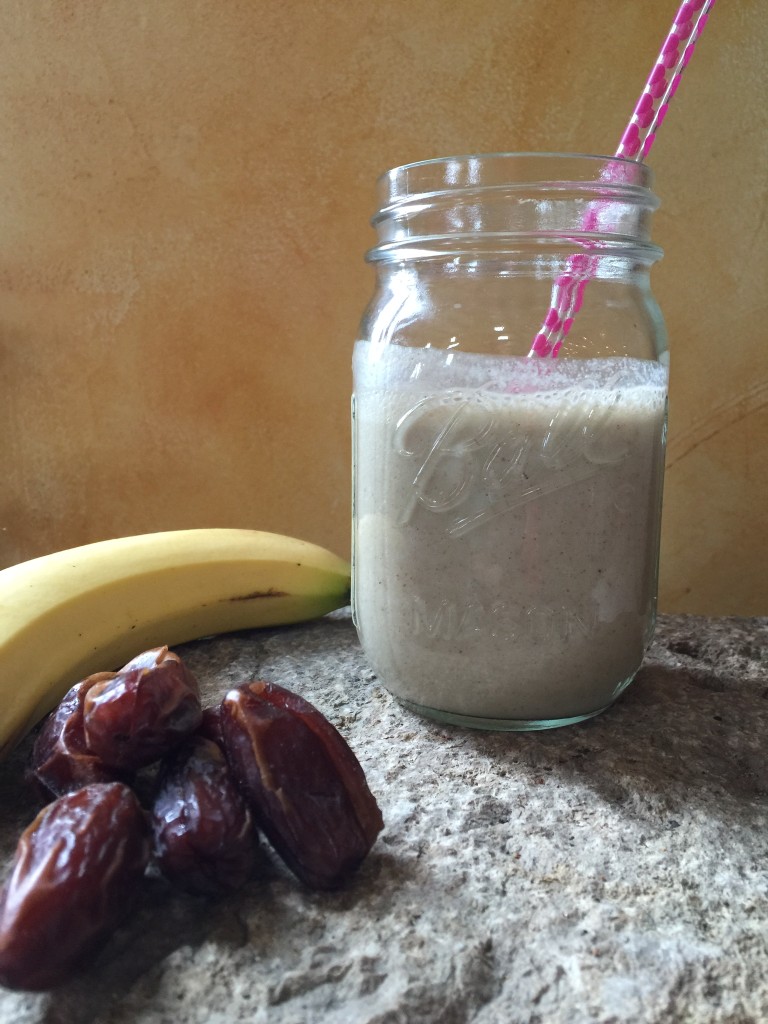 That being said, you absolutely can enjoy smoothies and juices in moderation so I have some standby juice recipes (link here) I've been experimenting with that contain lots of new fruit and veg combinations. This Banana Date Almond Smoothie recipe is my current fave. I drink a bit before a run and finish the rest post run. And here's the good news, this baby packs a huge nutritional wallop with every sip. Almond butter gives you a bit of protein, bananas are great for muscle repair, flax and chia seeds are high in antioxidants and Omega 3's. Oranges are loaded with vitamin C and apples help regulate blood sugar and along with dates provide additional dietary fiber. So- what are you waiting for? Whirr up a batch of Banana Date and Almond Smoothies with Flax and Chia Seeds today! Make extra for the fridge and have fun experimenting!
What are your New Year Resolutions??

Banana Date and Almond Smoothie with Flax and Chia seeds
Ingredients
2 Cups almond milk
6 medjool pitted dates
2 bananas(preferably frozen)
1 green apple(quartered, with skin and seeds removed if desired)
1 orange(peeled)
2 Tablespoons almond butter
1Tablespoon Chia Seeds
2 Tablespoons Flax seeds
½ teaspoon vanilla
⅛ teaspoon cinnamon
¼ teaspoon nutmeg
12 ice cubes
Instructions
Place all ingredients in a blender and blend until smooth. Pour into your favorite tall glass or Mason jar. Enjoy!
If you are lucky enough to have a Vitamix and are using organic apples, feel free to quarter apple and keep skin and seeds intact.
This recipe lasts for up to 5 days in the fridge. The flavors become a bit more intense and still delicious.
Tips
Tips: If bananas are frozen you can cut down on the amount of ice. Start off with about 6 ice cubes and add more as needed. Do you want more volume for same amount of calories? Add water or more ice cubes.