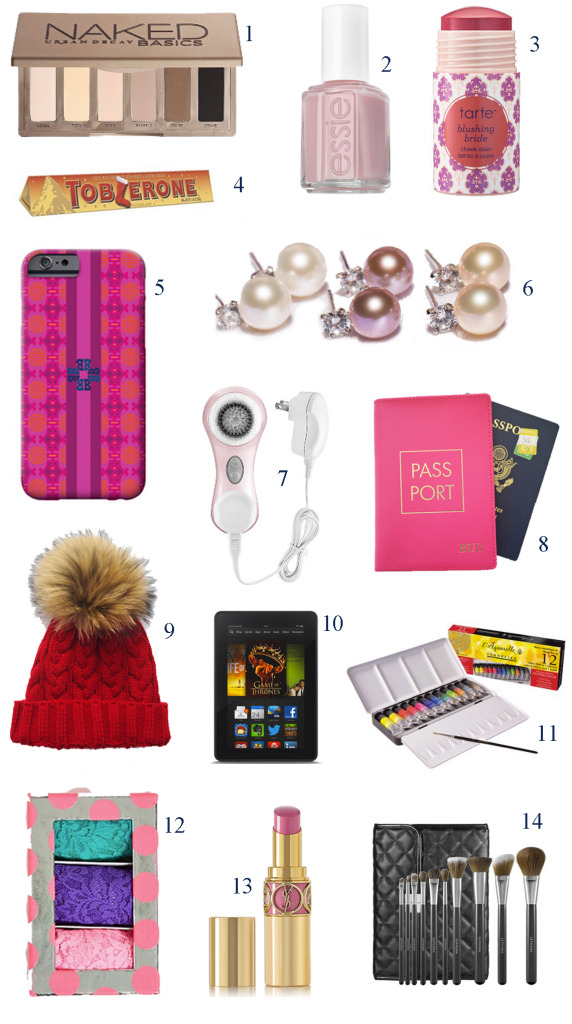 1. Urban Decay 'Naked Basics' Palette  2. Essie Polish (Mademoiselle is my go to)  3. Tarte Cheek Stain (my favorite is Blushing Bride color)
4.  Huge Toblerone Bar  5. Monogram Cell Phone Case (order by tonight for regular shipping)
6. Affordable Pearl Earrings  7. Clarisonic  8. Monogram Passport Case (order by tonight for regular shipping)
 9. Affordable Fur Pompom Hat  10. Kindle Fire  11. Watercolor Travel Set
12. Hanky Panky Boxed Set   13. YSL Lipstick  14. Makeup Brush Set 
Well, we've offered up our favorite Christmas Gifts for Men and our Favorite Gifts for Women. Now it's time to focus on Stocking Stuffers for the Ladies. Like many of your I am pretty much in my office 24/7 during the holiday season. With the exception of a few shopping trips at my local favorite stores, I mostly rely on the internet for Holiday shopping. Stocking stuffers are usually the undoing for many Santa's. You had every intention that this year you were going to be more creative, but somehow it's December 24th and you are once again at your local drugstore roaming the aisles looking for anything to stuff in those stockings. About $200 later you leave with a bunch of junk that no one is that excited about.
This year is the year we are all going to get our acts together! Promise? Here is a little stocking stuffer guide to help you get started.
Thinking back on some of my favorite Stocking stuffer gifts these are tried and true. Let's start with chocolate because any self respecting stocking has to have some! Santa has always stuffed our stockings with Cadbury Chocolates and an oversized Toblerone. Then there is makeup. 'Naked Basics' Urban Decay Palette is my favorite eye shadow. If you haven't tried it I highly recommend giving it a go! It's written up on so many lists as a must-have and is already sold out at Sephora. Luckily Nordstrom has it in stock. Tarte Cheek Stain is my favorite for a 'cheeks just pinched' look and comes in adorable packaging.
Each year we receive a winter Hat or Gloves. This year I have the perfect hat for you – Buggy Designs Fur Pompom Hats! I know I am a little biased, but how cute would these look at the top of the stocking?
Being the only girl in my family, I think Santa always felt a bit bad that our house was over run with way too many boy toys. I think the reward for extreme patience with my naughty brothers was a little nugget of jewelry beautifully wrapped and found at the very tip of my Christmas Stocking each year. Some years I received very simple gifts of jewelry that were thoughtful and age appropriate (think charms for charm bracelet!), other years milestones were celebrated with pearls, diamond studs, a cross, and yes my favorite Hermes bangles I still wear every day. I so love the tradition of a little box at the tip of my stocking. I plan on passing this along to little Buglets someday! If Santa so desires – I have found some special Royal Cultured Freshwater Pearl Earrings at a terrific price.
Oh and about drugstore gifts… feel free to pick up gift cards! Who doesn't love a gift card?! Starbucks, itunes, Sephora – I love them all!
Do you have any fun Stocking Traditions?