Welcome to the Buggy Blog's second Splurge or Save face off! Last Splurge or Save Series, Stuart Weitzman's 5050 boot ($635) battled the affordable Over the Knee Boot by Chinese Laundry ($99). In the end the affordable over the knee boot won and earned a space in my closet.
Second time around, we are throwing down with a booties face off! Sounds cheeky, right?! Ankle boots, or booties, are what I like to think of as the most adaptable boot in your closet and a wardrobe staple. Booties are the perfect transitional boot. They move effortlessly from a day at the office to a evening out and about. Additional pluses are: ankle boots can be dressed up or down, tucked in or out of your jeans, easily fit in your gym bag and locker and don't take up lots of precious space in your suitcase when traveling. Good enough reasons for me!
Do you think these ankle boots put a dent in my bank account or not?
If you guessed a big old dent in the bank account, you are right! I wish I could say these Rag & Bone Harrow boots are a bargain, but these babies cost me much more than a pretty penny. More than I would like to admit. Hear me out though!
There is a reason Rag & Bone boots are all the rage. They are gorgeous, they fit so darn well and are extremely comfortable to boot! I could honestly walk miles in these Rag & Bone Harrow Boots, they are that comfortable.
From an aesthetic perspective the Rag and Bone Harrow boots have a really interesting design feature, that at first may go unnoticed. There is a v-shape cutout in the front of the boot that gives you a bit more leeway for tucking in your jeans. The added benefit is a more flattering fit and the illusion of longer legs as the Harrow Boot allows for more jean or legs au naturale to peek through. Who can resist boots that make us appear taller and slimmer?  Certainly not moi!
Here's the real kicker, the Rag & Bone Harrow boots even with their 3 1/2 inch heels are really comfortable. Rag & Bone has generously padded the insides of the Harrow boots making you think you can walk for miles in style! In my books, finding stylish boots that give me lots more height and are comfortable is a rare combination indeed. How could I resist?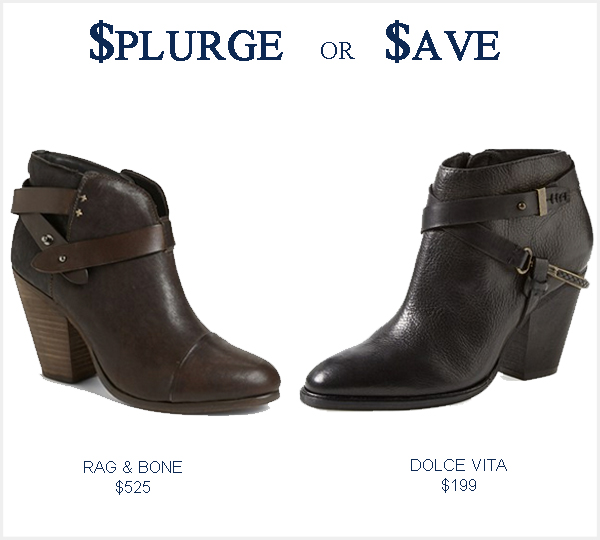 Rag & Bone Harrow Boots (order up 1/2 a size. I am 7.5 and the 38's fit perfectly!) (on sale here!) //  Dolce Vita Harlene Ankle Bootie
While the alternative to the Rag & Bone Harrow Boot is still not cheap, the Dolce Vita Ankle Bootie looks very similar. Sole Society also offers a great selection of affordable ankle boots (love these and these).
I looked high and low to find Rag & Bone Harrow Boots discounted. A fortuitous event has occurred! This morning, right before I posted this blog post, I decided to take one last look for any Rag & Bone boot sales. I have great news to report! As of this morning Saks is having huge SALE on Rag & Bone Boots!!! This hardly ever happens. Sizes are running out fast! Now is the best time to snag up these coveted boots. How great would a new pair of Rag & Bone boots look gift wrapped under the tree?!
What Save or Splurge would you like me to research next?!