Just like you should always have a go-to dressy outfit you can reliably wear time after time and always feel special wearing, similarly you should have a go-to Cocktail in your back pocket! Think about it, you're pressed for time, surprise guests have just called and they are five minutes away. What to do? Well, I have the most delicious Champagne Cocktail for you, perfect for any occasion.
Let me introduce you to our House Cocktail, The 1228.
My mother's House Cocktail of choice for years was the French 75, but in true fashion, she couldn't leave well enough alone. She set out to reinterpret a classic French 75. Cognac, Sugar Cubes and lemon zest are replaced with more complex flavors. Traditional cognac is transformed with Calvados, lemon zest with lemon juice and a sugar cube morphed into Spiced Simple Syrup redolent of the warm and spicy flavors of Cinnamon, Clove, Star Anise and Vanilla Bean.
The classic French 75 is no longer dancing a Waltz, rather The 1228 is luxuriating to a more modern yet sophisticated tempo.
Warning, this cocktail is unbelievably freakin' good. I am not given to superlatives easily, but I really mean it when I say this is the best Cocktail ever. Everyone who lays their lips on The 1228 say the same thing, that this is absolutely, positively their favorite Champagne Cocktail Recipe they have ever had! Don't believe me? Try it!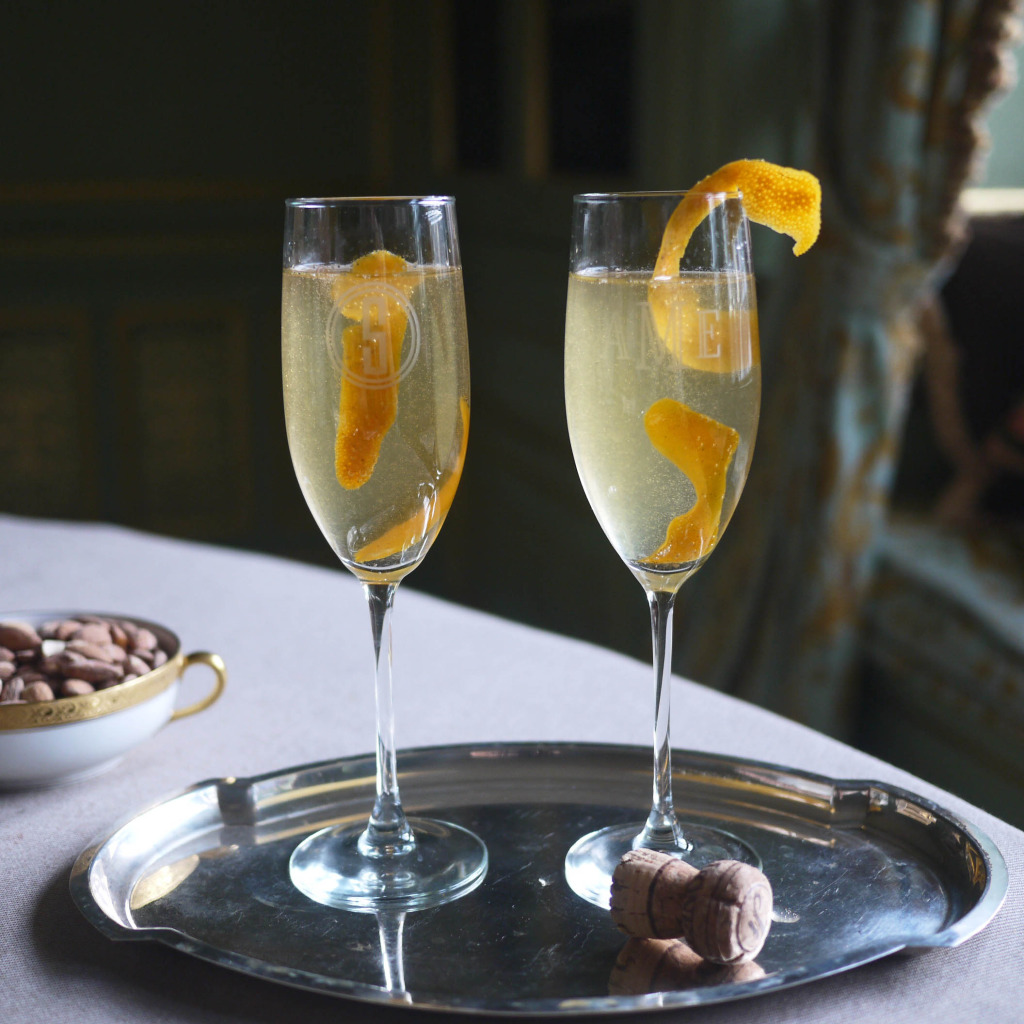 Cocktail Hour: The 1228 - A Modern French 75
Ingredients
1 oz Calvados
½ oz Fresh Lemon Juice
½ oz Spiced Simple Syrup
3 oz Prosecco or Champagne
Garnish with Orange Twist

Spiced Simple Syrup
3 cups water
3 cups sugar
5 small cinnamon sticks
6 star anise
6 cloves
1 vanilla bean (or 1 teaspoon vanilla extract)
rind of 2 oranges


Spiced Simple Syrup Instructions
With a small, sharp pairing knife, starting as close to the hook of the vanilla bean as possible, firmly run the tip of the paring knife down the length of the pod. Still holding the hook of the vanilla bean down, in a singular motion using the flat side of the knife scrape the vanilla bean pods out.
Bring the sugar, water, Clove, Cinnamon, Star Anise, Orange Rind, Vanilla Bean pods and Vanilla Bean to a boil in a saucepan over medium-high heat, stirring until sugar is dissolved. Remove from heat and let steep for at least 15 minutes before using. If using Vanilla Extract instead of Vanilla Bean, add extract at the end when the syrup is off heat.
Instructions
Add all ingredients except Champagne into a shaker with ice. Shake well and strain into a Champagne flute. Top with the Champagne or Prosecco and garnish with an orange twist.
Tips
*The measurements for this Champagne Cocktail (Modern French 75) Recipe are for 1 Cocktail. Feel free to forgo proper oz measurements and make a batch for a crowd. Basically ⅓ of your Champagne flute should be filled with the Spiced Simple Syrup, Calvados and Lemon Juice. ⅔ of your Champagne flute should be filled with Champagne or Prosecco. It's that easy!
*The Spiced Simple Syrup infused with Clove, Cinnamon, Star Anise, Vanilla Bean and Orange Rind can last you all winter if kept in a container in your fridge. This Spiced Simple Syrup Recipe makes a large batch. Delicious with whiskey or bourbon on ice (don't forget a lemon or orange twist!). Also delicious drizzled on citrus fruits!
*Great substitutions for Calvados are apple or pear liquor or brandy, cognac, whiskey and bourbon. Basically anything very strong in flavor!
*If you do not have a vanilla bean, use vanilla extract.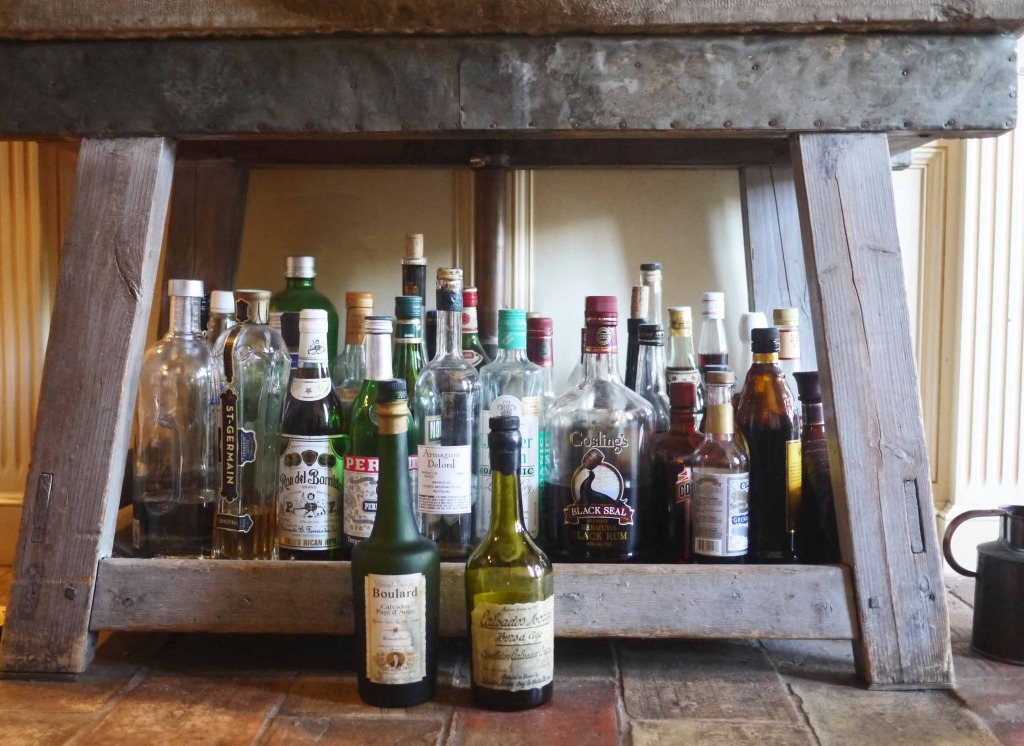 Monogram Cutting Board from Buggy Designs ($30). Perfect size for prepping your cocktails!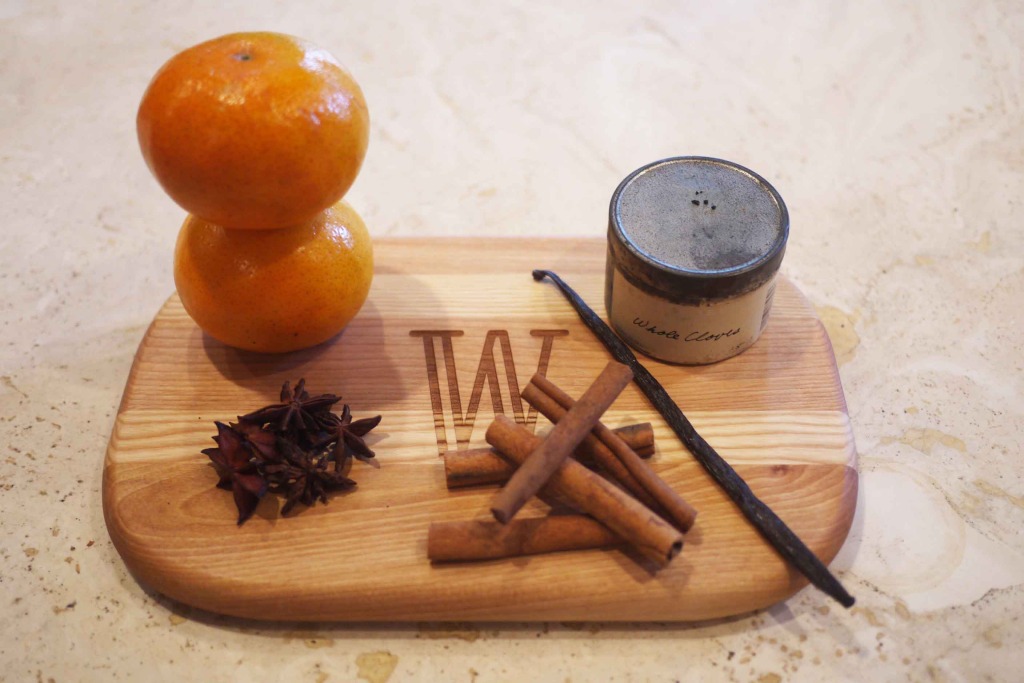 Check out the Vanilla Bean Pod deliciousness! The heady aroma the Spiced Simple Syrup lends to this cocktail is something else!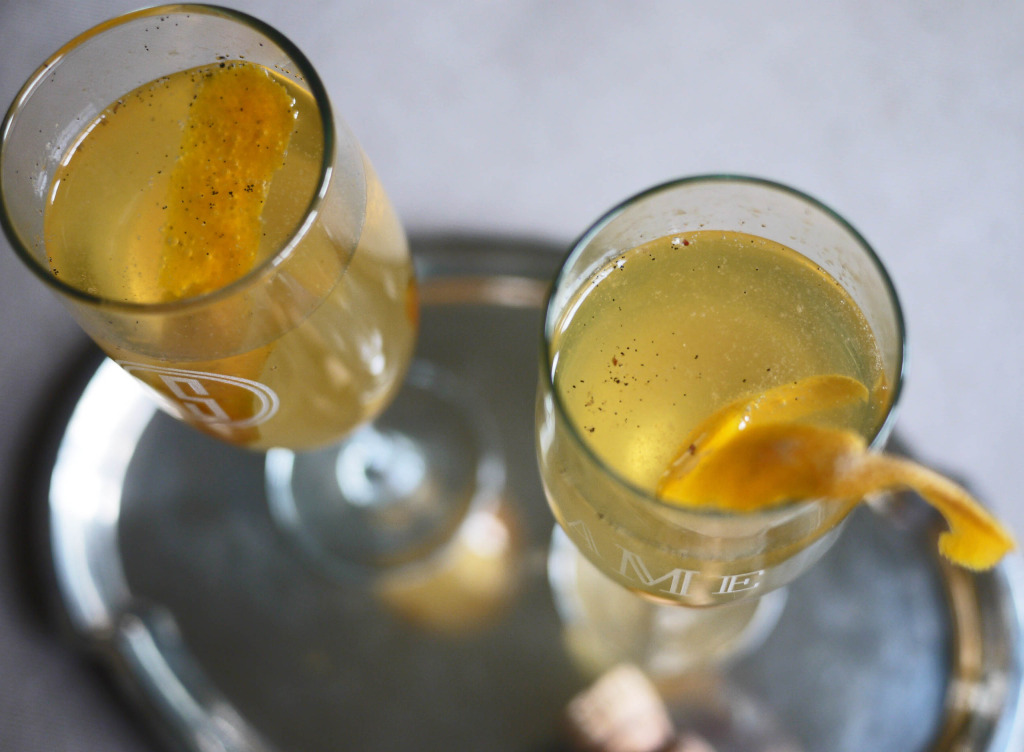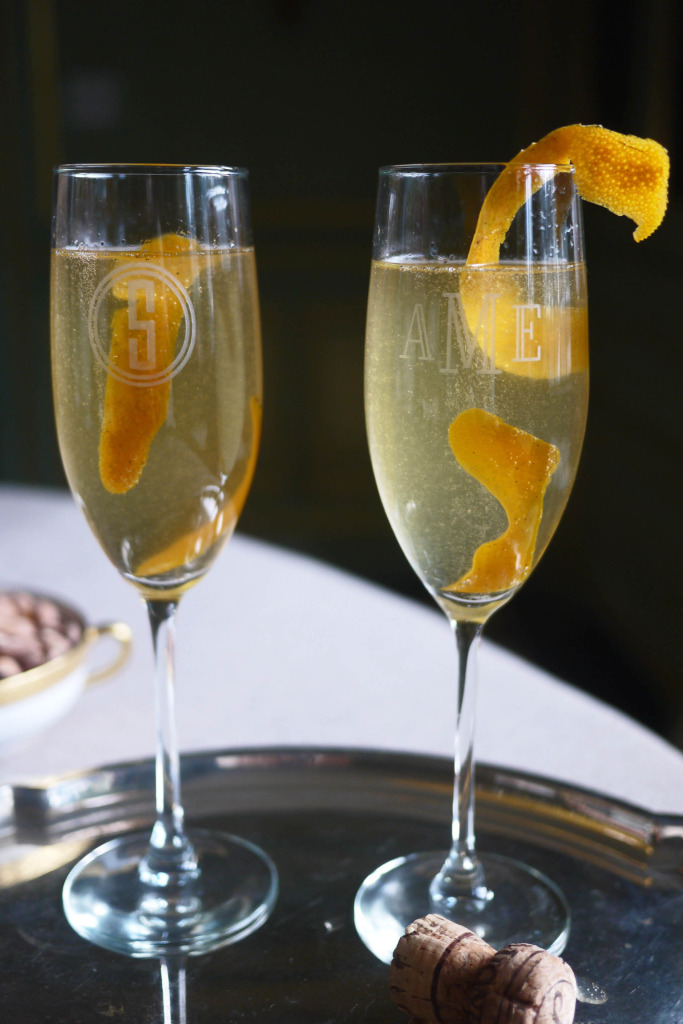 We enjoy The 1228 Champagne Cocktail with Buggy Designs Monogram Champagne Glasses. Looking for a great Holiday Hostess Gift? How about a set of Monogram Champagne Flutes and a bottle of Bubbly. Get extra brownie points by printing out the Recipe for The 1228 a modern French 75, and filling a mason jar with the incredible Spiced Simple Syrup!
Like its predecessor the French 75, The 1228 commands respect. A few sips in and you will immediately feel relaxed. Don't be fooled by the bubbles, The 1228 packs a punch!