Our clocks have turned back one hour. Fall temperatures have plummeted from crisp to downright chilly. Alas, all is not gloomy fellow New Englanders. Pumpkins are still making a final orange salute and good old fashioned farm stands like Wilson Farm in Lexington, MA are turning out the finest Apple Cider Donuts west of Fenway Park.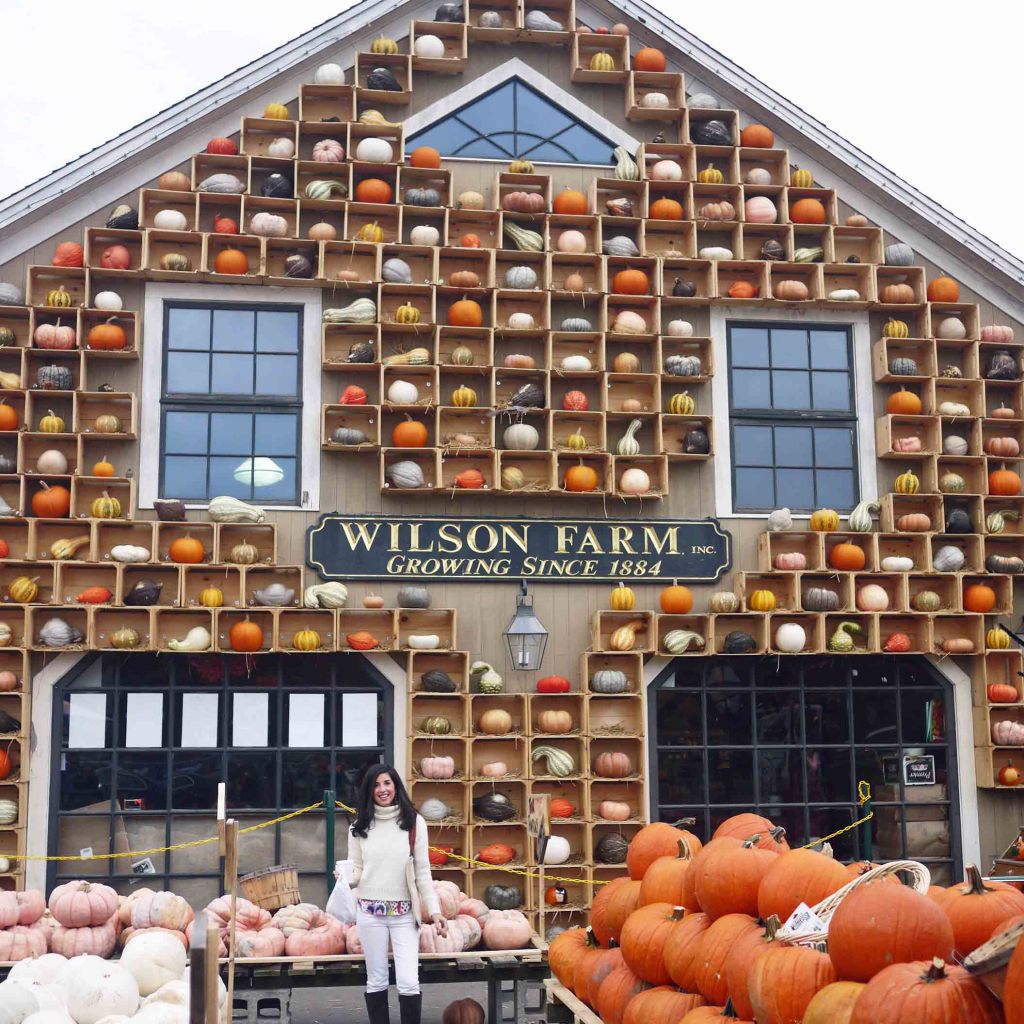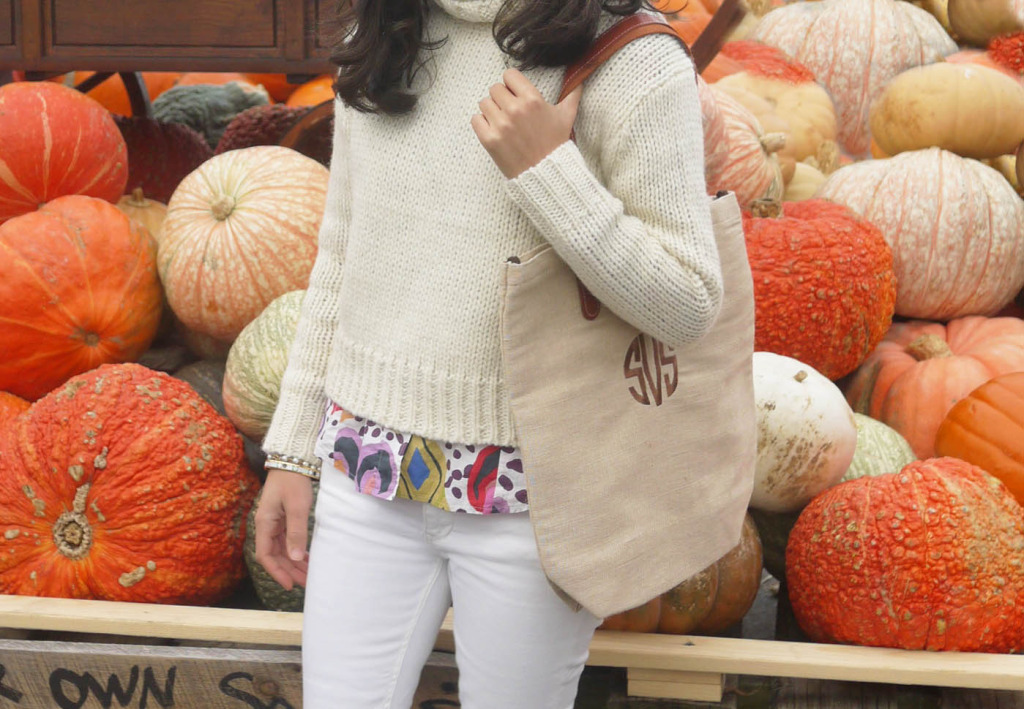 J.Crew Turtleneck Sweater (25% off!) // Etro Button Down old (similar)
Joe's White Jeans // Donald J Pliner Boots old (similar on sale!, similar , similar Tory Burch on sale!)
Monogram Jute and Leather Tote
This outfit is probably the most comfortable way to rock Winter Whites. I accessorized with pops of darker colors like brown boots, a monogram brown bag and a printed button down shirt to add a more Fall feel while keeping the look casual.
The J.Crew Sweater caught my eye because of the length. The sweater is still long enough to be worn alone with jeans but short enough that you can have fun playing with layers like wearing a longer length shirt underneath. I have a few old Etro shirts in my closet (thanks to mom) and loved how the shorter length sweater allowed me to show off the fun Italian print! I am equally in love with this J.Crew sweater in heather Rosebud (which looks like a Nantucket Red!). The Buggy Designs Monogram Jute Tote is my go-to Market bag for picking up fresh produce. The monogram bag is environmentally friendly, made with all natural materials. No need to ask for a brown paper bag when you have this stylish tote!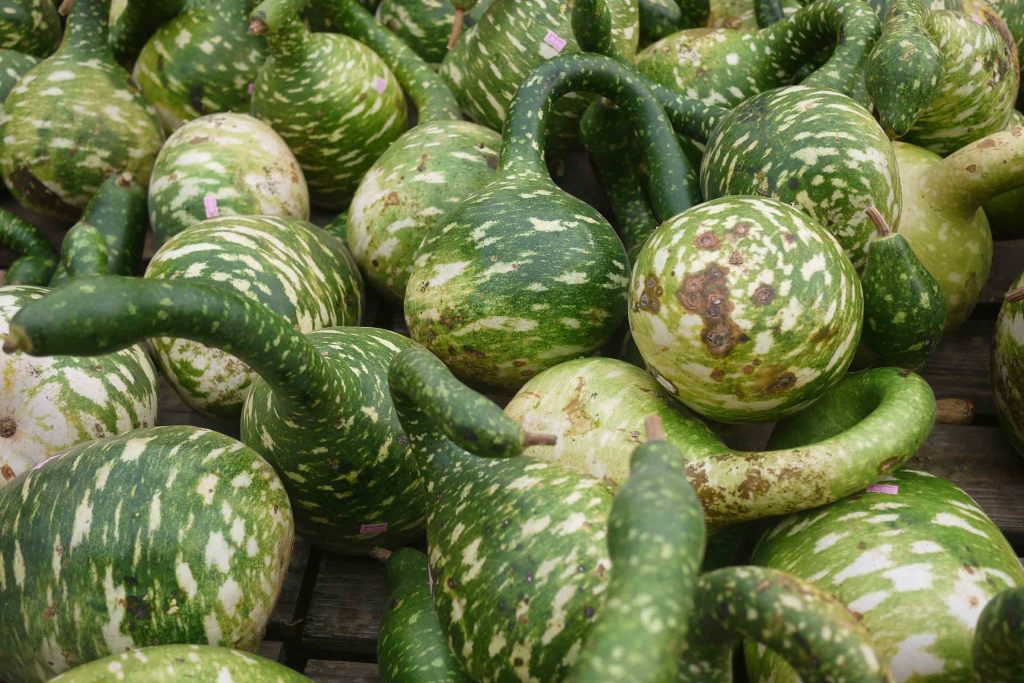 If you have been to Wilson Farm you will know that they make arguably The Best Cider Donuts in New England. I know I know, we each think our local orchard or farm stand serves up the best fall treat, but hear me out on this one.
Wilson Farm's cider donut batter is made from scratch each day and strikes a perfect balance of spicy, sweet and downright decadent. These delectable cider donuts are often served hot and crispy with a coating of cinnamon and sugar. During much of the fall season Adam can be found manning the Donut Robot machine, number 42 out of 100 machines manufactured. In 1942, The Donut Robot lived in Fort Knox and Fort Campbell, making donuts for our armed forces. Pretty cool military pedigree if you ask me!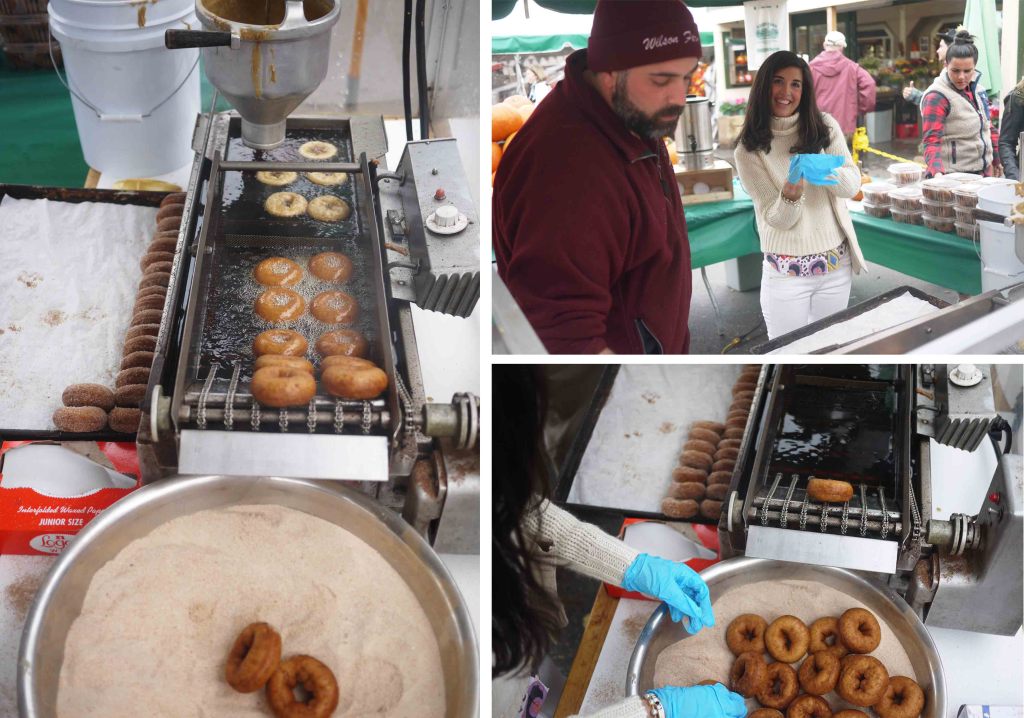 When I told Adam I wanted to write about Wilson Farm Cider Donuts for The Buggy Blog, he was psyched. Adam was extremely gracious and invited me to make cider donuts with him! At first I thought he was joking and then realized when he handed me a pair of gloves I knew we were in business. I made several dozen donuts, some apple cider donuts were cooked and coated perfectly in cinnamon sugar and others, not so much… we ate those!
FYI, Adam is the consummate professional. I received no pay for my hard work and I paid for all my donuts!!!!!
If you see Adam at Wilson Farm make sure to say hello – he is a great guy with some awesome tales to tell. His rescue dog has visited all 50 states with him!
I find the rhythm of serving up greasy, sweet goodness quite soothing. I dare you to eat just one.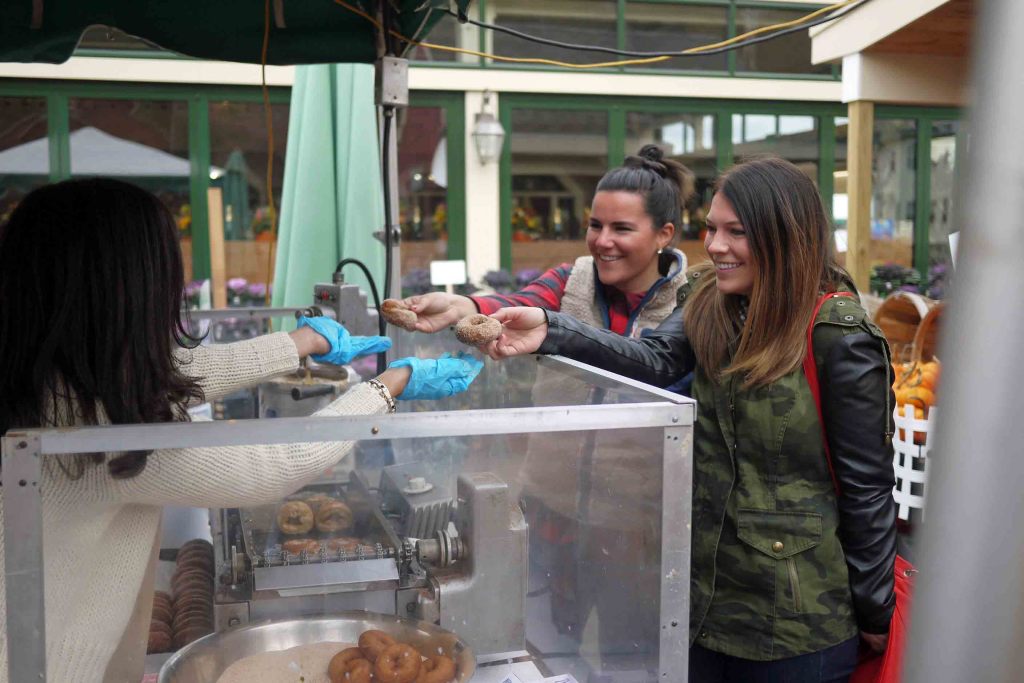 I served these super sweet girls from Canada their first Cider Donuts! Apologies were offered up in advance for my less than stellar coating of sugar! The girls were still really enthusiastic!
Hot Apple Cider and Hot Apple Cider Donuts…. What could be better on a crisp Fall New England day??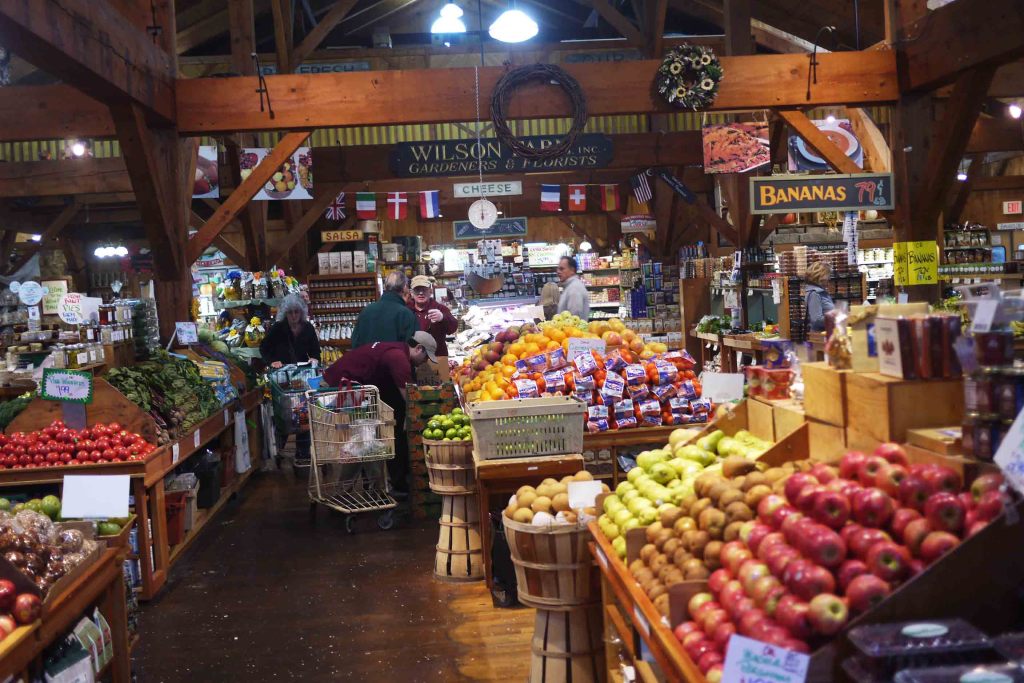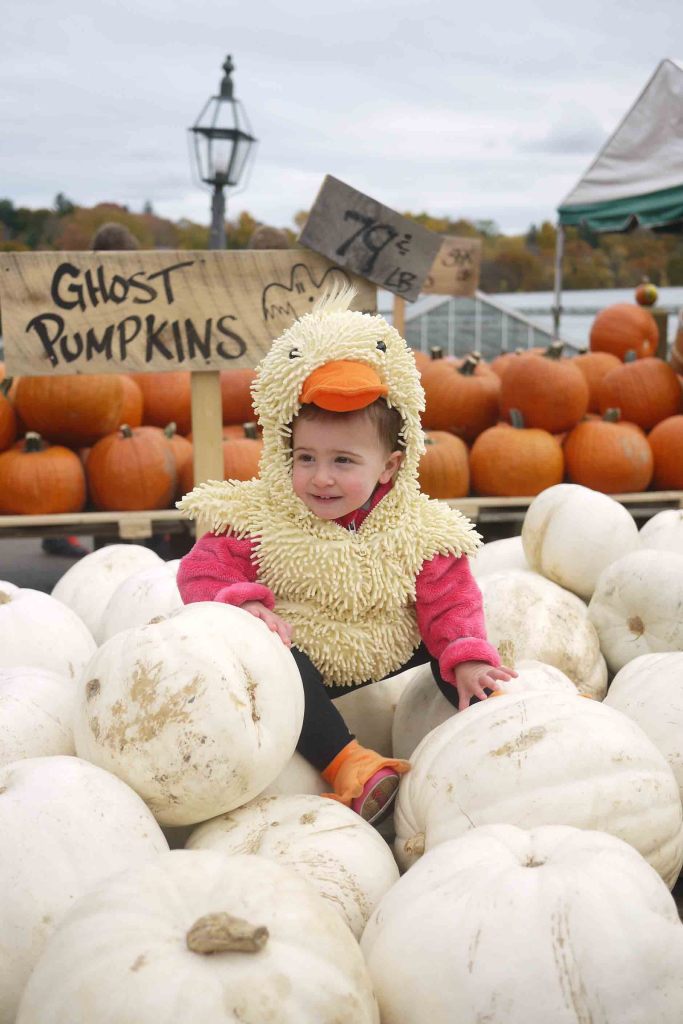 Miss Sophia on her Pumpkin Throne!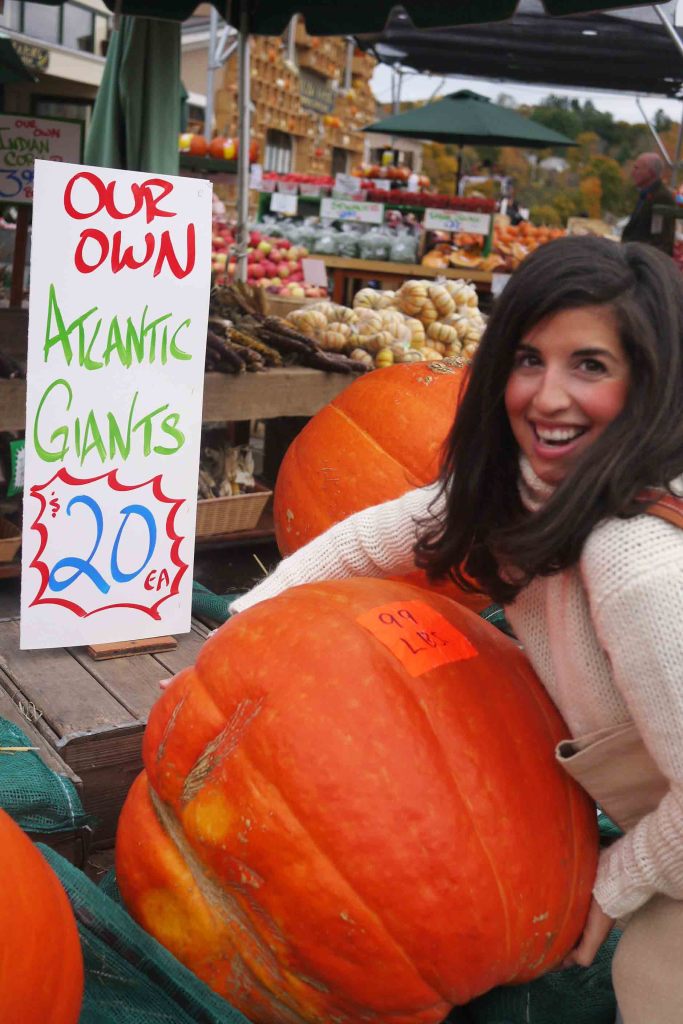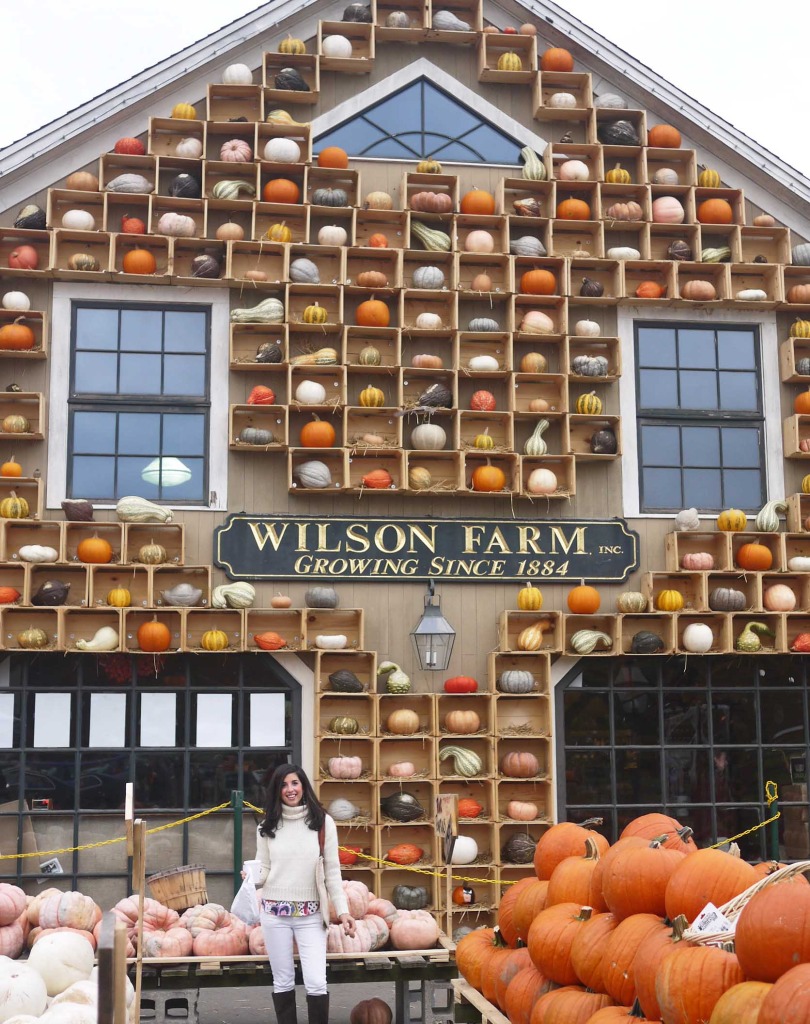 Wilson Farm serves Freshly made Cider Donuts year round. Adam and the Donut Robot station is only outside during the Fall Season. As the weather cools, the Donut Robot moves indoors. Bring a dozen donuts home and put them in a preheated 325 degree oven for 5 minutes and you will swoon!
Wilson Farm in Lexington, MA is perhaps the most quintessential of Farm Stands with such close proximity to Boston and Cambridge. Their seasonal displays, local produce, prepared foods, farm fresh eggs, kid friendly hayrides and killer cider donuts are worthy of a pilgrimage.
Wilson Farm: 10 Pleasant Street, Lexington, MA 02421
Fall Hours: Weekdays 9AM – 8PM, Weekends 8AM – 7PM
Thanksgiving Week Hours: Sun 11/23: 8AM – 7PM, Mon 11/24: 8AM – 8PM, Tue 11/25: 8AM – 8PM, Wed 11/26: 8AM – 8PM. Thanksgiving Day 11/27: 8:30AM – 1PM
NEW HAMPSHIRE STORE HOURS: 8AM – 6PM every day!