Thanksgiving is right around the corner. In fact Thanksgiving is only 6 days away! For those of you who like to dress up for the feast day of Tom Turkey, I've got a great affordable dress for you! Think of this orange tie dress as your final ode to autumn. Here's the best part, this shift dress with tie waist is only $79! You will not believe how lovely the draping is for the price.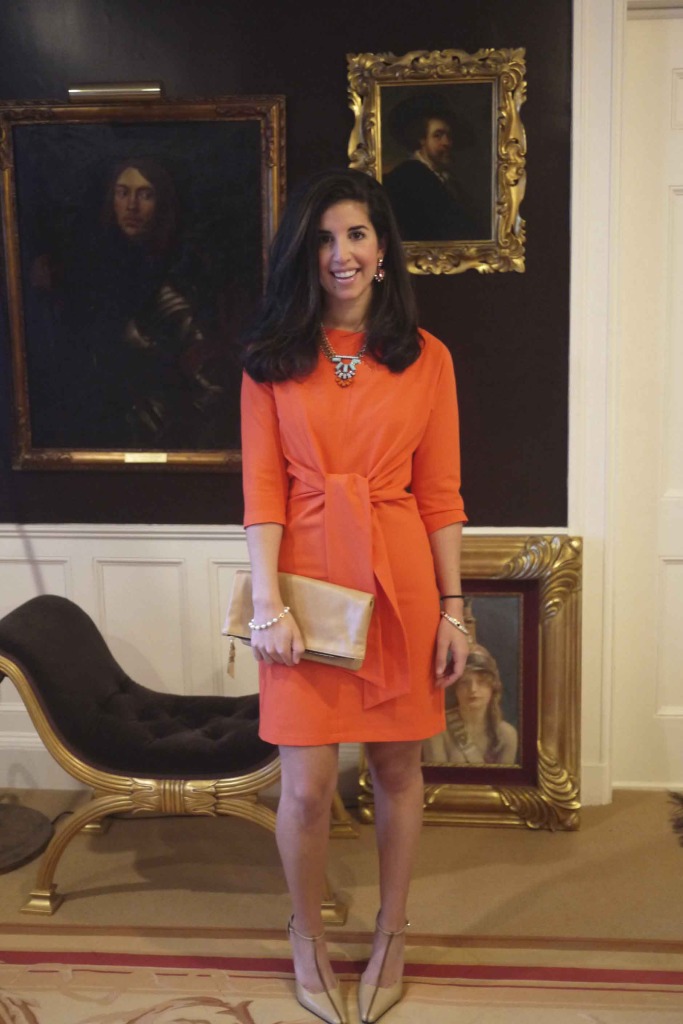 Orange Shift Dress (petite version & cream version) // Monogram Leather Clutch at Buggy Designs
BaubleBar Earrings // BaubleBar Necklace
T-strap Gucci Pumps old (similar Gucci Pumps, similar more affordable Kate Spade T-Strap Pumps on sale, similar more affordable Coach T-Strap Pumps on sale)
So, you've got yourself a fancy shmancy dress for under $100 and you're thinking to yourself what should I do to gussy up this baby? I have one word for you: BaubleBar. If you have never heard of BaubleBar before you're in for a treat! Baublebar sells on-trend jewelry and statement pieces at guilt free prices. No charge for shipping or returns so feel free to try away!
A classically lined dress called out for a few bold statement pieces. My search focused on finding a great pair of earrings and necklace. I chose BaubleBar's Bugaloo Earrings (how could I resist the name?!) and the Southwest Amulet Necklace. Though the Baublebar Necklace and Earrings are not a matching set they complement each other nicely and I know I will wear a pair of pink earrings in the future. Also, if you really want to push the outfit to majorly stand out, you could even look around for some golden earrings as they'll go really well with the orange and nude!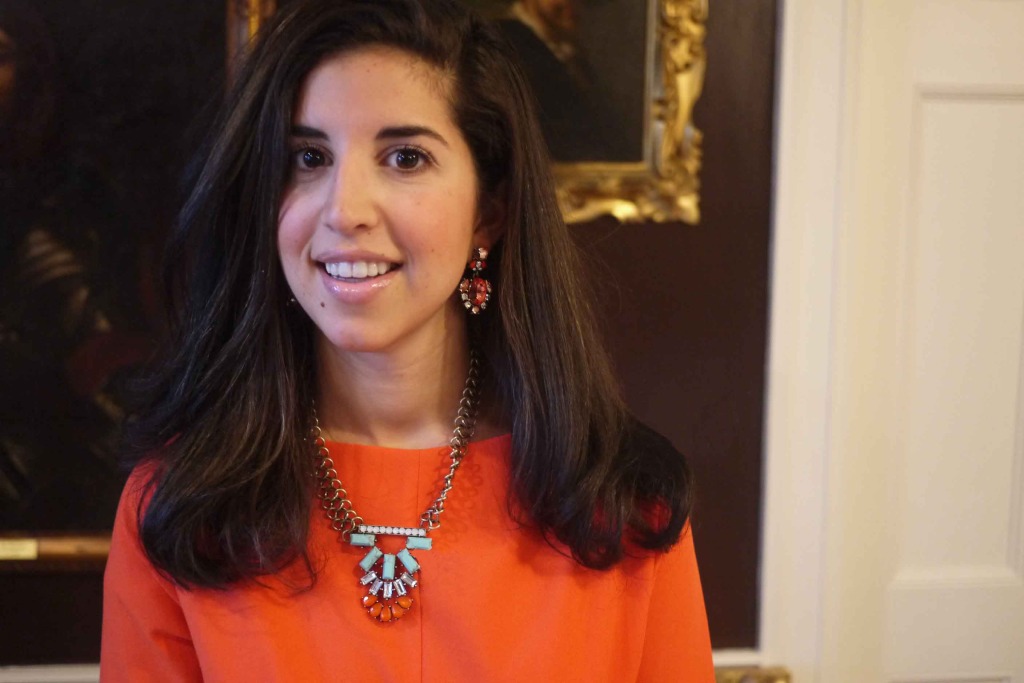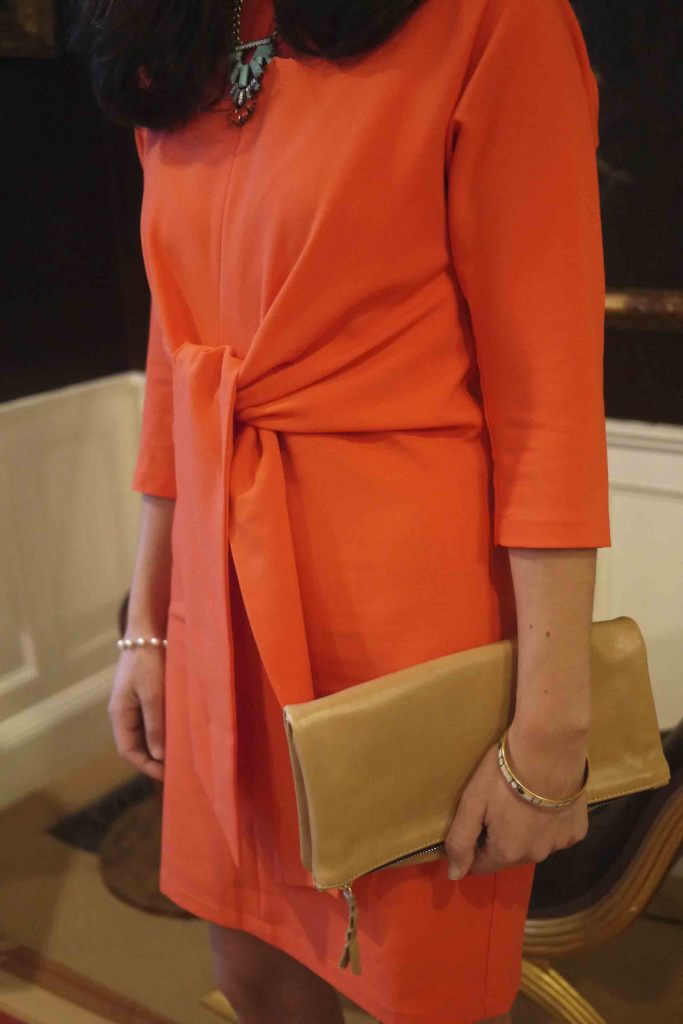 The Camel Monogram Leather Clutch by K.Slademade is available at Buggy Designs. The camel foldover clutch matches most everything. The Gucci T-strap Pumps are an oldie but goodie stolen from my mother's closet. If there is one thing I have learned from foraging through my mom's closet is that classic pieces never really go out of style. This season Gucci brought back the T-strap shoe! Any nude pump would look beautiful with this outfit (I love these L.K. Bennet, Stuart Weitzman or Cole Haan nude Pumps).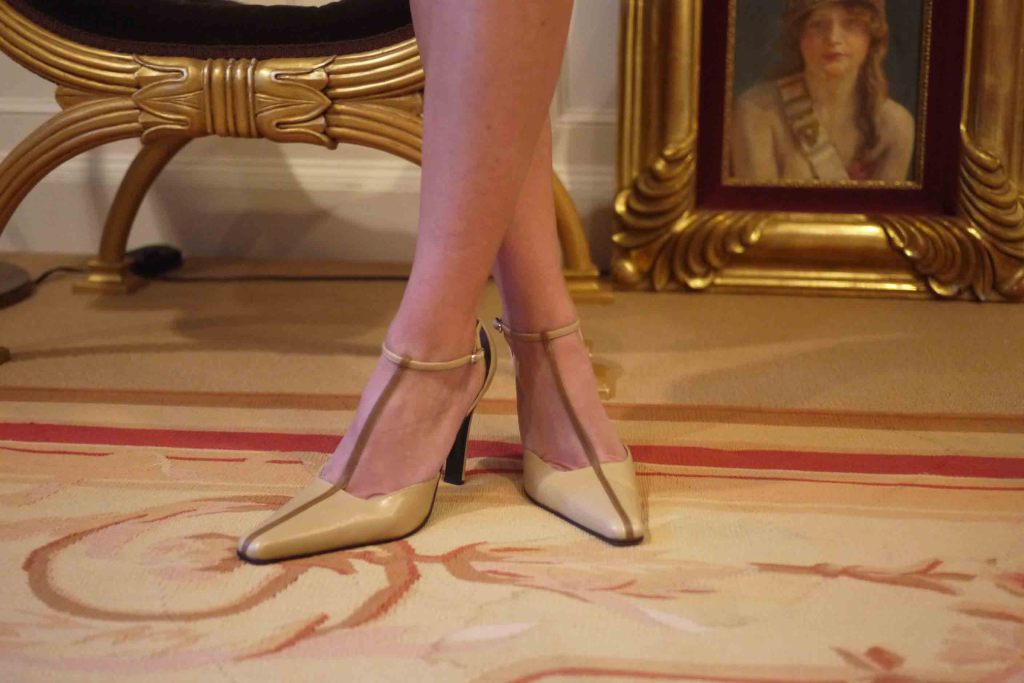 Do you have any fun, festive Thanksgiving outfits planned?!