Move over Miss New England Cider Donut! There's a new gal in town and she's going to give you a run for your money! Yes, cider donuts, especially cider donuts made fresh and served up hot at New England apple orchards are admittedly a culinary marvel. However, I would argue that Pumpkin Whoopie Pies are every bit as delicious PLUS they are loaded with fall's quintessential spices of cinnamon, nutmeg, cloves and ginger, PLUS they are sandwiched between a layer of orange scented cream cheese frosting PLUS they are packed with tons of pumpkin vitamin goodness. Are you with me now???
I can almost guarantee at any given point from mid September to mid November you can find my mom's fridge stocked with her famous Pumpkin Whoopie Pies with Cream Cheese Frosting. She has brought them to our soccer games, birthday parties and even the fanciest dinner parties.
Without further ado, I am happy to present you with the most delicious Pumpkin Whoopie Pie with Cream Cheese Frosting Recipe. These Pumpkin whoopie pies are gutsy, filled with lots of flavor and are not overly sweet – a perfect balance.  Full disclosure: this recipe is completely my mom's and was developed back when she was pastry chef-ing. My mom has been making this same recipe each fall for years. I hope this becomes part of your family's fall ritual too!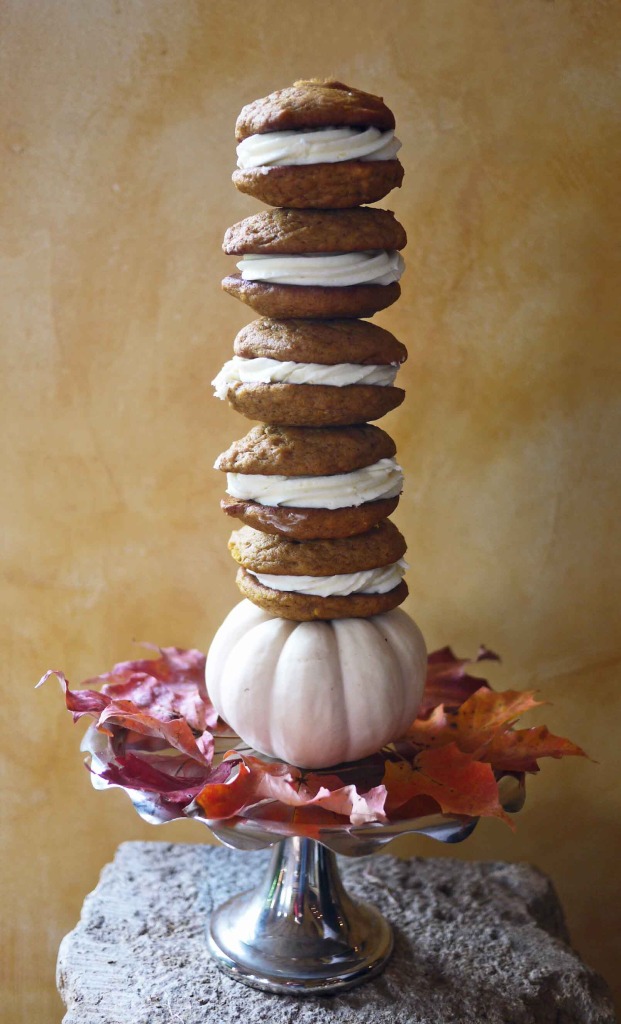 Pumpkin Whoopie Pies with Cream Cheese Frosting Recipe
Serves:
12 very large Whoopie Pies or 24 smallish Whoopie Pies
Ingredients
Pumpkin Whoopie Pie Ingredients
3 cups all-purpose flour
1 teaspoon baking powder
1 teaspoon baking soda
1 teaspoon salt
1 teaspoon ground cloves
1 teaspoon grated nutmeg
1 tablespoon ground ginger
1 tablespoon cinnamon
2 cups firmly packed light brown sugar
1 cup olive oil
2 large eggs
3 cups pumpkin puree, chilled
1 teaspoon pure vanilla extract


Cream Cheese Frosting Filling Ingredients
3 cups confectioners sugar, sifted
½ cup (1 stick) unsalted butter, softened
8 0z cream cheese, softened
zest of 1 orange
1 teaspoon fresh orange juice
1 teaspoon pure vanilla extract


In the bowl of an electric mixer fitted with a paddle attachment, beat butter until light and fluffy. Add cream cheese, vanilla, orange zest and orange juice, beat until well combined. Add confectioners sugar slowly, beat until smooth. If not using the filling immediately, cover and place in refrigerator; allow filling to come back to room temperature before using.
Instructions
Preheat oven to 350 degrees. Line 2 baking sheets with a nonstick baking mat or parchment paper; set aside. *If making smaller whoopie pies you will need 4 sheet pans if you plan to cook all at once. Alternatively, bake first batch and repeat process. Keep your batter in the refrigerator if you plan to bake in 2 batches.
In a medium bowl, whisk together flour, baking powder, baking soda, salt, cloves, nutmeg, ginger and cinnamon; set aside. In a large bowl.whisk together olive oil and brown sugar until combined. Add pumpkin puree, eggs and vanilla and whisk vigorously until well combined.
Using a small spring release ice cream scoop, drop dough onto prepared sheets. Each sheet pan will hold 12 cakes. Transfer to oven and bake for approximately 15 minutes.The cookies will just start to crack and when inserted with a tooth pick will come out clean. *If making smaller whoopie pies check for doneness after 11 minutes. Let cool for 5 minutes then transfer to wire rack.
Assemble the whoopie pies: Transfer filling to a pastry bag (or disposable ziplock, with a snipped corner) ideally fitted with a #6 fluted tip. Pipe filling on the flat side of half of the whoopie cakes in a concentric circle. Top with other half of remaining cakes. Refrigerate for at least 30 minutes before serving. Whoopie pies will keep in the refrigerator for a week if covered. They do get softer on the outside with age but are every bit as delicious. Whoopie pies also freeze well. Wrap individually and allow to come to room temperature before serving.
Tips
*Your cakes will rise more if you chill your pumpkin puree. Pressed for time? Not to worry, place your pumpkin cans in the freezer while you are gathering your ingredients. Make your cream cheese filling first which will buy you a bit of time.

* If you don't have time to sift confectioners sugar, use a wire whisk and with a beating motion aerate the sugar. No one will know!!!!

* I am no longer using canola oil in any of my cooking. It's just flat out bad for you. Olive oil (not extra virgin for this recipe as it would be overpowering) is a great replacement and not much more $$.

*Though I specify all-purpose flour for this recipe, feel free to use part whole wheat or white whole wheat. The taste is a bit nuttier. Nuttier wheats can handle more spices so don't be afraid to up the spice amounts.

* The addition of orange rind and a squeeze of juice may seem like a real pain when making the cream cheese filling but skip this step and you risk not being elevated to Whoopie Pie Sainthood by your friends and family!!!

*I use a 2 tablespoon capacity spring loaded ice cream scoop. These yield the perfect medium size pumpkin whoopie pies. They are not too big, not too small. I can cut one into 4 pieces and savor it throughout the day without much guilt. I overfill each scoop by about the same amount so they are still fairly uniform. If you use a large ice cream scoop the whoopie pies will be the main event vs a nibble. There are some days when only a huge whoopie will do...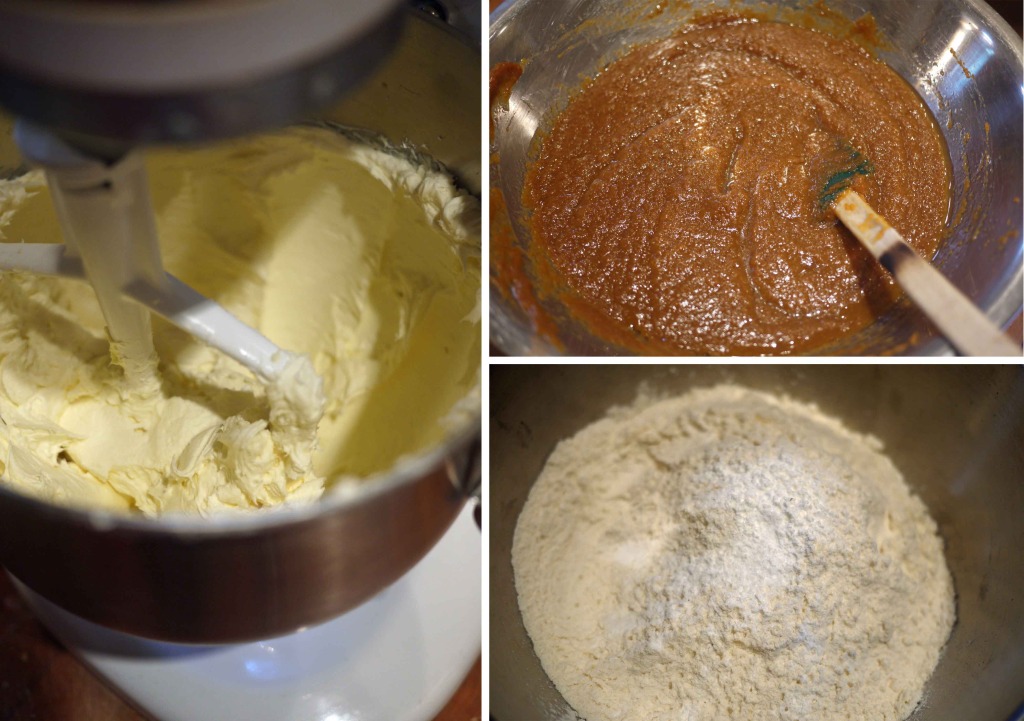 Mom uses a 2 tablespoon quick release ice cream scoop. This recipe yields 24 pumpkin whoopie pies when using a rounded 2 tablespoon ice cream scoop.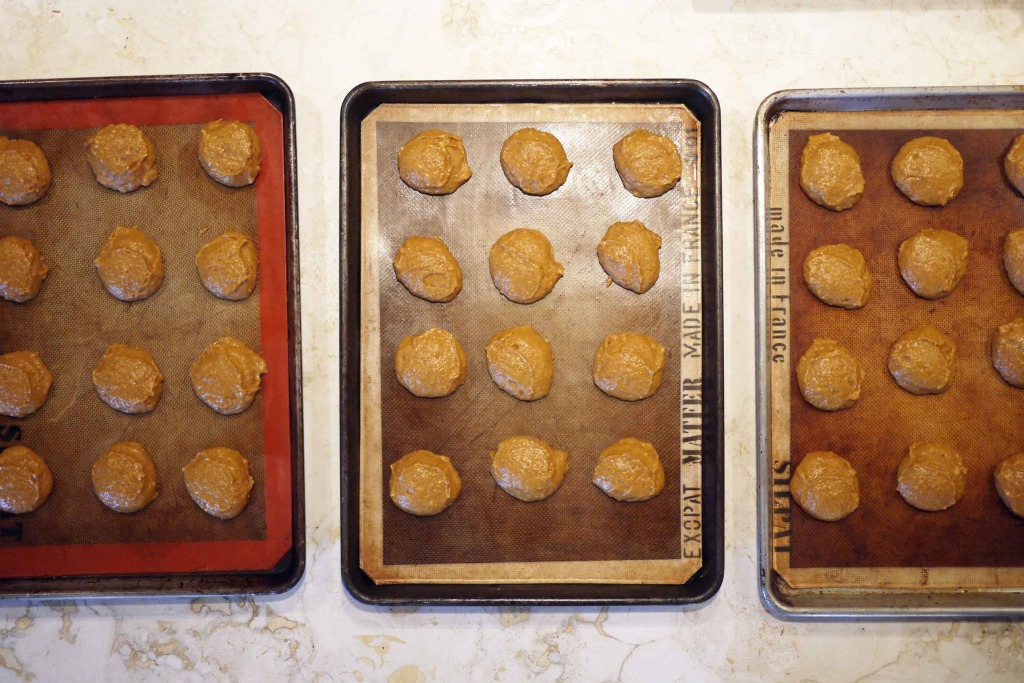 If you have dark cookie sheets, your pumpkin whoopie pies may brown faster, so keep an eye on them!
For Pastry Bag newbies: place your pastry bag in a measuring cup or sturdy glass when filling with frosting. Makes filling the bag easy breezy.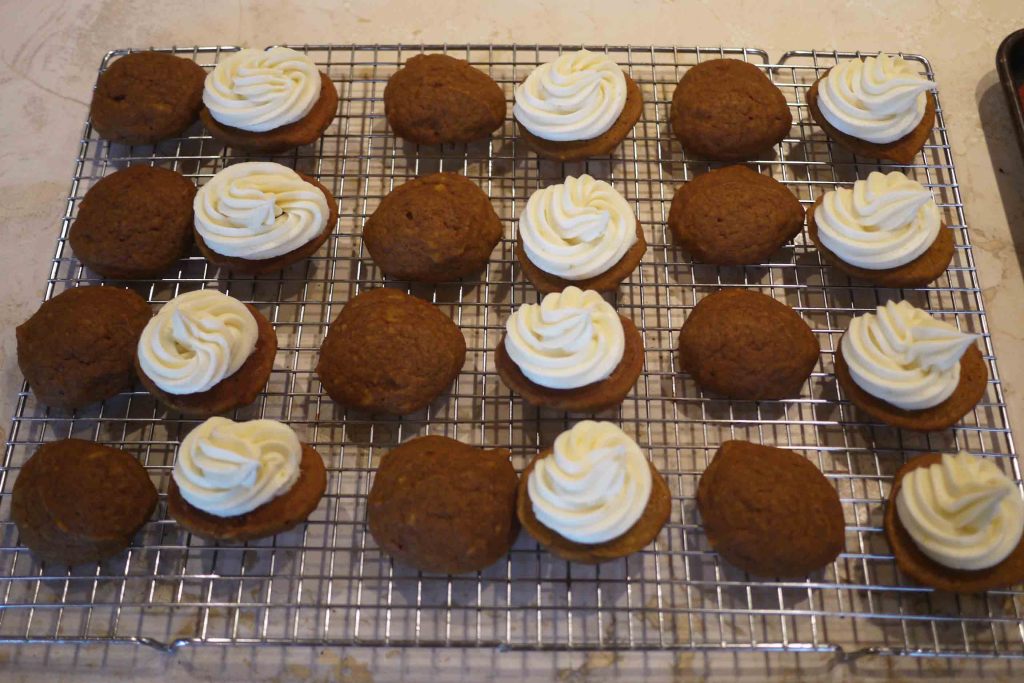 When filling the pumpkin whoopie pie, leave a bit of space at the edges. When you press the top cake in place, the cream cheese frosting will spread beautifully to the edges.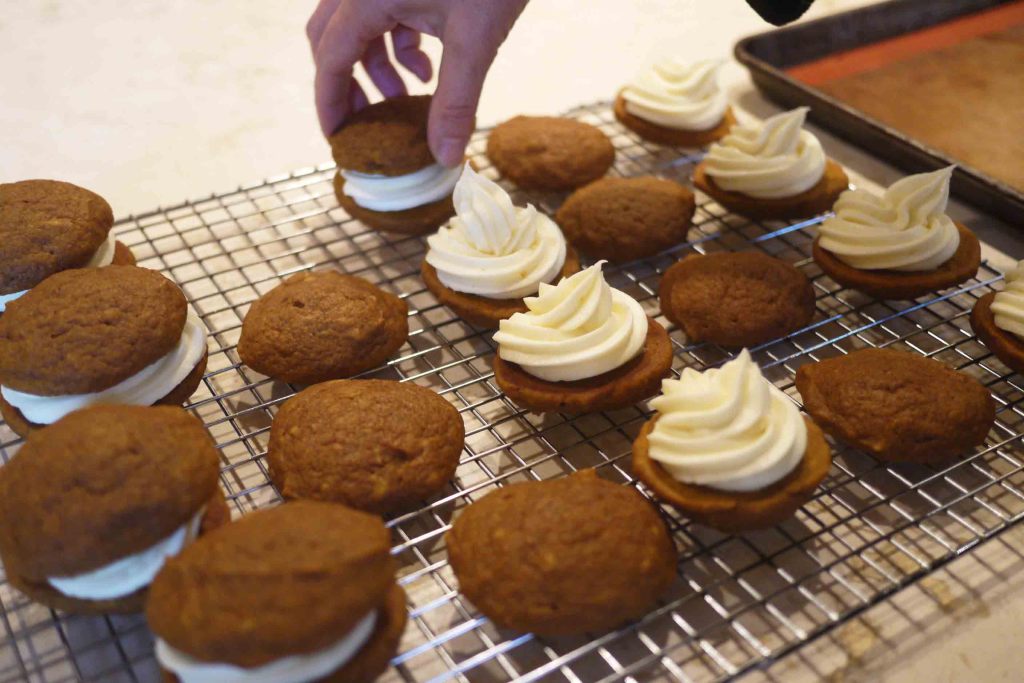 This was perhaps my favorite food photo shoot to date! Can you tell I had fun with the Pumpkin Whoopie Pies?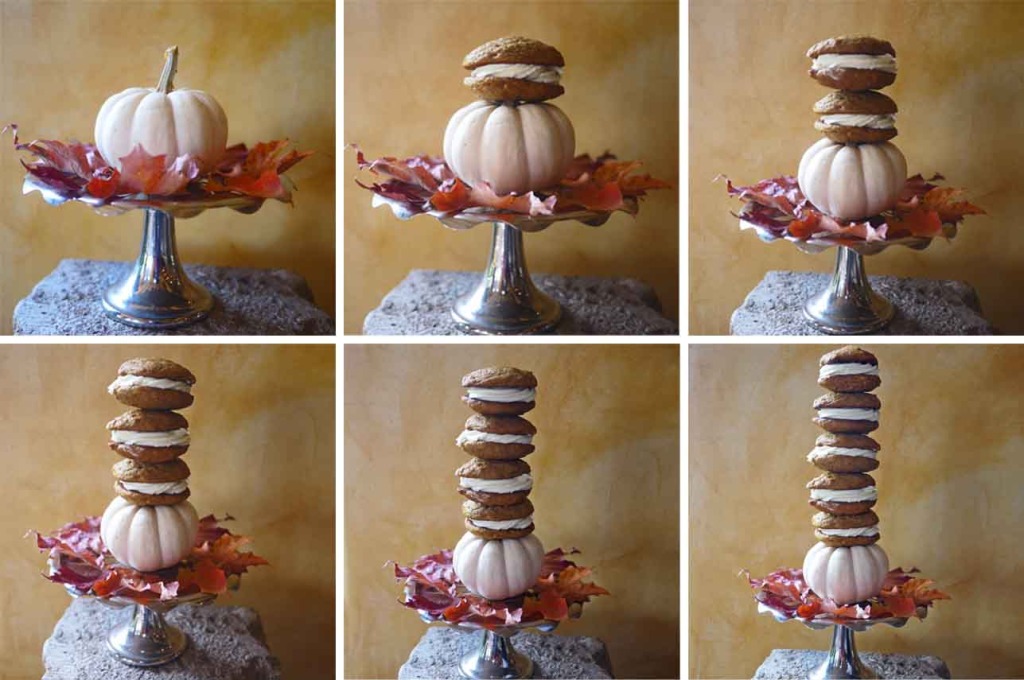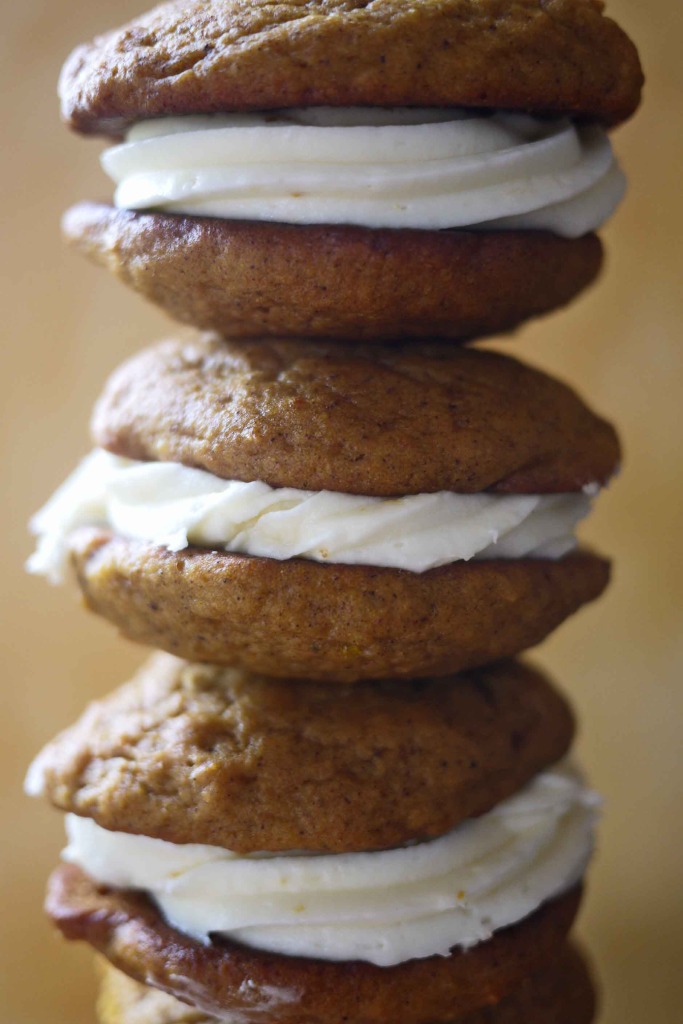 Last week my brother Peter celebrated his big 2-5 birthday. Knowing that Pete was feeling a bit nostalgic for "fall time in New England with the fam," Mom decided to bake up a double batch of pumpkin whoopie pies that were then boxed up with chill packs and FedEx'd to Pete in San Francisco. Rumor has it that the pumpkin whoopie pies went to a Jimmy Buffet concert…#whoopiepiesinparadise
I hope you enjoy your Pumpkin Whoopie Pies in Paradise too!