New England Apple Cider & Bourbon Cocktail — full on Fall Flavors of cider, cinnamon, citrus, maple syrup and a hint of heat. Best sipped with a cinnamon sugar rim!
Fall time in New England ain't just about apple pies and fall foliage. We are also home to apple cider, maple syrup, ghosts, goblins and witches! Today I thought it would be fun to showcase some of New England's finest flavors in a way adults can appreciate. Whether your looking for a festive cocktail for your Halloween Party, or need some provisions in your rucksack while you're trick or treating with your kiddos – this New England Apple Cider and Bourbon Cocktail will hopefully fit the bill. Here's the kicker – this Apple Cider and Bourbon Cocktail is delicious served hot or cold. Shaken or stirred. The Cinnamon Sugar rim is made in a jiff and kicks this drink up another notch. A delicious and festive touch you and your guests will appreciate. Looking for some more ideas and cocktail recipes for your parties? You can find information at alcoholprofessor.com for everything alcohol-related you could hope to read!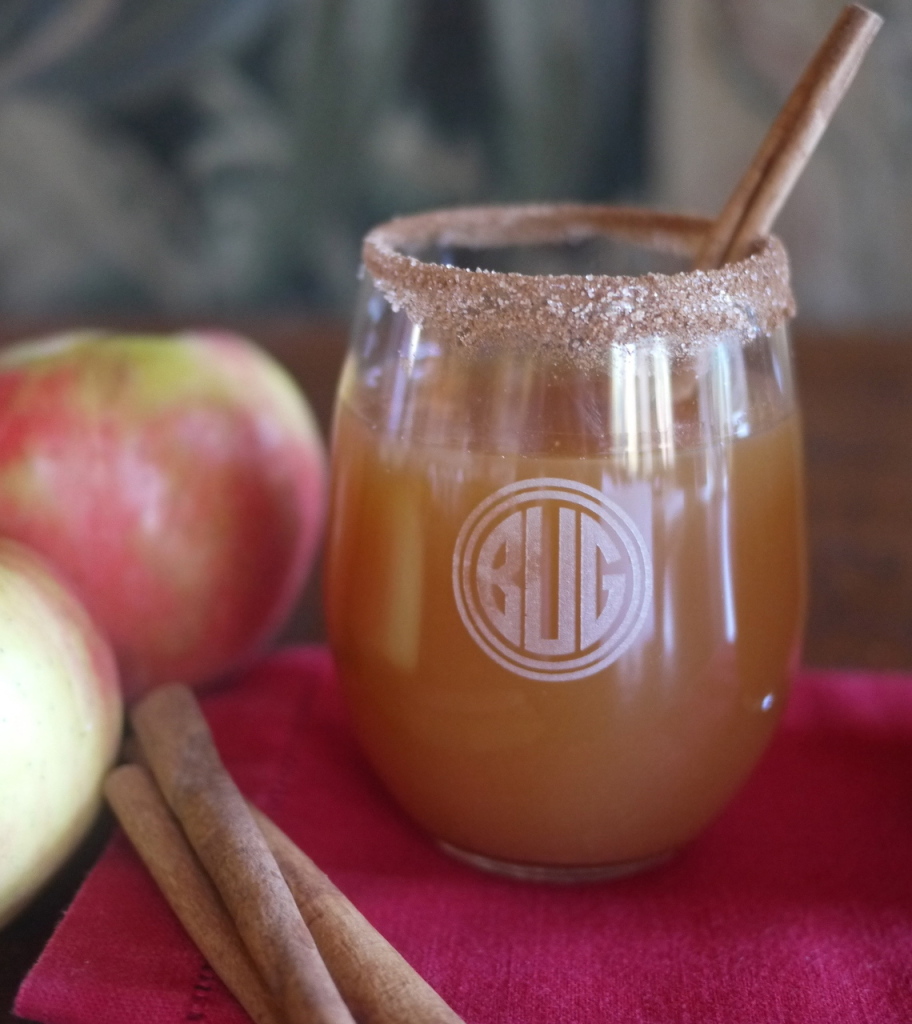 If you are looking for a great Thanksgiving Host or Hostess gift, our Monogram stemless wine glasses are a perfect gift. The cherry on top might just be showing up at your hosts' door with the New England Apple Cider and Bourbon Cocktail in hand. Other custom glassware we love for transporting cocktails is the Personalized Distillery Growler and Whiskey Set ($65).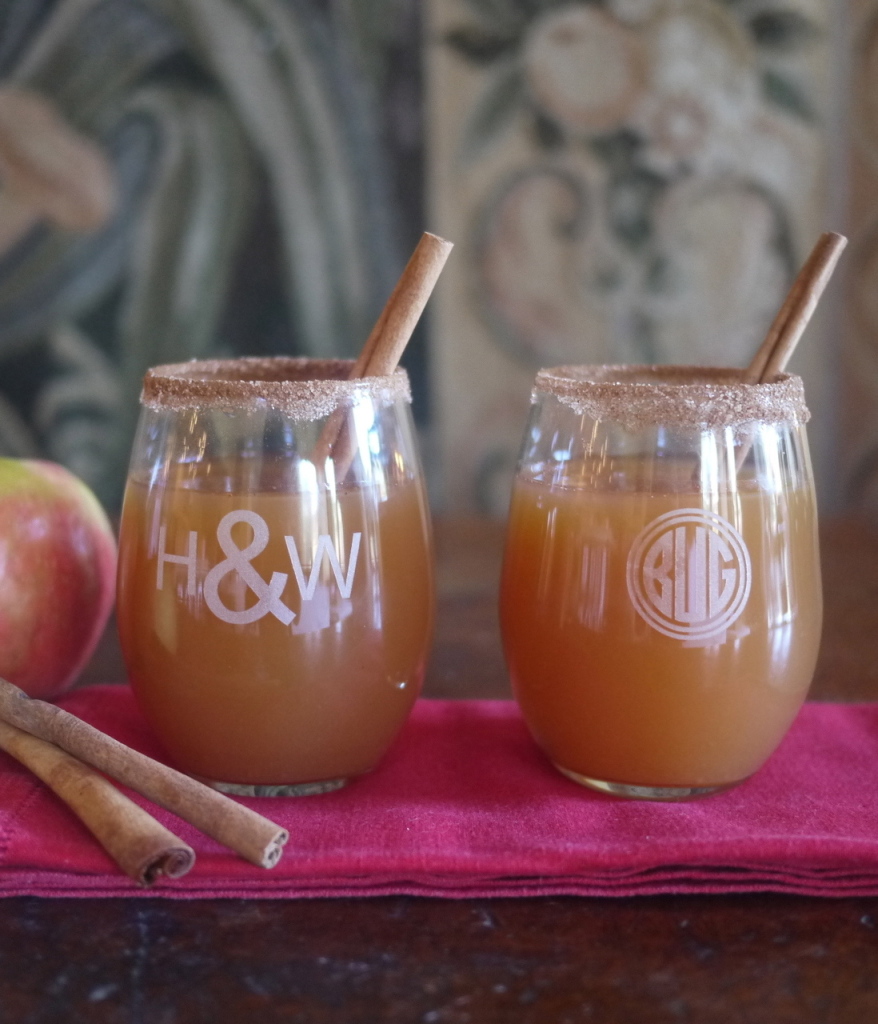 New England Apple Cider and Bourbon Cocktail Recipe
Ingredients
1 cup (8 oz) Bourbon
2 cups apple cider
2 tablespoons fresh lemon juice
1 tablespoon pure maple syrup
a pinch of smoked chipotle powder


Cinnamon Sugar Rim
¼ cup Sugar
2 teaspoons cinnamon


Mix sugar and cinnamon together. Place in shallow bowl. To rim a glass with the cinnamon sugar mixture, first use a lemon wedge to moisten the rim completely. Then place your glass upside down in the mixture turning from side to side to coat evenly.
Instructions
In a pitcher filled with 2 cups of ice, pour in bourbon, cider, lemon juice, maple syrup and smoked chipotle powder. Stir vigorously. Pour into Cinnamon Sugar Rimmed Glasses. Garnish with a cinnamon stick.
Sip Sip!
Tips
This recipe can be served hot or cold. Shaken or stirred.
For a kicked up apple flavor, add a floater of Apple Brandy or Calvados!
This New England Apple Cider and Bourbon Cocktail Recipe is inspired by my younger brother Andreas. At Thanksgiving you can find a pot of cider with cinnamon sticks warming on the stove and a bottle of small batch bourbon at the ready. I can't wait to serve him up this Maple Apple Cider & Bourbon Cocktail!