What's a girl to do when her fashion budget is slim? Quietly head to your mom's or grandmother's closet and see what you can poach! They have years worth of accessories and clothing stockpiled. Do this on your next visit home and you will be rewarded with a new wardrobe! If you "borrow" in a stealth manner, she may never know. Me – I'm pretty much nailed as blogging for Buggy Designs totally ruins my cover!
When hunting for some free loot, look for classic pieces such as tweed jackets, white blouses, and A-line skirts and dresses. You can mix these classics with younger, trendier pieces you currently own. Today's outfit post, I'm wearing a vintage Chanel Tweed Jacket stolen from my mom's closet, paired with a busy black and white silk printed top (definitely not what your mom would do!), a pearl necklace, affordable vegan leather skirt, and my favorite bargain of the fall — suede over the knee boots (now $79). When you choose a classic and conservative piece of clothing, you then have license to spice up the rest of your wardrobe without looking like a ho-ho! Thigh high boots, short leather skirt – case in point.
With the exception of the Chanel Tweed Jacket, everything I am wearing is currently on sale and extremely affordable! (see links at bottom of post for outfit details)
Do you have a favorite closet you steal from?! Would love to hear from you in the comments!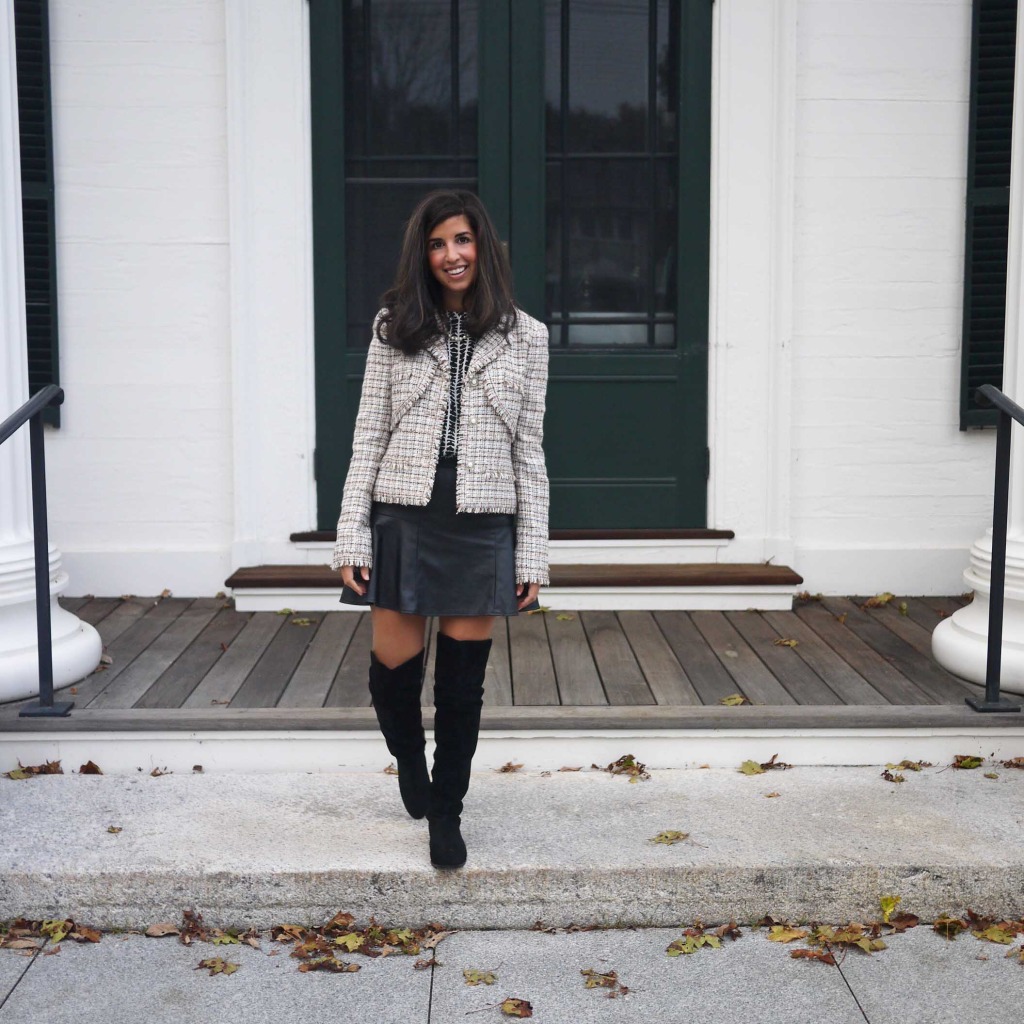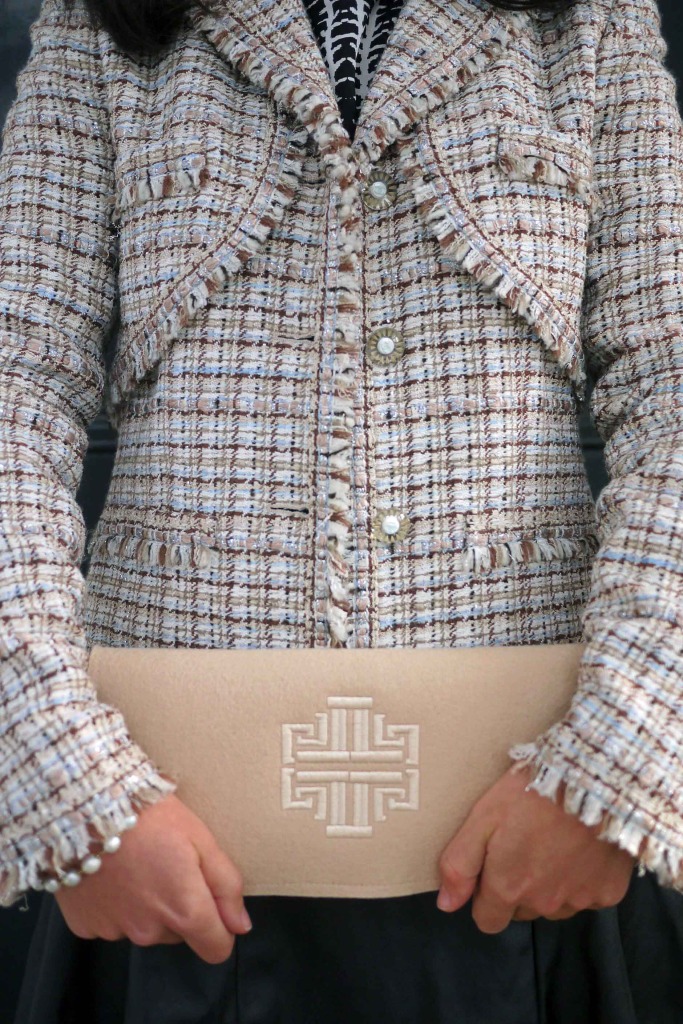 Modern Monogram Felt Clutch in Camel from Buggy Designs. This Monogram Clutch shows the "L" initial. Since I already have modern monogram clutches with my first and last name initials, I decided to mix things up and use my middle name initial (L). The modern monograms are so beautiful it's fun to have a different monogram for each clutch!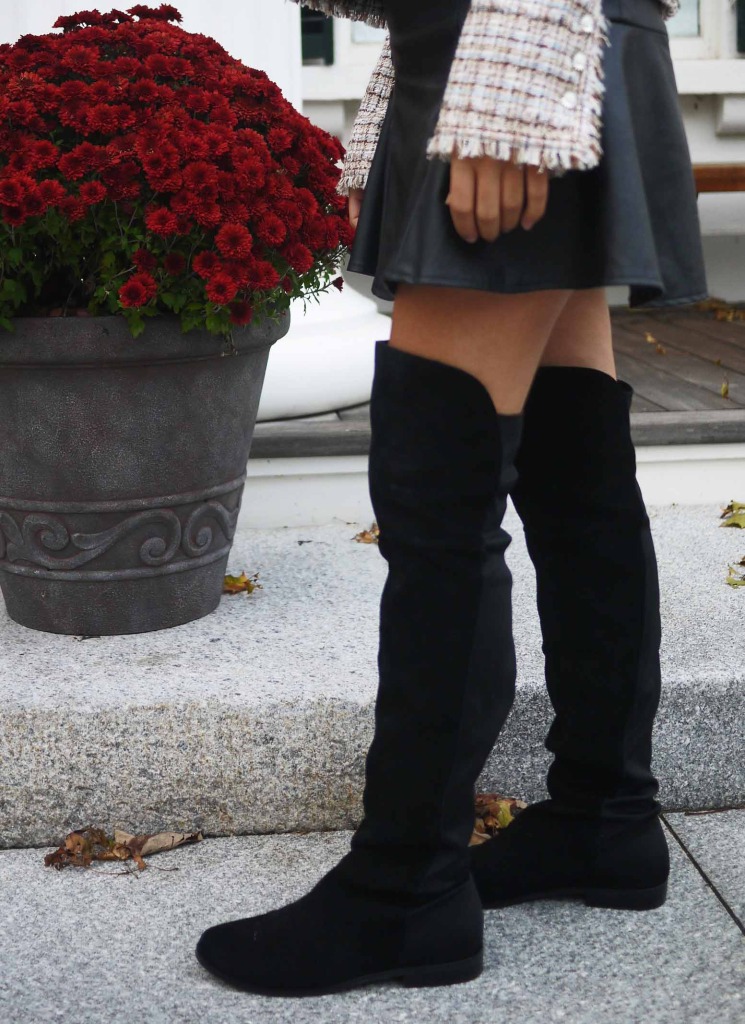 Chanel Tweed Jacket from Mom's closet, an oldie but a goodie (similar Chanel style tweed jacket on sale with code HALLOWEEN, $145 now $101 and chain tweed jacket, $235 or shop Chanel Jackets on Consignment at The Real Real)
Black Suede Over the Knee Boots ($99 now $79) // Piperlime Silk Top c/o ($84 now $35)
H&M Black Vegan leather skirt (similar vegan leather skirt, $79 now $45 and similar vegan leather skirt, $98 now $45 and similar real leather skirt, $498 and similar real leather pleated skirt, $228 now $99)
Camel Modern Monogram Felt Clutch at Buggy Designs
SHOP THIS POST:
SHOP TWEED JACKETS: