Kale Salad with Tahini Dressing is not just good for you, it is absolutely delicious! Whether you are a vegetarian or a full blown carnivore, I promise this Kale Salad with Tahini Dressing recipe is a perfect vegetarian main course or a colorful side dish with your big beefy steak.
I know lots of you are sick of kale and think it's time to say goodbye to this culinary trend, but hear me out! This gorgeous pink and green Kale Salad with Tahini Dressing, beets, apples, carrots, peppers and seeds will make you a believer once again. KALE YEAHHHH!
Coming from a Greek family, I have grown up eating Kale, Chard and Dandelion greens with marinated olives, olive oil, lemon, sea salt and pepper. Though I love the simplicity of Greek style warm kale salad, this Kale Salad with Tahini Dressing and veggies is complex and rich with bold and nutty flavors. This recipe yields a lot of kale salad, but you can enjoy for several days. In fact, the flavors get better with age.
If you haven't used tahini before, it's easy to find and available at most every supermarket. Look for "Sesame Paste Tahini" in glass jars versus metal cans. The tahini flavor tends to be better. Buy a large jar, keep in your fridge and stock up on some chickpeas. With these two ingredients at the ready, you can make delicious homemade hummus. It's a simple salad recipe so the only equipment you'll need is a tossing bowl and a processor for the tahini dressing. Make sure you've got a good processor to be able to blend the ingredients up fine enough – if yours isn't the best then check out this review finding the Best Food Processor available today.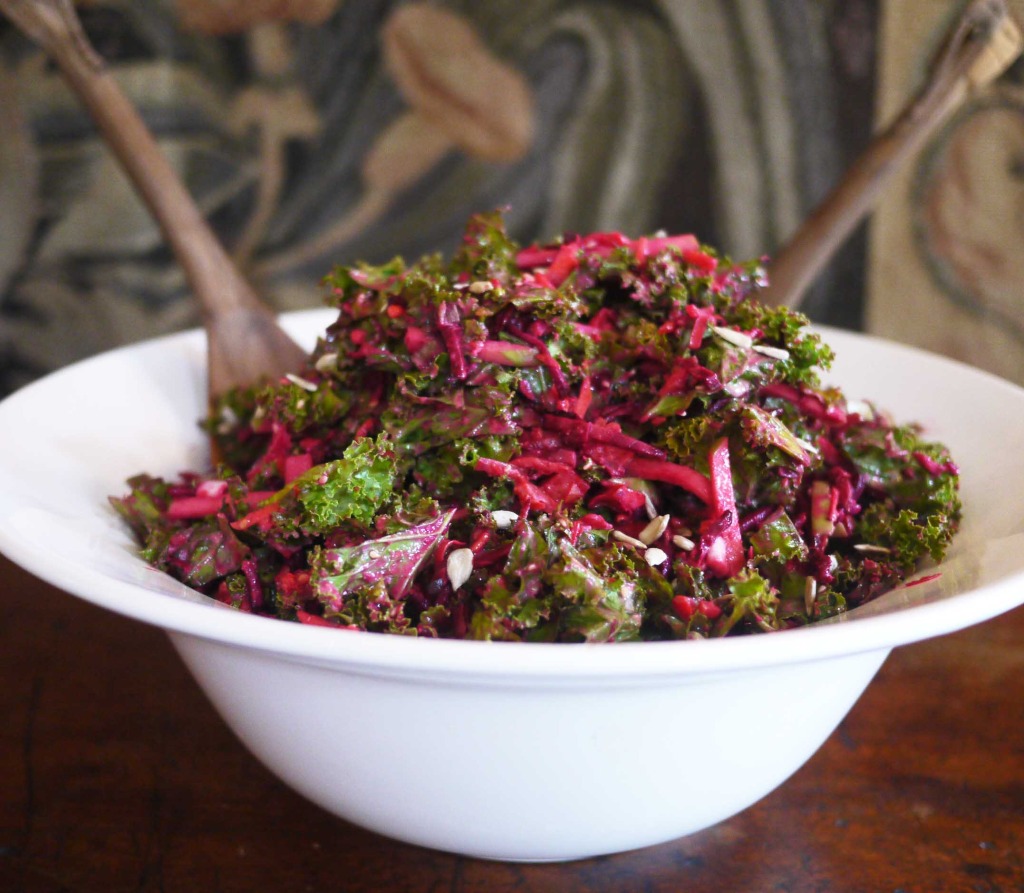 Kale Salad with Tahini Dressing Recipe
Ingredients
Salad Ingredients
1 large bunch of kale stems removed, chopped (fills 1 salad spinner or about 12 cups)
1-2 red peppers (we up the vitamins with 2 peppers)
3 medium sized beets, raw
1 green apple
3 large carrots
3 scallions diced
2 tablespoons toasted sesame seed
¼ cup salted sunflower or pumpkin seeds to garnish

Dressing Ingredients
¾ cup apple cider vinegar
½ cup olive oil
½ cup sesame tahini
2 tablespoons honey
2 tablespoons fresh grated ginger
1 clove garlic grated
2 teaspoons salt
1 teaspoon pepper
1 teaspoon cinnamon
½ teaspoon cayenne
½ teaspoon tumeric
(Mix all tahini dressing ingredients by hand or with food processor/blender. Blend until smooth. Extra tahini dressing will keep in fridge for a week)
Instructions
Wash and dry 1 very large bunch of kale. Chop to thickness desired. I chop into approximately ½ inch julienne ribbons. Add kale to large mixing bowl.
In the bowl of a food processor fitted with a large julienne disk (or you can use a handheld large stainless grater), grate apples, carrots, peppers and beets. Remove and add veggies, sesame seeds and scallions to kale in large mixing bowl.
Add tahini dressing to large mixing bowl. Toss until ingredients are thoroughly mixed. Taste for seasonings. Garnish with salted pumpkin or sunflower seeds.
Enjoy!
Tips
* If you have a food processor with a slicing attachment, now is the time to use it. I use the largest julienne disk and grate in this order: apples, carrots, peppers and then beets (as your blades will be completely red once beets are grated).
*After grating veggies, change slicing disk to metal blade. Make dressing in food processor bowl - no need to chop ingredients!
*If using organic ingredients, don't bother peeling veggies - might as well get the nutrients!
*A very large bunch of kale when chopped filled a salad spinner completely and yielded about 12 cups. You can adjust the amount of kale, feel free to use less.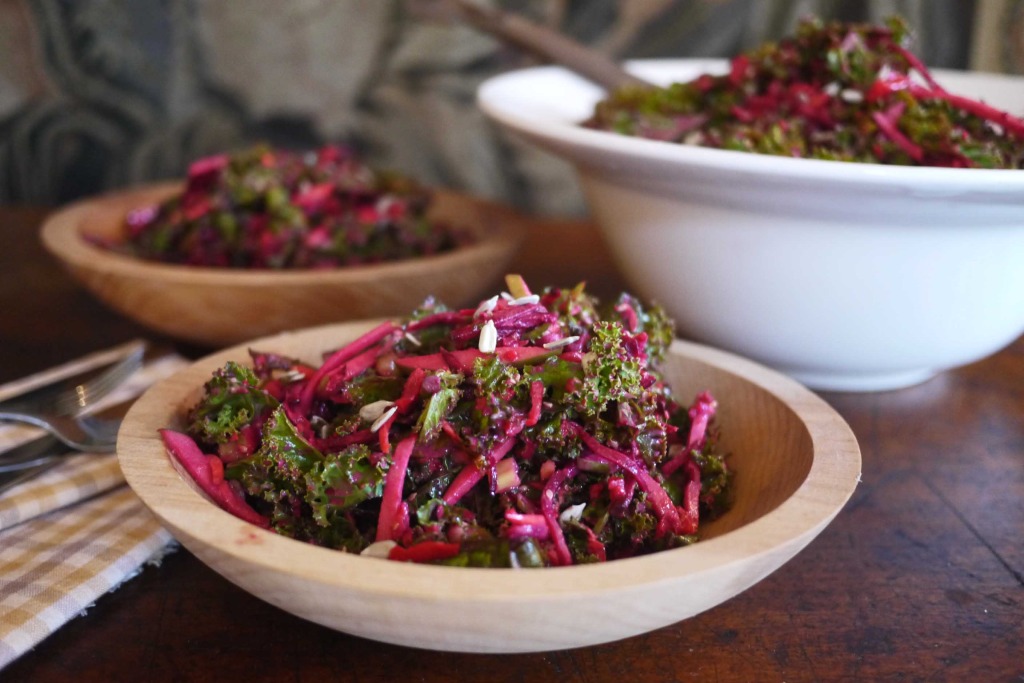 You can change the flavor of this salad quite easily by changing the dry spices. I love this salad with garam masala and a bit of curry added to the dressing. For a full dinner I also add warmed walnuts, chickpeas or any bean you have in the pantry, and sometimes dried cranberries or cherries.
Not only is this Kale Salad with Tahini Dressing flavorful and satisfying, it packs a nutritious wallop!
Enjoy!