Fall in New England is a spectacle to behold. It tugs at your heartstrings. Born and raised New Englanders, living near and afar, are like homing pigeons needing to return to our nest to witness nature's final colorful hoorah. My older brother Peter happily lives in San Francisco. For most of the year I get Palo Alto and SF weather updates. Pete loves to tell me he is wearing flipflops, living the dream and hiking most weekends in Cali duuuude (he conveniently leaves out he works 7 days a week!). But an interesting thing has happened the past few days. Pete is homesick! When he found out that I was hiking with the fam this weekend in New Hampshire's White Mountains, he grew nostalgic and a bit melancholy. Fall in New England for our family is synonymous with hiking, canoeing on Bateman's pond, apple picking and cider donuts, pumpkin beer, pumpkin whoopie pies, Head of the Charles, and a return to wood fire dinners. Did I say pumpkin, anything pumpkin? What lead to this post was a recognition that I had Peter exactly where I wanted him. As the only girl in my family, I had the upper hand and knew it and had to take advantage of the situation. With camera in hand, I set out to photograph some of Pete's favorite spots and happily sent them to him!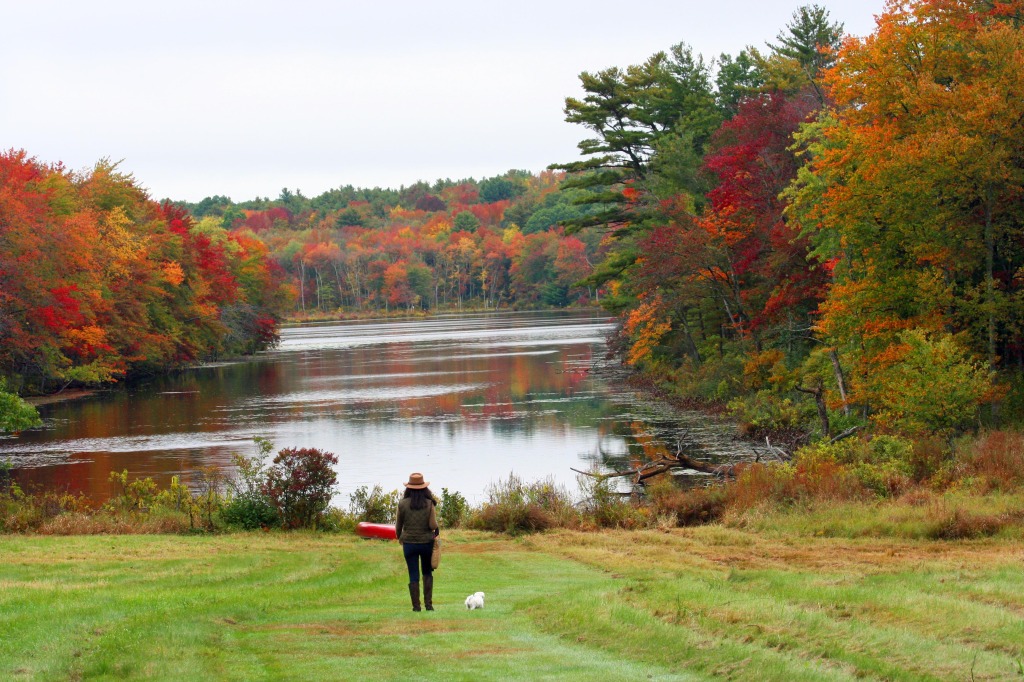 Sad to say but I have a go to Fall uniform that typically consists of jeans, riding boots, a Ralph Lauren cashmere sweater and depending on the weather a quilted vest or jacket. I convince myself that Accessories prevent my uniform from being uniform! If you don't have a FEED Bag by Lauren Bush Lauren, think about purchasing one asap! The FEED Kenya Bag accomplishes three things; it is extremely stylish in an outdoorsy kind of way, can tote anything from groceries to camera accessories, and the best part is you can feel good about your purchase as each FEED 2 Kenya Bag (the one I'm carrying) provides two children with school meals for one year in Kenya. Fashion with a conscience – a win, win. The money raised through the FEED Foundation has provided over 60 million meals to school children. That's pretty remarkable. Each artisan-made FEED 2 Kenya Bag is constructed with burlap and features intricate beading and distinctive Masai print lining.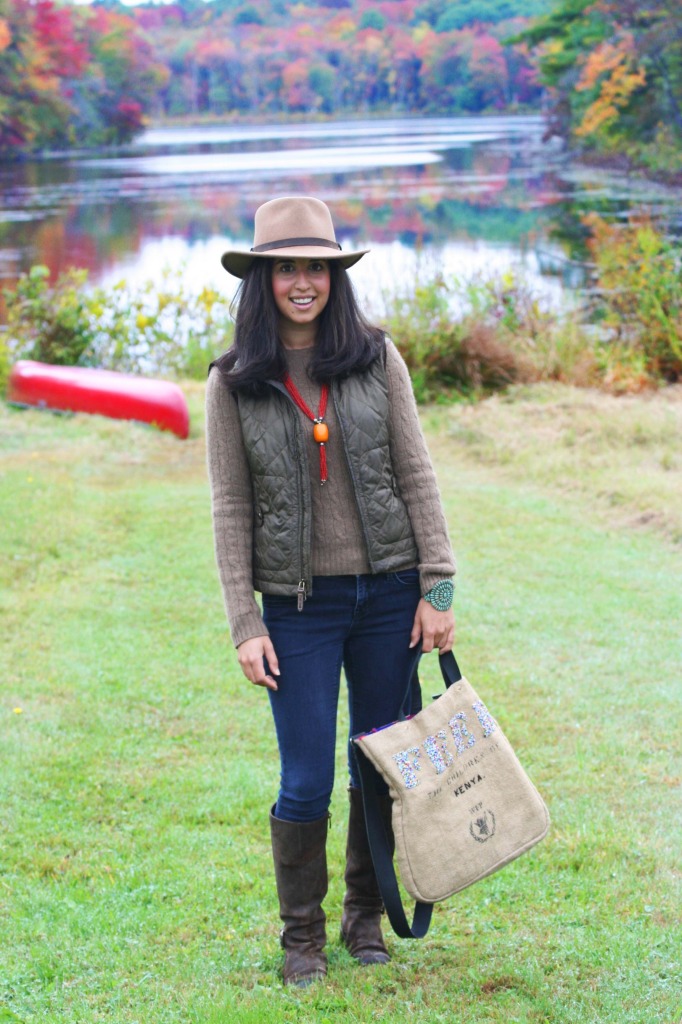 FEED 2 Kenya Bag (also love this FEED 2 Kenya Bag with foldover)
Ralph Lauren Cashmere Sweater // Ralph Lauren Quilted Vest
Donald J Pliner Riding Boots (old), similar here  // Jeans // Tibetan Necklace // Navajo Cuff Bracelet // Felt Hat bought in England, similar here and here
 Shop the full line of FEED Bags on the website here or if you prefer to use your Saks Card, here is the link for This FEED Kenya Bag with beading, a bit different to mine and love equally as much.
FEED Bags are available at all different price points. Think about adding one to your Christmas Shopping List!