What to do when a Brit comes to visit New England? Take him to Maine for some of the best seafood New England has to offer.
Now, seafood offerings in New England can go two ways. There are classic New England Clam Shacks that serve your typical lobster roll and fried seafood plates. Authentic, delicious and a bit gritty. Recently a new crop of seafood joints, shacks, high end places and yes, even food trucks are offering up New England seafood with a fresh and innovative twist. Lobster rolls, fried clam sandwiches and oysters have been turned on their heads.
When it came time to make the decision where to eat in Portland, it was initially a toss up. Do we go traditional Clam Shack or venture into modern seafood territory? Our decision became pretty clear after reading one rave review after another on Eventide Oyster Company. There was no way we could be in Portland and not check out Eventide Oyster Co for lunch.
Eventide Oyster Co's airy, bright and bustling restaurant is located just across the street from Duck Fat (another favorite Portland restaurant that I will blog about soon!). The bar wraps around the perimeter of the room. Additional seating both indoors and out are offered. On the day we visited, Eventide Oyster Co. was filled with men in business suits, Portland locals and the occasional tourist.
The menu lists around 20 different varieties of oysters from lands near (Maine) and afar (mostly Massachusetts), displayed in a gorgeous massive trough of Maine granite on the bar. Oysters are served with fun, creative accoutrements like green chili and kim chee ice or mimosa mignonette. Fret not traditionalists, cocktail sauce is also available!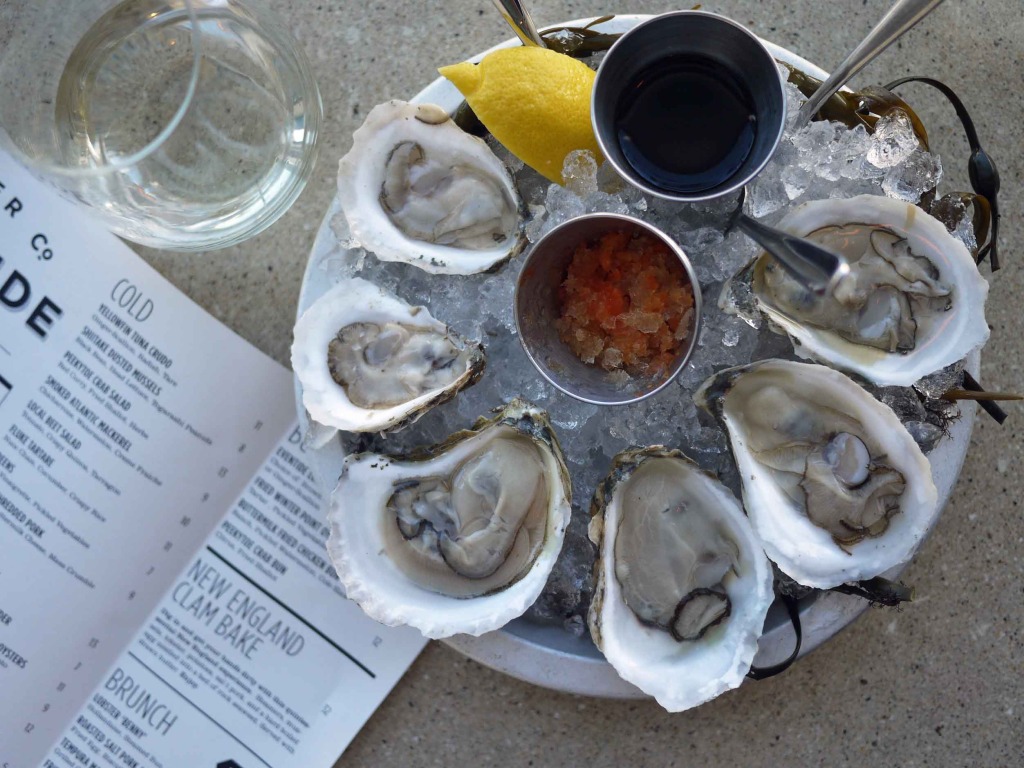 We started with a half a dozen oysters each, all from Maine. When in Rome. We chose Kim Chee ice and Red Wine Mignonette. I am a purist when it comes to oysters and prefer just a squeeze of lemon and nothing else. However, the Kim Chee Ice was so good that I ate it by itself in between each oyster. The oysters were just how I like them- fresh, icy cold, lots of liquor (what I like to call liquid gold), and  tasting completely of the sea.
Harry ordered beer from their chalkboard menu of specials and I ordered Muscadet – one of my favorite white wines with seafood, especially at lunchtime!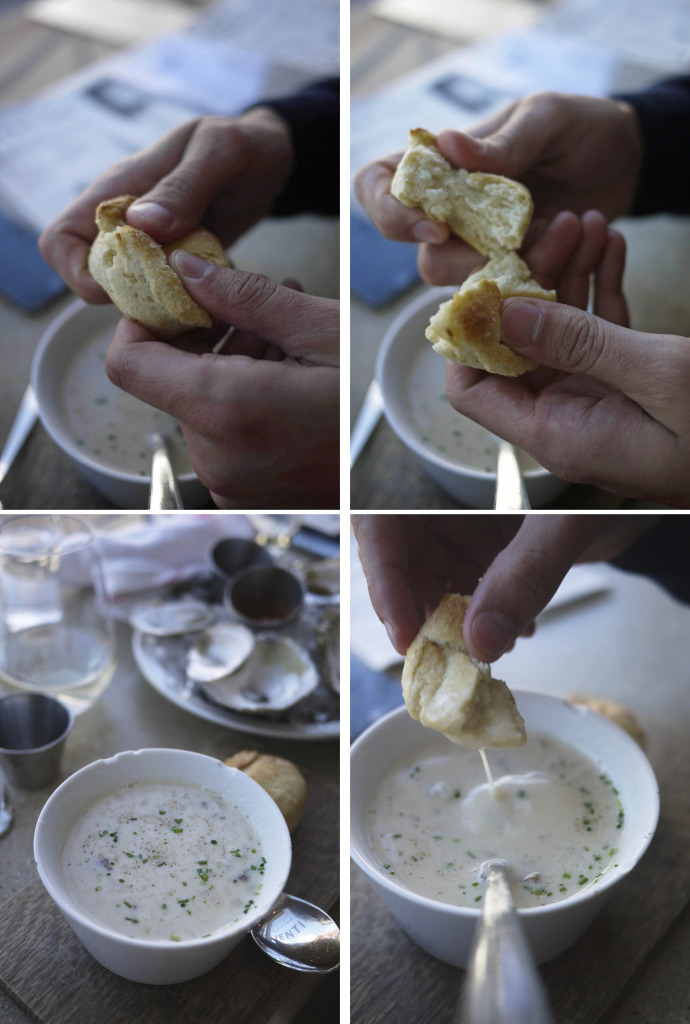 Then came our Clam Chowder with Salt Pork, Potatoes, Clams and served not with oyster crackers but with a fluffy, flakey biscuit. The broth was delicious and light which left plenty of room for the main event (get it?!), Eventide Oyster's Lobster Roll.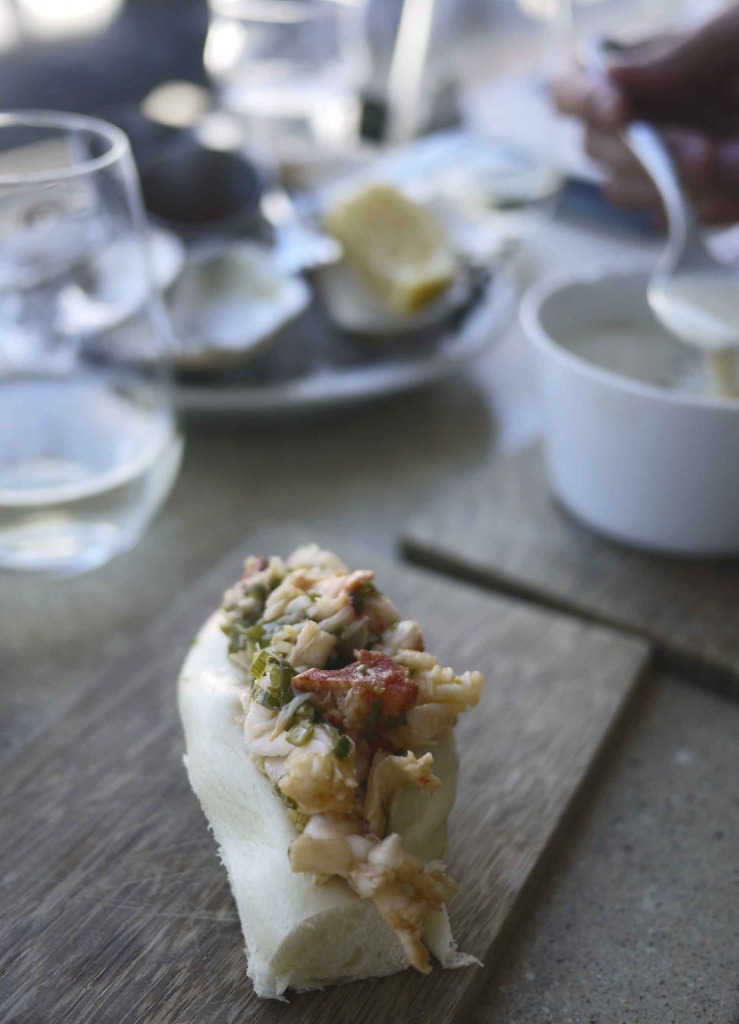 This being the Lobster State, Eventide Oyster Co most certainly serves lobster… just unlike any way I have ever tasted! Eventide's Lobster Roll nixes the hotdog bun in favor of a Chinese Bao Bun and is offered not just with mayo but with warmed brown butter or ginger scallion.
Eventide Oyster Co.'s Ginger Scallion Lobster Roll in my opinion, completely stole the show. The airy steamed bao bun is chewy and a bit sweet which lends itself perfectly to the Asian flavors of ginger and scallion dressed lobster.
Eventide Lobster Rolls are small, about half the size of a regular Lobster Roll, so a selection of a few to share is probably a good idea. We also tried the brown butter lobster roll (pictured below) which was rich in flavor, and to no surprise absolutely delicious.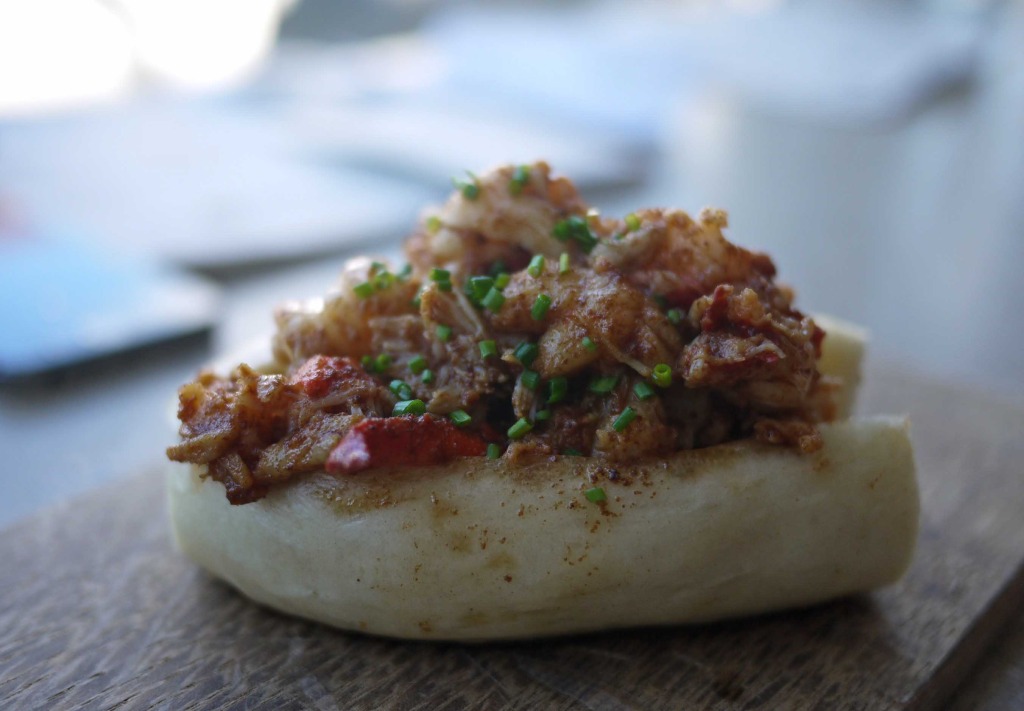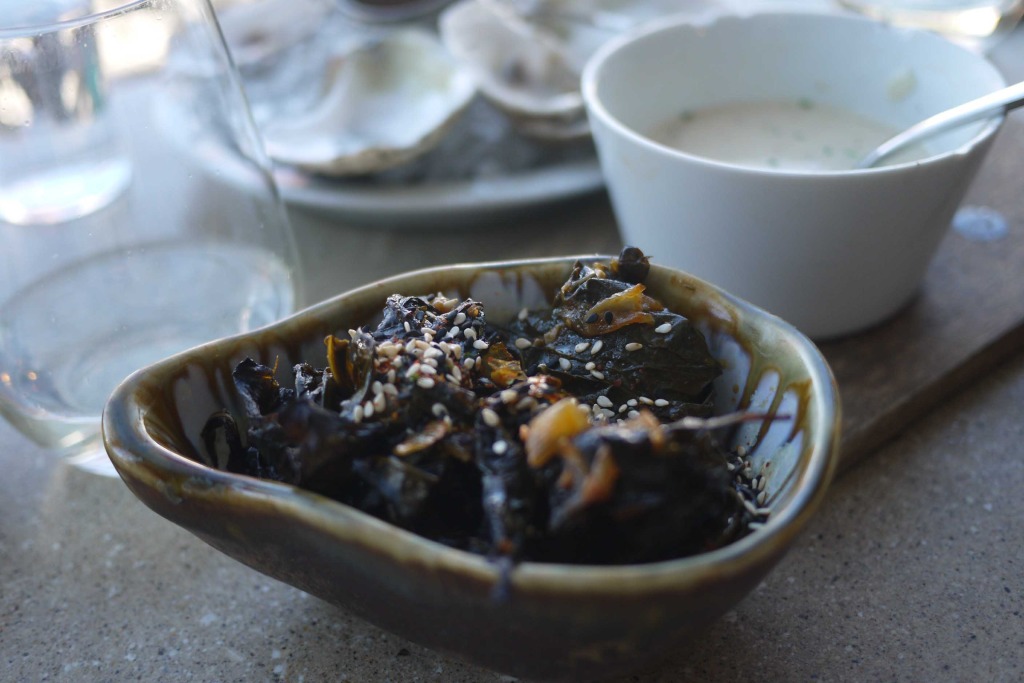 Collard Greens and sesame, a mix of spicy flavors with sweet undertones that tasted a bit like molasses. A very untraditional choice with lobster, but the bold Asian flavors really worked great together.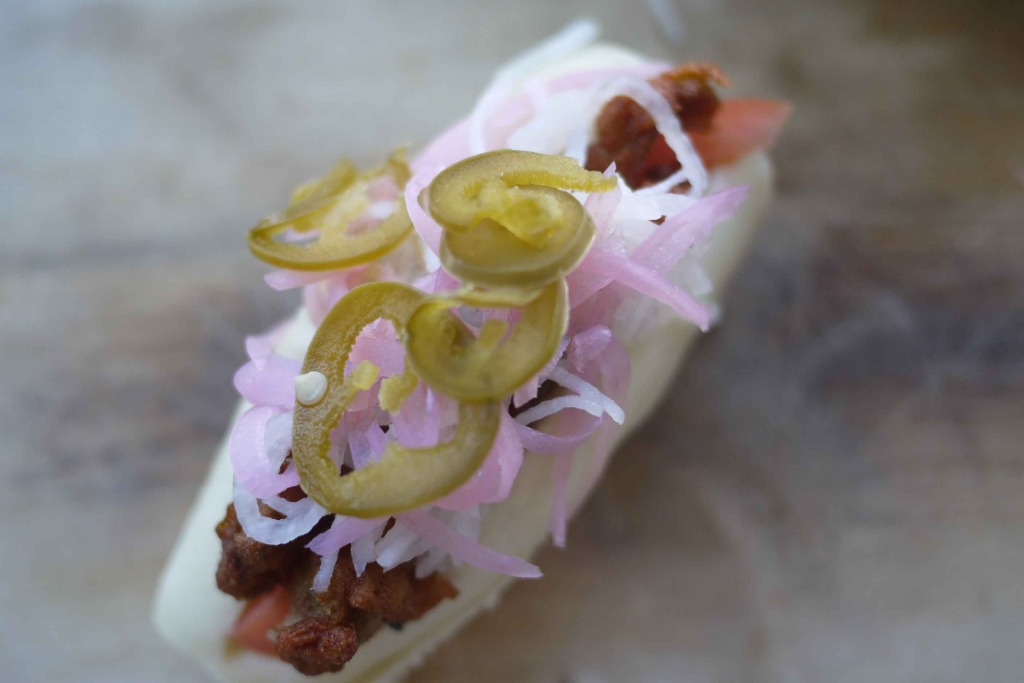 We each ordered Eventide Oyster Co's Fried Winterpoint Oyster bun with pickled Vegetables and Tartar Sauce. More reasonably priced than the Lobster Rolls and surprisingly refreshing for something fried. I would definitely order a few of these again!
Eventide Oyster Company boasts a friendly and knowledgable staff, fun atmosphere and incredible food. I would place Eventide Oyster Company at the top of my list for best Seafood Restaurants in New England. It was that good. Seriously, it was that good!! If you are afficianados of Neptune Oyster in Boston, you will love this place.
Portland Maine is a quick day trip from Boston, so no excuses to not put Eventide on your docket.  The Downeaster Train operates 5 daily round trip journeys. Perfect for city slickers with no cars.  I highly recommend a visit. If driving, you might want to consider combining a trip to Eventide Oyster Co with shopping at Freeport Outlets, only 20 minutes away. Did I mention there is a Patagonia Outlet?!!
Eventide Oyster Company: 86 Middle St, Portland, ME 04101. (207) 774-8538
Eventide Oyster Co Hours: Open Daily, 11 am – Midnight. 11 am – 3pm Brunch on Sunday/Monday