Fact: Over the Knee Boots are all the rage this Fall. Whether to invest your hard earned dollars in Over the Knee Boots is another story. I have been lusting after Stuart Weitzman's 5050 Boots since last year, but my bank account indicated I should look for a less expensive Stuart Weitzman alternative.
This Splurge or Save Suede Over the Knee Boots post is the first in a new series, titled Splurge or Save. Classic, quality pieces are the backbone of my closet, but for trendy items I hardly ever invest lots of money. Typically this is where I search for bargains. With this new Splurge or Save series, I hope to pass on some valuable information that will affect your pocket book in one of two ways! You decide!
Without further ado… here is our first Save or Splurge on the Buggy Blog. Do you think these Suede Over the Knee Boots put a dent in my bank account or do you think I found a bargain?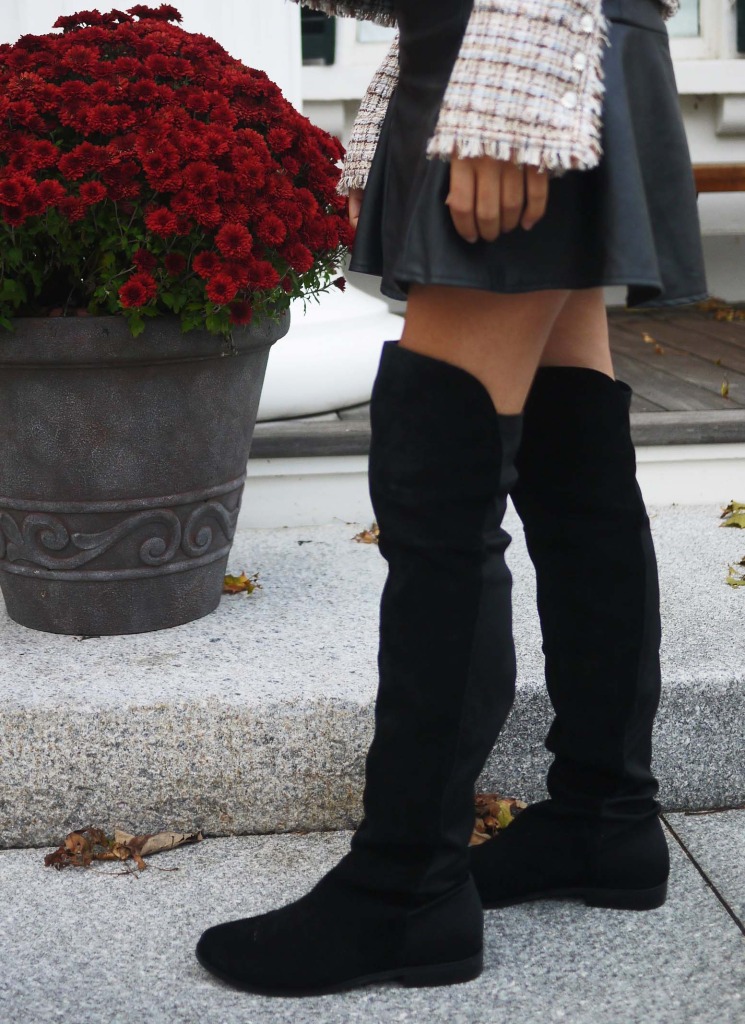 If you guessed SAVE versus SPLURGE , then you guessed right! These affordable Over the Knee Boots cost a mere $99!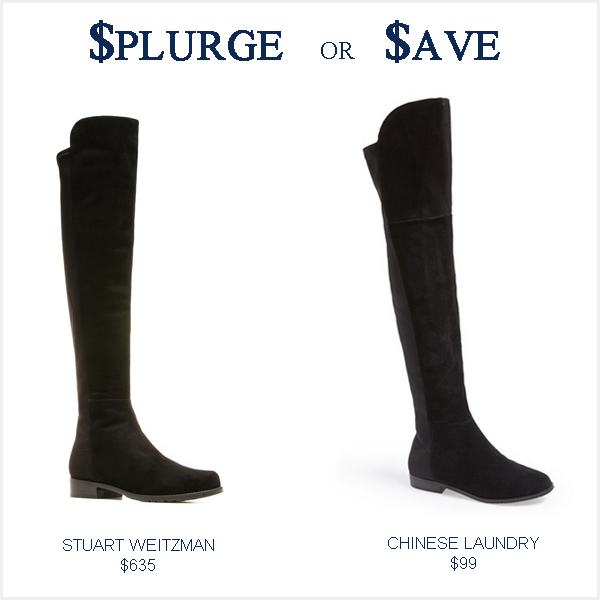 The main reason I felt comfortable purchasing these Affordable Over the Knee Boots was based on the suede material. Suede tends to look similar whether you are paying big bucks or a smaller amount. If these Chinese Laundry Over the Knee boots were leather, I would have given them a miss as cheap leather boots tend to look their price. The second reason I felt comfortable purchasing a cheaper boot was the simplicity in the style. There were no buckles, zippers or design details that are sure giveaways when made with lesser materials. I purchased these affordable Over the Knee Boots in Black Suede and am so pleased with the quality and $99 price point… a second pair in Chocolate Suede may be on its way!
While Stuart Weitzman 5050 Over the Knee Boots first stole my heart, I am now smarting for Stuart Weitzman Semi Wedge Boot  – a 2 1/4 inch wedge heel which adds just the right amount of height and is practical enough for long distance walking. Frankly for Fall 2014, Stuart Weitzman has hit it out of the park!
Please let me know what you would like me to feature in future Buggy Blog Splurge or Save posts! I love hearing from you guys!
P.S. About a month ago, I put together my 15 favorite Over the Knee boots in this post with several splurge and save boot options.