Sweet maine lobster + Crispy Applewood Smoked Bacon + juicy, oozy heirloom tomatoes + warm, buttery brioche = one other worldly Lobster BLT.
Memorial Day Weekend I kicked off the beginning of summer with a Classic New England Lobster Roll Recipe. Yesterday I had a eureka moment and thought why not close out the summer with another great lobster recipe, but this time, on steroids, as nature's summer bounty is at its peak and tomatoes are screaming for a dance partner! Think of this easy to make Lobster BLT Recipe as a gussied up, more sinful version of The Classic New England Lobster Roll.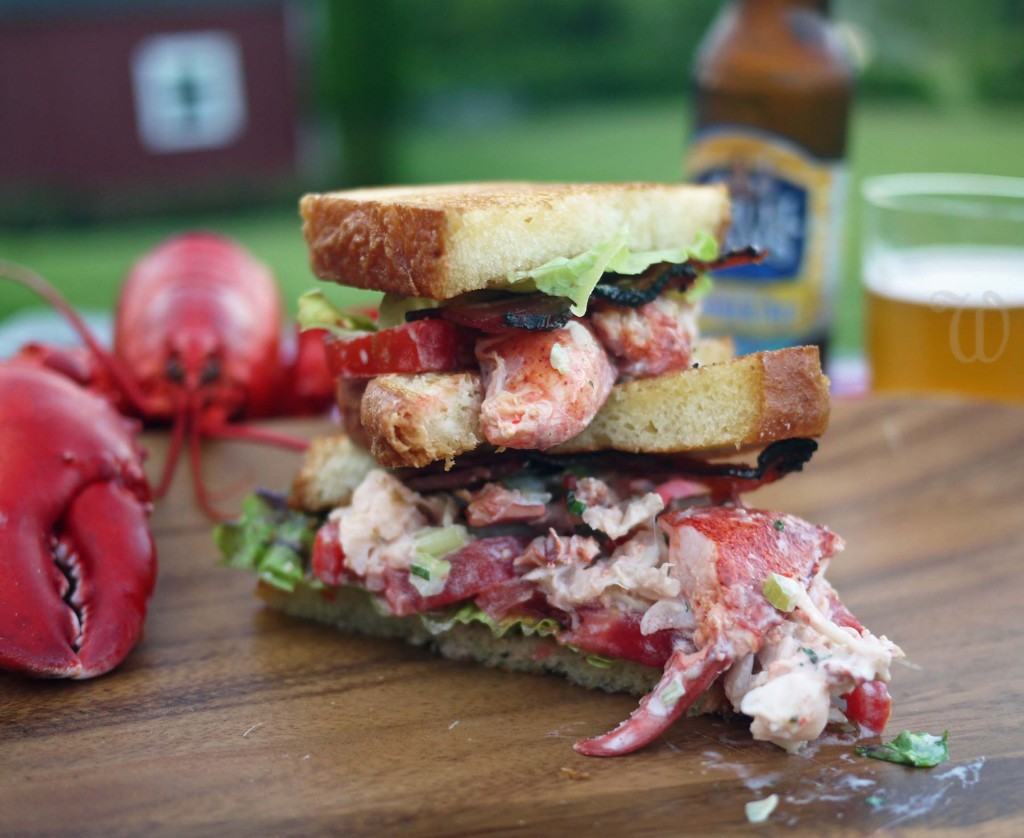 Icy Cold Beer served in our Monogrammed Old Fashioned Glasses!
Lobster BLT
Ingredients
Lobster BLT Ingredients
1 pound cooked lobster meat (approx 4 1¼ pound lobsters)
1 stalk celery, finely diced
8 slices Applewood smoked bacon, cooked
8 slices brioche sliced bread
4 thick slices heirloom tomatoes
4 lettuce leaves
4 tablespoons softened butter
1 teaspoon sea salt

Quick Basil Aioli Ingredients (Mix below ingredients together in separate bowl)
¼ cup mayonnaise
zest of 1 lemon
1 teaspoon lemon juice
1 tablespoon chopped basil
salt and freshly ground pepper, to taste
Instructions
Place Lobster, celery, and half the Basil Aioli in a bowl. Toss gently to combine. Add additional Basil Aioli if desired. Set Aside.
Thoroughly combine softened butter and sea salt. Butter 8 brioche slices on both sides.
Cook brioche slices over medium heat in a large skillet until golden brown.
To assemble the Lobster BLT, line up 4 toasted brioche slices on a platter. Layer each slice first with lettuce, then tomato (for extra flavor add a bit of salt and pepper directly on tomato), then ¼ of lobster meat mixture on each, topped off with 2 slices of Applewood Smoked Bacon. Top with toasted brioche. Cut in half and enjoy!
Tips
*For perfect Bacon every time, preheat oven to 400 degrees F. Line a baking sheet with foil, place a cooling rack on top of baking sheet. Lay bacon slices directly onto rack and place in the the oven. Bake for approximately 12-17 minutes
*If you choose to boil your own Lobsters, make sure to add about ¼ cup of sea salt to the water. This may sound like a lot but you are trying to mimic the flavor of sea water! Cook 1¼ pound lobsters for approx 10 minutes. If you like cold lobster BLT's, plunge lobsters in an ice water bath to quickly chill
*Lobster BLT's are super quick and easy when you ask your fish monger or local supermarket to steam lobsters for you.
*When tomatoes are at their ripest, leftover basil aioli makes for a perfect tomato sandwich!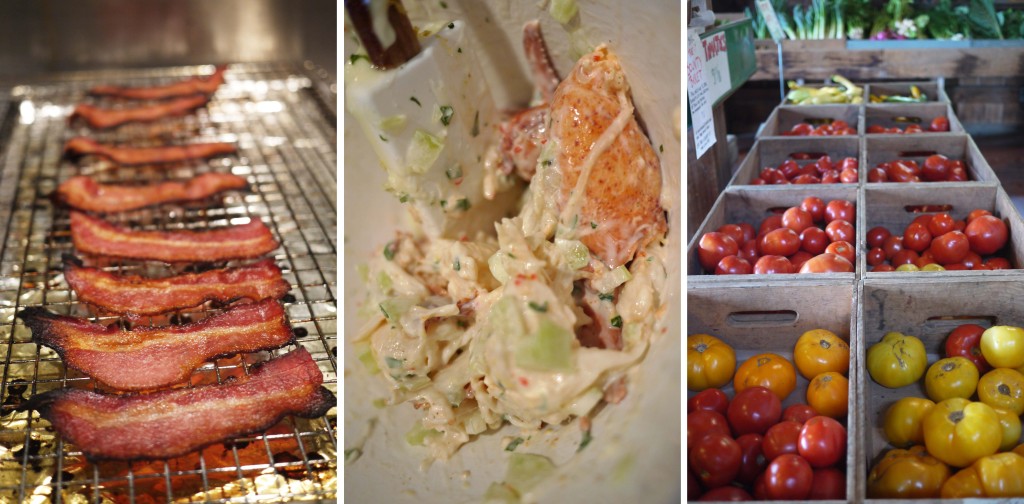 Applewood Smoked Bacon + Maine Lobster + Heirloom Tomatoes = a wonderful Holy Trinity!
Do not underestimate the power of using the best ingredients. There are not many components to this sandwich and each ingredient should be stellar in flavor.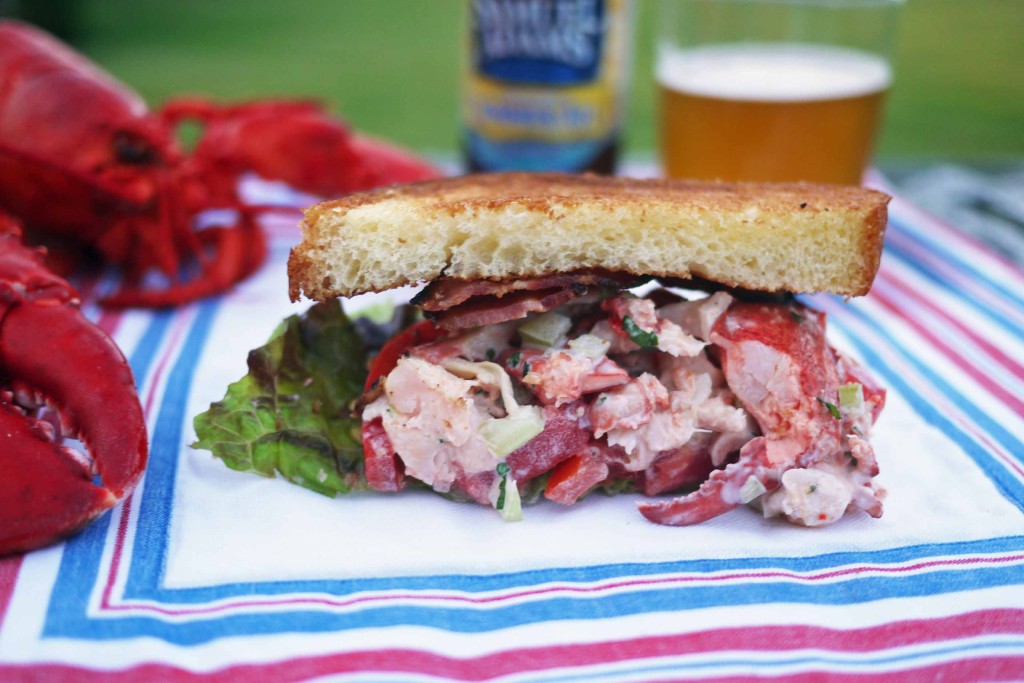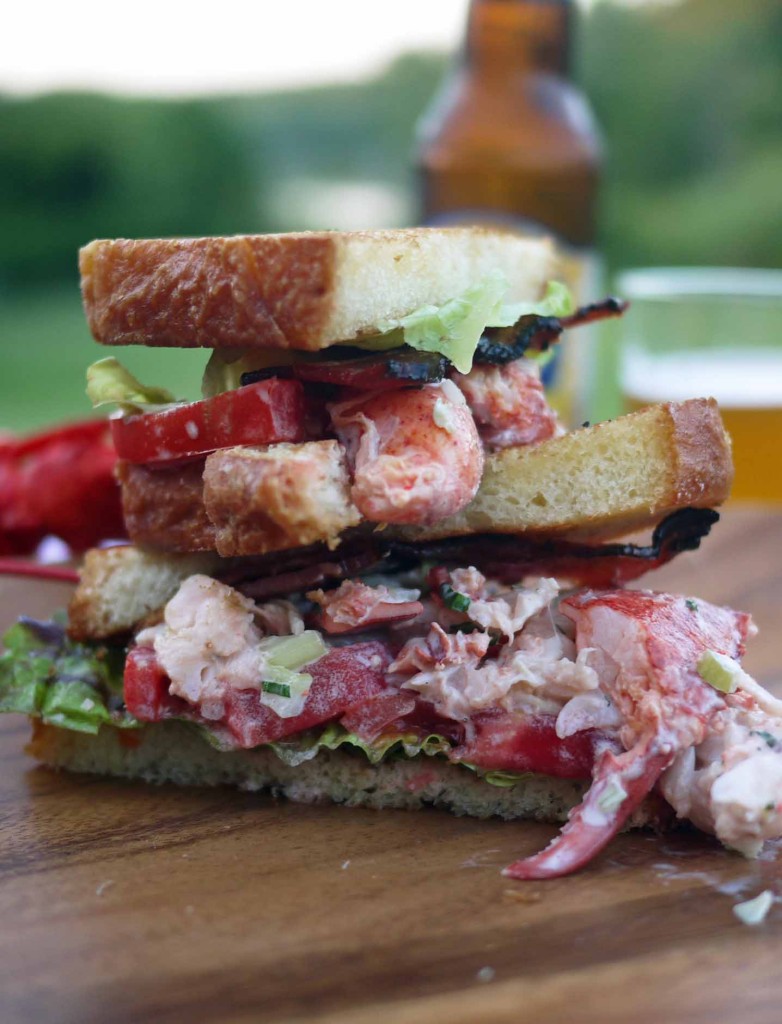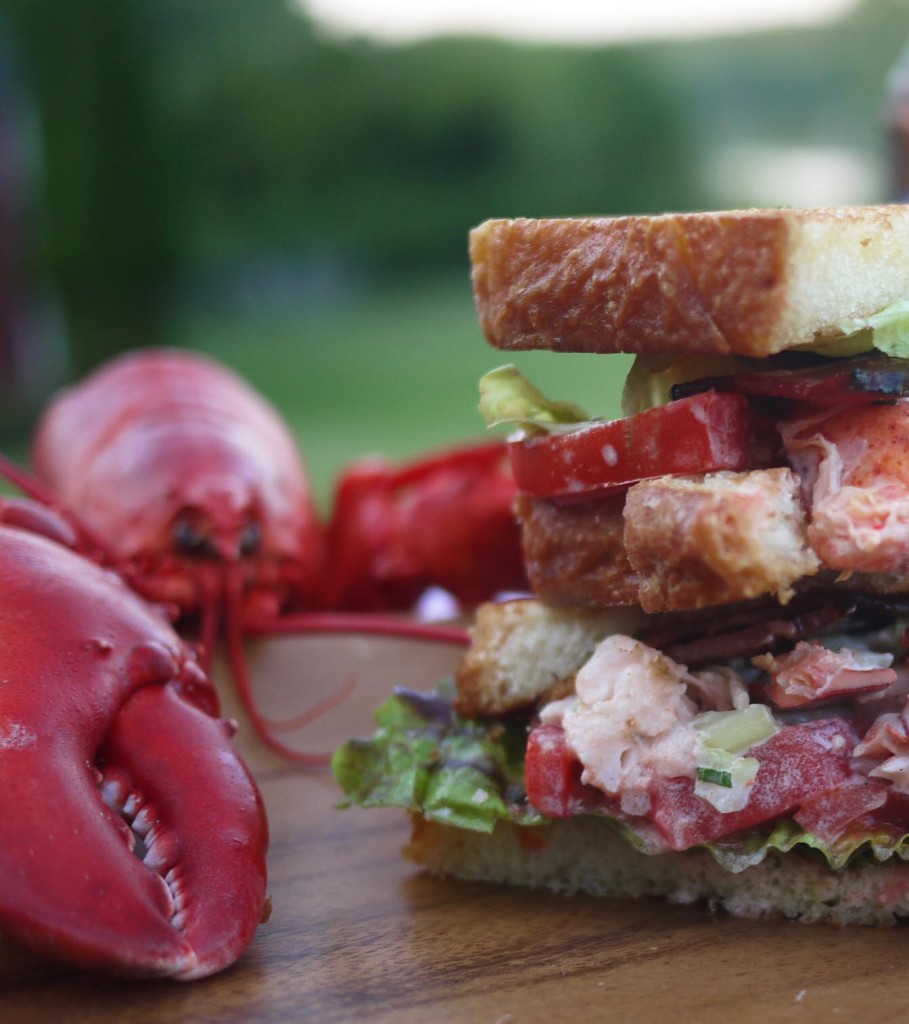 This Lobster BLT baby is meant to be messy, so saddle up with lots of napkins, an icy cold beer (or a glass of pink or white), salty chips, and roll up those sleeves… hurry up, what are you waiting for?!
I hope this Ultimate Lobster BLT Recipe becomes part of your lobster repertoire. Happy Labor Day!