After a long day of work, for me there's nothing better than coming home, pouring a glass of cold, Provencal Rosé, lighting up the charcoal grill to the tunes of the Gypsy Kings while preparing a Mediterranean feast. Greek, Italian and Provencal food is both comforting and healthy, easy and delicious. Really, as long as you have fresh ingredients, a bottle of good extra virgin olive oil, some lemons, and a few fresh herbs, you're in business! Oh, and don't forget cheese and olives! Whether your leanings are Italian, Provencal or Greek, they are must-haves on all tables.
A few nights ago, the stars were aligned, the weather was spectacularly beautiful and the mosquitos were miraculously held at bay. Whole Foods had one of my favorite whole fish from Greece, Sea Bream (aka Porgy/Dorado), so the decision as to what to have for dinner was made instantly and a Greek theme was in order. For those of you who may not be fans of whole fish, Sea Bream is really sweet, delicate "non-fishy" fish.
For our al fresco dinner by the pool, the menu consisted of stuffed grilled fish with Latholemono, horiatiki salad with heirloom tomatoes from my grandmother's garden with Kozani feta (from Sophia's Greek Pantry in Belmont, MA), warm dandelion greens, and grilled bread. Dessert was fresh local peaches. Minimal prep work made for a maximum evening of relaxation.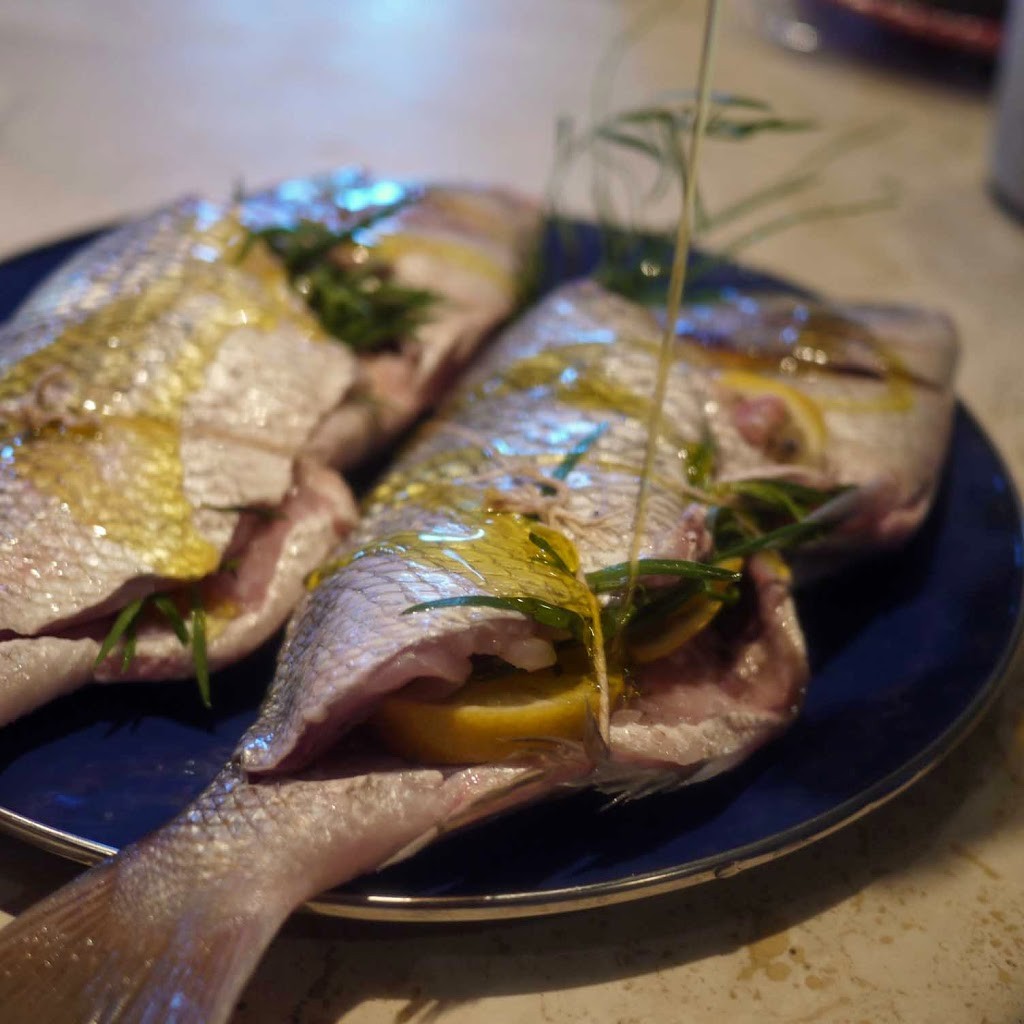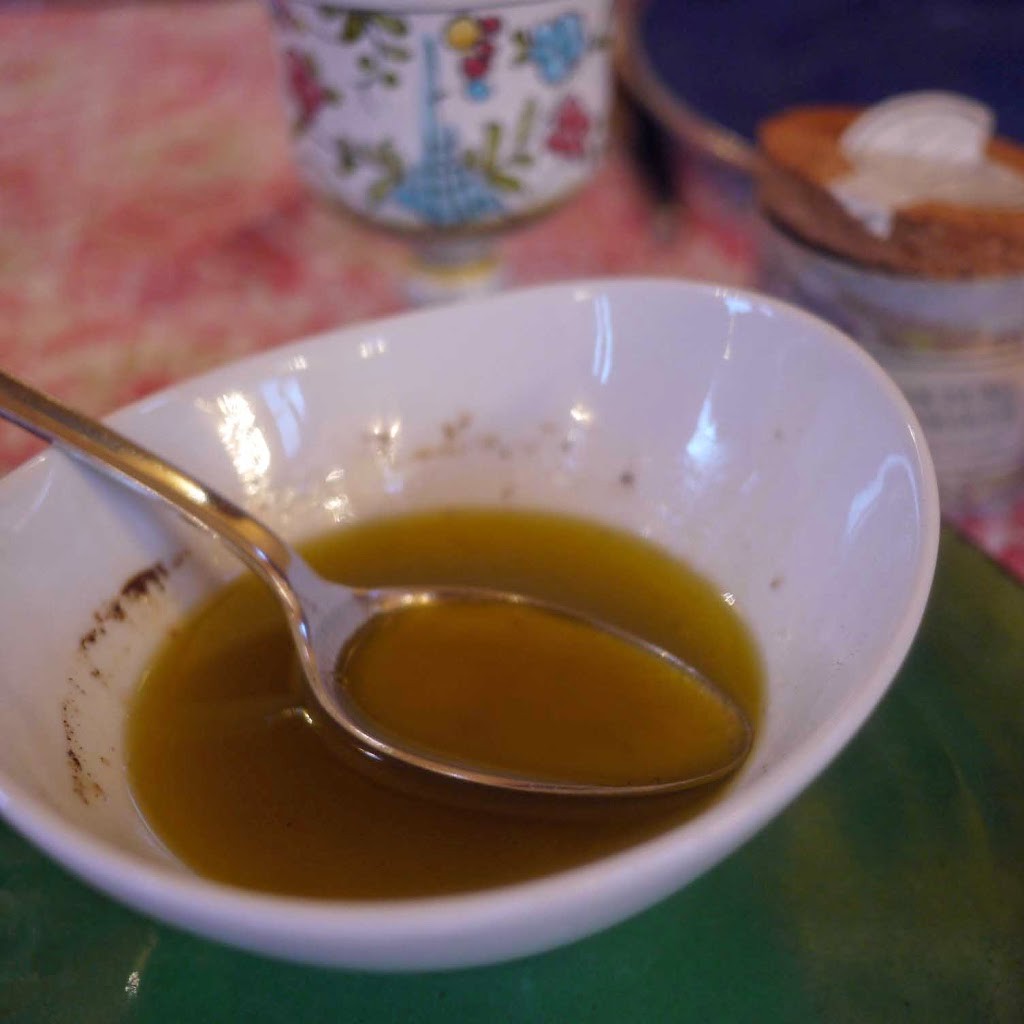 Latholemono to drizzle over Greek Grilled fish when serving. Latholemono: 2 parts Olive Oil, 1 part fresh Lemon juice, sea salt and pepper to taste. Whisk into thick emulsion.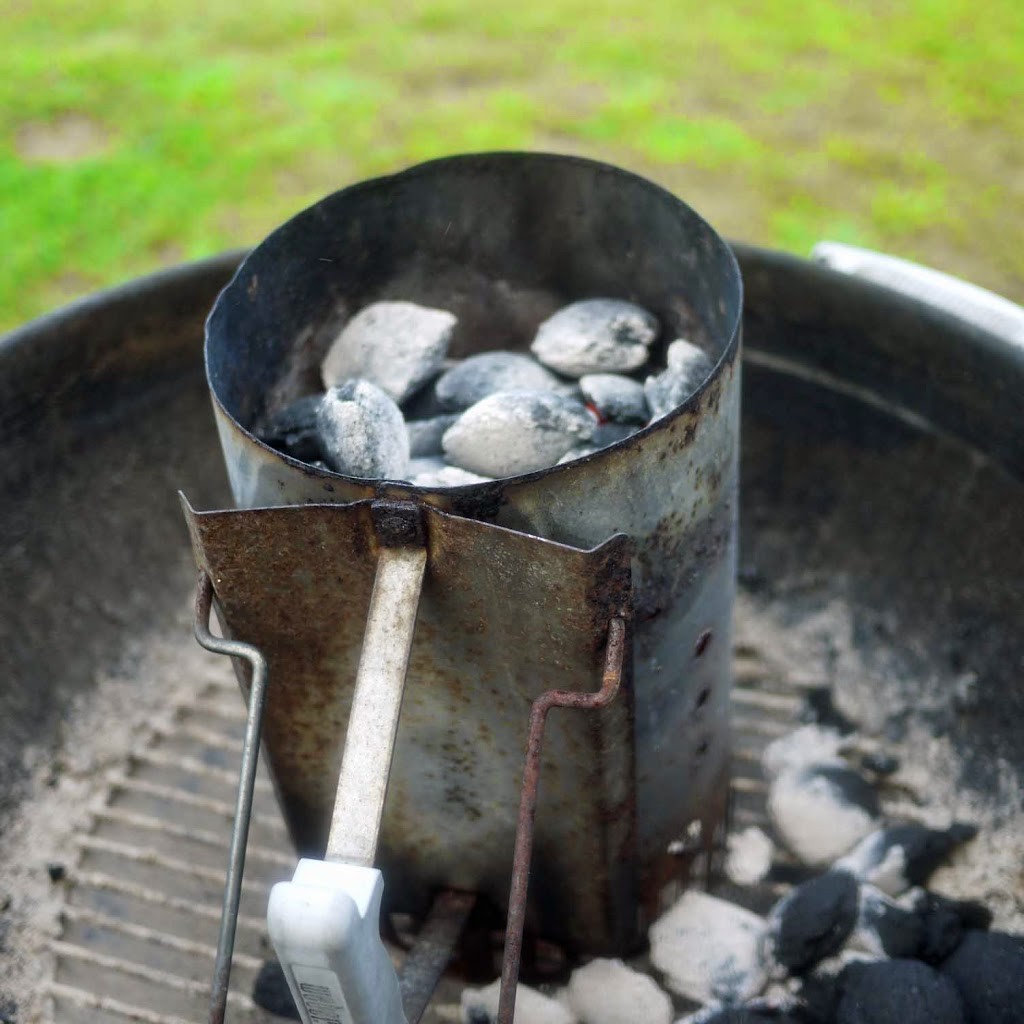 A family favorite, our Weber Kettle Grill. Adds the delicious, smoky flavor to this Grilled Whole Fish with Latholemono Recipe.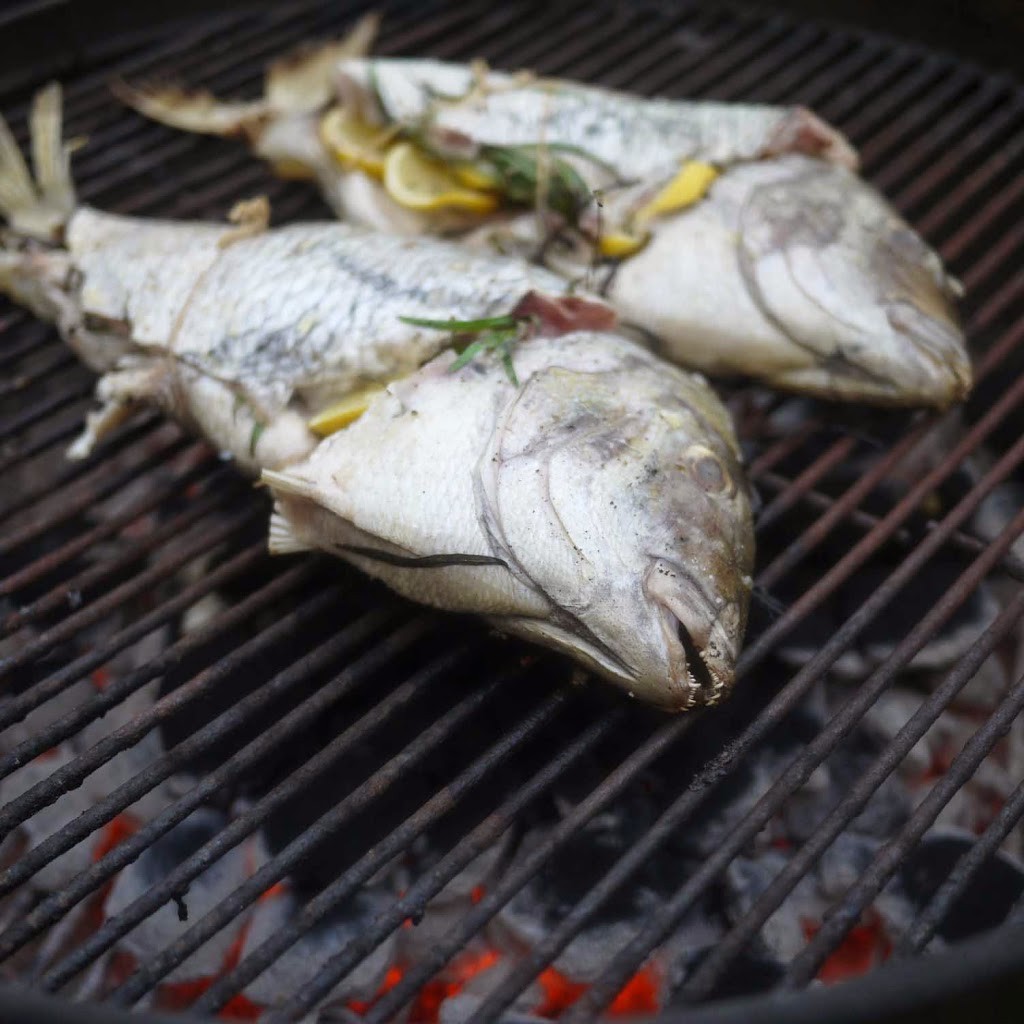 Grilled Sea Bream (Dorade) with lemon, fresh tarragon, thyme and oregano (see Grilled Fish Recipe with Latholemono below)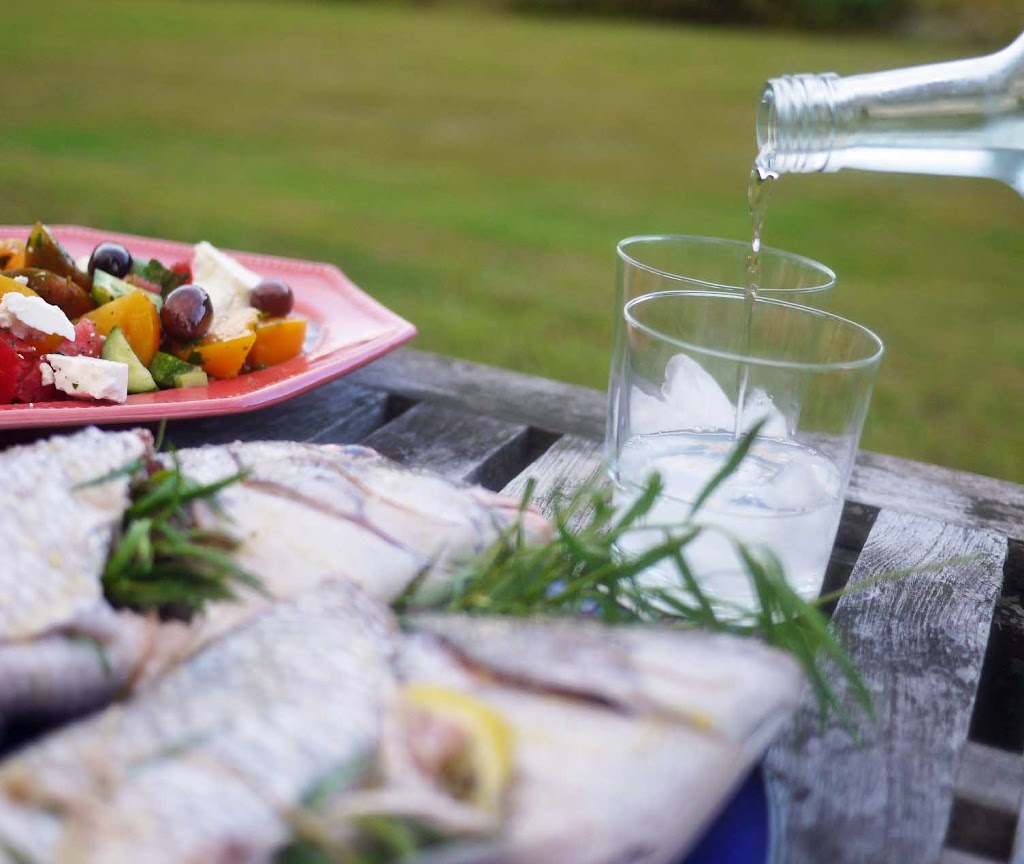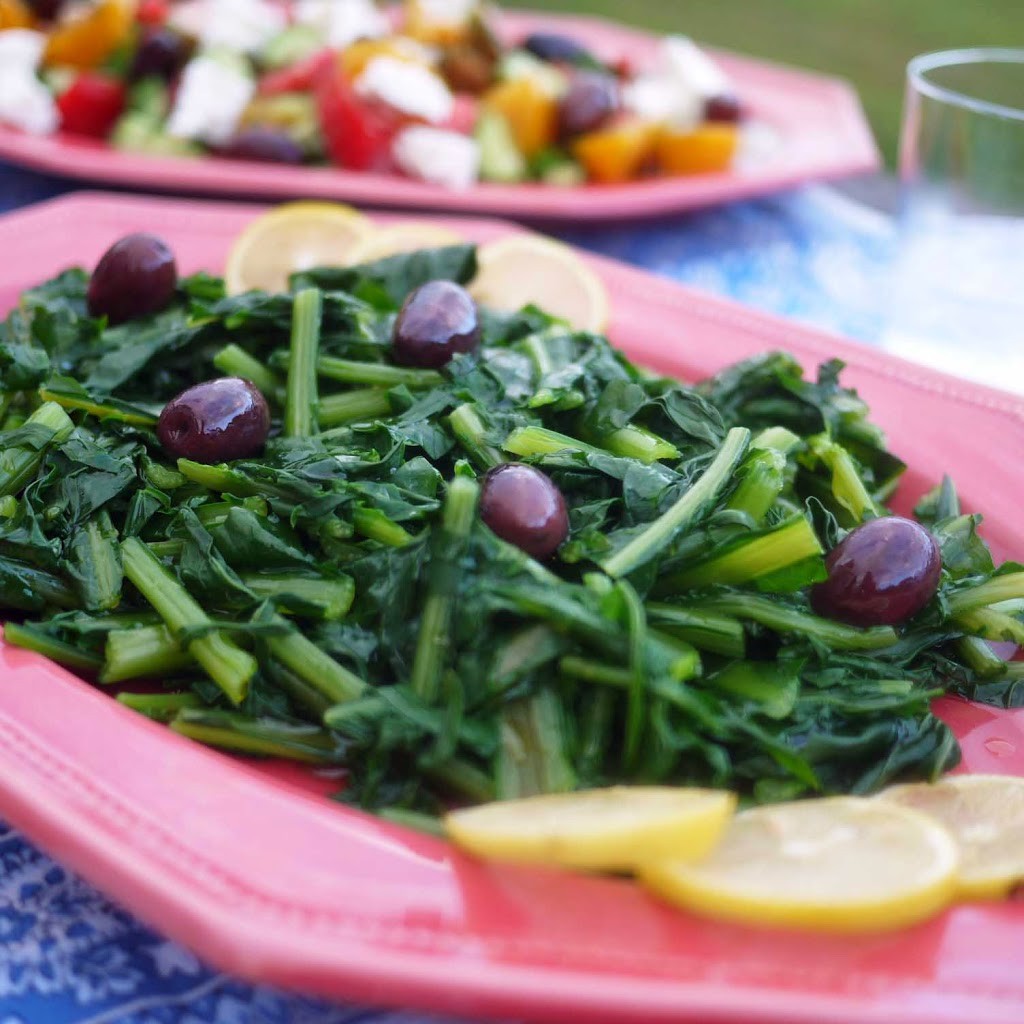 Steamed Dandelion Greens, drizzled with Latholemono (see below recipe for proportions) and topped with Marinated Olives.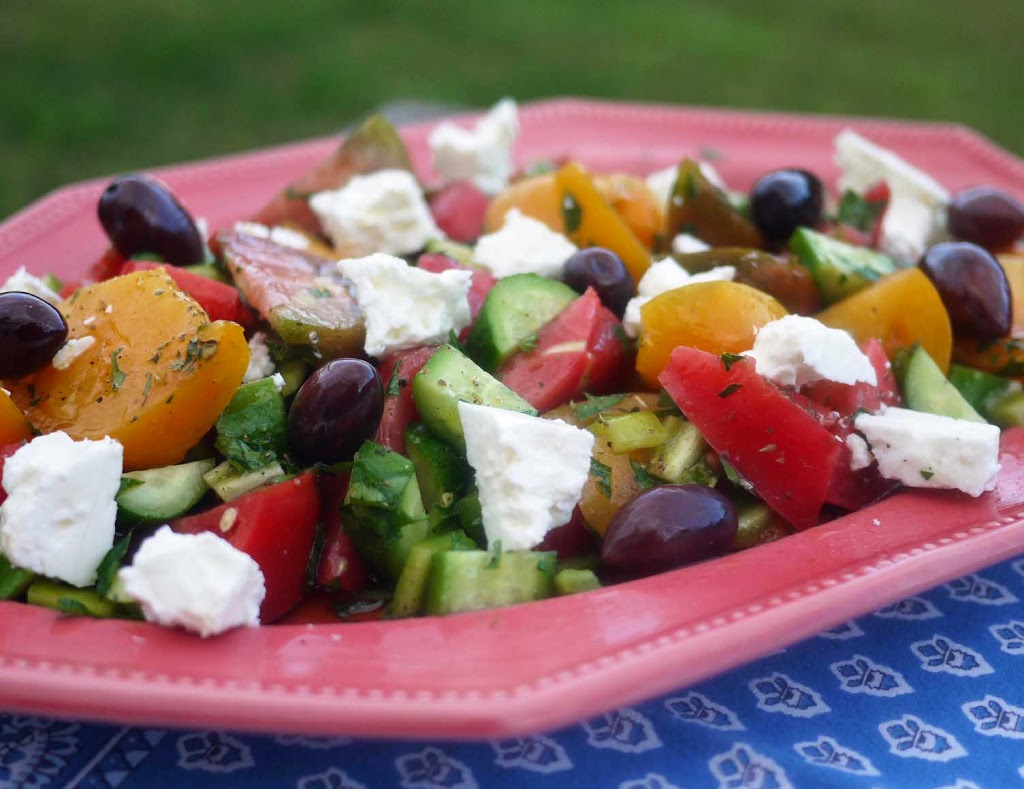 Traditional Greek Horiatiki Salad
Grilled Fish with Latholemono
Ingredients
GRILLED FISH INGREDIENTS
4 whole 10-oz Sea Bream Fish, Porgy or Red Snapper, cleaned.
4-8 sprigs fresh Oregano
4 sprigs fresh Thyme
4 sprigs fresh Tarragon (optional)
2 tablespoons e.v. olive oil
2 whole lemons sliced in circles
sea salt
pepper


LATHOLEMONO INGREDIENTS
Juice 2 Lemons
½ cup Extra Virgin Olive Oil
sea salt
pepper
Instructions
Latholemono Instructions
Prepare Latholemono by whisking all ingredients vigorously until you have a thick emulsion. As the fish is grilling you may want to baste the fish with a little latholemono. Save the rest for serving alongside grilled fish.

Whole Fish Instructions
Brush the inside cavity and the outside of the fish with olive oil and lemon juice. Sprinkle with salt and pepper. Stuff fish with lemon slices and fresh herbs. For easy grilling, tie fish in two or three places. If you have a fish basket for grilling, you may eliminate tying the fish.
Using a charcoal or gas grill, over a medium/high fire, grill fish 4-5 minutes on each side until lightly charred.
Serve with latholemono.
Tips
*When grilling, if using a kettle grill, set up 2 zones. 1 zone should have lots of hot charcoal and the second zone should have about half of the amount. Grill at high heat to get a great sear for a few minutes, then move to slightly cooler zone and put the kettle grill cover on with the 4 smoke holes halfway open. This will impart a lovely smokey flavor to the fish. The end result will be a tender, crispy and smokey fish!
*If you don't have fresh herbs, you can use dry oregano, but be very light handed! 1 teaspoon for 4 fish will do.
Follow my blog with Bloglovin // Follow on Pinterest // Like us on Facebook