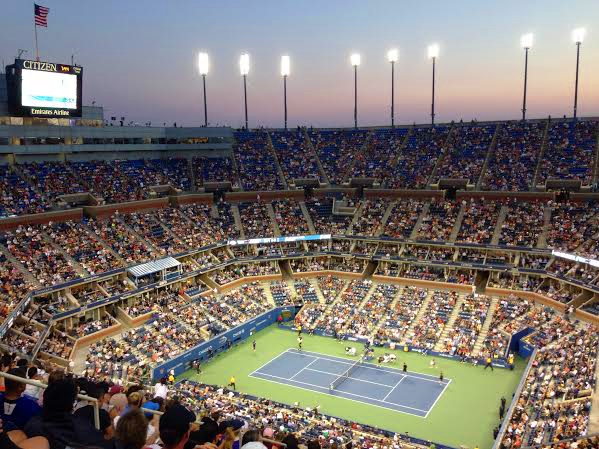 I know a lot of you love tennis as much as I do! I think it is a great way to get some exercise so I'm always on sites like Rad Raquet to help me improve my game! I was lucky enough to go to the US Open this year and learnt a lot so I thought I would give you some tips as many of our Buggy Designs customers and Buggy Blog readers are big tennis fans. So, here are my Top Ten US Open Tennis Tips (plus a few bonus tips!) to make your time at the US Open more enjoyable.
Labor Day weekend for New Englanders may be bittersweet but if you are a tennis fan(atic) like me, the sting of summer's lazy days coming to an end is softened by the sounds of screams and grunts of the world's best tennis players. Memorial Day we are usually cheering on Nadal at The French Open as the summer begins, Fourth of July we are enjoying our 'Breakfast at Wimbledon" with scones, strawberries, and clotted cream, but Labor Day in New York is special- in only that way New York can be. The fans are more raucous, the music louder and there's nothing quite like tennis under the lights at Arthur Ashe Stadium. However, if you are unable to travel, you might consider watching the live matches on your TV! You could start looking at Dish TV Packages and similar other cable, or satellite tv packs and get a head start this tennis season!
*Nonetheless, here is the Buggy Blog US Open Tennis Tips for First-Timers and Flushing Meadows Pros! Full disclosure: this US Open Tennis Tips blog post claims to offer the top 10 tips for attending US Open, however, 10 tips didn't cut it and I have added three bonus US Open tennis tips for good measure. Game. Set. Match.!
Top 10 US Open Tennis Tips
Transportation: Take either the MTA's number 7 train from Bryant Park, Grand Central, or Times Square in Mahattan to the Willets Point-Citi Field. Or take the Long Island Rail Road (LIRR) from Penn Station. The trains are fast and efficient and who knows, you might find yourself sitting next to a player or two! There are also complimentary pedicabs and bicycles to take you from the subway to the entrance of The Open (great option if you have heavy bags that you are checking in as the walk can be a bit long). Driving from points North, Google directions will advise you to take Citi Field exit. Unless you plan to park at Citi Field, heed Google's advice, instead follow special event signs on highway for US Open. This preferred route will take you directly to Billie Jean King National Tennis Center(BJKNTC) grounds and parking. The cost for parking is $20. Mercedes owners can park for free(Mercedes is a big corporate sponsor)!

Ways to avoid long entrance lines at the US Open

: Get there early! Gates open at 10am for 11am matches. Speed lines are available at all gates for spectators without bags and for those who have made prior restaurant reservations. All bags are subject to search and cannot be larger than 12 inches W x 12 inches H x 16 inches L. Should you have a bag larger than that, there are a few bag storage facilities directly outside of entrance (be prepared to wait for 1+ hours to check your oversized bag). Another tip for shorter lines at the US Open, enter from South Gate.

What to wear: The 3 S's

Sunscreen, sunglasses, sunhat. I can't emphasize this enough! The sun really pounds down in unrelenting fashion so be prepared! BJKNTC has several micro climates. Grandstand is half sun, half shade, Arthur Ashe Stadium is typically quite windy,and the inner courts are very hot and sunny. When the sun goes down, or is hiding behind clouds, the temps can drop quickly. Wear layers and bring a sweater or jacket if you plan on staying for night matches at The US Open.

Hydrate, hydrate, hydrate

: Bring in a Nalgene water bottle that can be refilled with ice water for free throughout the day. Vendors happily refilled for us- no attitude. Note, no metal allowed, just plastic at The US Open!

Where to eat and drink

: yes it's cheaper to eat in Queens vs. BJKNTC – if you choose to leave US Open tennis grounds, your hand will be stamped for reentry but to me it's totally not worth it. For a few extra bucks head over to the Food Village where this year there are actually some really healthy and delicious selections; Farm2Fork is offering up organic meat and produce from local sources. Selections include salads, free range chicken with olive tapenade, pork and broccoli rabe sandwiches and a mean looking BLT with heirloom tomatoes. Richard Sandoval of Maya restaurant fame is making fresh tasting tacos using seasonal ingredients and Pat LaFrieda is debuting a filet mignon steak sandwich. Oh- did I mention the US Open's famous lobster roll or the Morris Grilled Cheese Truck holding serve by court #17? Word to the wise, if you want to avoid long lunch lines, eat before 12:30, otherwise be prepared to wait. In addition to the Food Village, there are several on-site restaurants that take reservations. For a more upscale dining experience,head to Aces for great seafood and sushi by Morimoto. David Burke is manning the stoves at Champions Bar & Grill where has has sourced local oysters and clams from Long Island and produce from New Jersey and Connecticut. Now onto drinks- Drinks might be expensive but if you got a Grounds Pass, you already got a pretty good deal for a day of fun so why not splurge a bit on alcohol. Wimbledon may have champagne and strawberries but the US Open has Grey Goose! The official drink of the US Open this year is called the Grey Goose Honey Deuce Cocktail (a fan favorite of years past) — this baby will set you back about $15 but you will have a US Open Commemorative Cup listing past champions to bring home. If you love bubbly, enjoy a glass of champagne at the très chic Moet and Chandon Terrace. With a group of friends? Head to Mojitos where you can catch up over pitchers of your favorite flavored mojitos. Don't worry about missing out on the tennis action there are tv's!
Grounds Pass Admission:

For the best value at the US Open, buy a Grounds Pass.

The Grounds Pass gives you the opportunity to see an unlimited amount of matches from when the gates open until closing time. The Grounds Pass is the best value at The Us Open. With the exception of Arthur Ashe Stadium, the Grounds Pass gives you access to every court including Louis Armstrong and Grandstand. Get to the

Grandstand

before it is torn down at the commencement of the 2014 US Open. This is truly one of the best venues in all of tennis and should not be missed.

Court 17

is a great new court and features lots of high level matches. It can be quite raucous and fun. CiCi Bellis, the American 15 year old tennis starlet played on

Court 17

and the match was on primetime tv.
Print a Schedule of Play: Save time and money by printing out a schedule of play at usopen.org, the draws and a map of the US Open Tennis grounds before you head to The Open.

Don't buy tickets off Craigslist or scalpers

– it usually will end poorly. Head to Ticketmaster, which also has resellers. If you have buckets of money and are desperate to see a great match on Arthur Ashe and don't have a corporate sponsor buddy, Stubhub is expensive but reliable for tickets to the US Open Tennis.

Phone charging stations are available, compliments of Chase

. Safe and secure individual lockers are provided to charge your phone.

Free radio headsets available to American Express Card holders

: If you have an AMEX US card, stop by the Amex booth where you will receive a free radio headset that will enable you to hear live tv commentary of major matches.
Stay up to date on the days matches and schedule changes on usopen.org


Watch top players on a practice court

. Djokovic and Federer not playing a match the day you are at the US Open? Not a problem, head on over to the practice courts and watch Djokovic and Fed bust a move or maybe even handsome Baby Fed (Grigor Dimitrov) show us why their backhands are a thing of beauty. The atmosphere is light and playful plus these players love New York and interacting with their fans in a more intimate setting.
Take a photo in front of the

Unisphere.

The worlds largest world is an ideal spot for a family photo, located in Flushing Meadows – Corona Park, adjacent to the Billie Jean King Tennis Center. The Unisphere was built as the theme symbol for the 1964/1965 World's Fair. The Unisphere is a 12-story high stainless steel representation of the earth, commissioned to celebrate the beginning of the space age. Though beautiful by day, the Unisphere is mesmerizing by night.
* For more information on US Open tennis tips, check out my Adventures at The US Open post!
Do you have any US Open Tennis Tips you would like me to add?!