There are some big happenin's at Buggy Designs this week! I am so excited I can hardly stand it! This week we are planning to unveil our new and improved Buggy Blog, but more on that later. For now, I am chained to my desk, sending emails, markups and designs back and forth with our most amazing programmer Sam (we like to call him Saint Sam, because well – he is!).
With the week being so busy, finding time to make a delicious and healthy meal has been tough. Today I looked in the fridge and tried to figure out what I could make in 10 minutes or less that would satisfy my cravings for vegetables and salt. Well what do you know? A plate of grilled vegetables from last night, a few stalks of celery, some basil, feta and tomatoes were calling my name. A quick trip to the pantry yielded a bag of 10 minute quick cooking 
farro
 from Trader Joes. I was off to the races.
In the time it took to boil 
farro
, I had chopped everything up, made myself an iced coffee and even had time to sneak in a call!
This quick and easy 
farro
 recipe adapts easily to most anything you have lying around in your fridge. A perfect salad for leftover grilled veggies! 
Farro
 Salad with Feta and Grilled Vegetables is equally delicious hot or cold.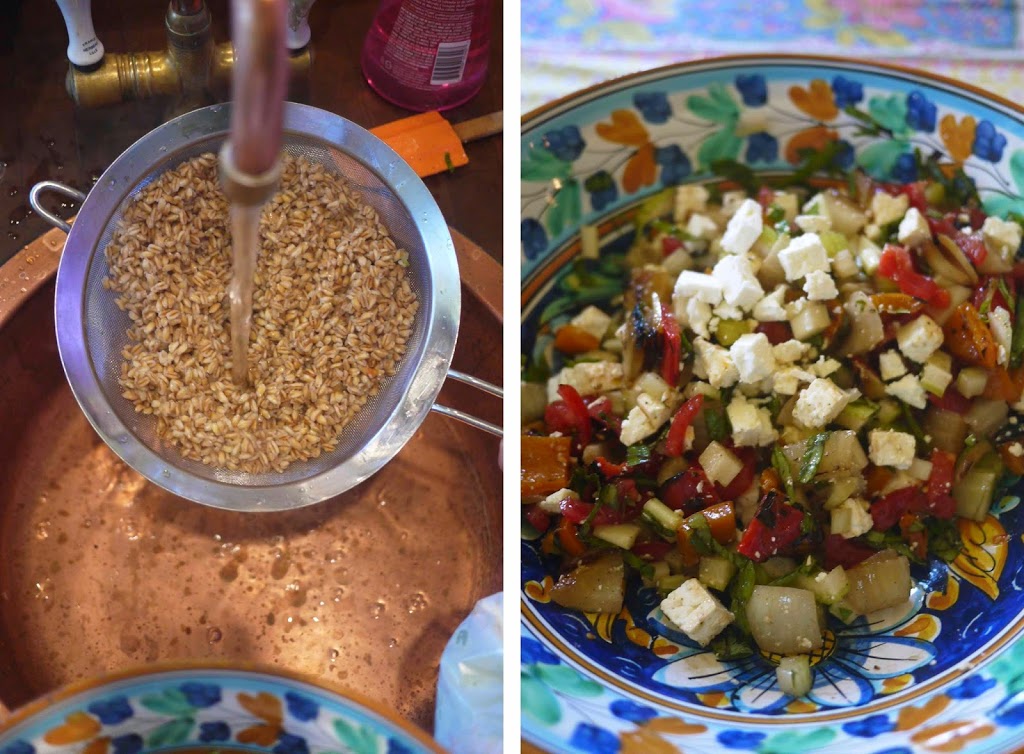 Farro Salad with Feta and Grilled Vegetables
Ingredients
1 cup quick cooking farro
1 large onion sliced thick, grilled
1 large pepper (red, yellow or orange) quartered, grilled
¼ cup basil chiffonade
2 celery stalks diced
12 cherry tomatoes, sliced in half
2 scallions, sliced thin
¾ cup cubed feta
2 tablespoons olive oil
1 teaspoon salt
1 teaspoon pepper
Instructions
Boil quick cooking farro in salted water for 10 minutes. Rinse with cold water if you prefer to have a cold salad. Drain.
Toss peppers and onions with 2 tablespoons olive oil, salt and peppers. Grill onions and peppers using an oven broiler or a grill until slightly soft and caramelized.
Combine all ingredients to farro and toss gently. Test for seasonings. You may want to add additional olive oil, salt and pepper to taste.
Tips
* When BBQ'ing always grill extra veggies as they are great additions to a grain salad the following day!
* For a citrusy farro salad, grate the zest of 1 lemon and use the juice.
* For a bit of heat, add 1 Anaheim red chili pepper
* Mint is also great!
* Up the protein level with a can of chickpeas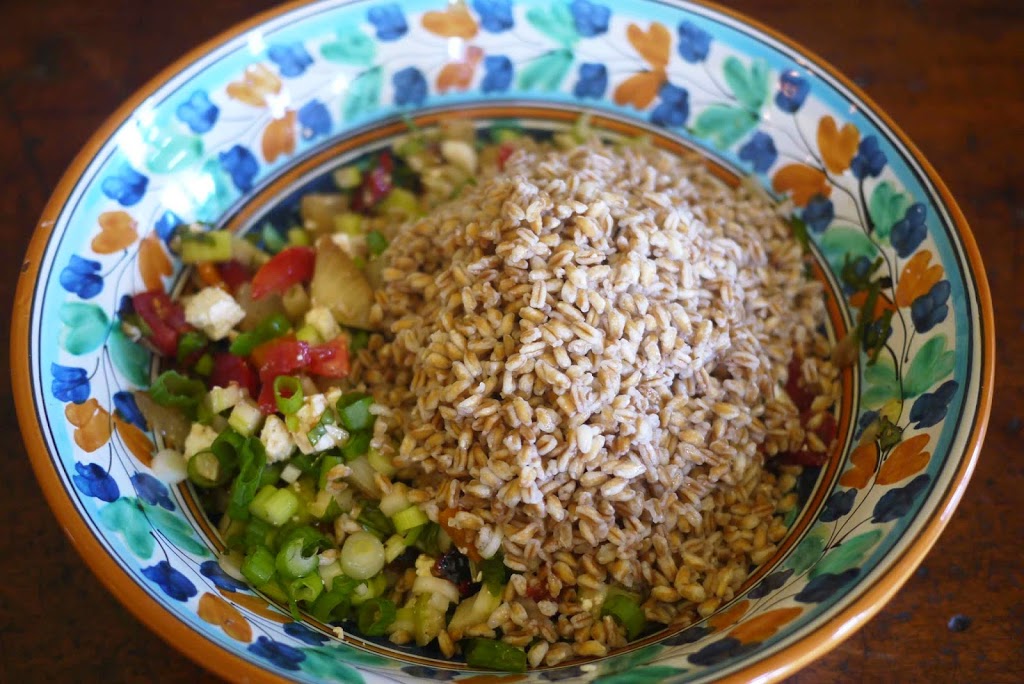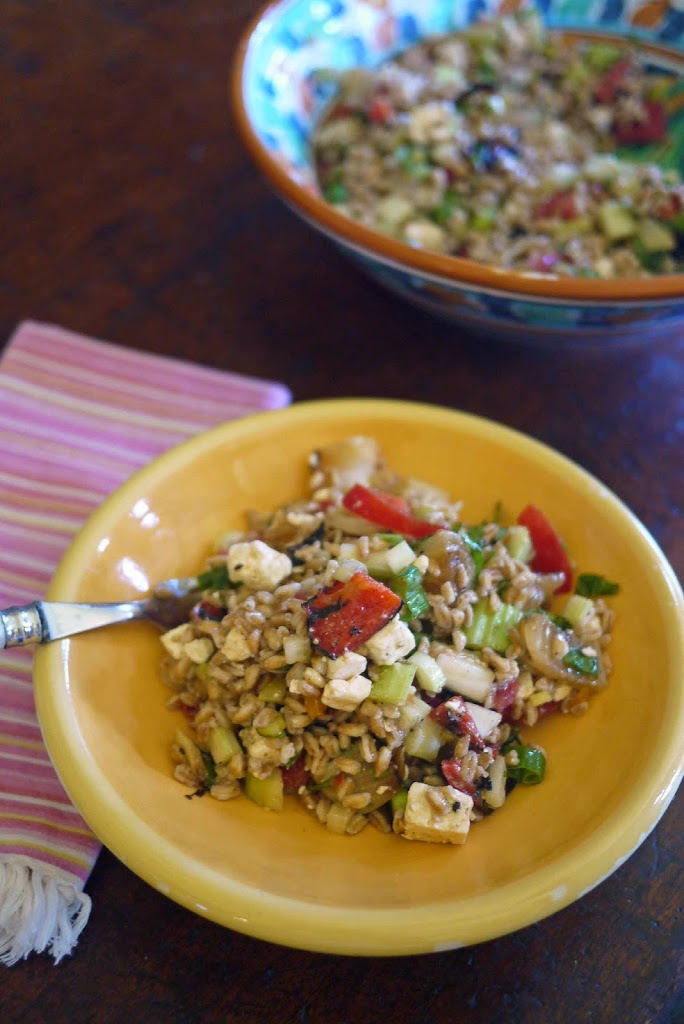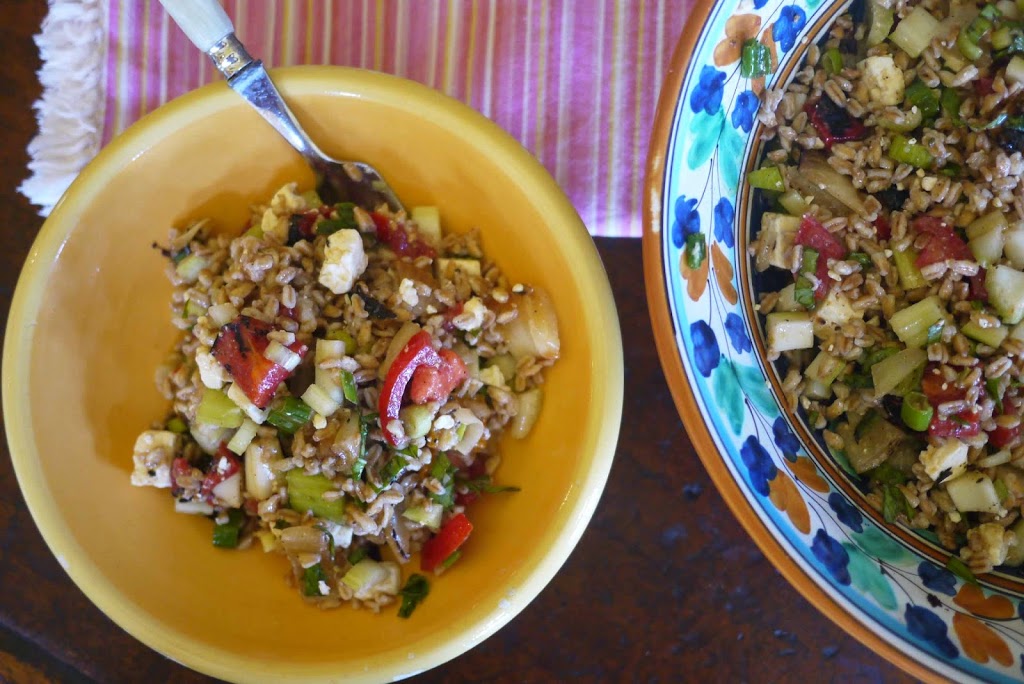 For those of you who haven't tried 
farro
, I liken it to a bigger grained, chewy Irish oatmeal and quite nutty in taste and completely addictive. I like quinoa, I loooove 
farro
! Try it!