The tennis gods have been good to me this week! Tuesday night I attended the US Open Tennis at the Billie Jean King National Tennis Center in Flushing Meadows, New York, for an alum event with my boarding school, St. Mark's! I've always enjoyed tennis, even though I've hardly ever played it. I would love to visit Wimbledon, considered one of the most pretigious tennis events of the year! If Wimbledon is on your bucket list too, then read more here! So as I said, I don't really play tennis, but my best friend did used to take tennis lessons miami though, so that basically makes me the offspring of Serena Williams and Roger Federer. Anyway, we had night tickets for Arthur Ashe Stadium and got to see Serena and Federer under the lights. They easily won their matches while we socialized and reminisced with many generations of St. Markers. If you're the type of person who likes to raise the stakes when you watch a tennis match, or any sport for that matter, then you may enjoy Fanduel's sports betting platform. We could tell a few people at the match we watched had money in the game after we saw their reactions when Federer won. Check out their guide here – https://www.fanduel.com/sports-betting-guide.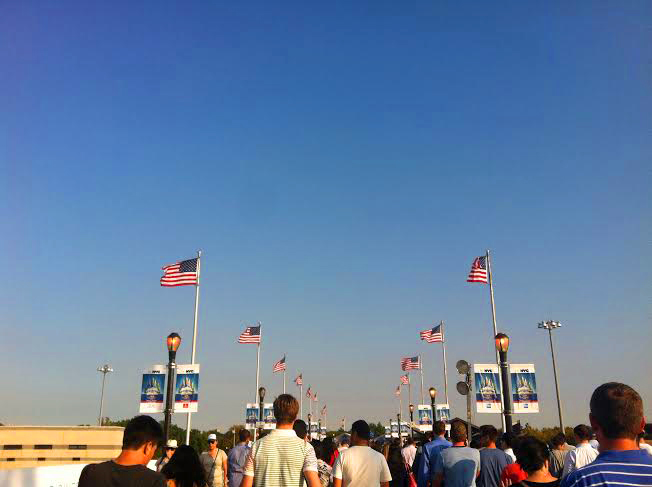 The patriotic entrance to the US Open once getting off the 7 train!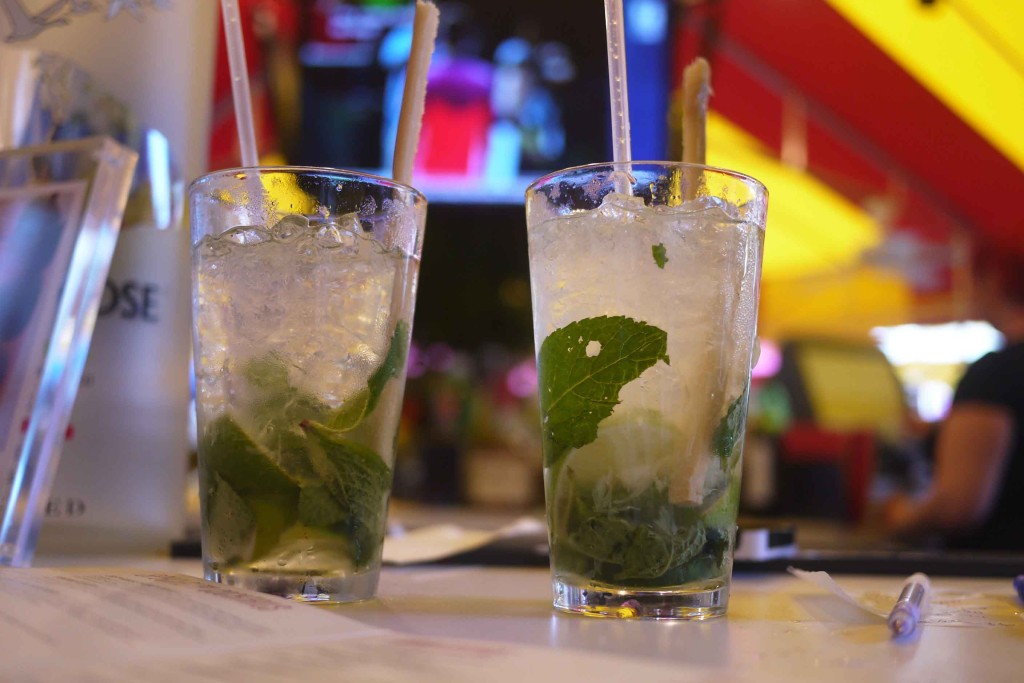 Mojitos at Cuban restaurant Mojito to start off tennis under the lights at The US Open!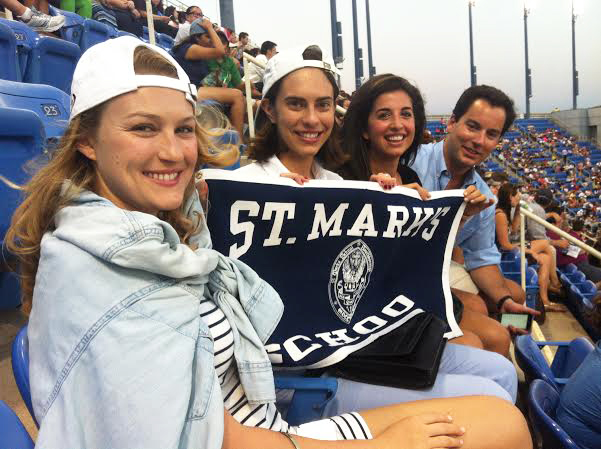 Abby, Hannah, me and Russ — we all played tennis together at St Marks and even met fellow tennis captains from years past!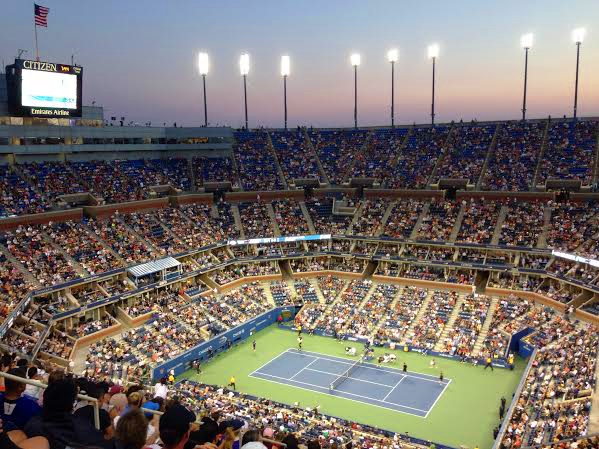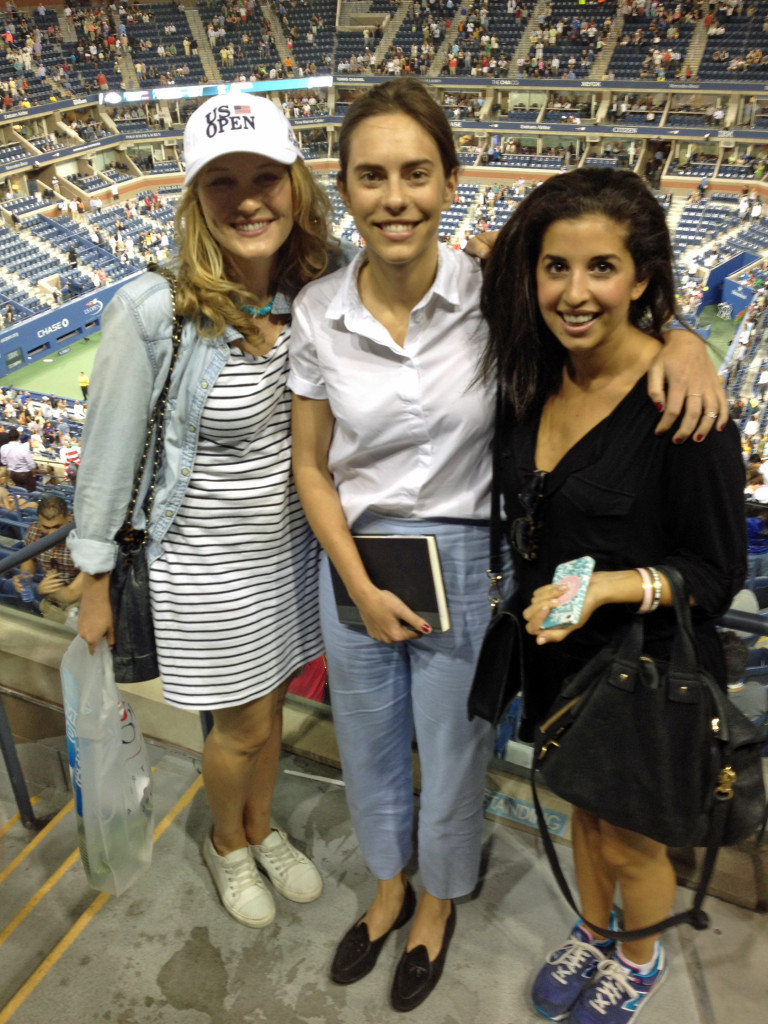 New Balance Sneaks // Clare Vivier Bag // Monogram Cell Phone Case // Warby Parker Sunglasses // Hermès Bangles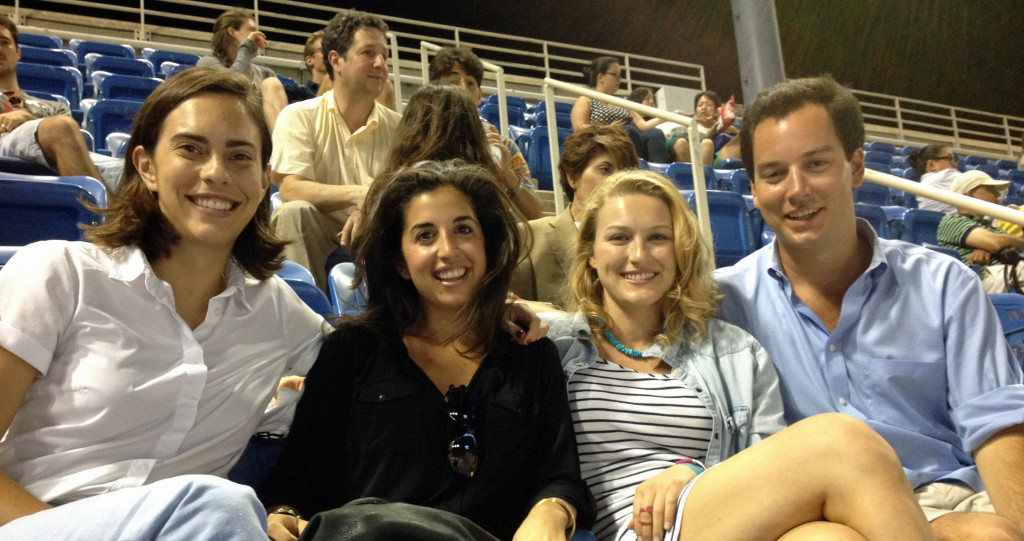 Wednesday and Thursday morning I had scheduled meetings in New York and planned on heading back to Boston Thursday at noon…that is until I checked my email. In a split second my plans changed! My mother pulled a fast one- she sent me an email from Ticketmaster confirming our ticket purchase to the US Open. I was beyond excited as my mom and I are tennis nuts. I recently switched to an amex blue card so that I can also buy event tickets before the general public can. Yes, I love it that much! Last year we went to Wimbledon and we made a pact to attend every Tennis Grand Slam together.
With our Grounds Admissions passes at The US Open, we watched 12+ hours of non-stop tennis for $74 each! We were lucky to snag front row Grandstand seats and watched Tsonga, Kvitova and the Williams sisters in a thrilling 3 set doubles match. We then headed over to Court 10 and saw the end of the 5 set Verdasco match before hightailing it to Court 17 to watch the 15 year old phenom CiCi Bellis. The crowd was very loud and pro-Bellis, I can't tell you what a hard ball she strikes!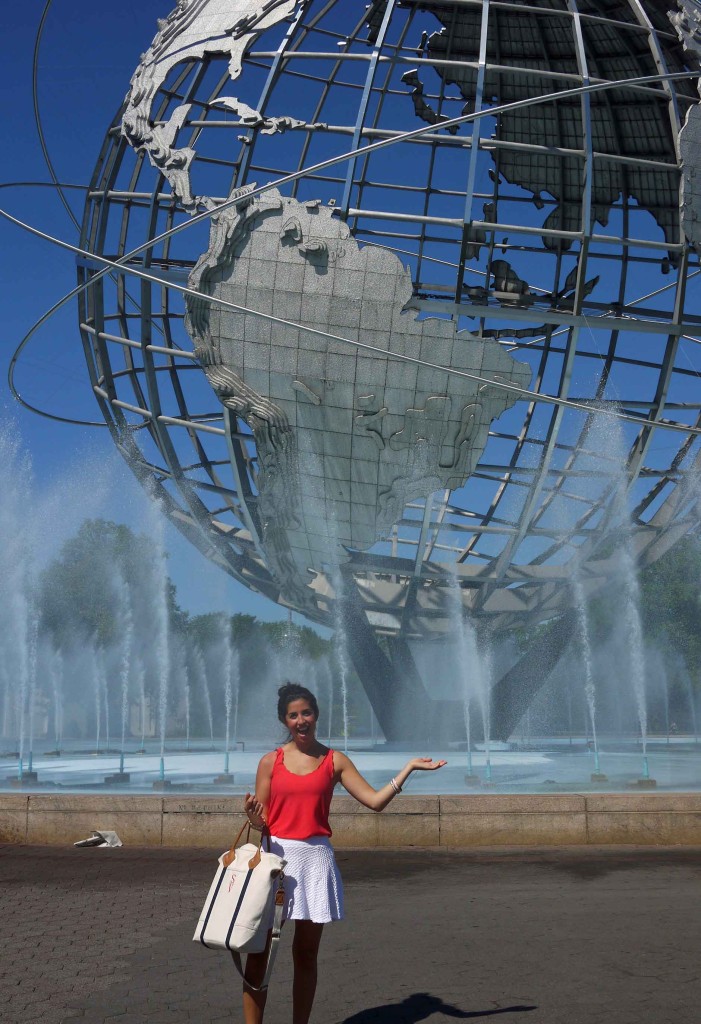 My Monogrammed Tote makes an appearance at The US Open under the Unisphere!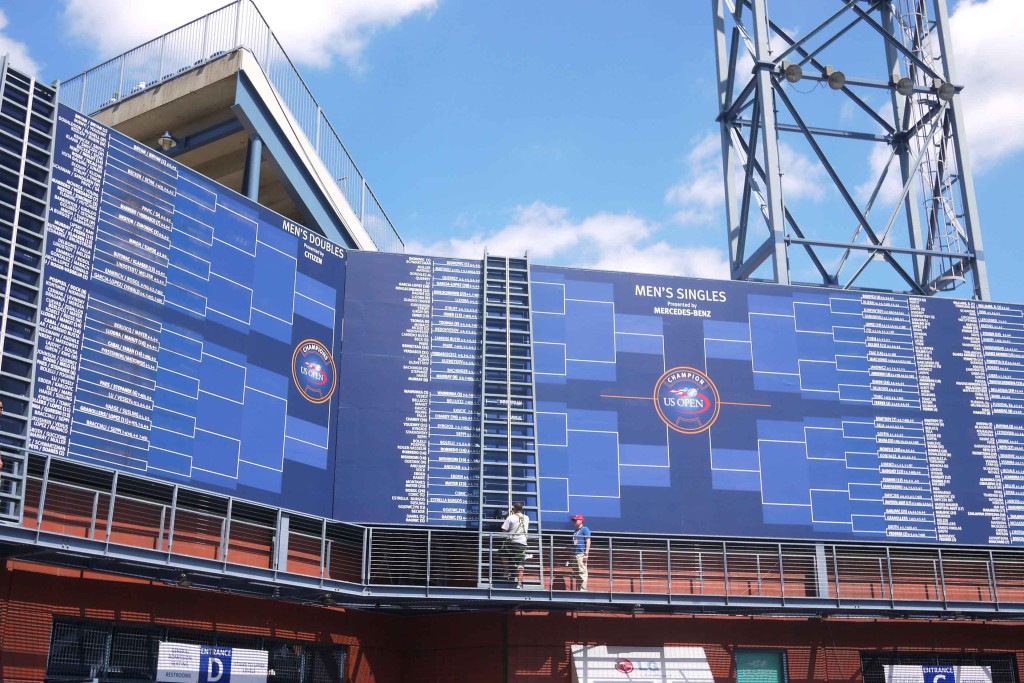 The US Open may be high tech these days but match scores are still changed by hand!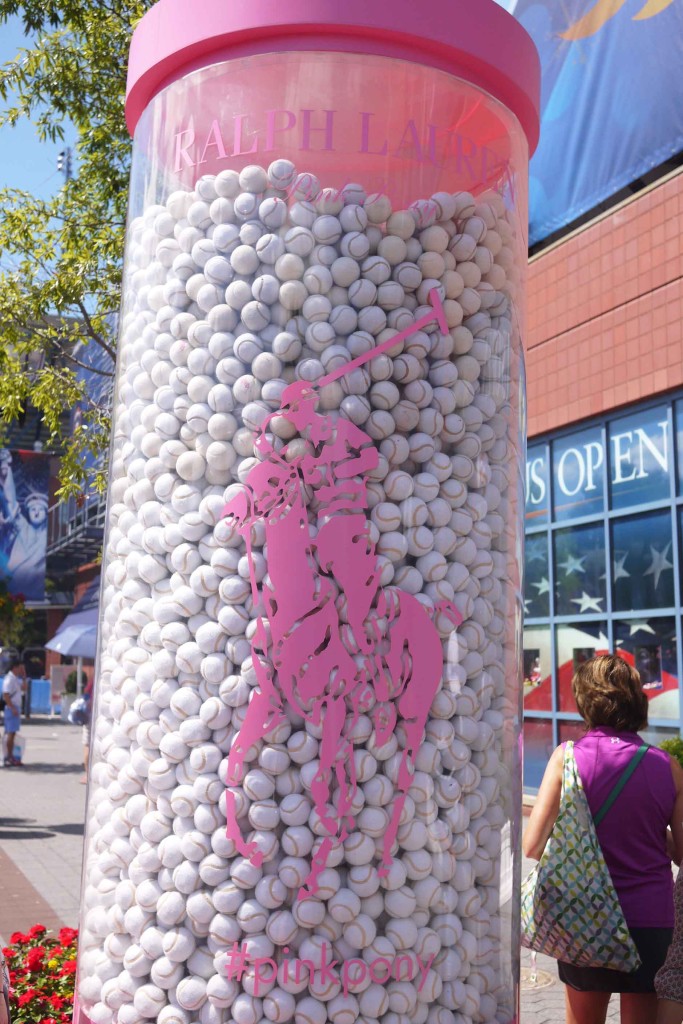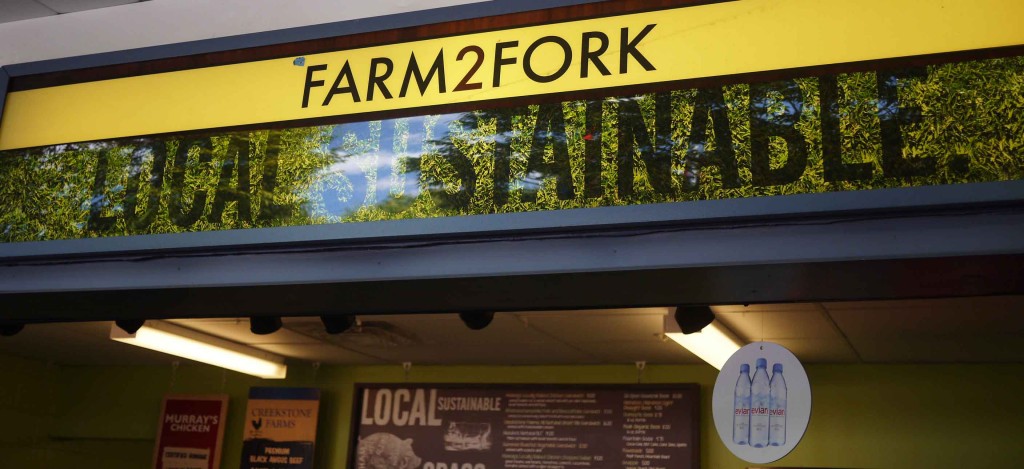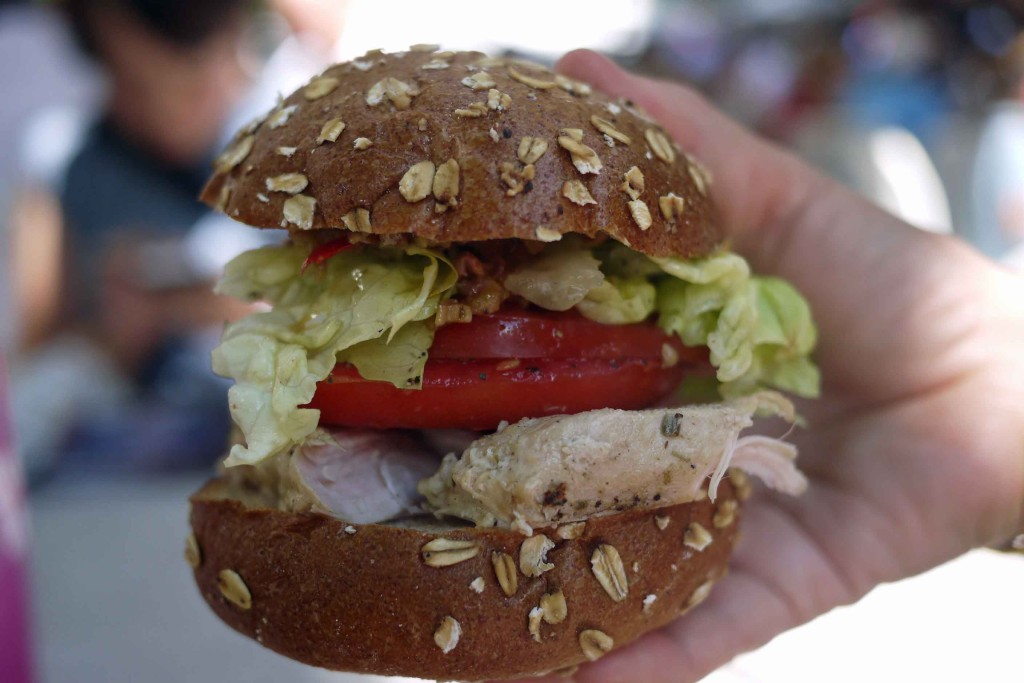 The US Open offers up some surprisingly healthy, sustainable and delicious food options.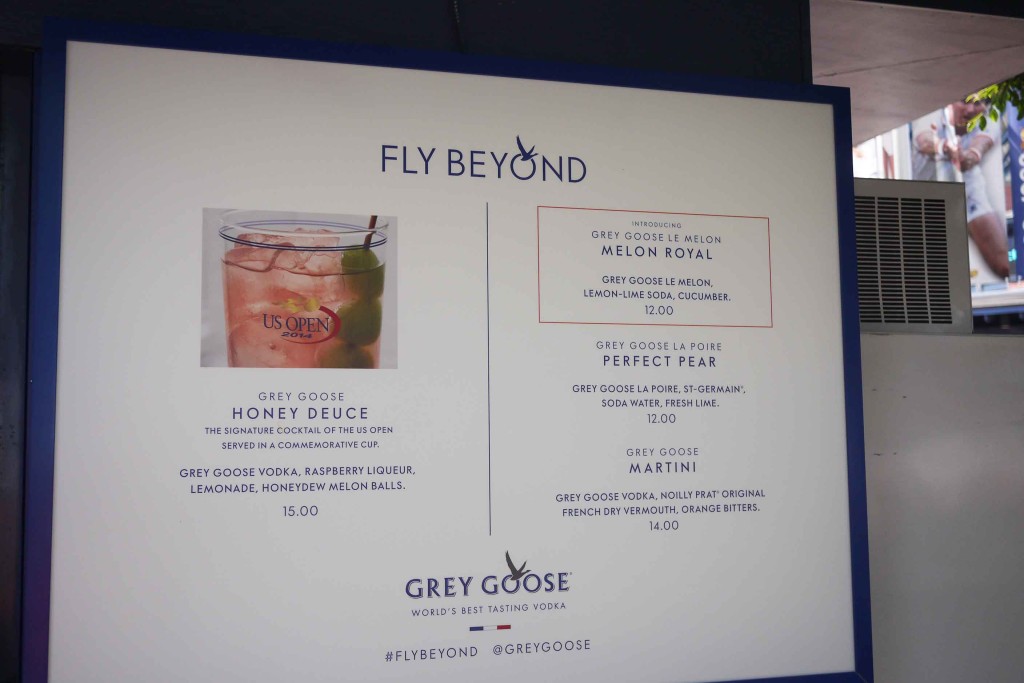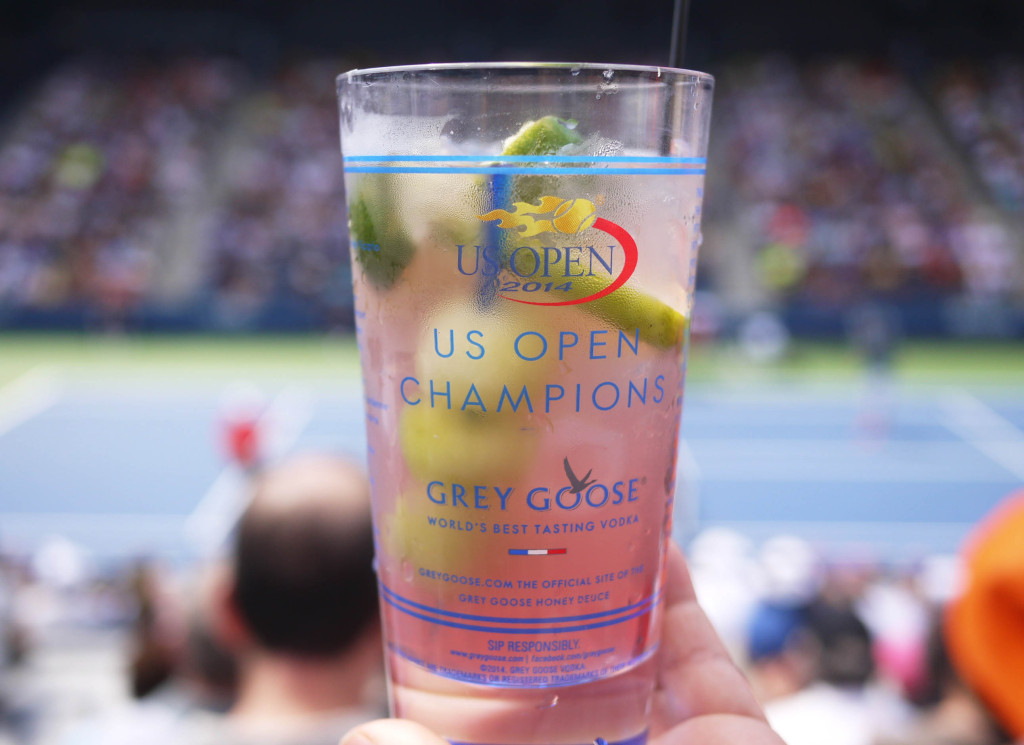 Grey Goose Honey Deuce Cocktail, the signature cocktail of The US Open. Grey Goose, Chambord, Lemonade, Crushed Ice and Honey Dew Melon shaped like tennis balls! Being a citrus junky I added lots of lime!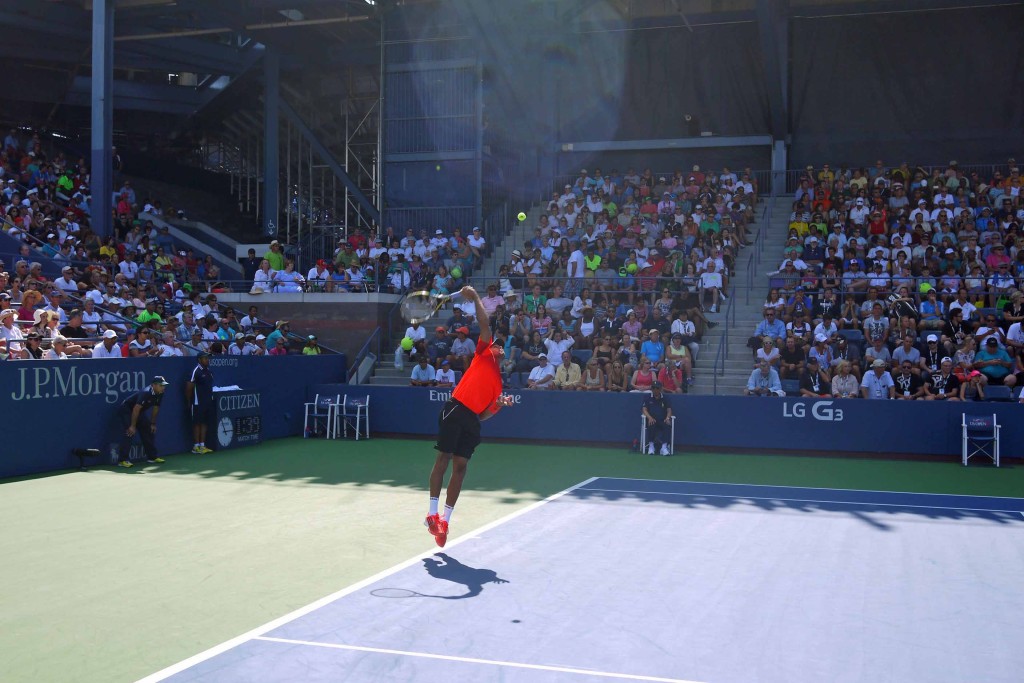 Tsonga serving up an Ace!
Jon Wertheim, respected sports journalist, author and tv commentator, views The Grandstand at The US Open as one of the best venues in tennis and implores all US Open tennis visitors to see at least one match at The Grandstand. We listened to you Mr Wertheim! We parked ourselves in the front row of The Grandstand for 3 straight matches!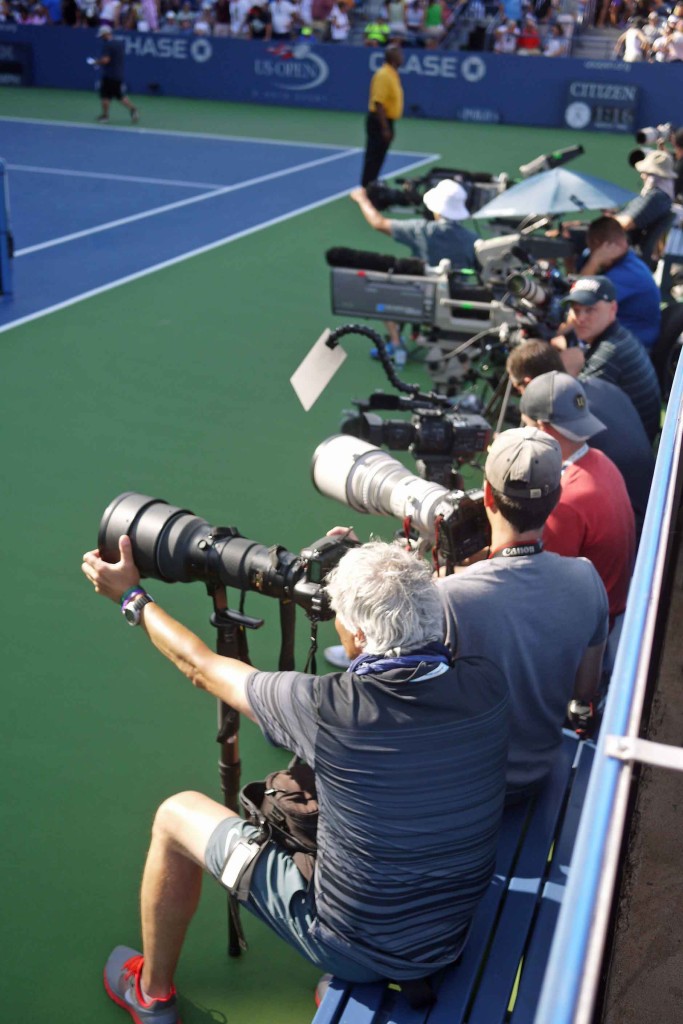 Checkout those lenses!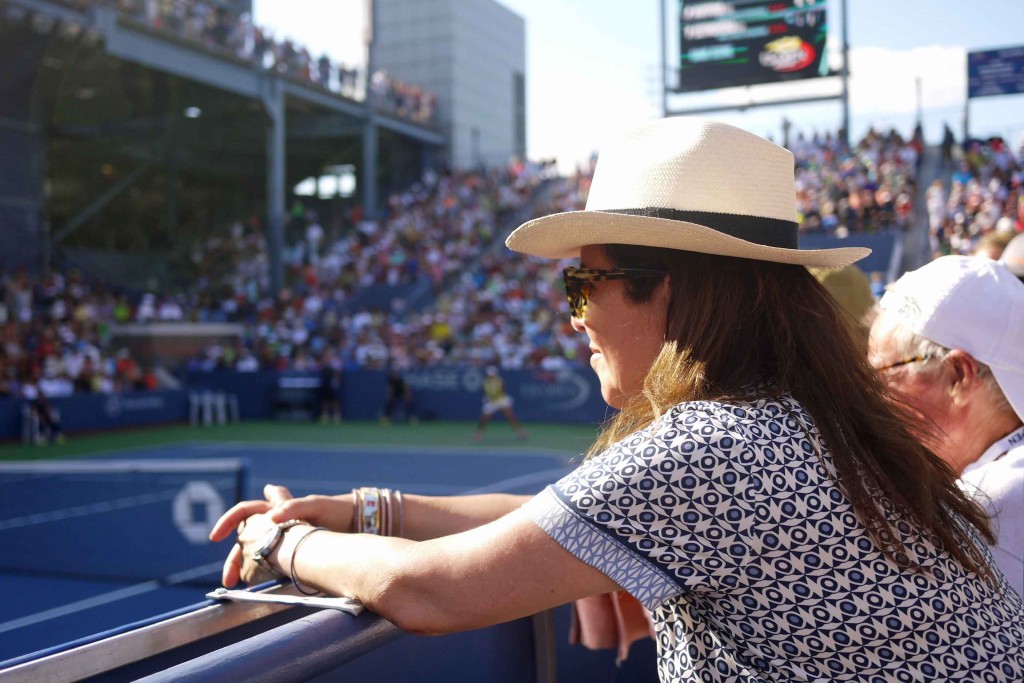 There is no person I would rather spend the day with watching tennis — my beautiful mama! I am beyond lucky to have her and we seriously had the best day together. She can still kick my butt in tennis too!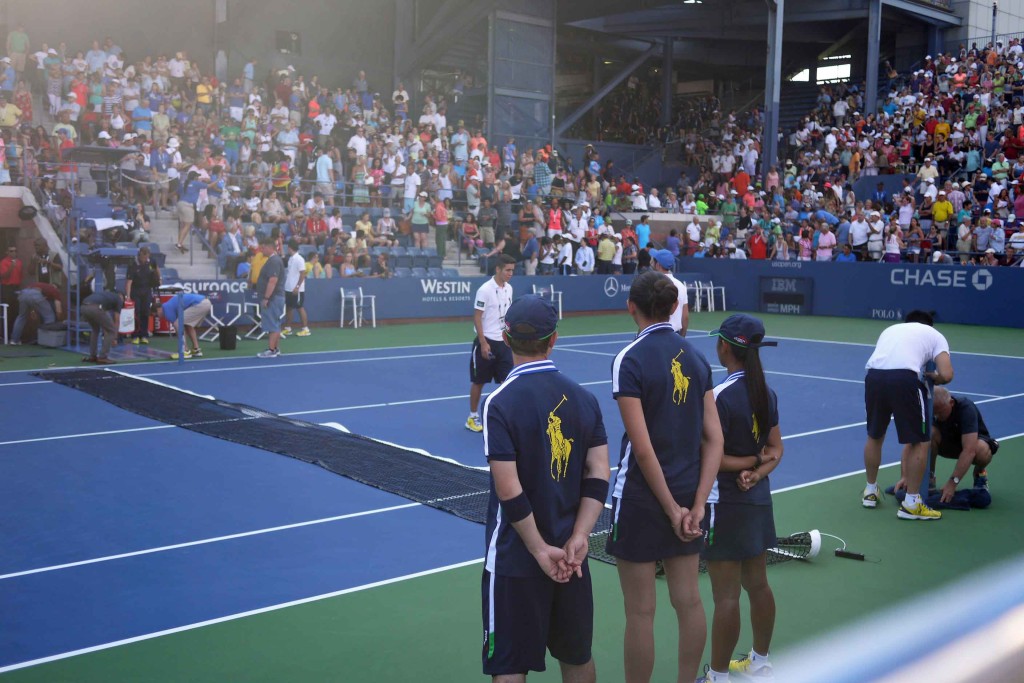 Ralph Lauren is the official clothing sponsor of the US Open. The RL Polo Pony has become an iconic image of tennis at The Open.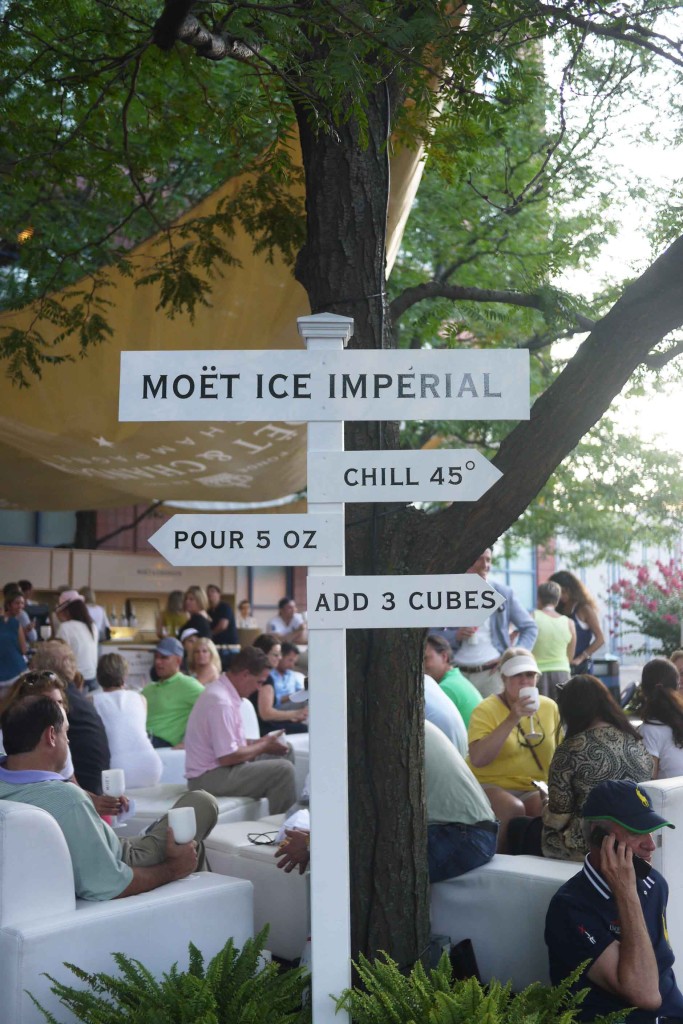 A break from play at the Moet Chandon Terrace for ice cold bubbly!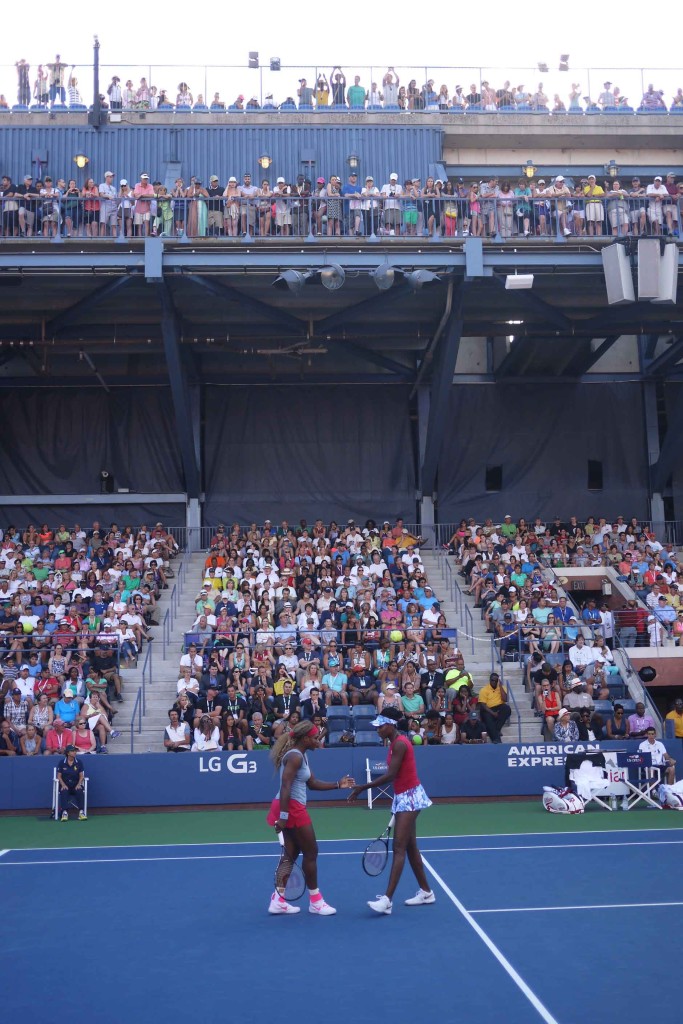 Venus and Serena are still rockin' it after all these years.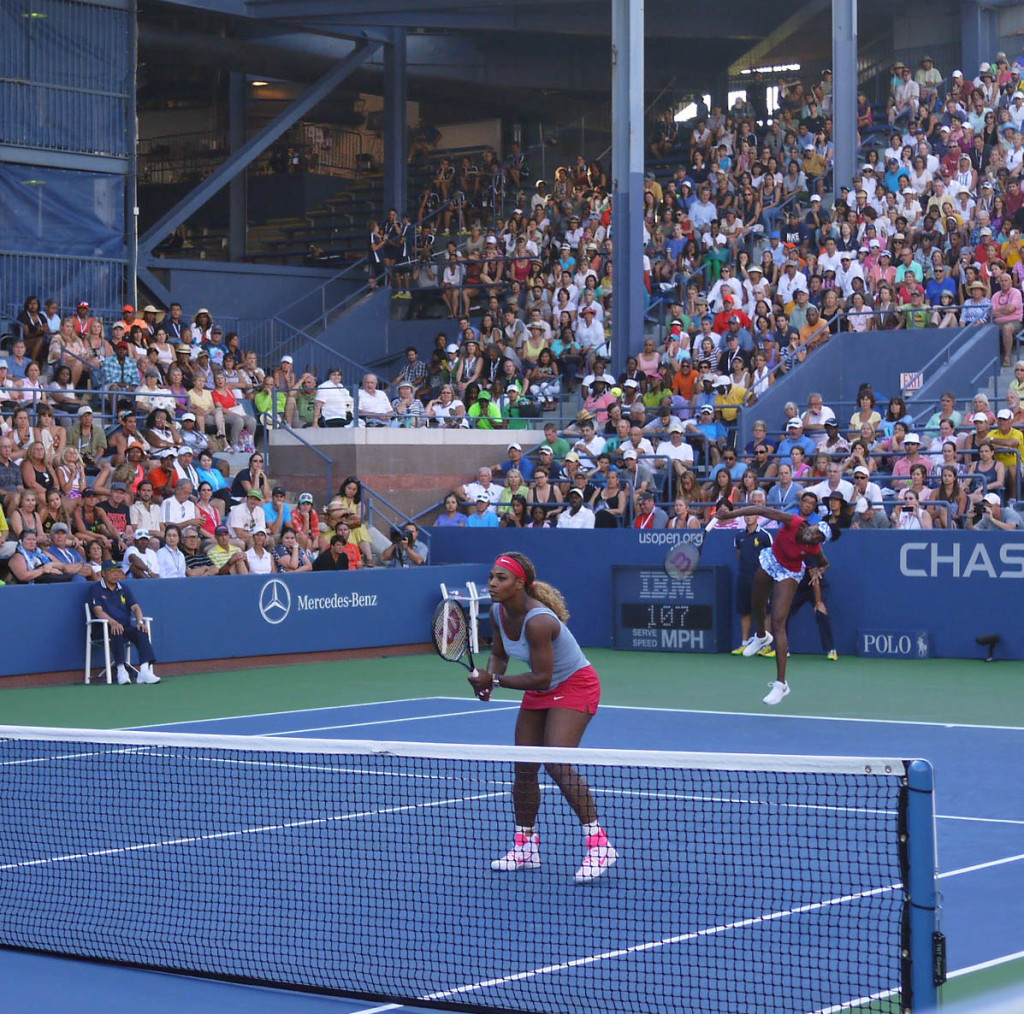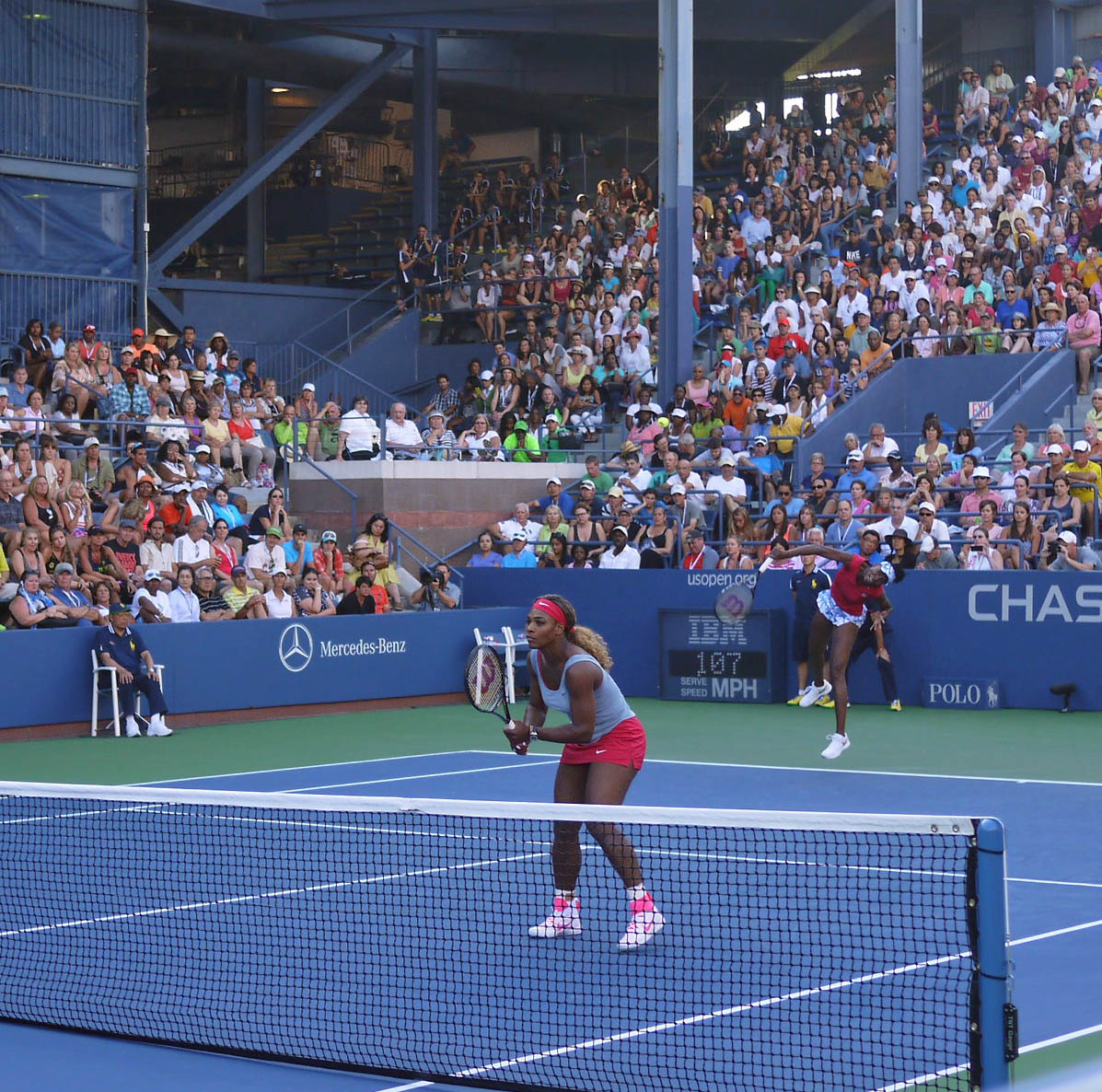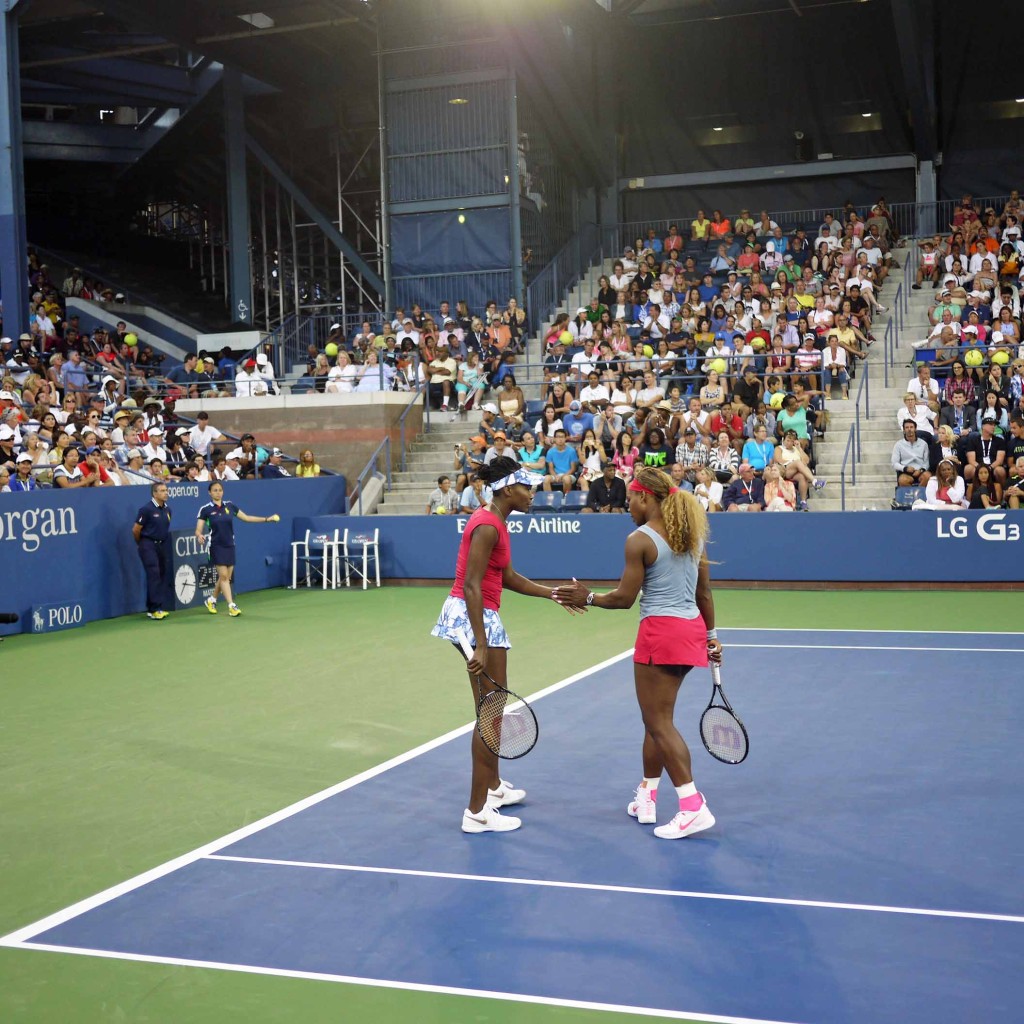 The crowds at Louis Armstrong Stadium transfixed by the Williams sisters holding court on Grandstand.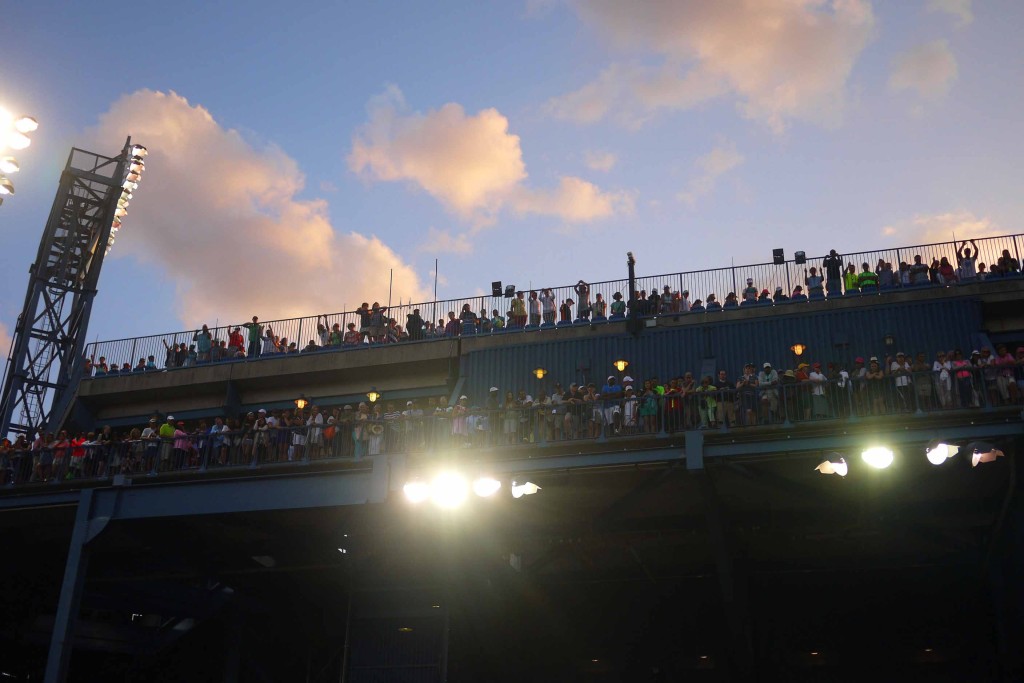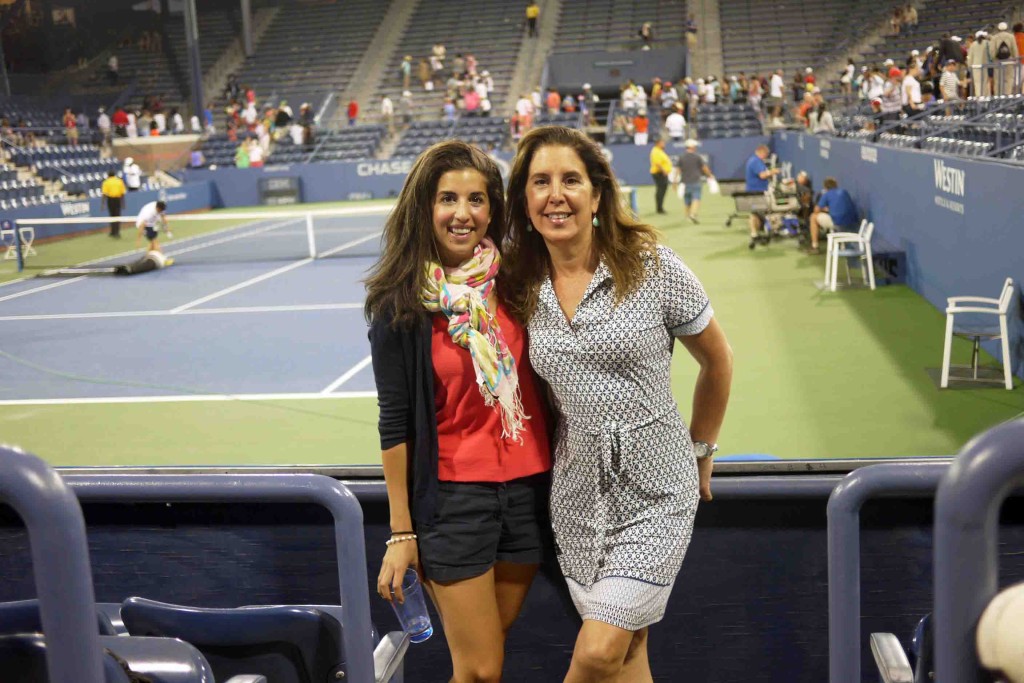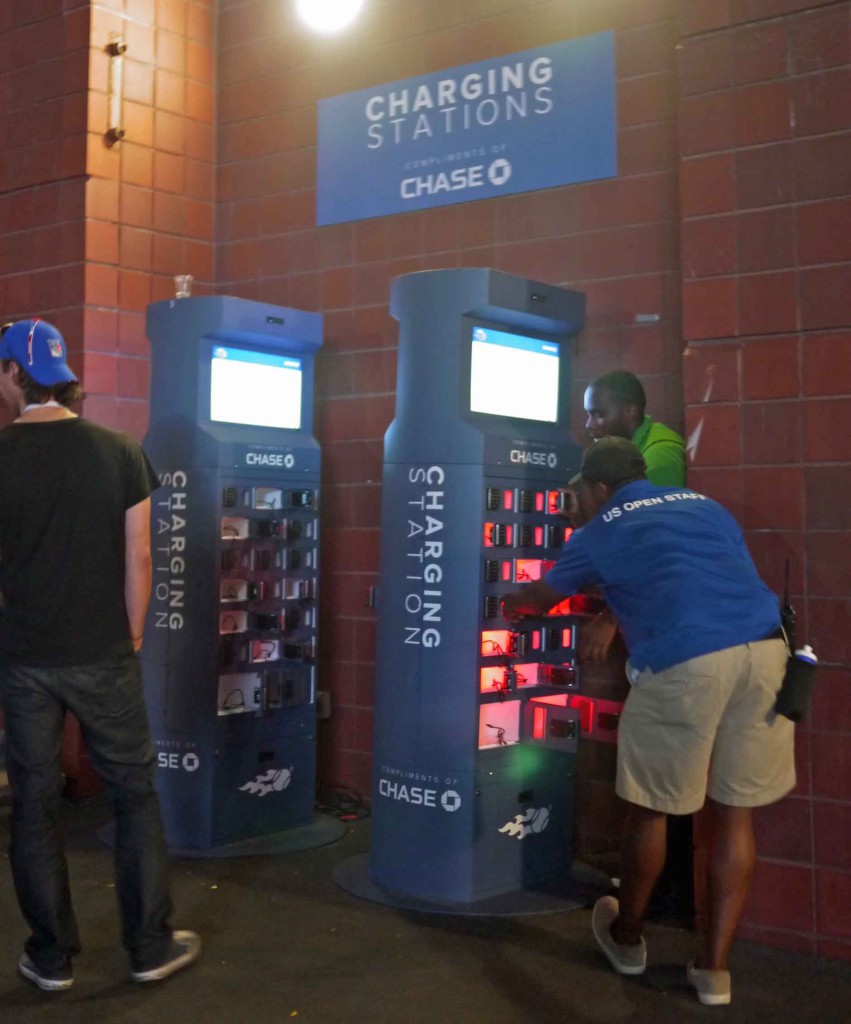 Low on battery? Look out for Chase Charging stations, where you can charge your phone in locked lockers, making it easy to go watch tennis instead of waiting around!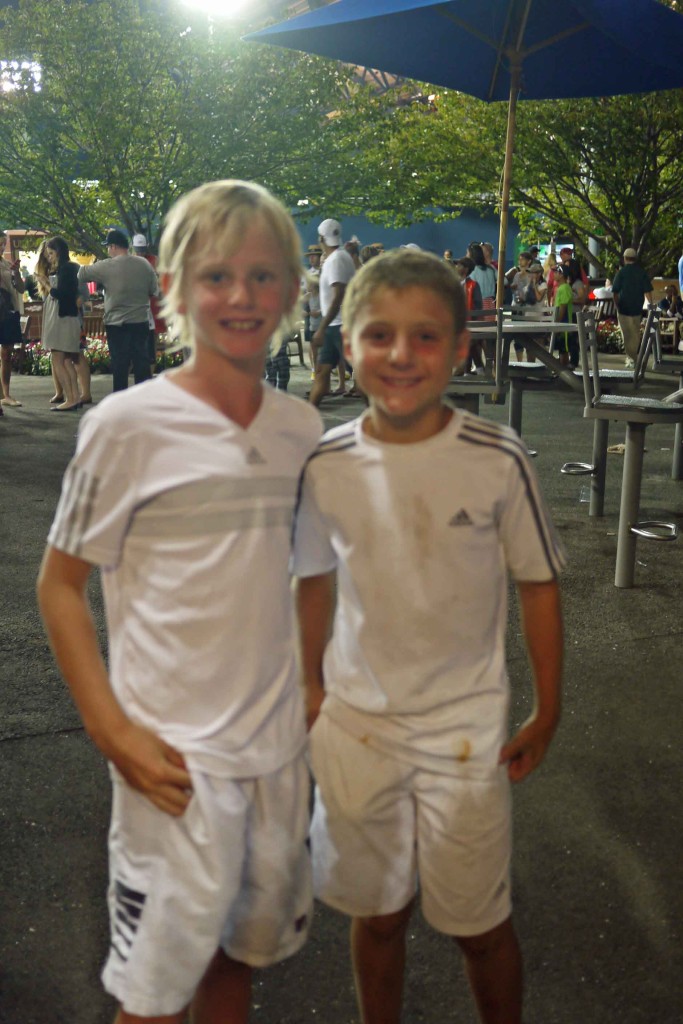 10 pm and no let up from these two nine year old tennis superstars, currently ranked number 1 and 2 in the country for their age! Andrew (right) and James (left) had played against each other in singles, played with each other in doubles and then watched night matches at the US Open, all in the same day! While waiting in line to see CiCi Bellis play, the boys entertained us with a competitive imaginary game of tennis that had them lunging, spinning, and sprinting!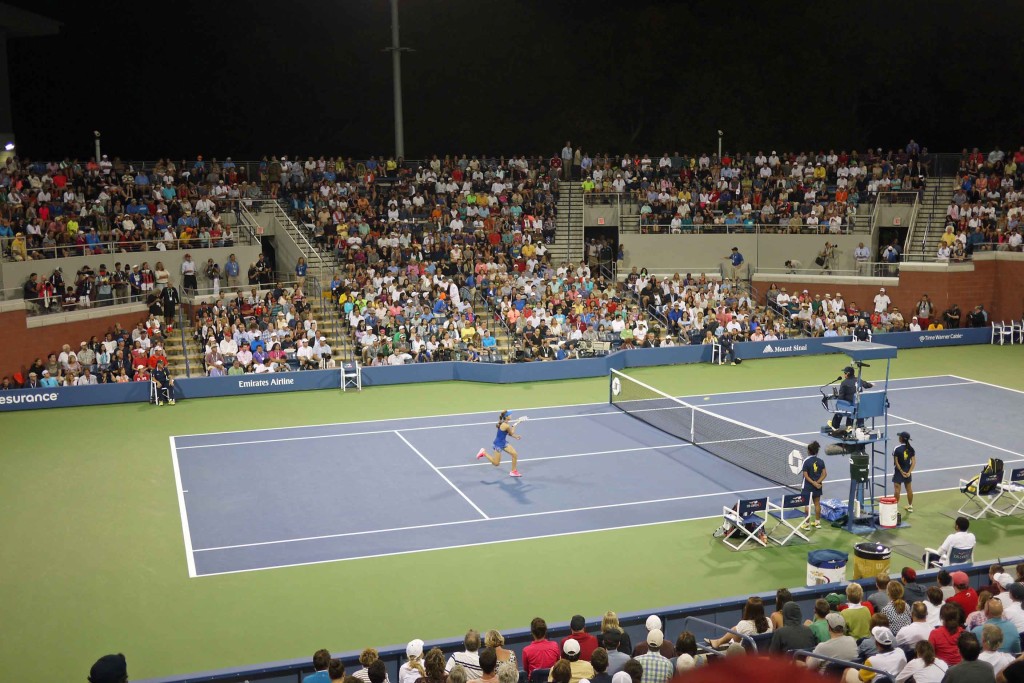 15 year old American tennis player, CiCi Bellis displayed poise and a competitive fierceness beyond her years.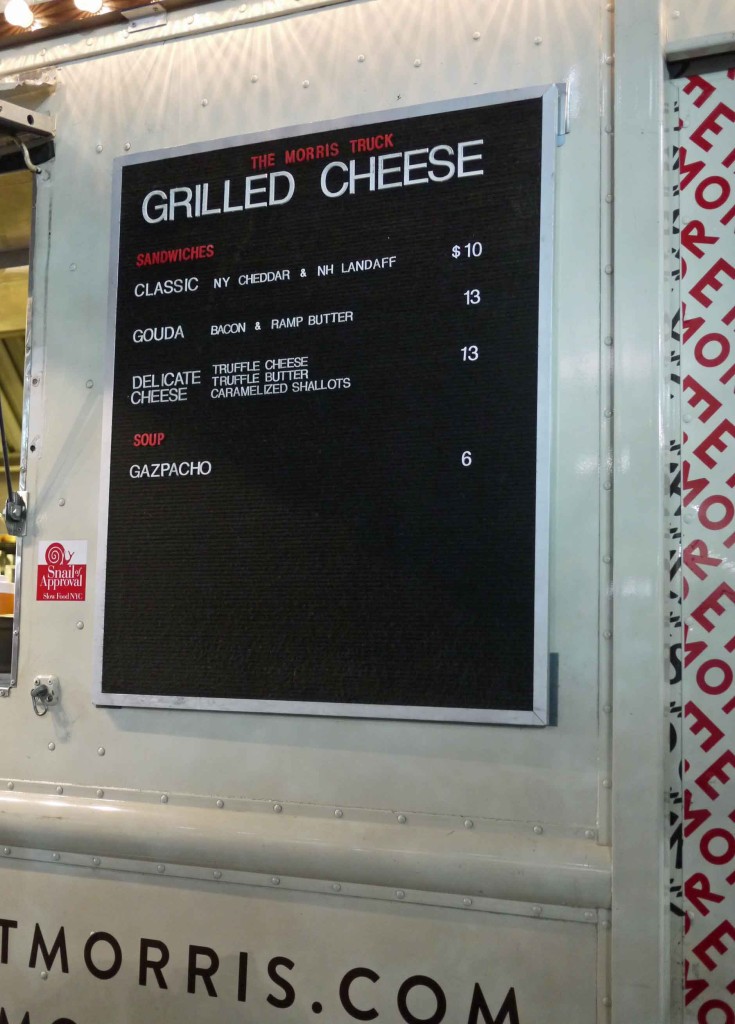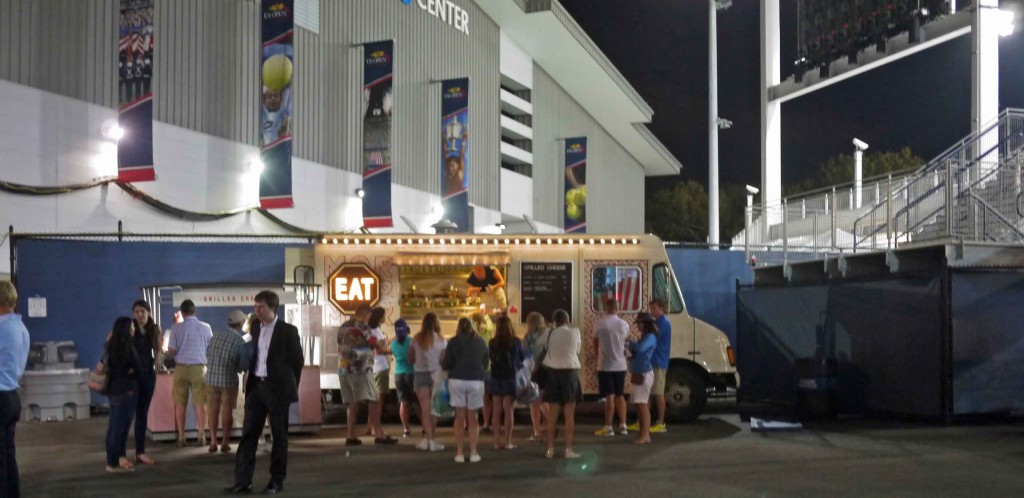 Hungry from all the tennis, Mom and I shared a late night warm, gooey grilled cheese sandwich from the Morris Truck by Court 17!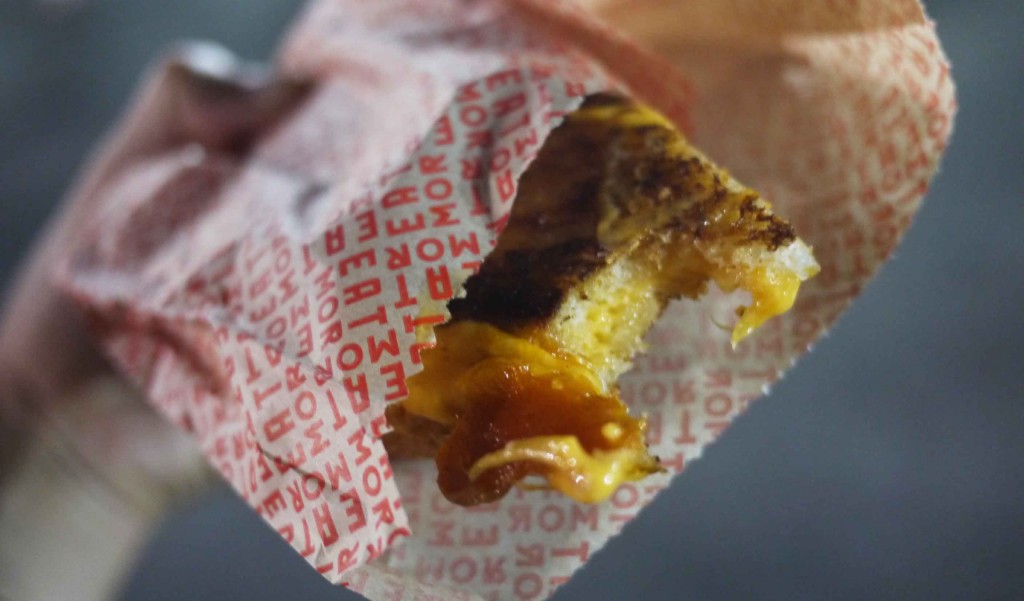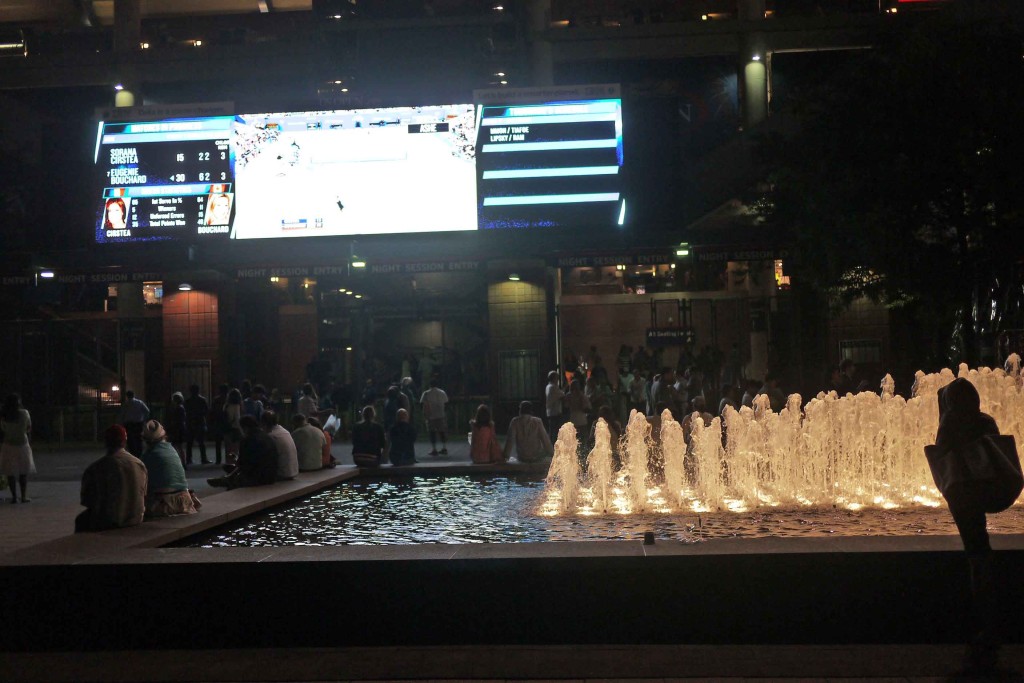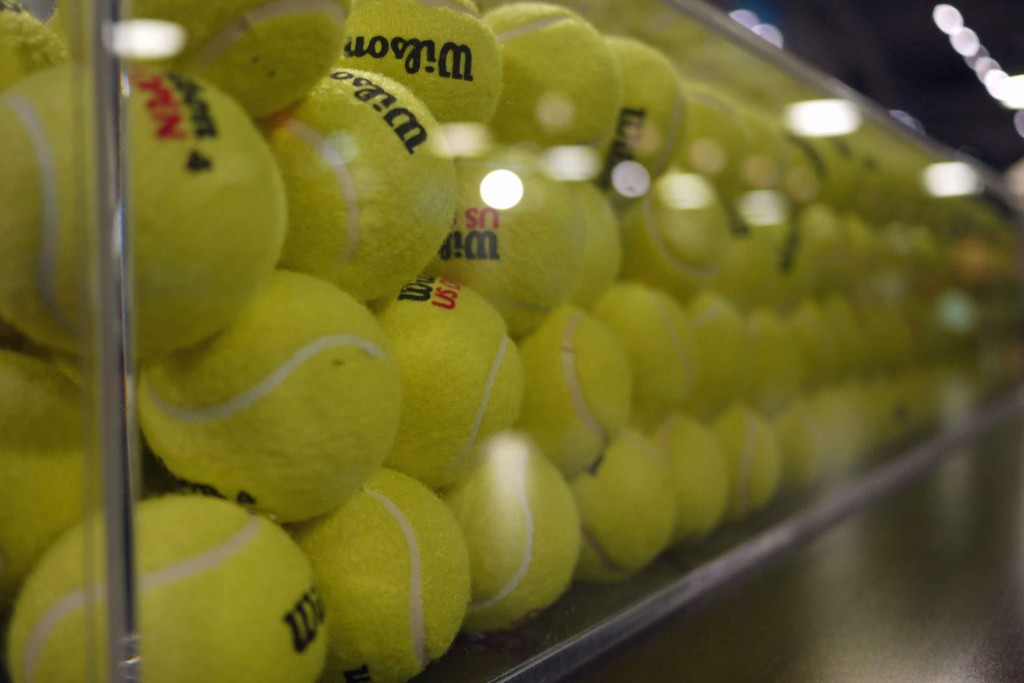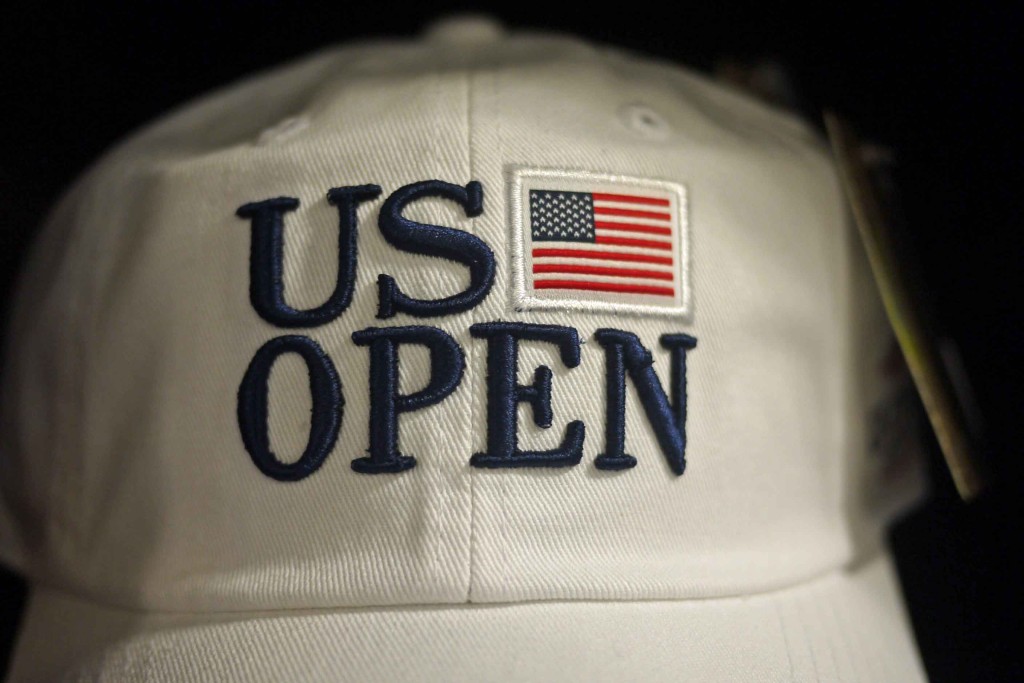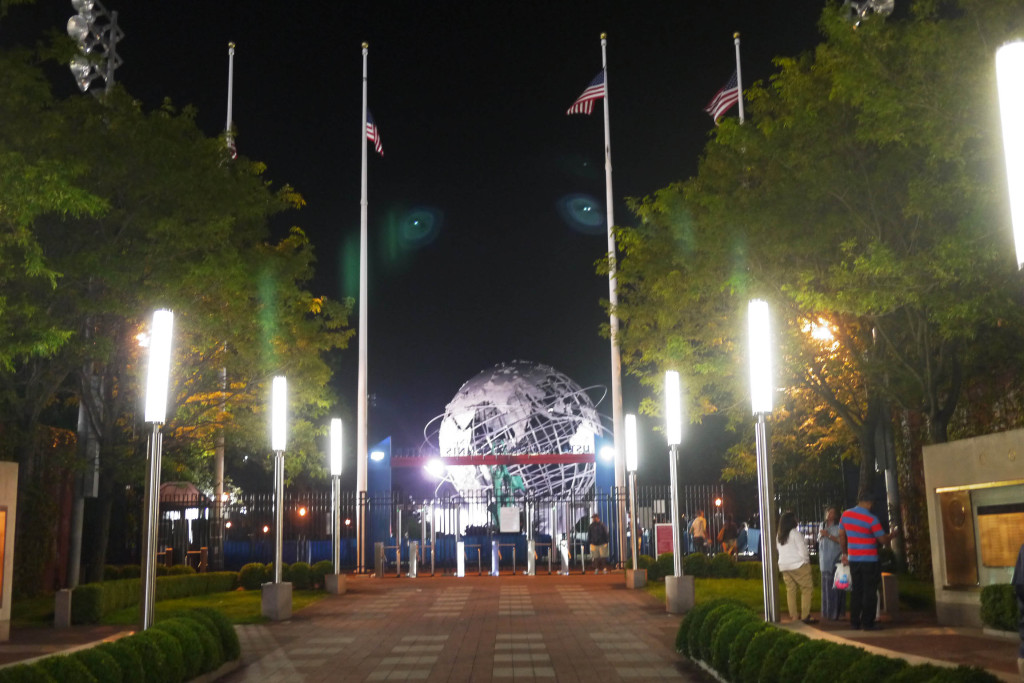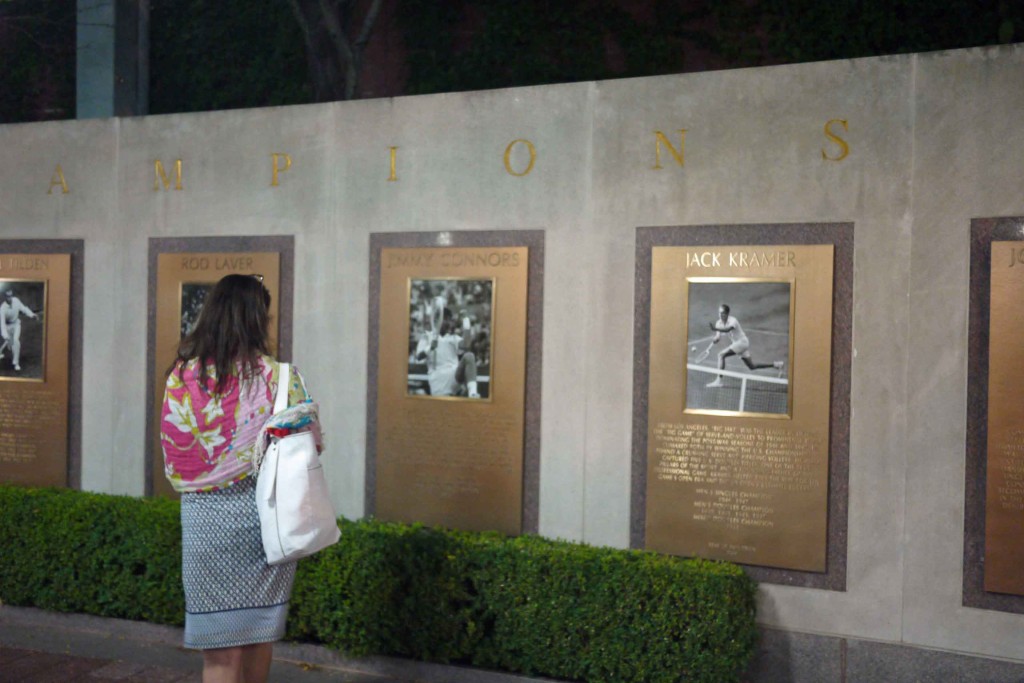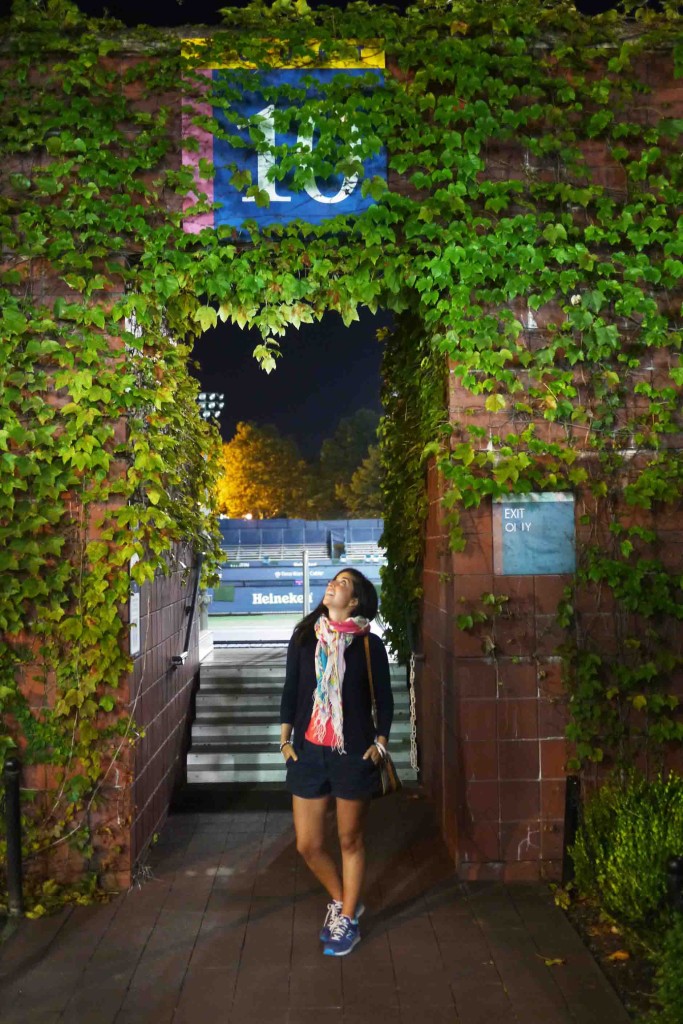 New Balance Sneakers // J.Crew Shorts // J.Crew Cashmere Sweater // Pucci scarf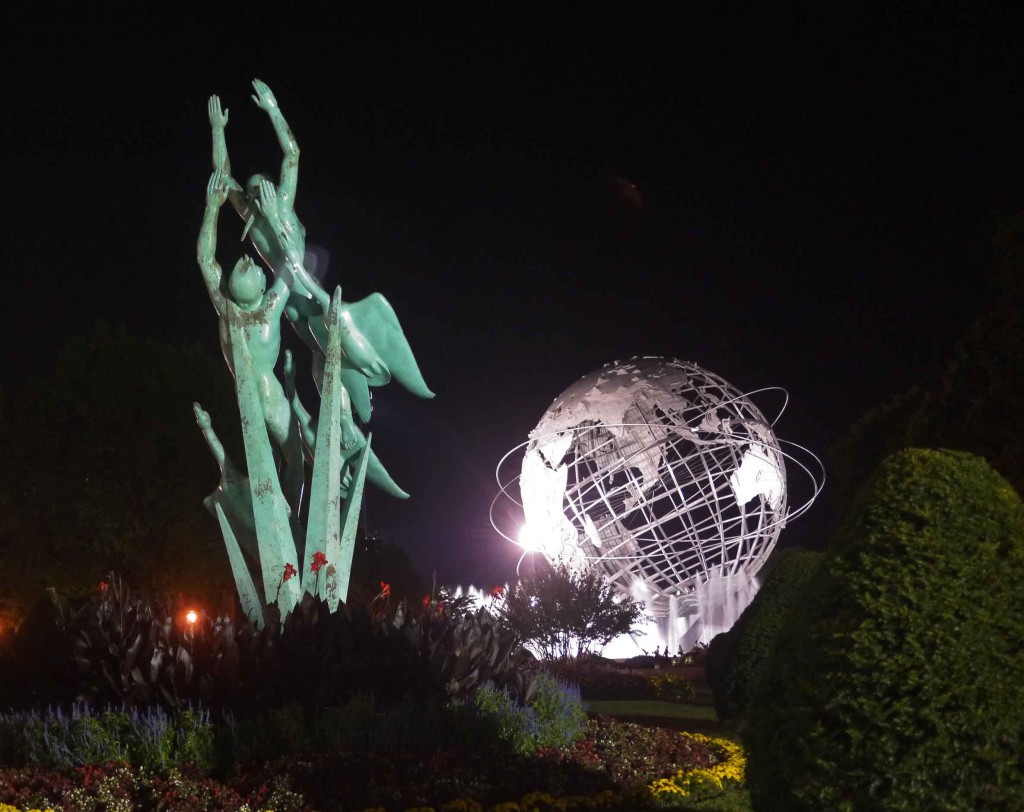 The Unisphere was built as the theme symbol for the 1964/1965 World's Fair. The theme of the World's Fair was peace through understanding. The Unisphere is a 12-story high stainless steel representation of the earth, commissioned to celebrate the beginning of the space age. It was dedicated to "Man's Achievements on a Shrinking Globe in an Expanding Universe." Though beautiful by day, the Unisphere is mesmerizing by night as the water fountains are illuminated casting a beautiful light on the steel globe.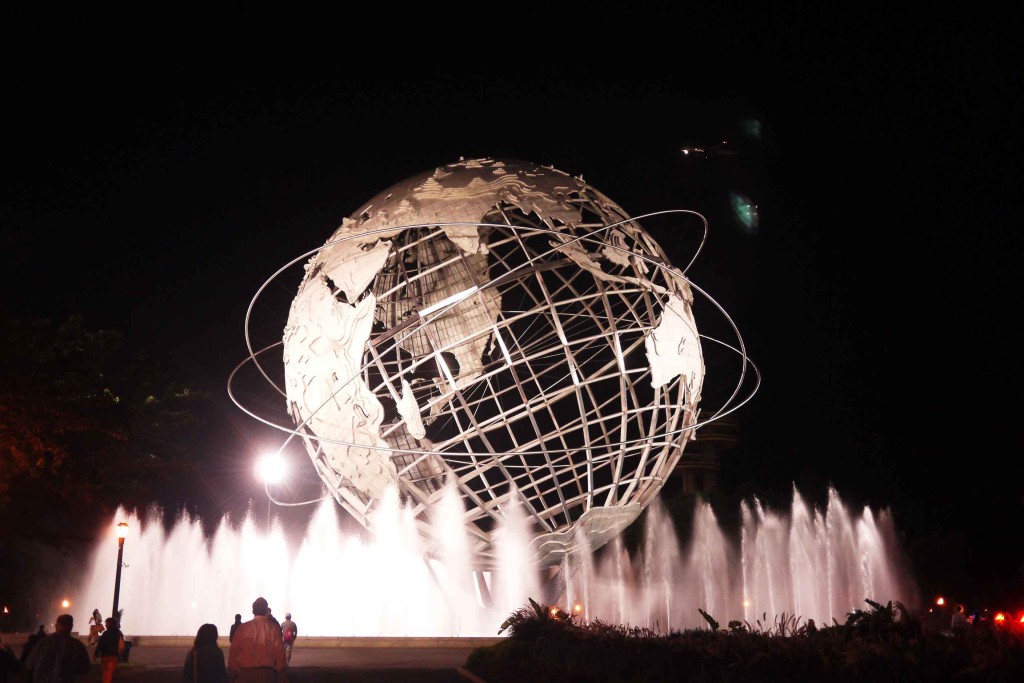 Tomorrow I will be posting my Top Ten Tips for Visiting the US Open Tennis Tournament at Flushing Meadows in Queens, New York! Stay tuned!