Ice cooler molds set with roses keep Champagne, Wine and Spirits chillin' in fashion. Not just for winter soirees, floral Ice Bottle Chiller Molds are just as beautiful in the summer!
Here's the best part, for those of you with a garden or access to some freebie flowers, all you need to do is take a few snips of your favorite flowers, ferns, or leaves and voila, you have the makings for a gorgeous ice sculpture that will hold your favorite Champagne, Rose or summer bottle in style!
Last Thanksgiving and Christmas I was on a sculptured Ice Cooler kick. With New England temperatures consistently below the freezing mark, there was no need to worry about freezer space. I had buckets lined up outside with my creations! Well, that was then, this is now. Temps have finally risen (thank goodness!) and I have had to make some room in my freezer!
With a big dinner party on Friday night to kick off summer, I thought why not bring these ice babies back?!
I went out to the garden looking for the perfect pink flower and became transfixed by Madame Isaac Pereire, an antique bourbon rose. Ahhh true French love!
I think these ice sculptures turned out to be the best ones yet!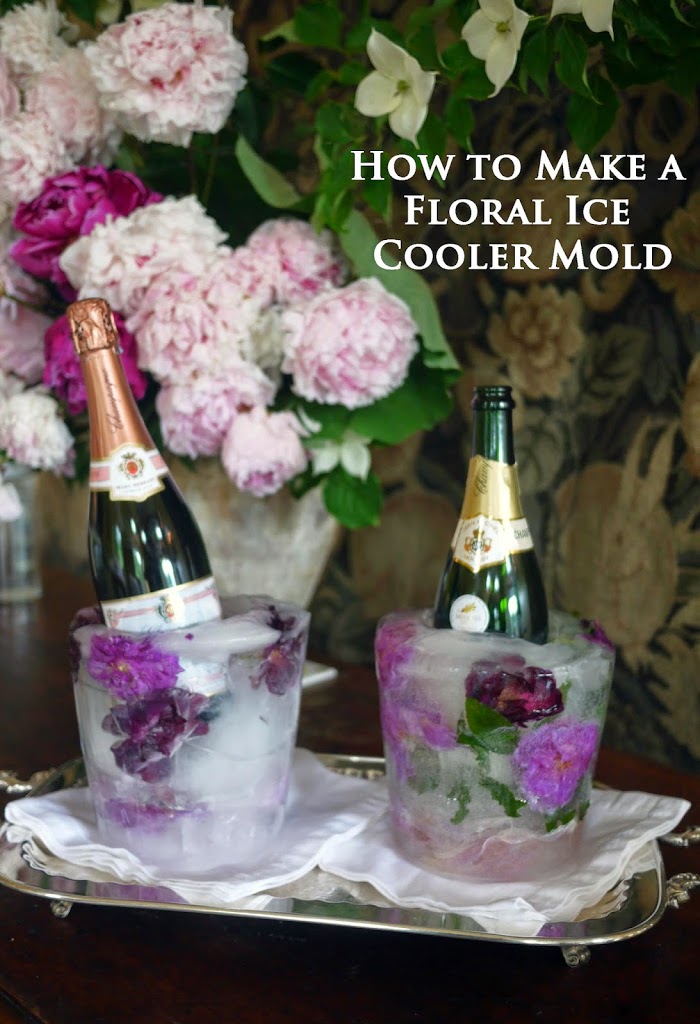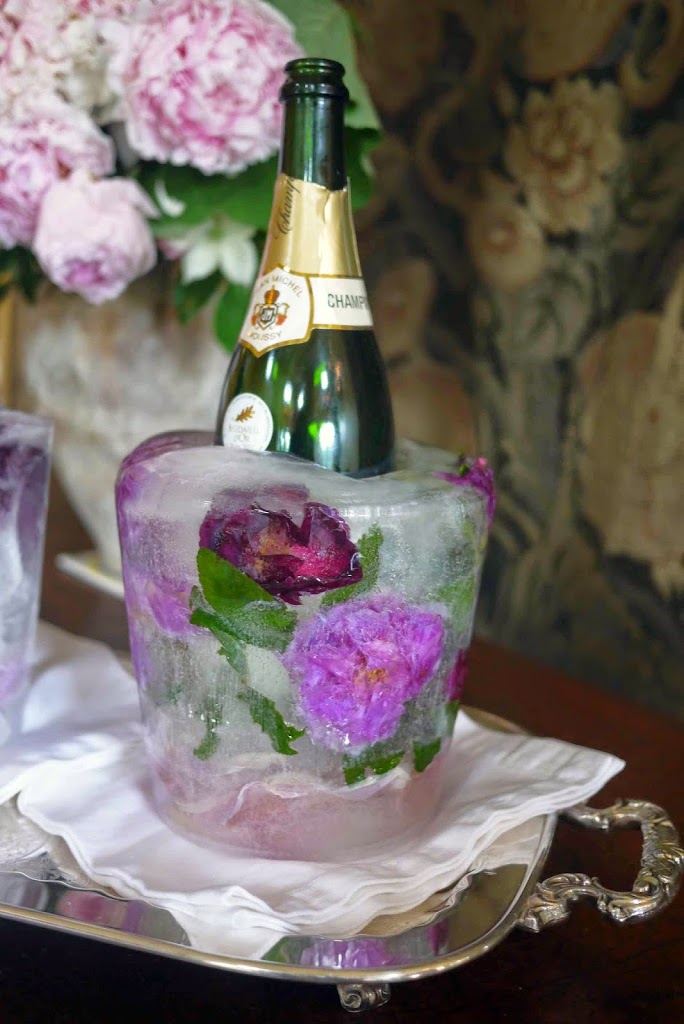 First things first, time to collect the bounty! Choosing Madame Isaac Pereire roses was easy. They are currently most plentiful in the garden (along with peonies) and boast a gorgeous pink hue color palette ranging from soft pink with hints of lavender to scarlet. Frankly, most any flower would be beautiful as long as they are not too big! Peony petals were plucked for the first layer of ice.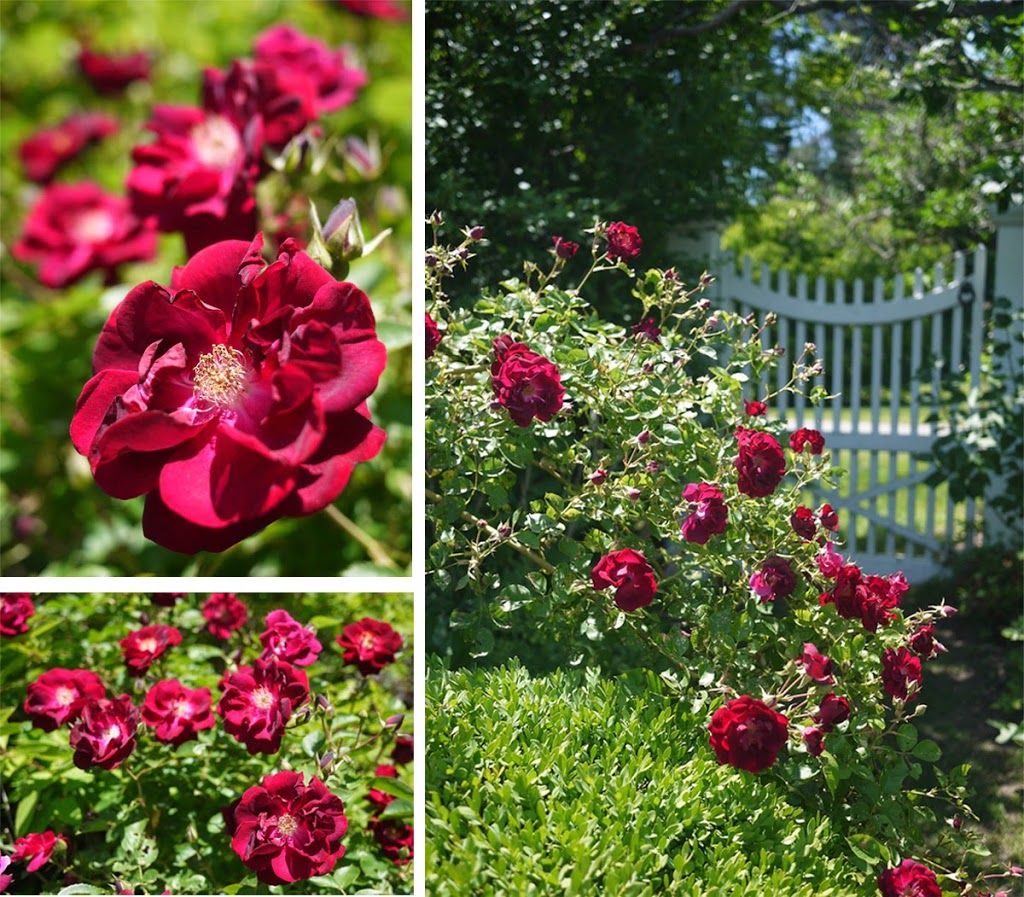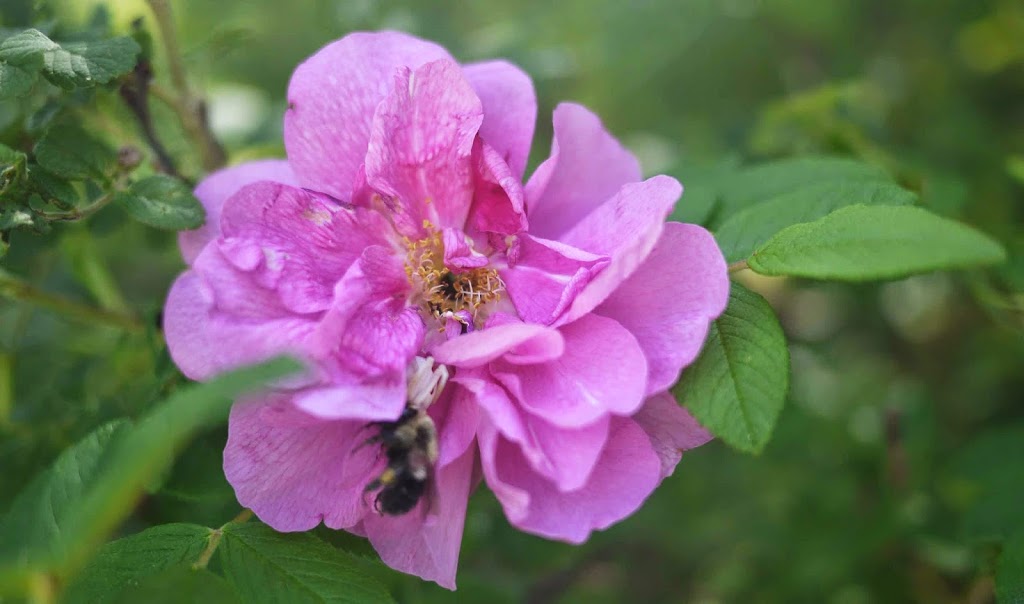 Step 1: Collect flowers.
Step 2: Fill Ice Bucket (or 3 liter plastic soda bottle with top cut off) with about 1 inch of water. Place flowers along edges. Freeze for about 4 hours or until first layer is frozen.
Step 3: Fill plastic container with rocks and seal tight (the rocks will weigh down the plastic container so when adding water to ice bucket, the container will not float up!). Place plastic container in center of Ice bucket over first frozen layer. Fill the ice bucket up with water. Add remaining flowers to water. If you would like more layers of flowers, see below tips. Freeze overnight.
Step 4: Take ice bucket out of freezer. Run warm water around outside of bucket to release the ice sculpture. Sometimes the plastic container will come out easily, other times it takes a little bit of warm water added inside the container to loosen to release. Place ice bottle chiller mold on napkin (so it doesn't slide around) and serve on silver platter– actually any platter will do! 
Step 5: Be prepared for ooohs and ahhhhs. Chin Chin!!
Tips: 
**Since flowers float to the top, I froze my ice cooler mold in 3 layers in order to get more layers of flowers. The first layer in 1 inch of water I used peony petals. The second layer I mixed red and pink roses with their stems and leaves. Third layer I used more red roses and pink roses. I used the stems to wedge the rose against the plastic container insert to prevent the roses from moving around.
**It is really fun to play around with different flowers, lemons, limes, cinnamon sticks, cranberries and even different mold shapes… the opportunities are endless! 
**These also make beautiful candle holders, especially to leave outside during the winter! I can't wait to make these for our entrance at home this winter for a big party. 
**Perfect time to use flowers from an arrangement that have completely opened but petals have not yet fallen off. 
**Before your party starts, add one inch of water back in bucket and freeze. When your party is over, put your ice mold back into the bucket, add plastic container with rocks back in center and refill with cold water. You are officially thinking pink and living green — enjoy again!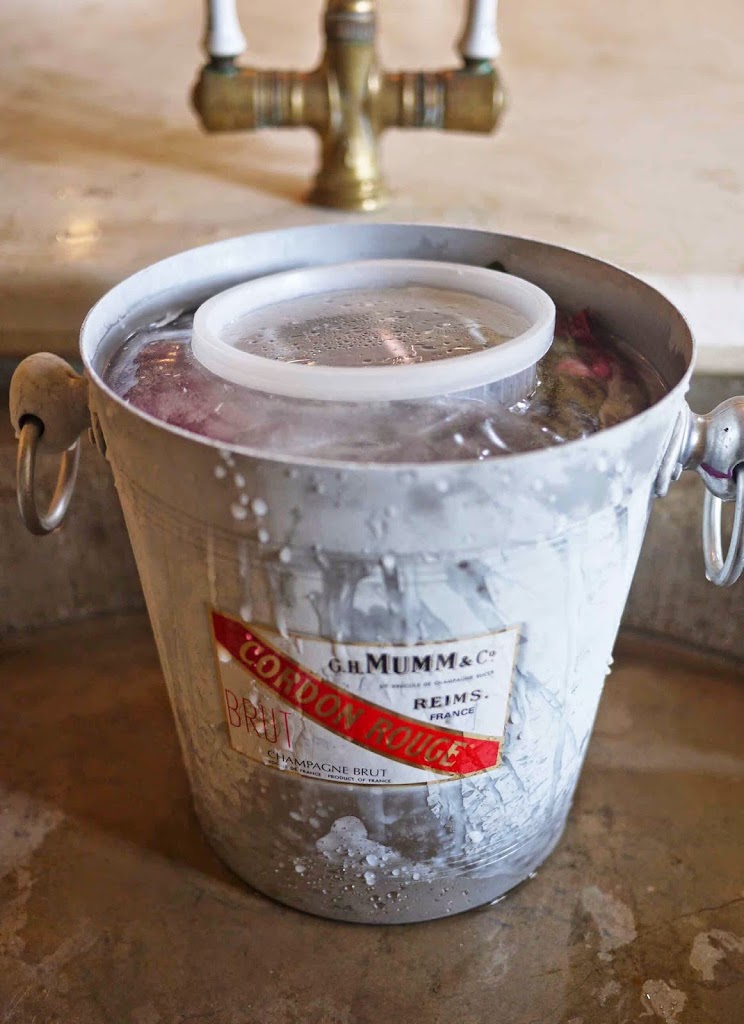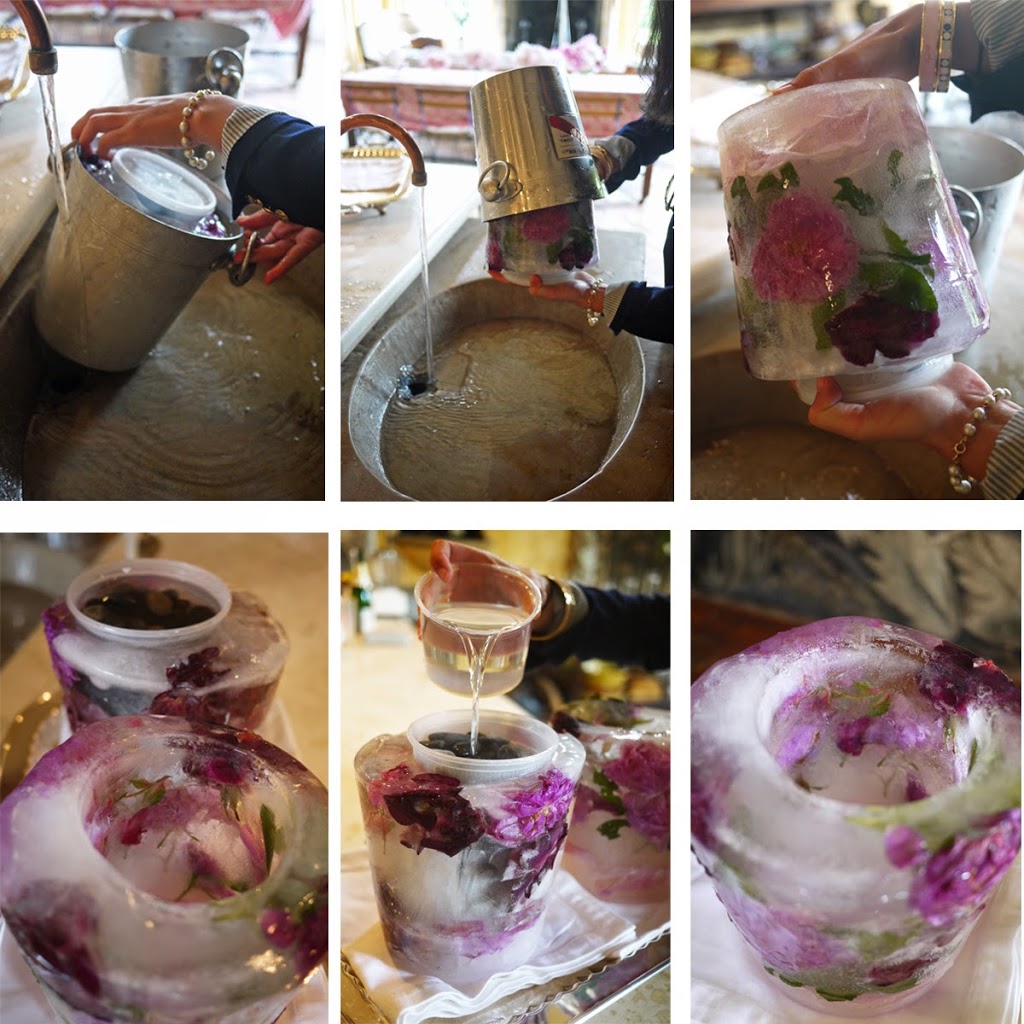 My favorite part is taking the mold out of the ice bucket as you have no idea how it is exactly going to look! Each mold ends up looking so different!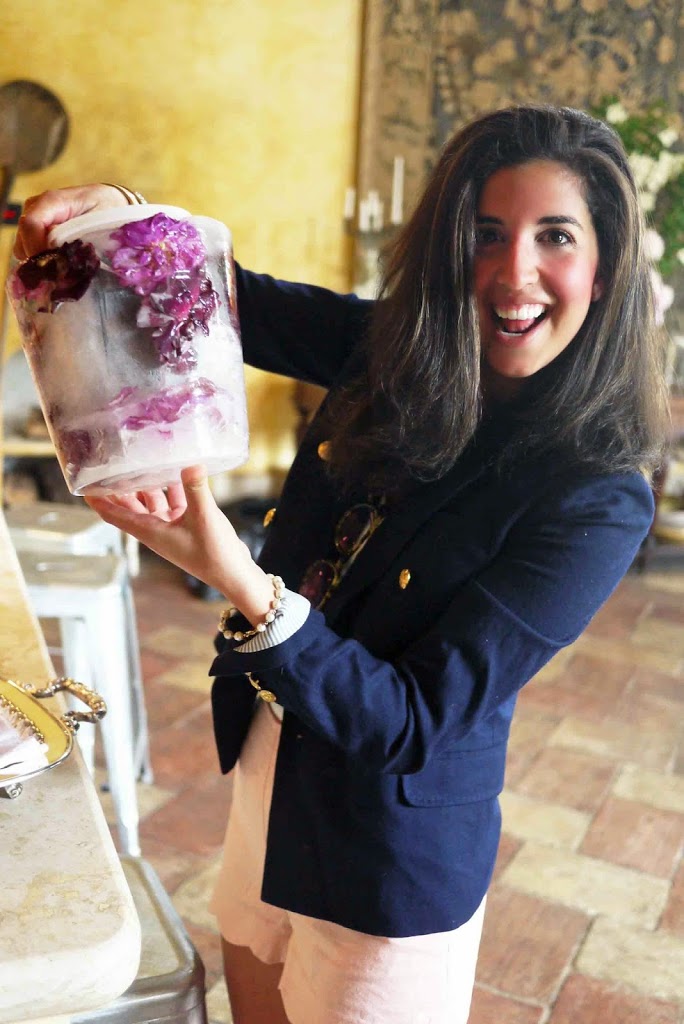 Taaadaaa!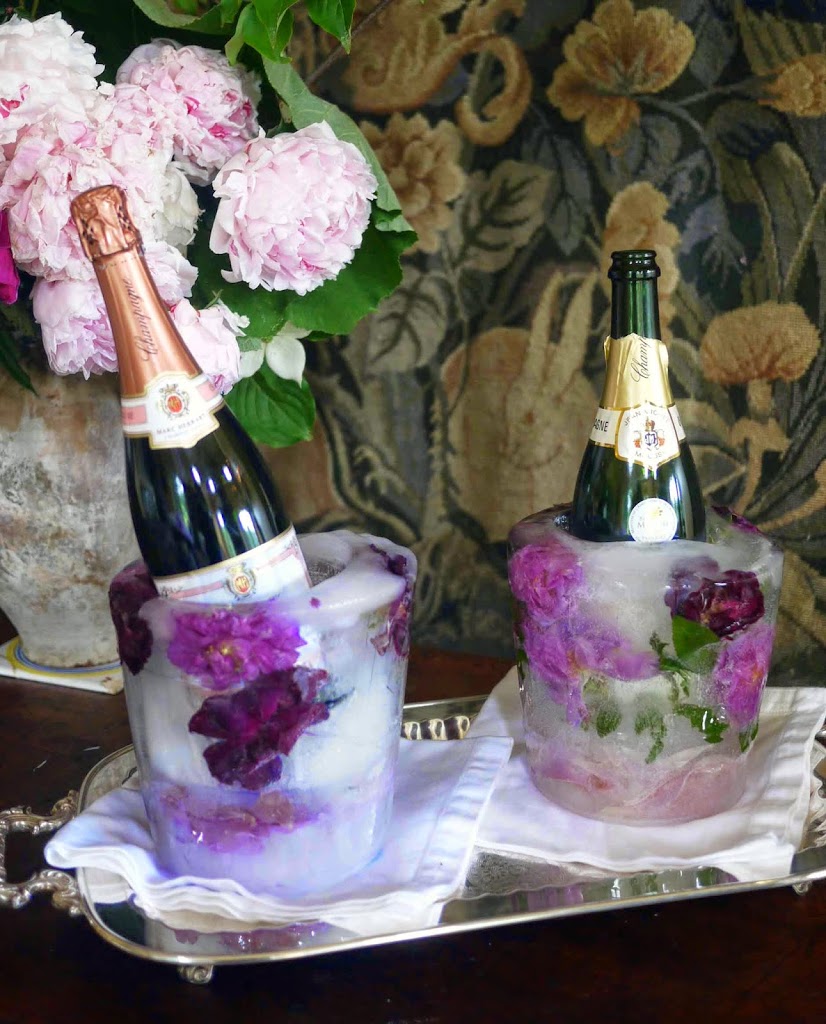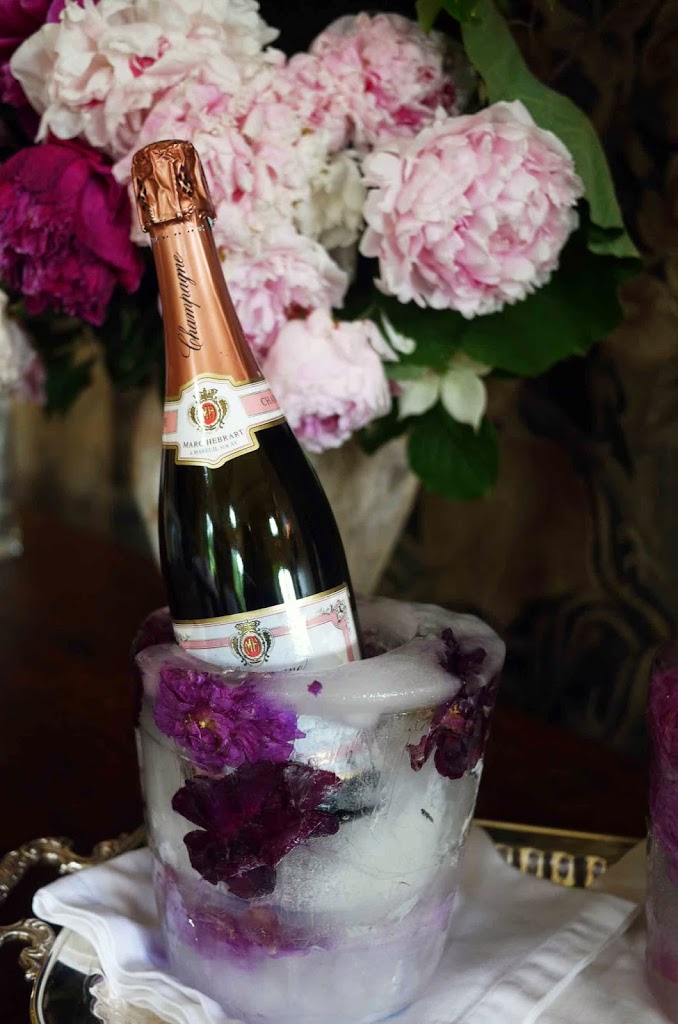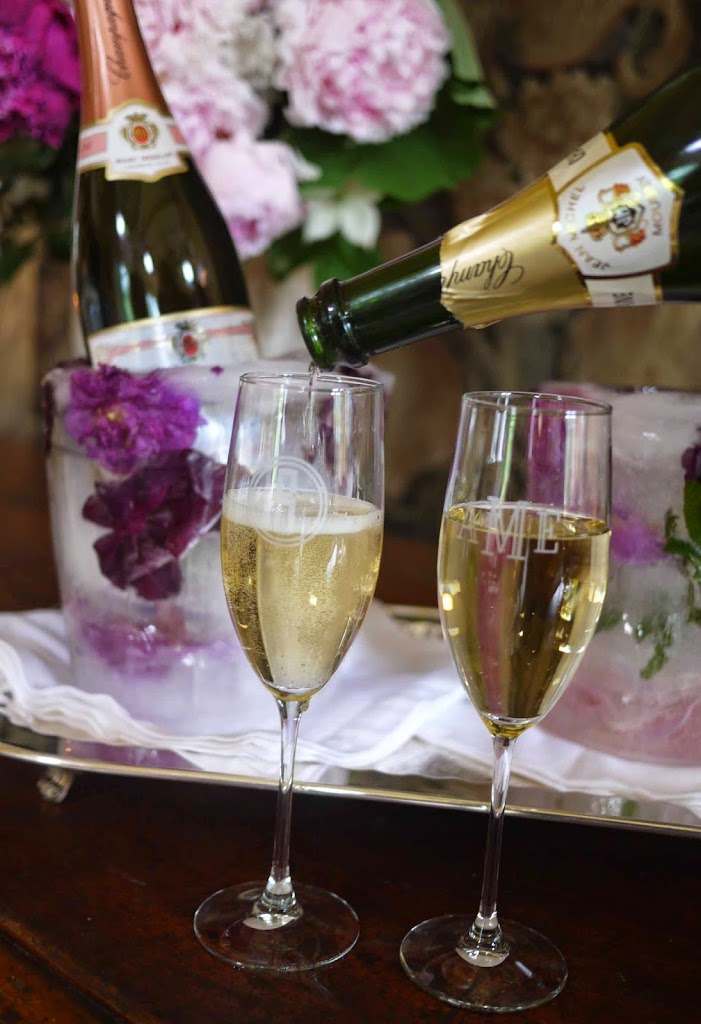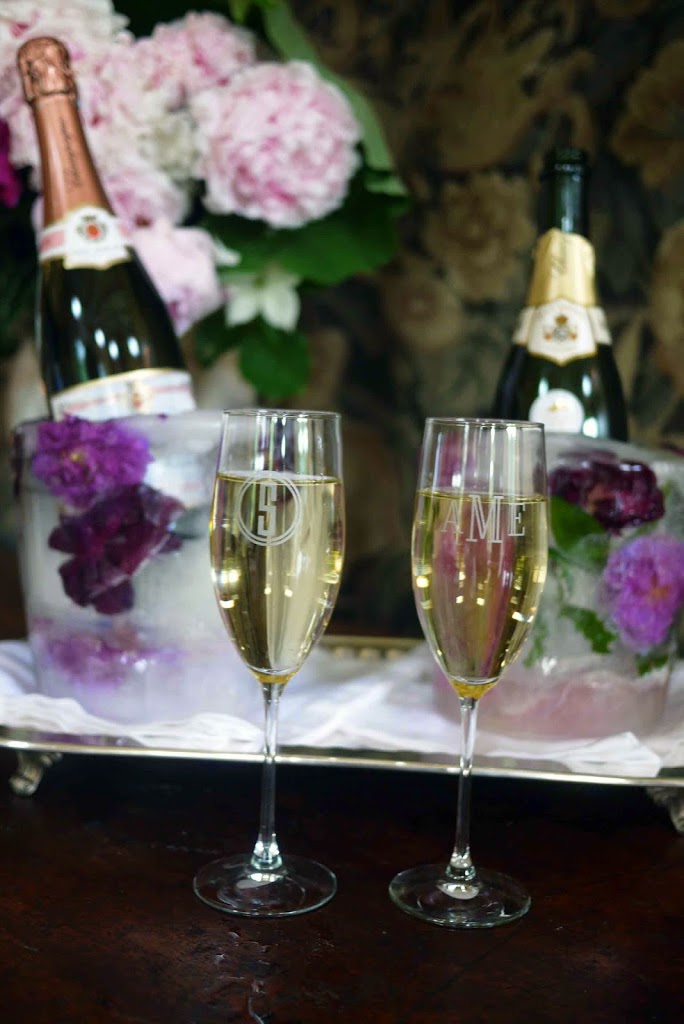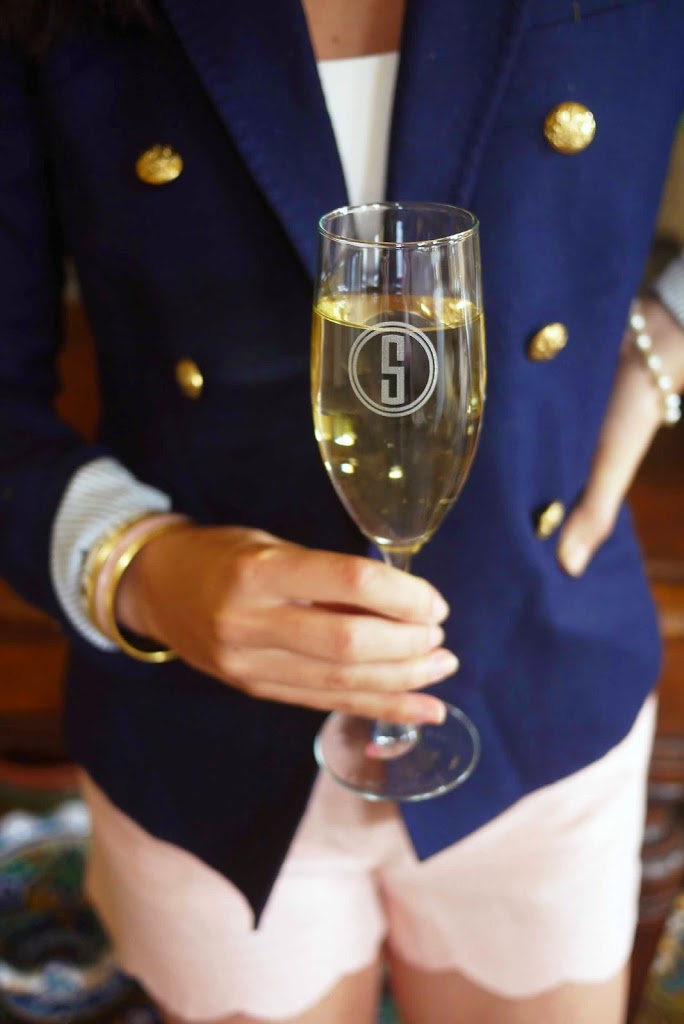 Enjoying the fruits of my labor with my
Buggy Designs Monogrammed Champagne Flute
! Which reminds me – this is wedding season, how about a set of
Champagne glasses
with the "new couple's monogram" for a wedding gift! You might want to tuck in this DIY… Better yet maybe you should make the Floral Ice Cooler Mold and personally deliver with Champagne and glasses. If you are interested in adding more champagne glasses to your collections, you may want to visit somewhere like
Cornet Barcelona
and view their glasswares. Totally thoughtful gift and budget friendly to boot!