I am really excited to showcase a new series highlighting accomplished women entrepreneurs on the Buggy blog! The focus of this series is to introduce you to both up and comers and more established entrepreneurs. I will cast a wide net and feature entrepreneurs in the social, tech, fashion and food sectors. Guests will include women who have started and are running their own companies, as well as women who are entrepreneurial in spirit, currently working for others.
Without further ado, I would like to introduce you to our first female entrepreneur extraordinaire, Miss Sarah Flint of
Sarah Flint NYC
.
Sarah launched her luxury shoe brand in 2013. Her gorgeously crafted shoes have been featured in New York Times, Elle and Women's Wear Daily. Sarah's meteoric rise in the fashion world is no easy fete, her attention to details, employing the finest craftsman in Italy and using only the most exquisite materials has set the shoe world on their proverbial heels.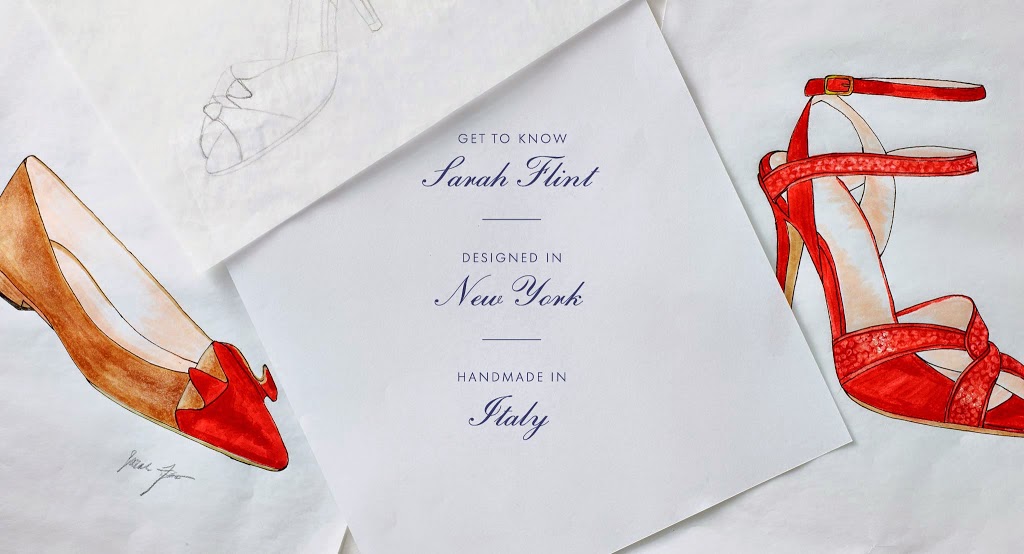 I am happy to say I have known Sarah before she was "famous" :)! We both attended Nashoba Brooks School, an all girls upper school in Concord, MA. Sarah was one of the four famous Flint sisters, and was two grades above me. In the same way that any young girl looks up to girls in older grades, I still completely look up to Sarah as her work is such an inspiration to me!
It is not surprising coming from Nashoba Brooks that we both have launched our own companies. Nashoba taught us to be independent thinkers and demanded excellence from us daily. Our curriculum included business oriented projects; for example, we each had to live independently off a theoretical salary and budgeted via checkbook for an apartment, car, food, and all living expenses. Nashoba challenged us to think what life would be like in the real world and fueled our dreams.
Sarah furthered her education at Parsons and the Fashion Institute of Technology in New York, as well as internships at Diane von Furstenberg and Proenza Schouler. Sarah honed her technical skills in pattern-making and protoyping at the prestigious Ars Sutoria in Milan, Italy. At Ars Sutoria, Sarah studied under Richard Siccardi, a well known and respected artisan and instructor who has worked with top luxury footwear labels. Richard has joined Sarah Flint NYC as head of Manufacturing.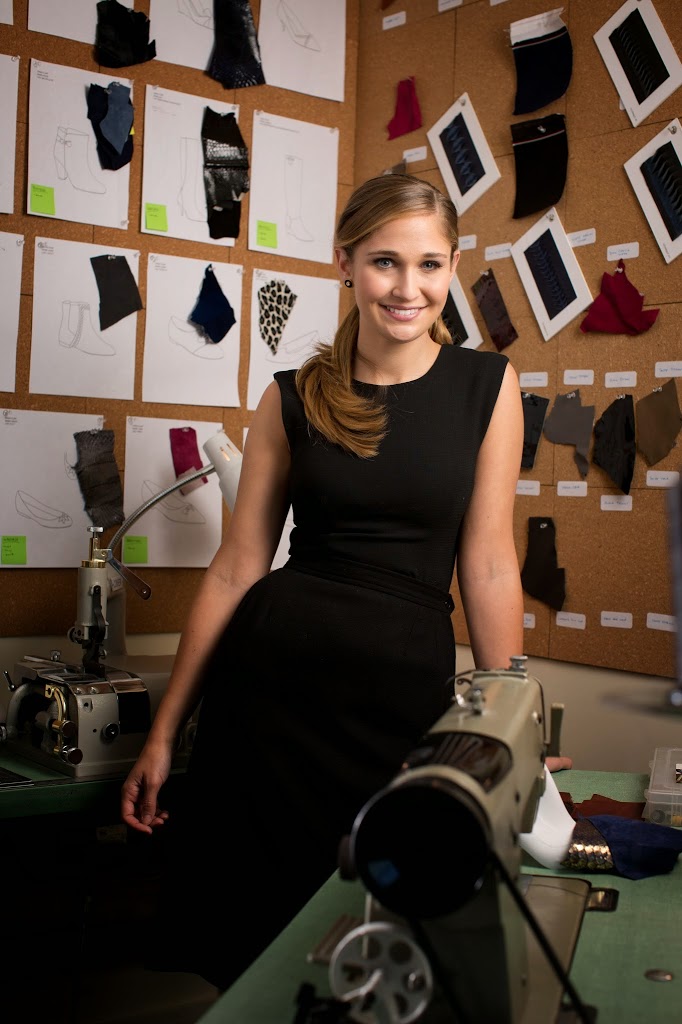 Sarah is based in New York City and also spends time in Italy. In addition you can find Sarah hosting Sarah Flint Trunk Shows across the country. I was lucky to catch up with Sarah while she was in Boston at Tess & Carlos in Cambridge, MA (follow her facebook page for Trunk Show updates). I have been having vivid dreams of her killer, feminine, strappy sandals ever since!


Sarah Flint: Do Tell!
What did you major/focus on in college?
Have you always wanted to be a designer? If so how did you decide to focus on shoes and specifically high end shoes?
I have! Shoes were the love of my life for as long as I can remember. I fell in love with the craftsmanship and passion behind luxury footwear while studying in Italy.
What/who are some of your greatest influences when you design?
I love to pull from both past and present art and culture. Travel is always so inspiring, the colors, textures and customs are always hugely inspirational.
I know you have spent some time in Italy. When you are based in Italy where are some of your go to places?
My factories are outside Milan and Florence, so mainly I am in that area. A favorite spot in Milan is the top of the Doumo. You can see the entire city!
Can you briefly walk us through the moment you conceive of an idea to the final production of the shoe?
An extremely abbreviated version: It depends, sometimes I start with a sketch and sometimes I even start with just folding and stitching leather. From there the technical drawing must be made. Then the patterns, first prototype that will need lots of corrections, leather selections and first sample. The sample is used to sell the shoes to stores and orders are placed for production.
Rumor has it you produce your shoes at one of the best factories in Italy. Do tell!
I do, we have one factory in Vigevano Italy that makes shoes for
Manolo Blahnik and Oscar de la Renta and one in Tuscany the makes shoes for Prada.
What collection are you currently working on/designing?
How do you balance creativity with the more businessy aspect of running a company?
It is a daily challenge, but you just have to make sure you schedule out days that are uninterrupted and just creative. Sometimes I even like to get out of town to do this.
What advice do you have for young female entrepreneurs?
Be determined and use your mistakes as learning opportunities.
Every parent says they don't have a favorite child… do you have a favorite shoe you have designed?
That is really tough…I do love them all, but I feel like there is always one from each season that I am in love with. This season I would say it is the Maggie in coral stingray!
Do you have any secrets for keeping suede shoes clean?
Everyone should own a good suede brush. They can fix anything.
Favorite color?
Favorite indulgent treat?
Outside of yourself 😉 who is your favorite current designer?
Hard to pick just one, but I have always loved J. Mendel.
Cappuccino, latte, French press or tea?!
Tea (this is very offensive in Italy, but I cant help it!)
Worst thing about living in New York?
Not getting enough time outside.
Best thing about living in New York?
SO many amazing restaurants to try!
Where are your shoes available?
SarahFlint.com and luxury boutiques across the country.
Sarah Flint's philosophy is… "shoes that mark the return of timeless elegance to luxury footwear. Sarah believes that sensuality lies in simplicity, that sophistication is achieved through subtlety and attention to detail, and that when those details are intrinsic to the structure and the pattern work of the shoe, the wearer feels empowered, confident and self assured. Her designs hinge on the transformative quality by utilizing feminine, delicate embellishments and intricate leatherwork to create beautiful shoes."
Sarah's favorite child – Maggie in Coral Stingray!
Fall 2014 Shoes
Sarah finds inspiration from her travels – pictured here sketching in the Caribbean
Sarah Flint + Buggy Designs

Just when I thought Sarah Flint shoes couldn't get better, I took a peak at the Fall/Winter 14 Lookbook and fell in love with her shoes twice over. Just you wait until you see the Red Python Gilda Slingbacks…