My trip to the UK was unexpectedly extended a few extra weeks as I had a terrible sinus and double ear infection and was unable to fly home, doctors orders. Thanks to Virgin Atlantic's super accommodating team, rebooking was easy not once but twice.
As I have worked in London many times before, settling into a great work routine was pretty easy.
Last week I worked with a few girlfriends at the National Art Library in Victoria and Albert Museum in South Kensington. Funnily enough I wrote my dissertation in this same library exactly a year ago. Can't say I miss the essay grind.
This being London, I had to be prepared for rain or shine, warm or cold and layers, layers, layers. I trekked to the V&A daily in my new Zara Trench Coat (a steal at 50 pounds, part of Zara Basic Collection, not sold online but at stores) and a big ole fat hat to keep the hair dry! Laptop and work forms were tucked in a Navy Monogrammed Tote from our new line of super practical monogram canvas bags. The tote arrived the day before I left for London and boy did this bag earn her keep! She was my fashionable flight carryon, a ski tote in France, a picnic hamper while visiting Blenheim Palace, and my briefcase while in London. A worthy companion indeed!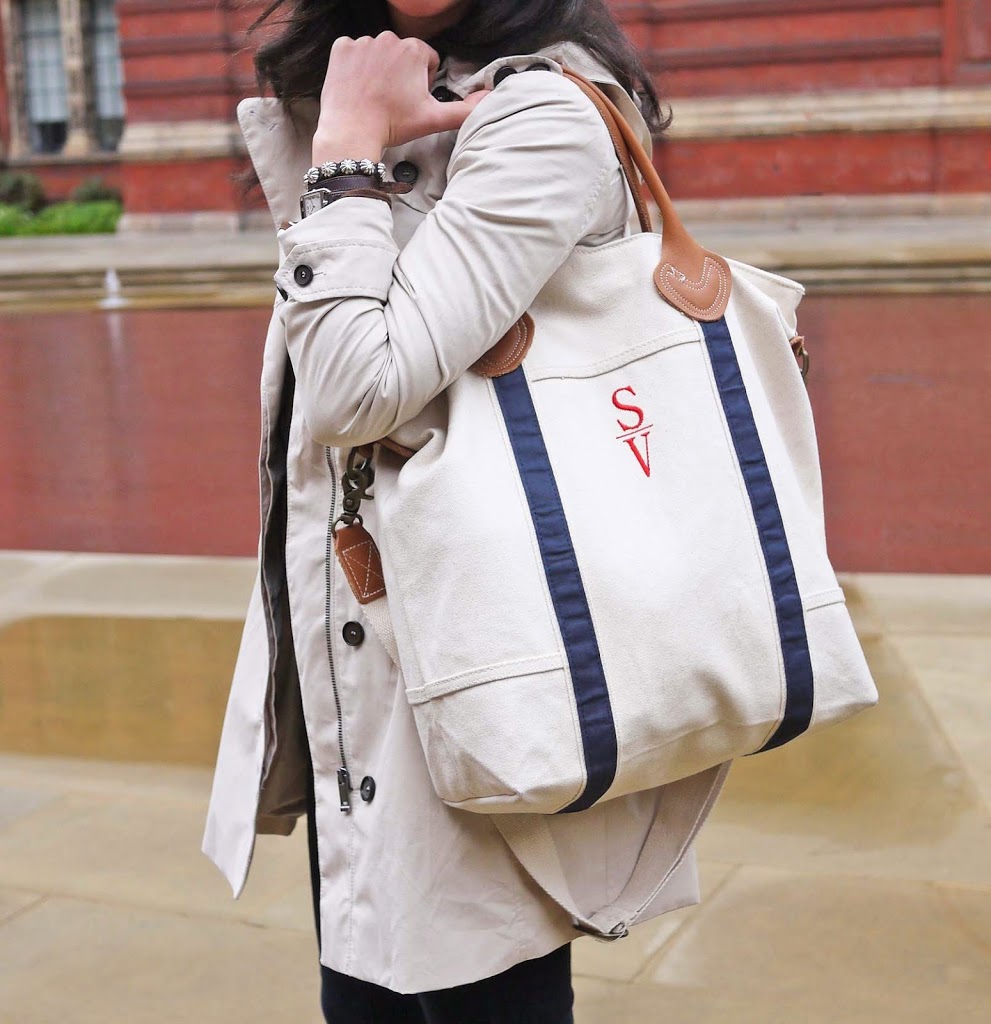 The good thing about working in a library museum all day is that a bathroom break means an opportunity to roam through galleries. I got a bit carried away with one of my breaks and couldn't resist snapping a few of my favorite parts of V&A.
Upon entering the main entrance of the museum is a spectacular installation of a custom made chandelier designed by Canadian designer Omer Arbel, which spans the vast height of the museum. It is hung from the cupola, the highest point in the building. Make sure to look up as it is easy to miss if you are solely focused on the gorgeous architecture.
American glass sculptor, Dale Chihuly's enormous glass chandelier hangs from the dome of the main entrance. His works can be found around the world with one of his better known pieces living in the Museum of Fine Arts Boston. Combining modern with traditional can be a tricky endeavor- Chihuly and Arbel's works are thoughtfully integrated reflecting V&A's commitment to celebrating past, present and future.
The Collection that I just can't resist popping in an out of (located a few steps from the library) is the Jewelry Hall of Gems. The exceptional collection of gems pictured here was bequeathed to the V&A in 1869 by the noted collector Reverend Chauncy Hare Townshend. Each gem is mounted and set in gold rings. Many were acquired from the Hope collection, home of the famous Hope Diamond now in the Smithsonian Institute, Washington, DC. Here, the stones are grouped according to individual species. Stones in their natural crystal can be seen in the Natural History Museum just a few doors down. (V&A)
Hard to tell from this pic, but these are truly ROCKS!
Make sure to check out special exhibitions – they're awesome!