Happy Valentine's Day to all! Because my Valentine is far away, I feel the need to comfort myself with the most decadent chocolate dessert I could think of. You can whip this baby up in 20 minutes (not including cooking time) and this Chocolate Soufflé recipe is gluten free to boot!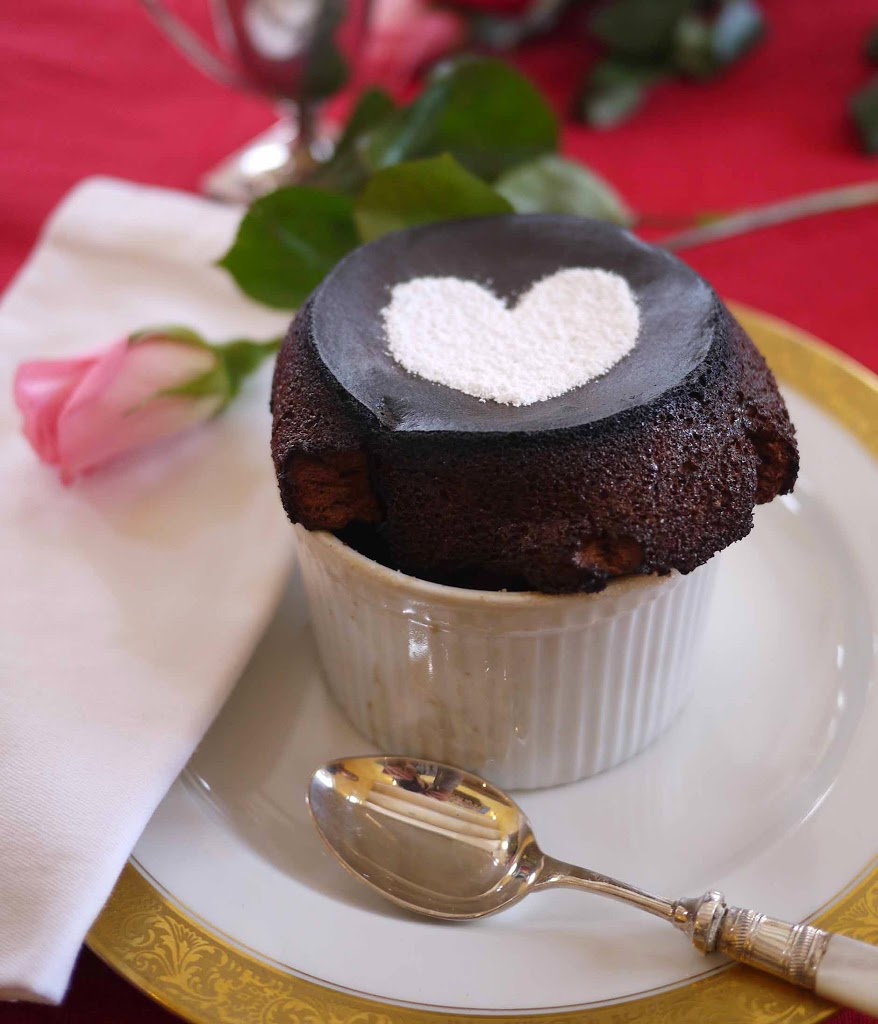 Unsalted butter, room temperature, for ramekins
1/4 cup sugar, for ramekins
1/3 cup plus 1 tablespoon milk
1/2 cup plus 2 tablespoons sugar
1/4 teaspoon kosher or sea salt
1 teaspoon vanilla
1 teaspoon instant espresso (optional)
8oz semisweet or bittersweet chocolate, finely chopped or 1 cup chocolate chips
4 egg yolks
6 egg whites
Step 1: Preheat oven to 375 degrees. Lightly butter individual ramekins or a 1 1/2 quart tall-sided baking dish. Coat with sugar, tapping out the excess. Place ramekins on a Silpat or parchment lined baking sheet.
Step 2: In a microwaveable bowl, combine milk, espresso powder (if desired) and 1/2 cup sugar. Microwave until milk is hot and sugar is melted. Add chocolate and stir to combine until mixture is smooth and glossy. If your chocolate does not melt completely, return to the microwave for about 30 seconds. Transfer to a nonreactive bowl. Add vanilla and cool for 5 minutes. Add egg yolks and whisk to thoroughly combine.
Step 3: In a large bowl, using an electric mixer( or your brute strength and a whisk), beat egg whites on medium high until soft peaks form. Gradually add the remaining 2 tablespoons sugar and continue beating until peaks are stiff and glossy.
Step 4: Mix 1/3 of the egg whites into chocolate base and whisk gently, (this step will lighten your chocolate base resulting in an airier soufflé). With a rubber spatula, add remaining whites and fold in gently, turning the bowl slowly as you cut down through the center and gently flip soufflé mixture from the bottom of the bowl back towards the center. Do not over mix.
Step 5: Transfer mixture to ramekins or dish, filling pretty close to the top. Make sure ramekin edges are free of chocolate(this will help with the rise), smooth top. Bake soufflés until puffed and set. Individual soufflés depending on the size of your ramekin will take between 10-15 minutes. A 1 1/2 quart dish will take 25-35 minutes. Dust with confectioners sugar and serve immediately.
Serve with your favorite Creme Anglaise.
* We prefer our soufflé slightly crunchy on top and soft and a bit gooey in the center. Our baking time is on the lower end. If you prefer a more cake -like soufflé, cook a few minutes more.
I was a little snap-happy and really excited as soufflés popped out of the oven. Some soufflés were bedecked with hearts, others were enthusiastically powdered for a "professional" chef look!
Life does not get any better than poured, not-drizzled creme anglaise into molten chocolate soufflés.
I love an ooey-gooey interior texture of my soufflés with a crispy top and when I get it right, I'm really happy. Today things worked out!
Happy Valentine's Day to all my fellow chocoholics!