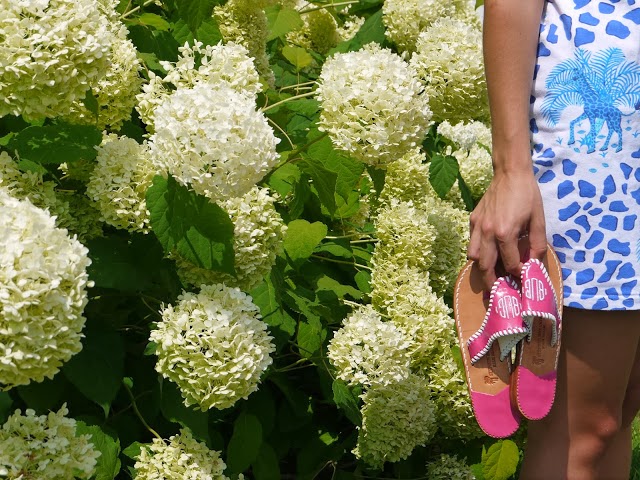 Welcome dear readers to a sandal throw down! For those of you only familiar with Jack Rogers, let me introduce you to Palm Beach Sandals, these are the original "navajo sandals" worn and popularized by Jackie Kennedy and Lily Pulitzer and still viewed as the gold standard sandal to prepsters young and old.
While each brand has its legion of die hard fans, emotions often run high at the thought of crossing over to enemy territory! Fear not, I remain in the Palm Beach Sandal Company camp and vow to never cheat! At Buggy Designs we are proud to carry Palm Beach Sandals.
A quick history lesson:
Jackie O bought sandals on a trip to Capri. She loved them so much she brought them to a cobbler shop in PB and asked the owner, Luigi Pucillo, if he could make her a few new pairs. At the time, Benny & Eva Bonanno worked with Luigi and were given the task of creating new sandals for Jackie. And the rest is history! For many years Palm Beachers fondly called what is now known as Palm Beach Sandals- Luigi's. The Bonanno family were excellent master craftsman and soon developed a very loyal following. One of their greatest successes was creating "The Eva"(renamed Flagler) specifically for Jackie O (as pictured below).
During this period, a large manufacturing company in South Florida (Jack Rogers) saw a good thing, and copied the sandals as patents on shoes did not exist. Jack Rogers had greater production capacity and was able to supply sandals nation wide, hence today's greater name recognition.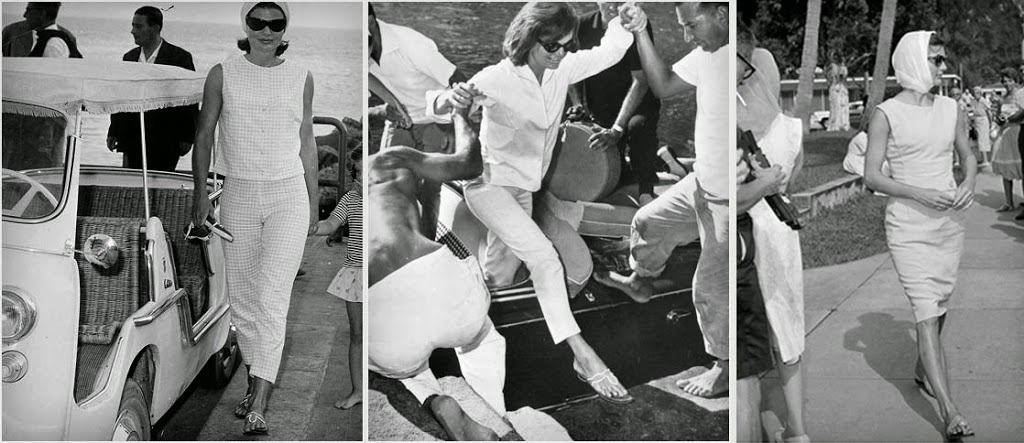 Flash forward to the 1980's, Stephen Bonanno took over the family business and all sandals became stamped with "Stephen Bonanno Sandals, Palm Beach". Palm Beachers embraced the slogan "Barefoot or Bonannos", coined by Lilly Pulitzer and Bonannos enjoyed a resurgence. There were two places that were meccas for Bonanno Sandals – their factory and C. Orrico on S County Road. My mom bought me my first pair of Bonannos at C. Orrico when I was a little peanut. Lucky for me, my birthday is in March and we found ourselves just about every year picking out new sandals with the famous Orrico sisters. Sidenote – Kathy and Colleen helped me get a jump start on Buggy Designs way back in the day, graciously opened up their rolodex and gave me names and contacts of ribbon & pompom manufacturers and fabric suppliers. At the time I was all of 13 and I so appreciated the time they spent with me given my age.
The Palm Beach gossip mill was in full swing when Stephen B and his wife Monica split. As part of the divorce settlement, Monica got the original Bonanno factory, machines and the original dyes.The company is now owned by Monica's family and renamed Palm Beach Sandal Company. We are happy to report the change of ownership has not diminished the brand one bit, in fact things are better than ever!
Palm Beachers can now sleep soundly at night,  knowing their beloved sandals are in good hands for future generations!
Phewwww, that history lesson is over! Now onto some key differences between PBS and Jack Rogers:
Jack's are found just about everywhere, are mass produced and have greater name recognition. They can easily be found in any mall, discount and flash sale sites whereas Palm Beach Sandals are not widely available as they have insisted on remaining true to their roots, still producing custom, handmade sandals in Palm Beach, Florida. Lilly Pulitzer was known to go directly to the factory to pick up her sandals.
The difference in quality between both brands is astounding, The Jack Rogers sandal is part leather and part synthetic man made material while Palm Beach Sandals are each still crafted by hand and made of 100% supple leather inside and out (no vinyl backs) with shank soles, making them far more comfortable and durable. The leathers are dyed and not painted on.
Palm Beach Sandals offers personalized old school customer service. PBS guarantees your custom sandals in 2 weeks- we think that is one heck of a turn around time! If you need them sooner, for a small fee we can get them to you in a few days.
Ever in need of a resole? No problem, just send them to PBS and they will be returned to you in tip top shape.
We also love PBS's unparalleled customer service. At any time of the day or night we can pick up the phone or shoot Evan-our go-to guy an email with some crazy request and he just makes it happen.
We think Palm Beach Sandals are worthy of your devotion and are a national treasure – they sure don't make shoes like this no mo'!!!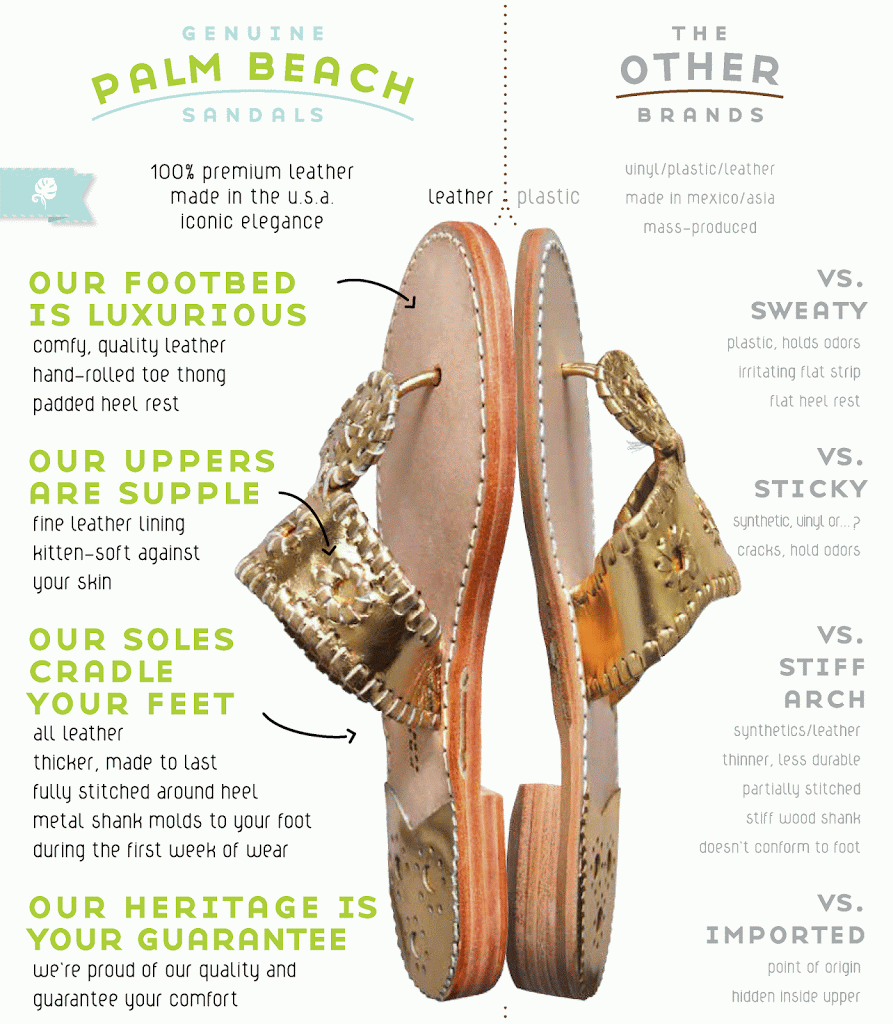 Here's a closer view of Jack Rogers versus Palm Beach Sandals…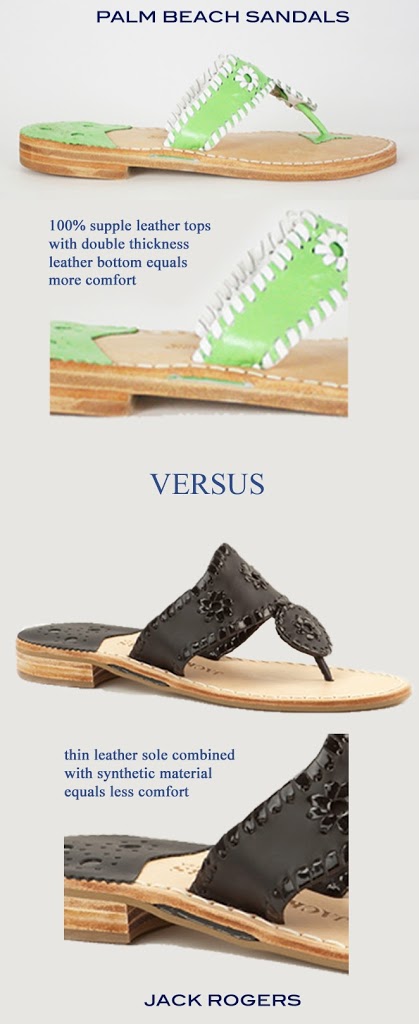 Here's the real kicker– Jack Rogers and PBS are both $110.00 yet the quality is so vastly different AND specialty leathers (stamped croc and lizard) for PBS are no extra charge, while Jack's are between $118.00 – $138.00. Jacks color options are limited, while PBS has over 70.
At the end of the day, Jack Rogers is a very large lifestyle brand with a vast distribution network (they were bought by a conglomerate) and have a devoted following.  Palm Beach Sandals does one thing and does that extraoridinarily well. PBS has remained very much the same as when Jackie O placed her first order.You can see how Palm Beach Sandals are made in the video below! Custom! Custom! Custom!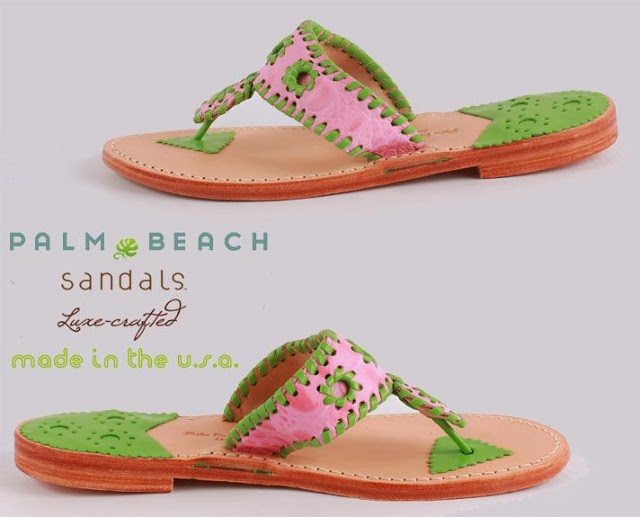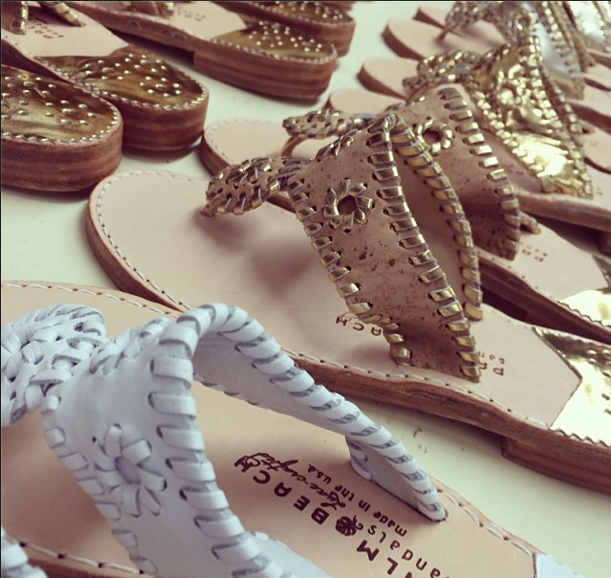 PBS & BUGGY DESIGNS
SALE
While we are suckers for the old and classic tried and true, thank goodness for modern technology! Buggy Designs offers a custom Create Your Own Design Sandal Tool that allows you to view your chosen monogram, icons, fonts, and leather colors live on the screen in just a few clicks! There are over 70 can't live without colors and 24 sandal styles. Happy Designing!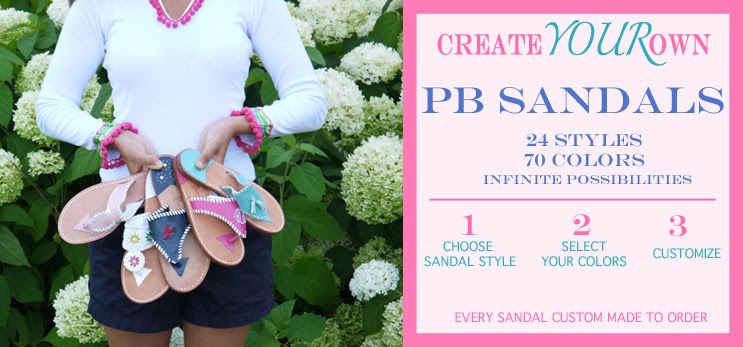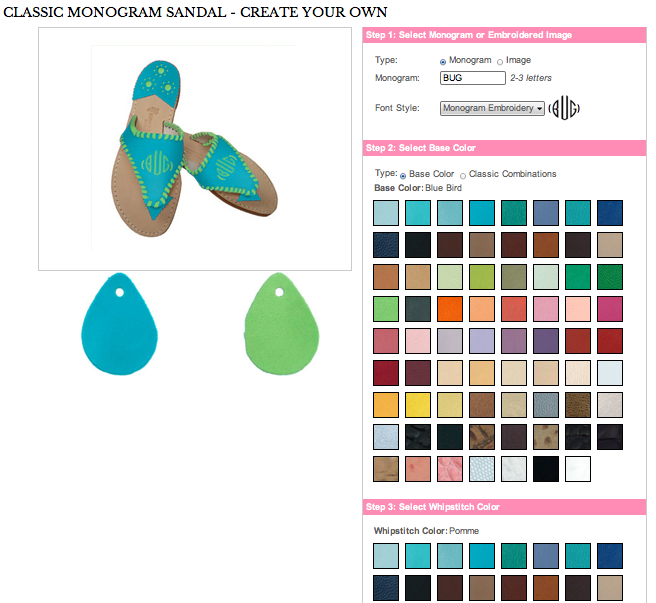 So tell me, where do your loyalties lie?!