Well, it's that time of year again. I have been putting this off, but it's time to get back in the proverbial "healthy eating saddle". Traditional diets are not my thing as I don't believe they keep weight off long term. I prefer to subscribe to everything in moderation and small portions with no food group left behind. That being said, I tend to view white carbs as special treats and not for everyday.
I definitely feel that you eat with your eyes first and when creating recipes I really take into consideration having as many colors of the rainbow represented! Spices, citrus and fresh herbs are always welcome into the pool.
So without further ado, I present you with this kick-ass, as spicy as you want, lettuce wrap! Figure and budget friendly. So let's get cookin'!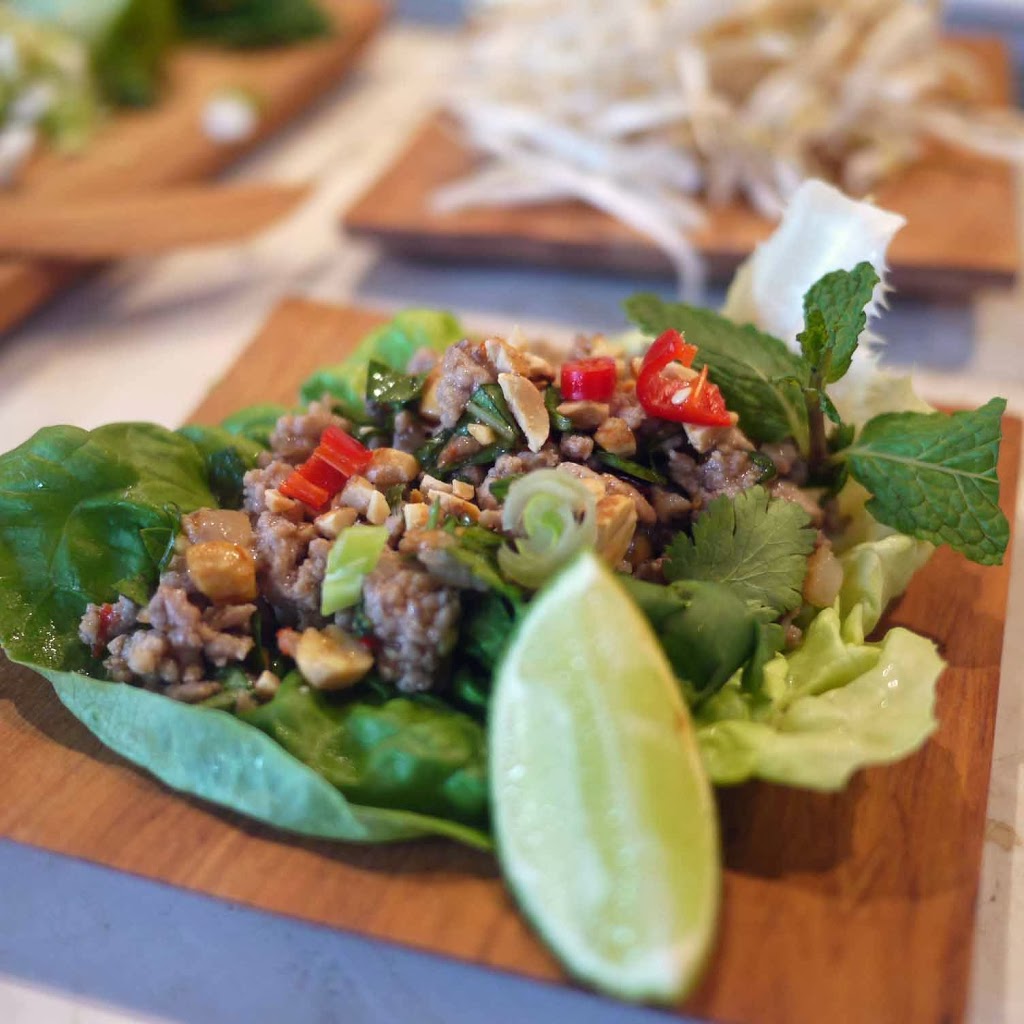 Vietnamese Pork Lettuce Wraps
yields approx 10 lettuce wraps
Ingredients
1 pound Pork or 97% fat free Turkey (more flavor for Pork, but if on a diet use Turkey… we had pork in the fridge so used Pork and drained the fat)
1 clove garlic chopped
1 large shallot chopped
2 teaspoon of Coconut, Vegetable or Olive oil
1 long red chili (either Anaheim or Fresno) or 1 jalapeño, chopped
2 teaspoons Sriracha or Asian Chili Sauce
1 head of Boston or bibb Lettuce

Use 1/2 of these Ingredients for cooking and reserve other half for Fixin's
1/2 bunch cilantro
1/2 bunch Thai basil (if you don't have Thai basil use Basil)
1/2 bunch mint
1/4 cup peanuts chopped

Sauce
2 tablespoons of Vietnamese Fish Sauce (Nuoc Mam is what I used)
2 teaspoons of light brown sugar
Juice of 2 limes
Additional Fixin's to garnish lettuce wrap
Limes, Chile, Scallions, Sriracha, Bean Sprouts, Cilantro, Thai Basil, Mint, Chopped Peanuts
Recipe
1. Saute on medium to high heat Pork, garlic, shallots and Red Chile (or jalapeño) in oil until pork is no longer pink. Break up pork into small pieces as you are cooking.
2. Mix Sauce ingredients and add to pork. Simmer for 1 minute. Shut off heat. Let cool for 5 minutes. Add 2 teaspoons sriracha and half of the cilantro, Thai basil, mint and peanuts. Place pork mixture into serving bowl.
3. Separate bibb lettuce leaves. Wash and spin dry. You will need approximately 12 leaves for this recipe.
4. Serve with all your fixin's and enjoy!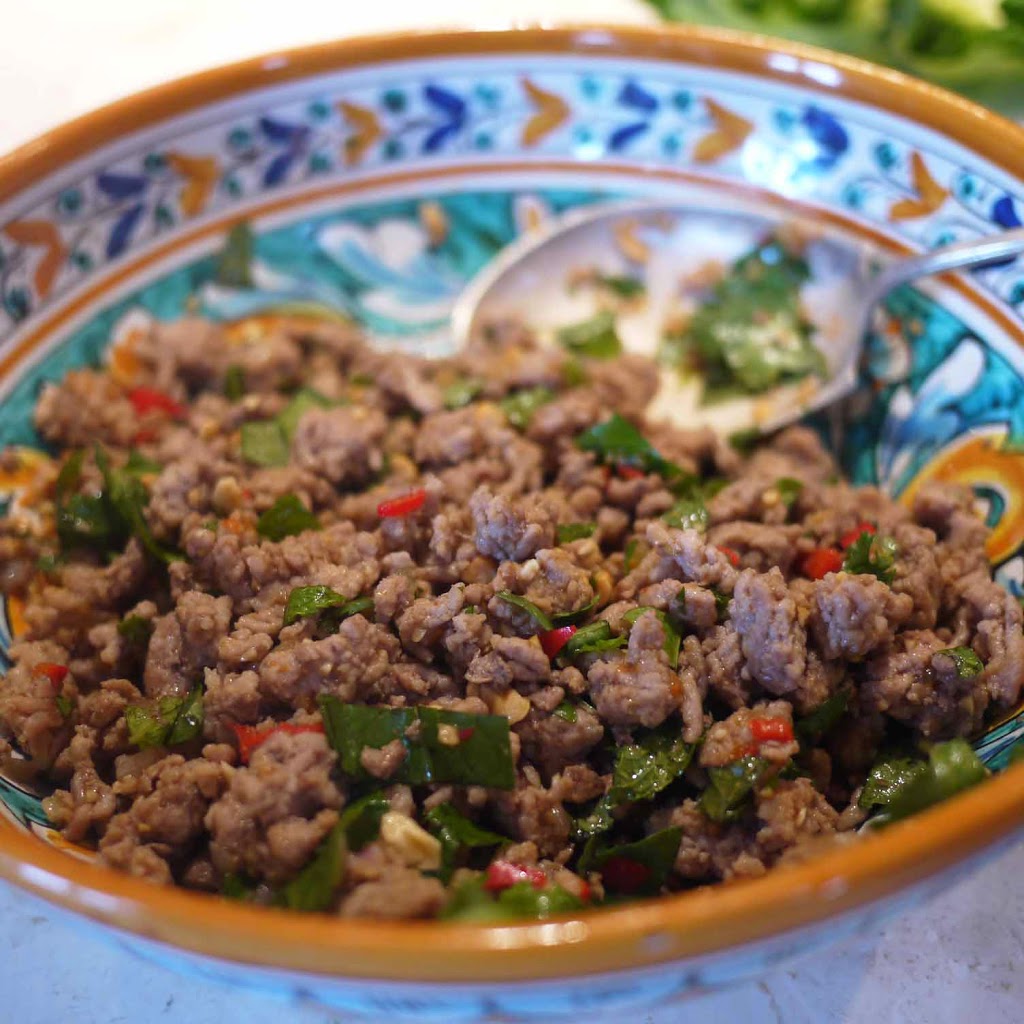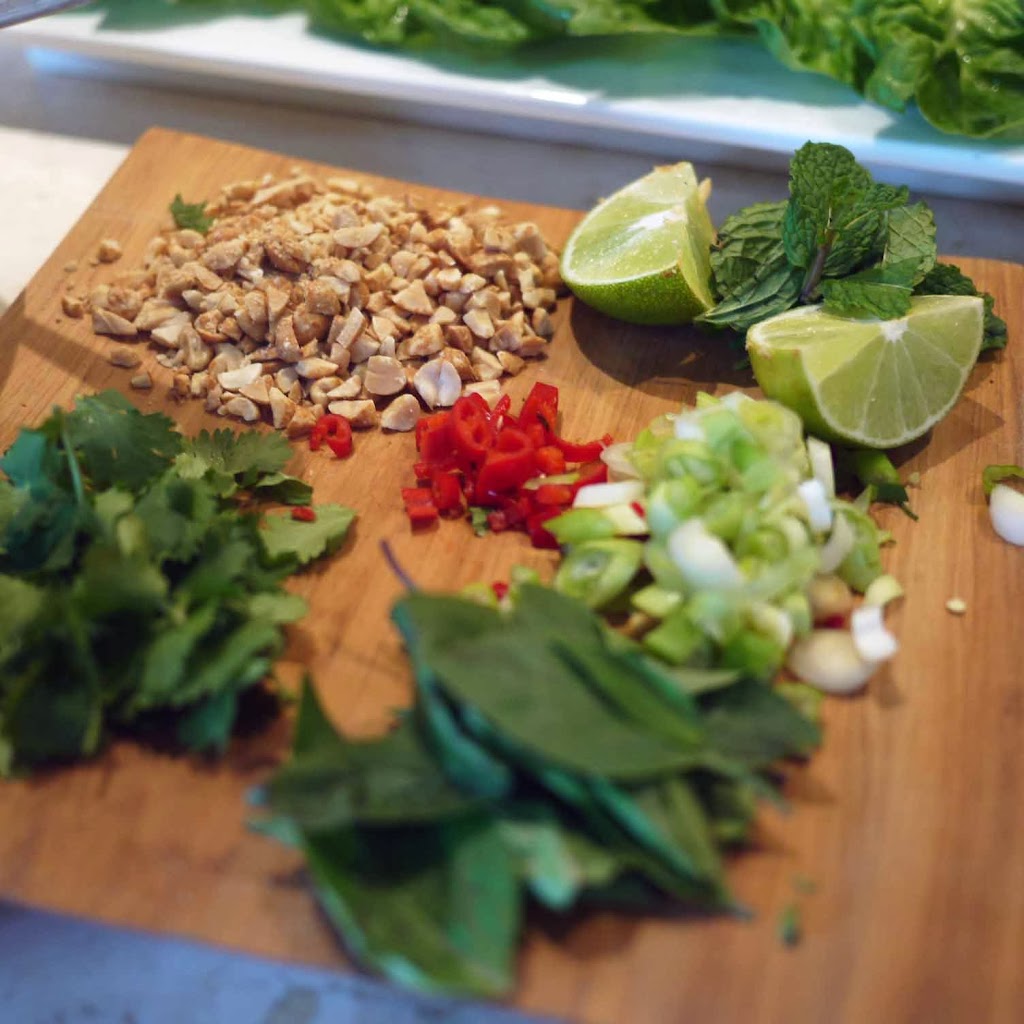 The fixin's!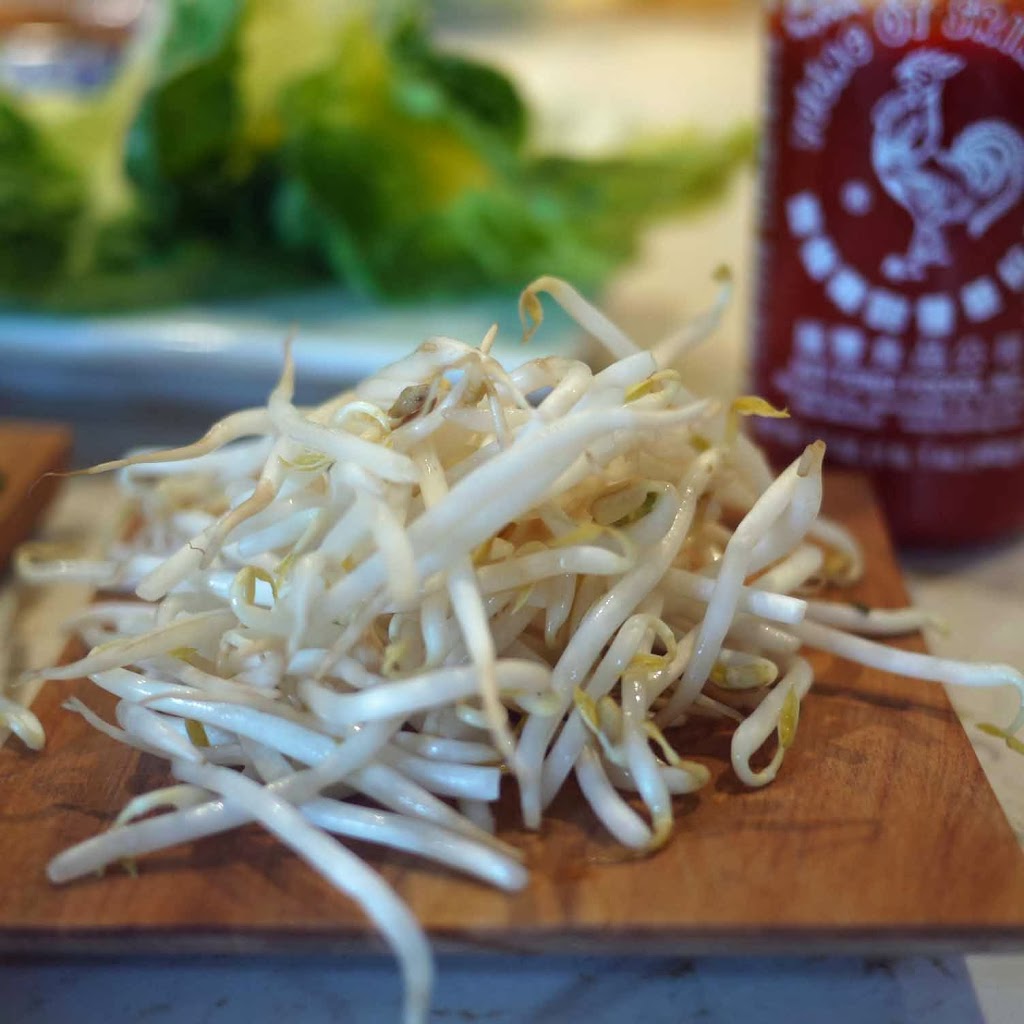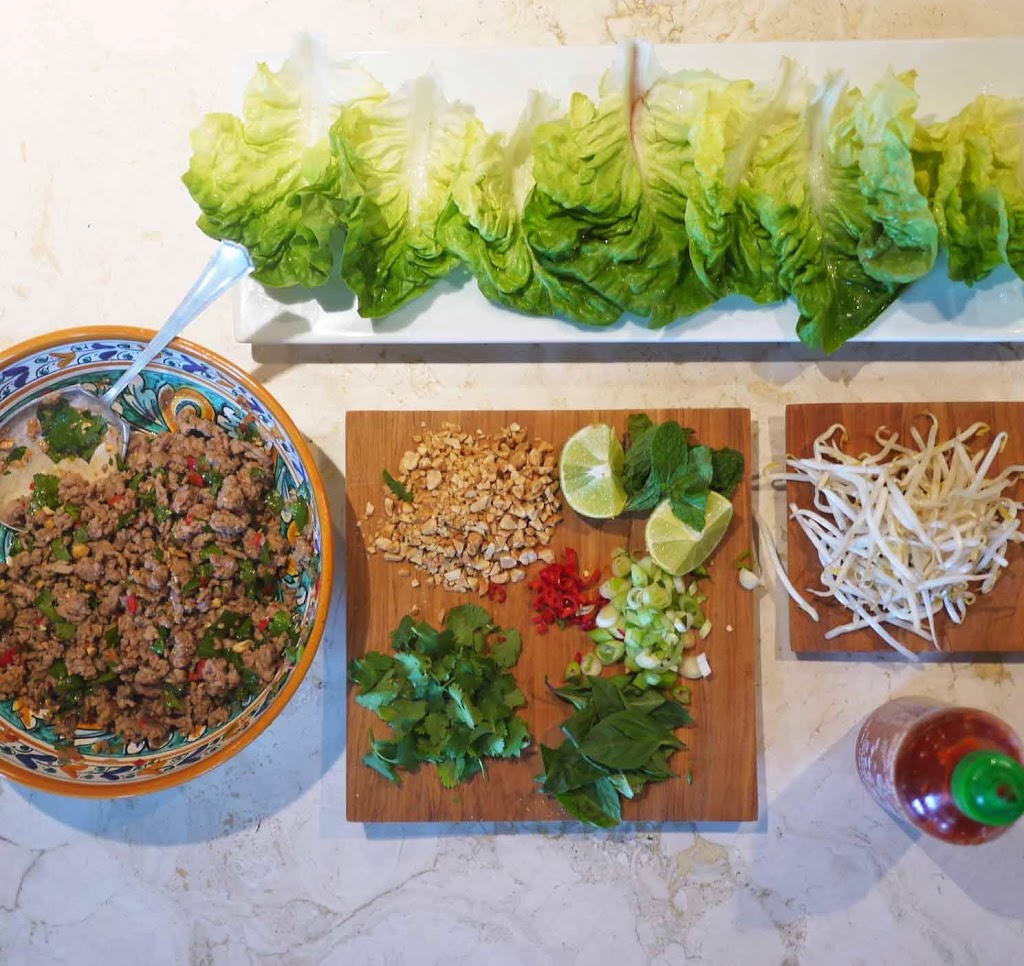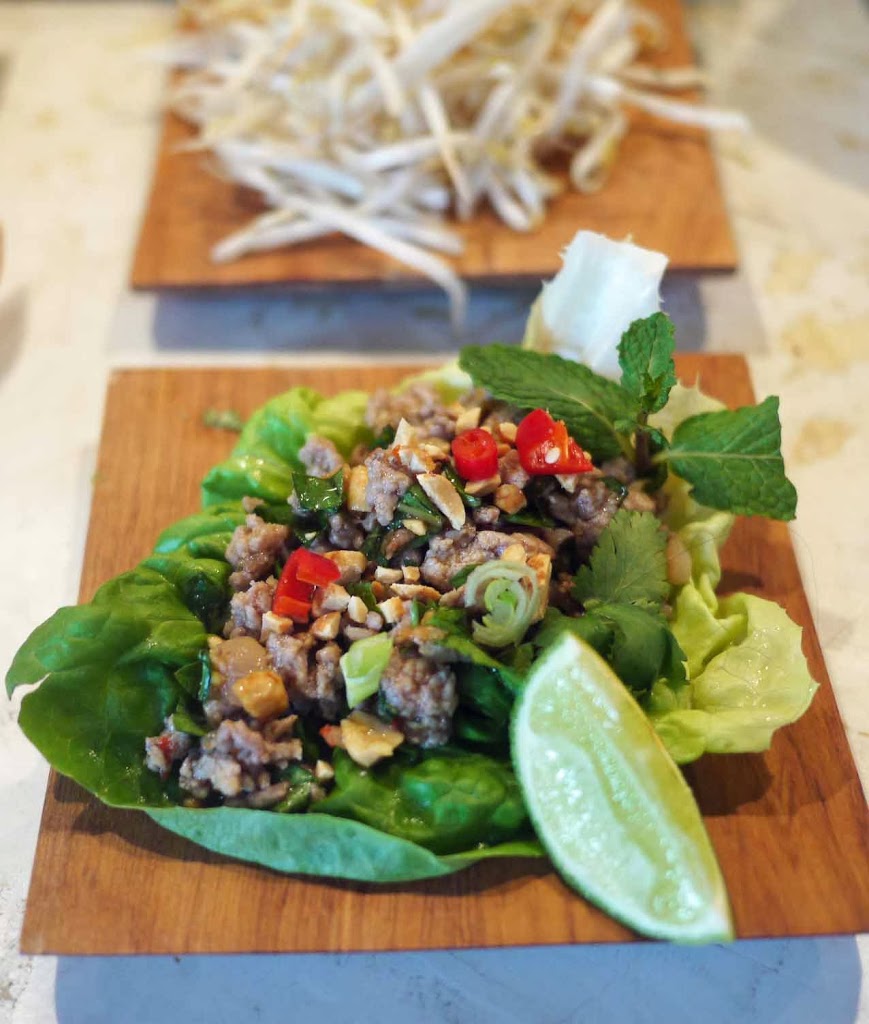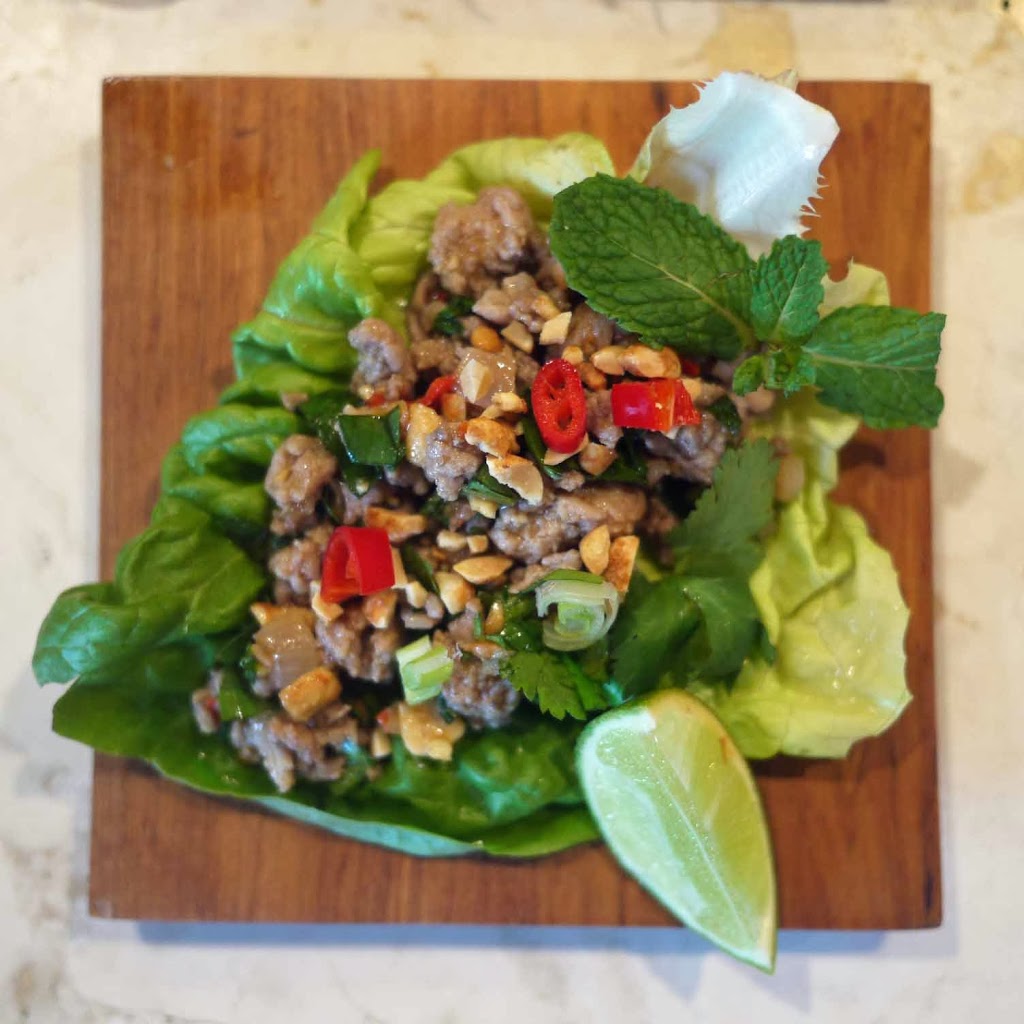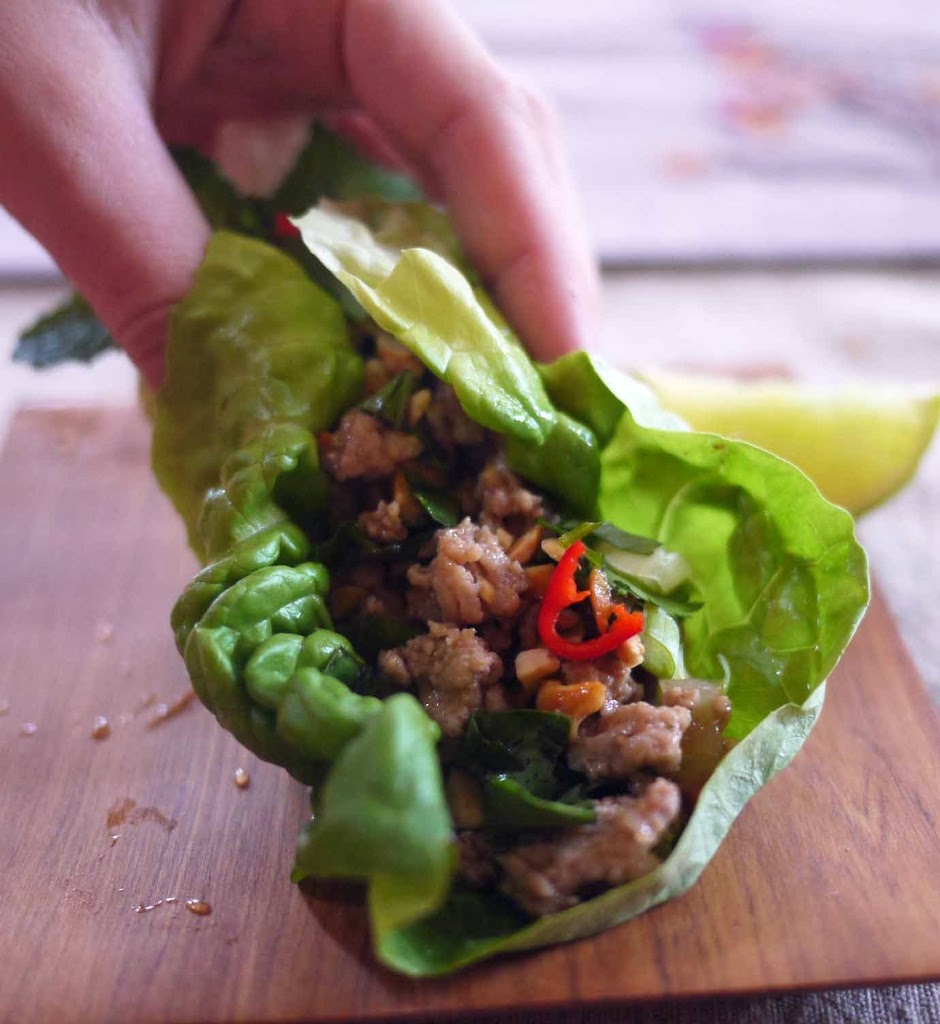 Delicate looking but a protein and vitamin blast with tons of flavor.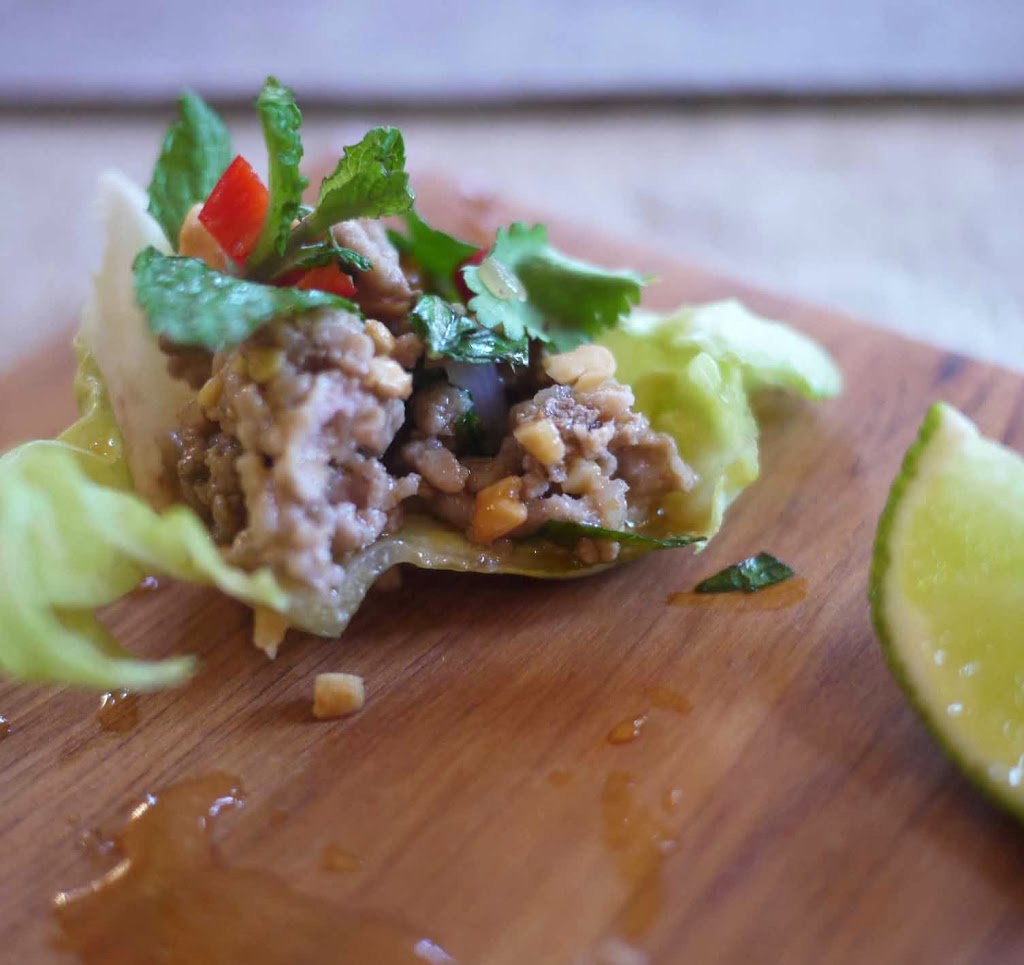 Some like it hot!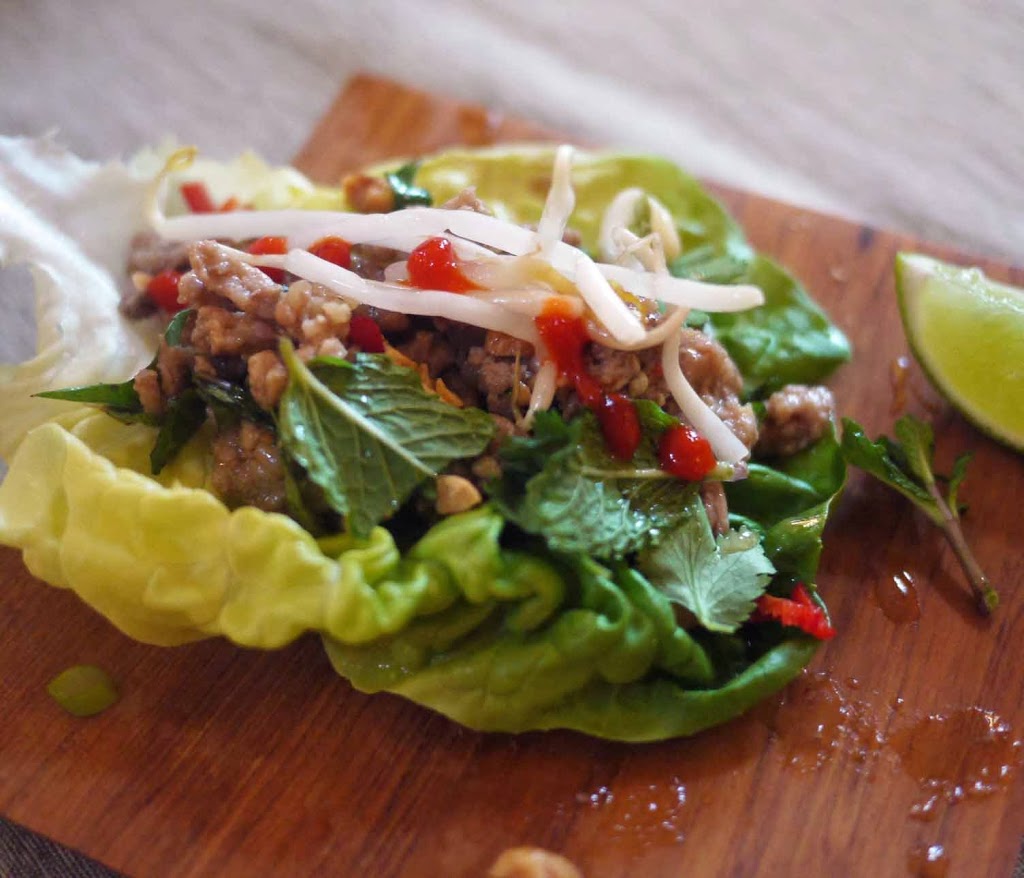 Thanks to My Fitness Pal app we calculated that each lettuce wrap is approximately 135 calories (when fat is drained after cooking or using 97% fat free turkey). Pretty great, huh?
The Vietnamese Pork Lettuce Wrap recipe is easily doubled or tripled for a crowd. If you have fresh lemongrass or ginger on hand, feel free to add to your sauté pan. The amount of heat is totally up to you! I've been known to add a pretty big tablespoon or two of Asian chili sauce to make this recipe killer hot!
Enjoy and let us know how you like your lettuce wraps!