Labor Day may have come and gone but I am holding on to the last vestiges of summer with vengeance! Case in point, no apple or pear recipes here! This week Verrill Farm, our local farm, was offering beginning of the season apples and pears, but they are not nearly as delicious as peak season peaches, plums and nectarines. I chose nectarines for the cake as they were extremely fragrant, perfectly ripe and just begging to be eaten.
This past weekend we got together with some of our best friends with the intention of celebrating the best of New England as we sent off my friend John to the warmer climes of San Francisco. John made Lobster Rolls-New England style (is there really any other style?!) and we prepared Corn Chowdah and this amazingly delectable Nectarine Upside Down Cake in my attempt at farm to table cooking.
This cake takes no time to prepare and looks super fancy-shmancy!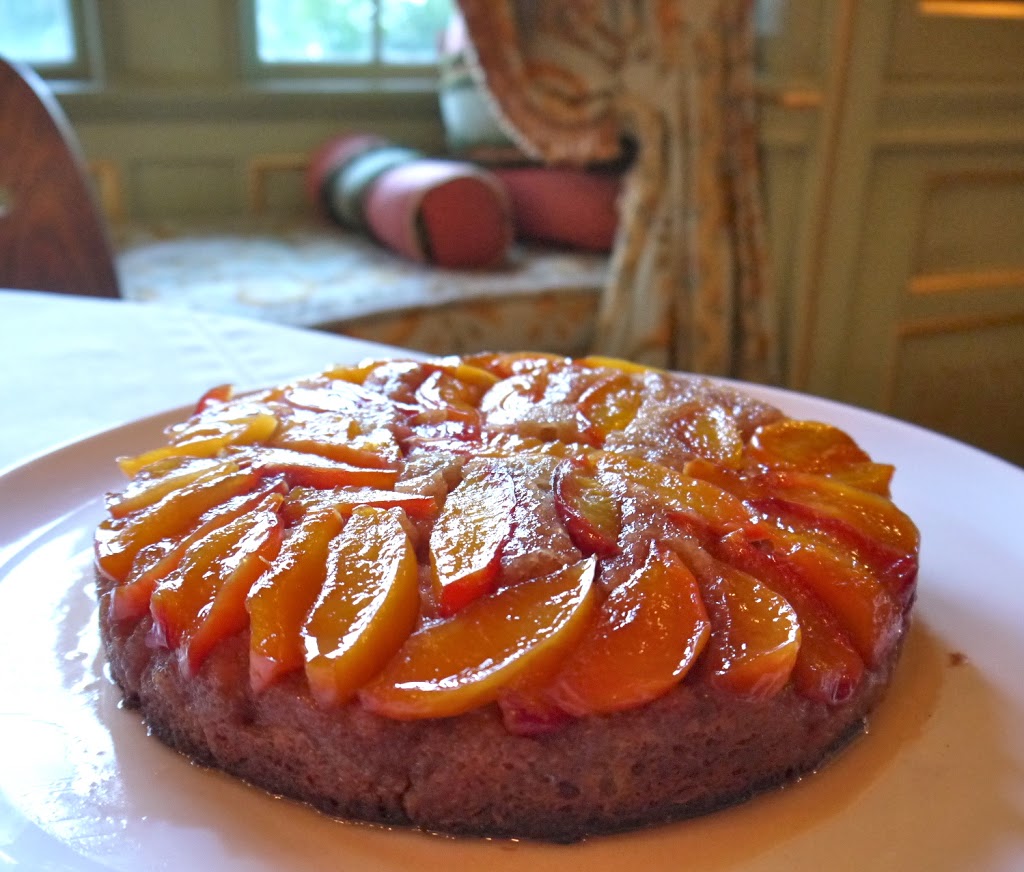 Nectarine Upside Down Cake (serves 8-10)
Ingredients
13 Tablespoons unsalted butter, room temperature
1 1/2 cups light brown sugar (packed)
5-6 nectarines; halved and pitted, each cut into 12 wedges
2 eggs
3/4 cup reduced fat sour cream
1 1/2 cup all purpose flour (leveled)
1 tsp baking soda
1/2 tsp salt
1/2 tsp cinnamon
1/4 tsp ground allspice
1/4 tsp ground cloves
1/4 tsp ground nutmeg
1 tsp vanilla extract
1/2 tsp almond extract
(cinnamon, ground allspice, cloves and nutmeg can all be substituted with 1 1/2 tsp pumpkin pie spice)
Step 1 Preheat oven to 350 degrees. Place 4 tablespoons butter in a 9-inch round cake pan; melt in preheated oven, about 3 minutes. Sprinkle 3/4 cup light brown sugar evenly on top of melted butter. Arrange overlapping nectarine wedges in a circle around edge of pan; repeat in center, covering entire bottom of pan.
Step 2 In a large bowl (we used a mixer but you can hand beat), beat together remaining 9 tablespoons butter, remaining 3/4 cup light brown sugar, eggs, vanilla extract and almond extract. Beat in sour cream until blended. Set aside.
Step 3 In a medium bowl, mix together flour, baking soda, salt and spices. Add flour mixture into sour cream mixture until just combined.
Step 4 Spread batter evenly over nectarines. Bake until a toothpick inserted in center of cake comes our clean, about 50 minutes. Run a knife around the edge of pan- hold your breath, and quickly invert onto a serving plate. Keep a steady hand and be brave!
Serve warm or at room temperature, whipped yogurt crema is optional.
Greek Yogurt Crema – makes about 2 1/2 cups
Ingredients
1 cup heavy cream
1-2 tablespoon sugar
1/2 cup low fat Greek Yogurt
1 tsp vanilla extract
Step 1 In a deep mixing bowl, beat 1 cup heavy cream until slightly thickened.
Step 2 Add 1-2 tablespoons sugar and 1 tsp of vanilla extract. Whip until soft peaks form. Add 1/2 cup Greek yogurt and beat until just combined. If you over beat, add a tablespoon or two of heavy cream.
*I prefer a small amount of sugar in the crema; however, if you like sweeter desserts feel free to add additional tablespoon.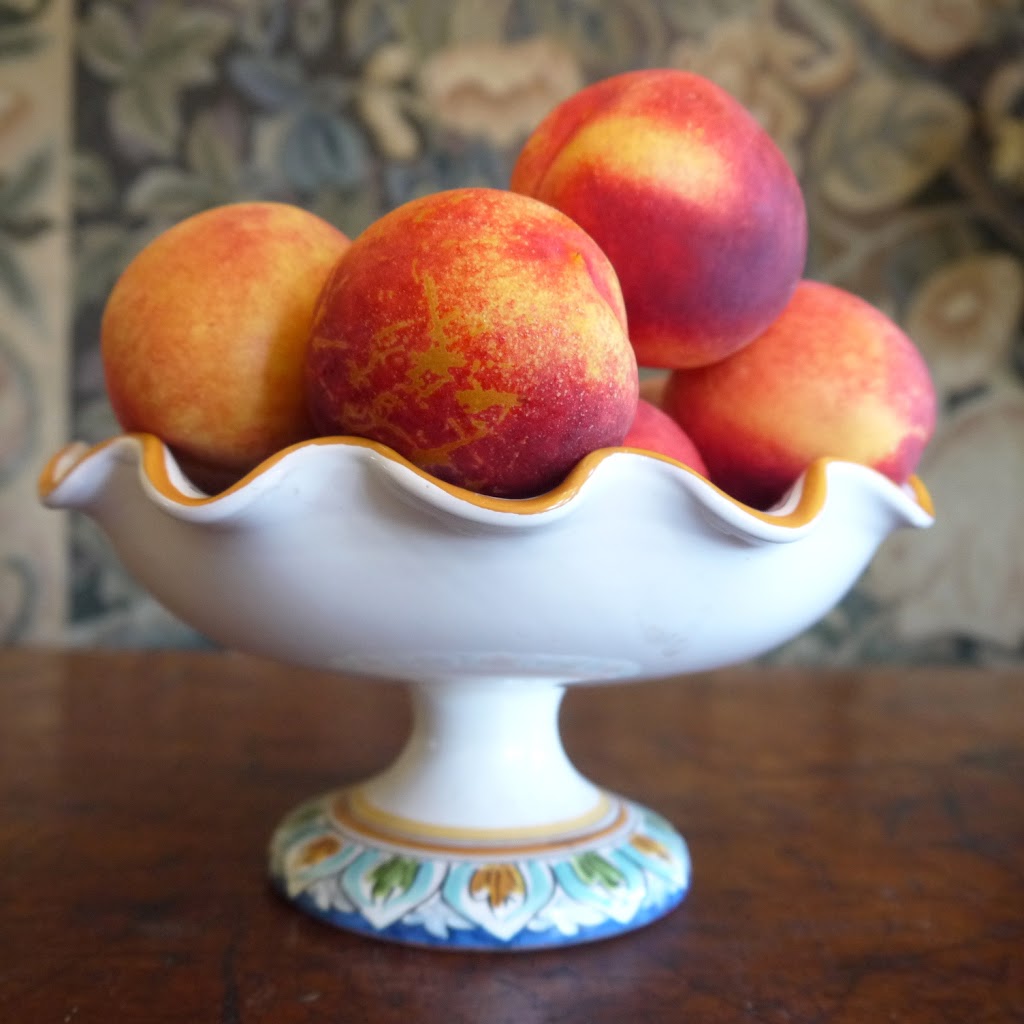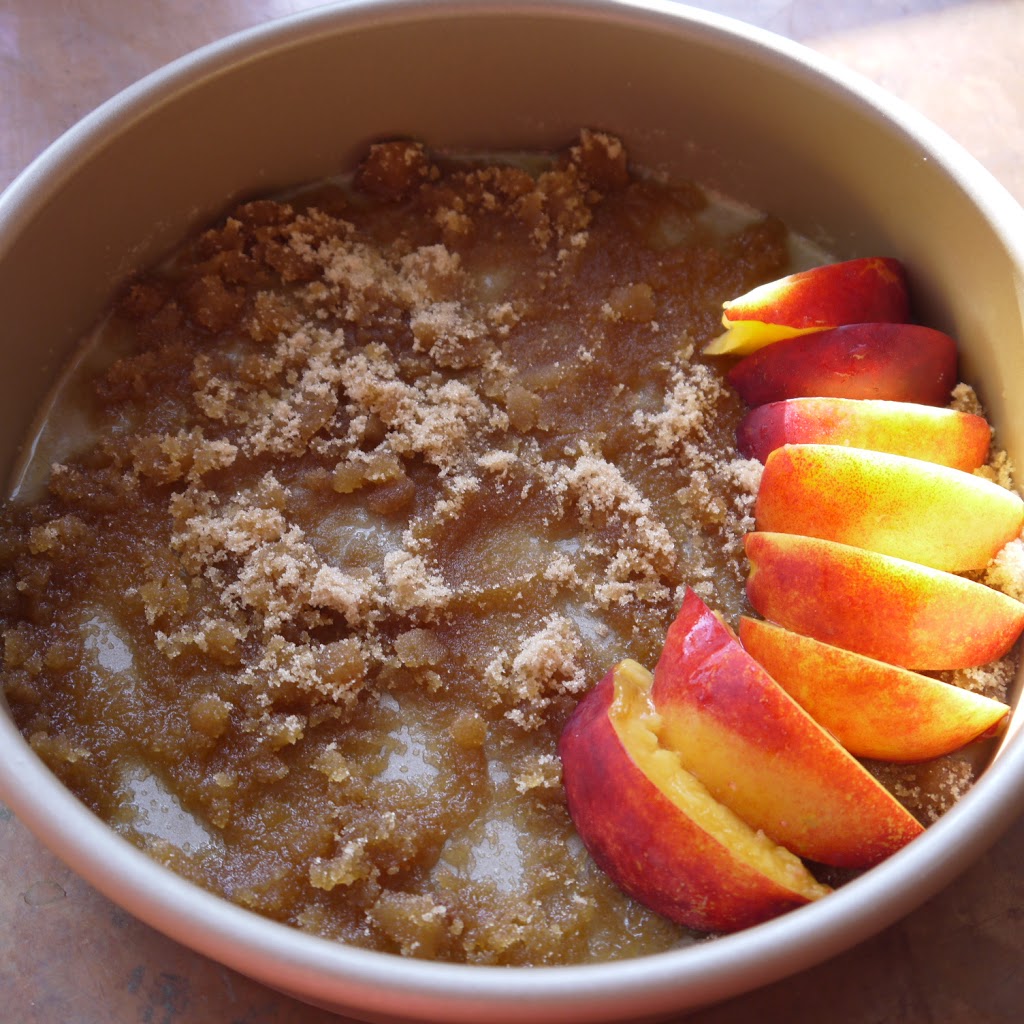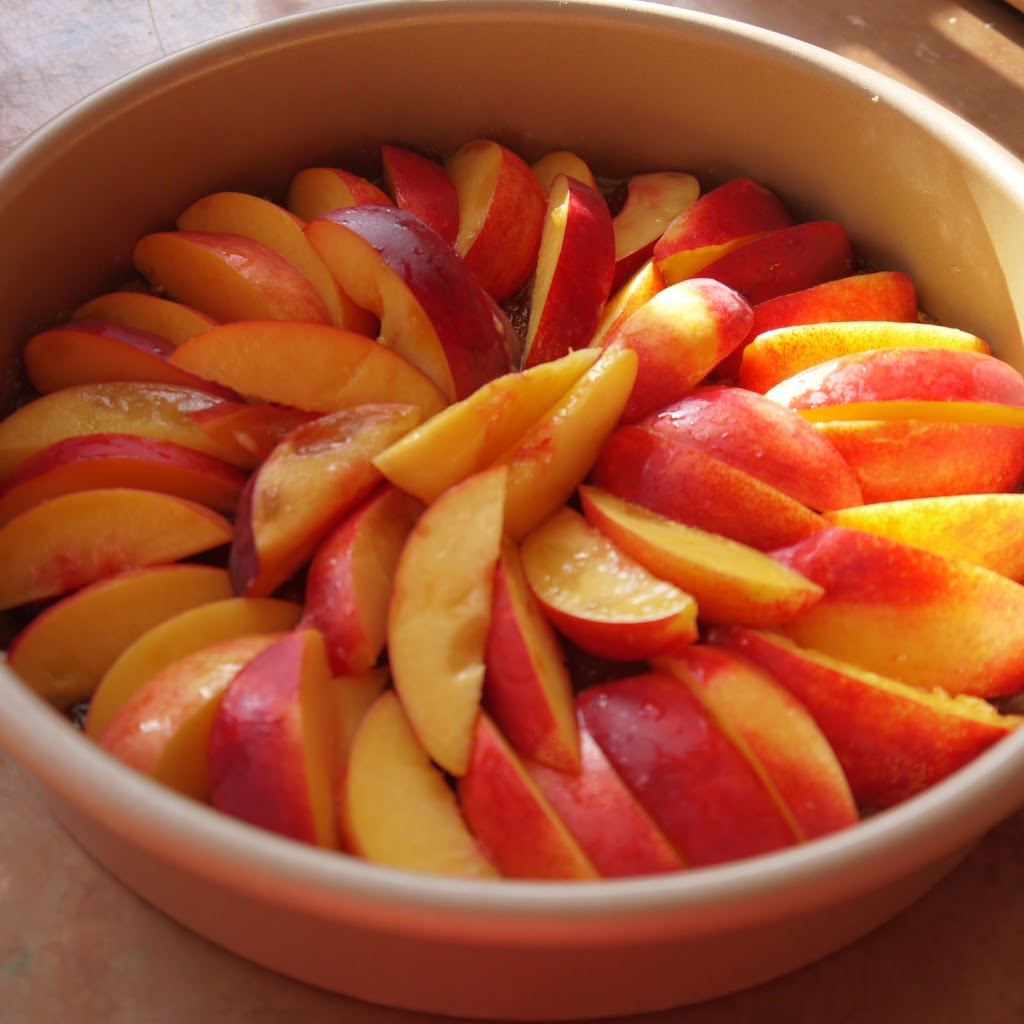 If making this recipe during winter months with hard fruit, bake nectarines and brown sugar in a 350 degree oven for 15 minutes before adding batter to top. This will allow the fruit plenty of time to caramelize and sweeten.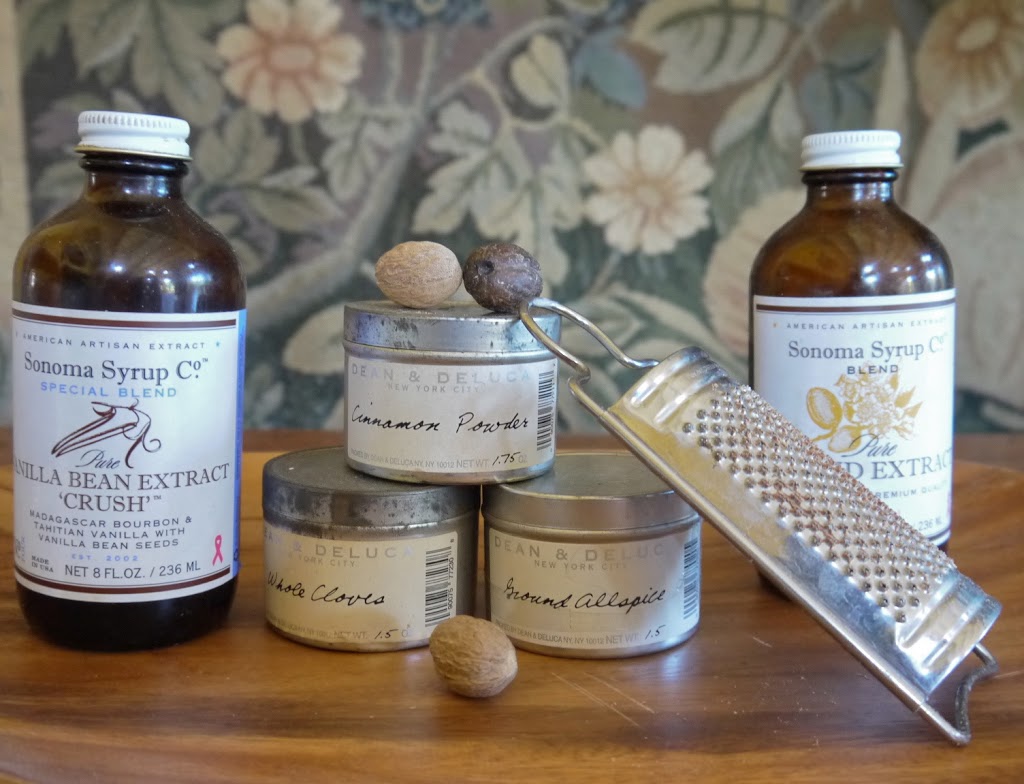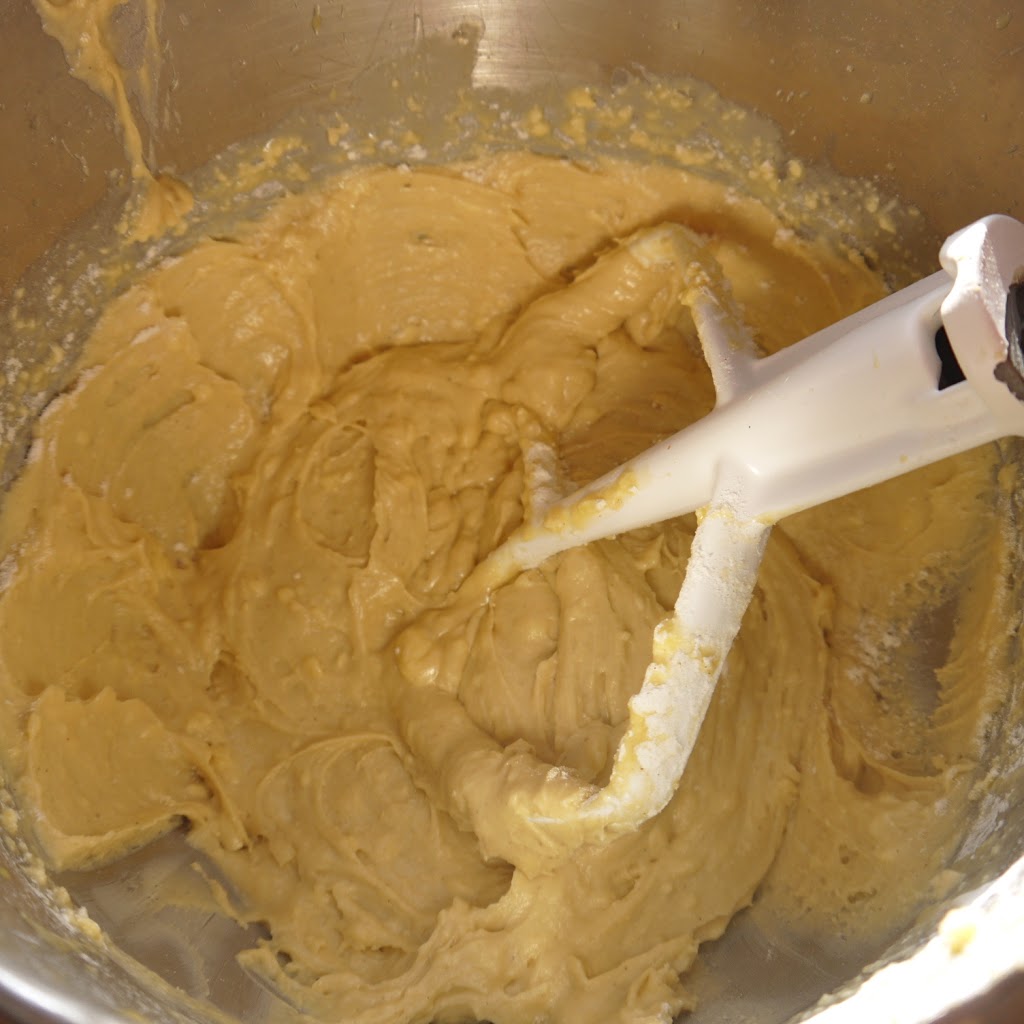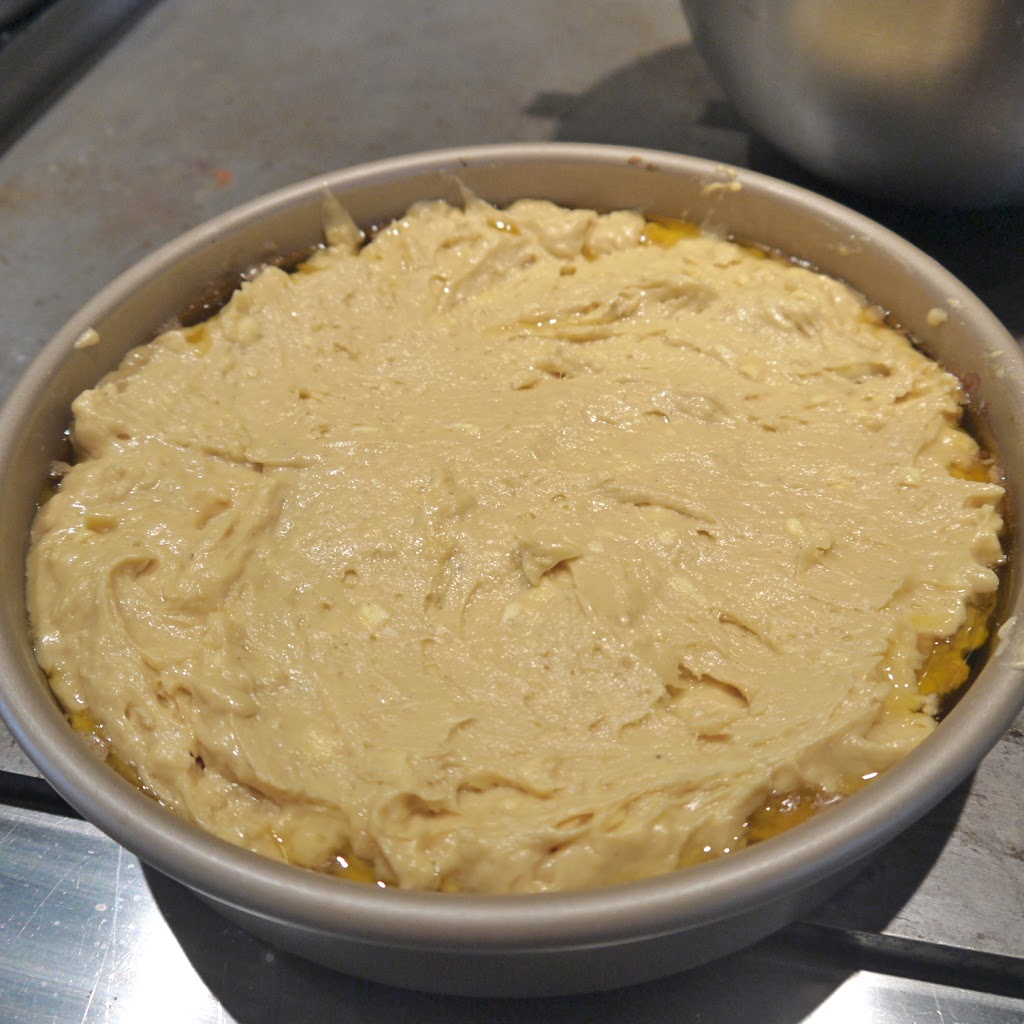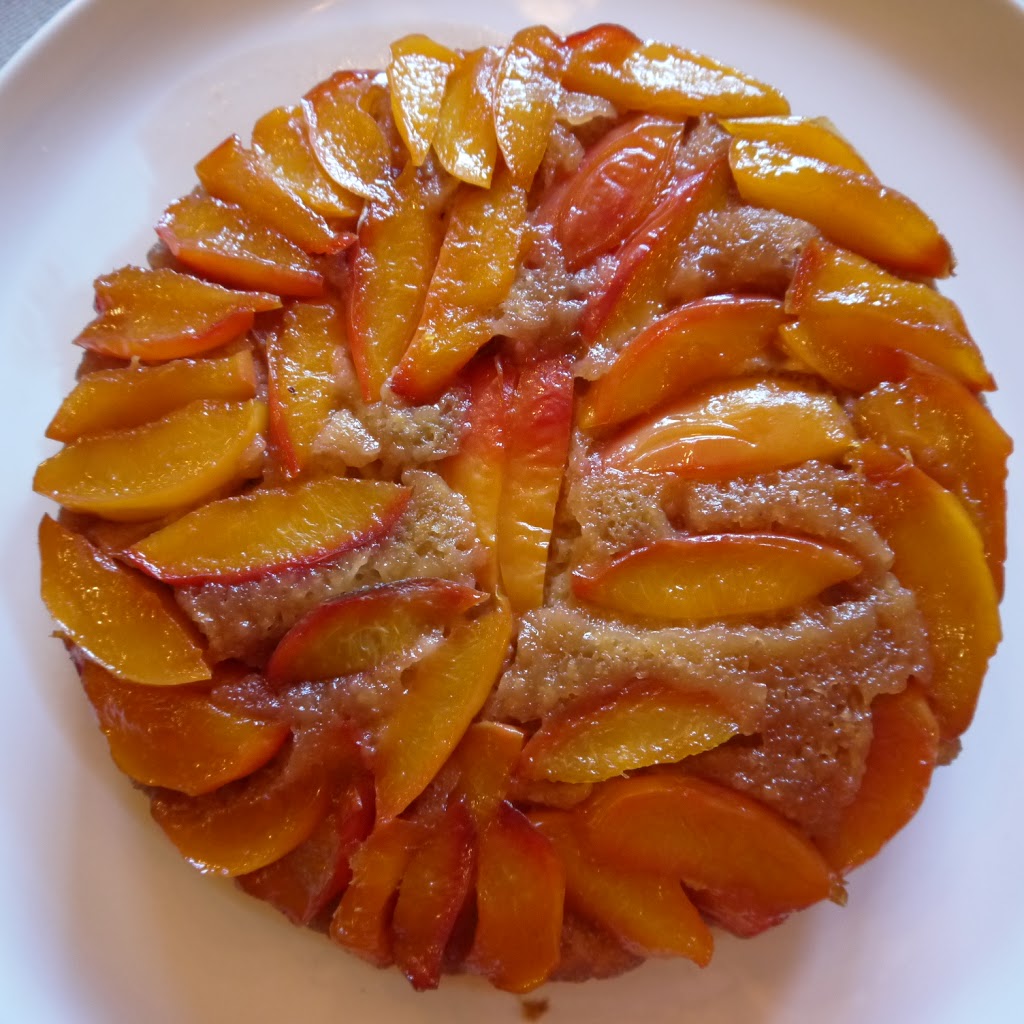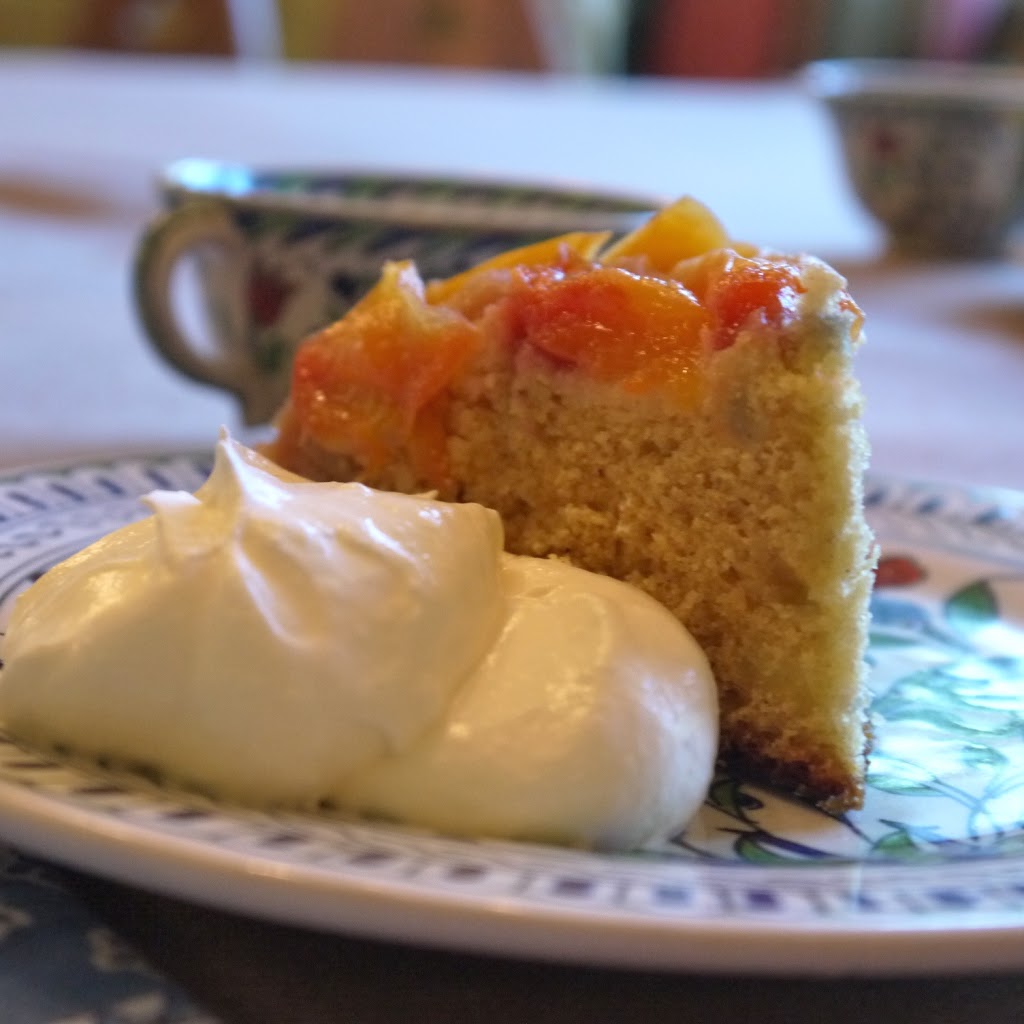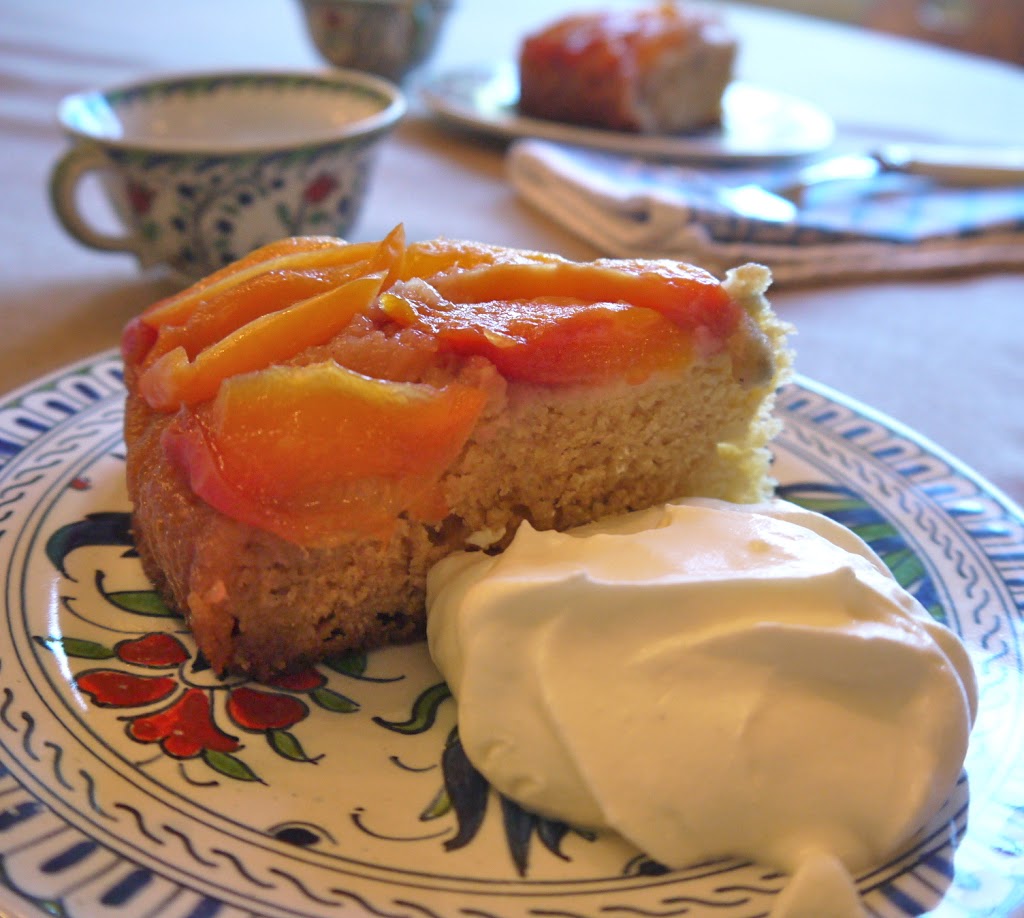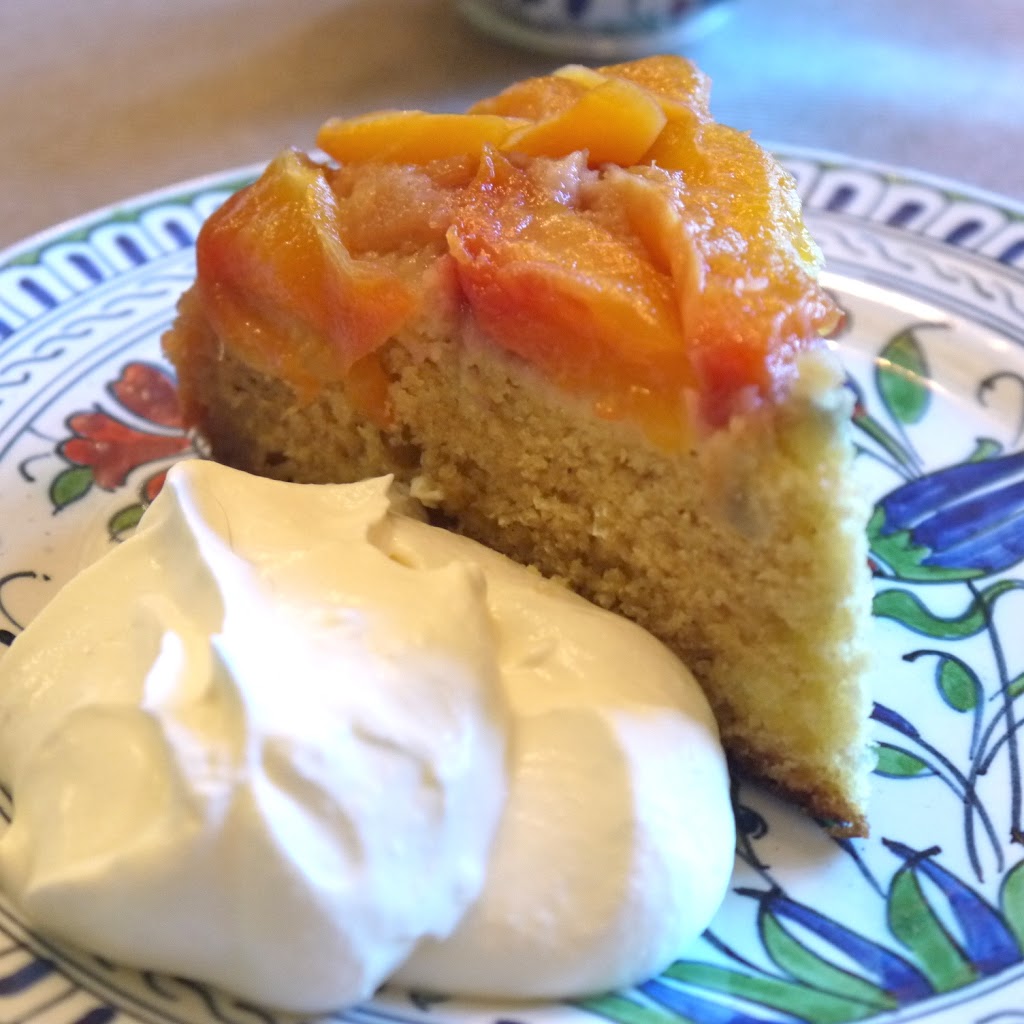 If you are fortunate enough to have leftovers, I promise you this cake is even better the second day. Like a poundcake the flavors become more complex with time. I have made this dessert with just about every fruit, and I really can't pick a favorite.
The Greek Yogurt Crema adds a wonderful tang and cuts through the richness of this yummy dessert. Don't over-whip!!!
An added bonus, I convinced myself that I was really just having yogurt and fruit for breakfast.
Many thanks to my mom, a former pastry chef, for creating this recipe. This has become a staple in my slowly expanding repertoire of desserts.