I took a few months off from blogging in order to finish my dissertation and enjoy the final few months abroad. While traveling I was busy with my camera, but not busy with my writing! In the coming weeks I will post some of my adventures from this past Spring. I hope you enjoy!

Two of my old boarding school girlfriends were celebrating their completion of college with a trip to Portugal and Corsica. I think Abby and Sylvia were having too much fun to end it all in Corsica and decided to visit Paris, one of our favorite stomping grounds together. Through the years we have seen Paris together as backpackers, as college students and now as Post-grads.
No need for convincing, my girlfriend Averell and I threw caution to the wind, and within an hour our train tickets and hotel were booked and the next morning we were off from St Pancras Station, London to Paris Garde du Nord!
Our Eurostar arrived a few hours later, jumped on the metro and arrived at Hotel Aviatic in the 6th which we chose for its location next to Abby's apartment. The hotel was very charming- our room was decorated in a quintessentially French style, toile wallpaper, Louis Louis furniture and petite! We enjoyed early evening complimentary wine at the hotel's lounge which felt like an intimate living room. They do a nice job combining modern and traditional aesthetic.
There was no time to unpack as French onion soup and a glass of wine were calling our names! We stopped at a cafe around the corner from our hotel and devoured a fresh crispy baguette with our cheesy onion soup. The wine wasn't bad either! One of my favorite things about Paris is that you are always a few meters away from your next best meal. The little round the corner cafe can be just as delicious as the fancypants restaurants (although those are fun too!). Paris is also famous for its great tasting wine and I made sure that I sampled lots of it whilst on this trip! We were going to book a Paris wine tasting workshop but unfortunately we didn't have time! It's definitely something I'd consider next time I'm visiting though.
After lunch we got lost in Paris. We walked along the Seine for what seemed like miles in an attempt to rid ourselves of some of the calories from lunch. However, being that we were in Paris, we were on the lookout for a great boulangerie. This was not a very difficult task. In fact, narrowing down which pastries to buy proved far more difficult… so once again we threw caution to the wind and ordered eclaires, almond croissant, strawberry and raspberry pastries and macarons! Heaven! We made our way to the Eiffel Tower where we devoured every last morsel.
There is never enough time to get hungry in Paris. Before we knew it we were headed to Brasserie Lipp on Boulevard Saint Germain for dinner. Steak Frites was next to cross off my list and boy was it gooood! The atmosphere is wonderful and the location is superb to wander around after dinner. In fact we didn't wander far, as we made our way across the street to Cafe de Fleur.
Cafe de Fleur is filled with history and is one of my favorite people watching cafe's (similar to Cafe deux Magots). It can be pricey for basic French food but worth going for the experience. We opted for Wine and Desserts (again).
We then headed to Prescription which is reminiscent of a Speakeasy and boasts a new menu of cocktails each night. They were outrageously good!
Abby, me, Sylvia & Averell! Promise we didn't coordinate our outfits!
Paris tends to come alive after dark and there is a whole host of bars and clubs, depending on what you fancy. Heck, there are even escorts (apparently you can find them on the paris escortdirectory.com) if you are really going all out. We stumbled across a few different cocktail bars which were ample enough for us. After our night of catching up and gossiping until the wee hours, we decided to capitalize on the rainy Paris weather and shop. We spent the morning wandering through Bon Marche, one of Paris' oldest and most famous department stores, established in 1838. Beautiful lingerie, perfumes and well curated clothing and accessories. Not too overwhelming either!
I fell in love with this Red Valentino Sheer Pink Raincoat with tortoise buttons. Isn't she to die for?! Fingers crossed for a sale!


It was then time to indulge in my favorite hot chocolate in the world – Angelina's. The thick, rich hot chocolate is served in a pitcher with perfectly fluffy whipped cream. I feel like a little girl every time I am there. Give the food a miss, but the pastries are worth it.
After Angelina's we hit the museums and galleries. One of my favorite smaller museum is Jacquemart-Andre which my dad took me to when I was a little girl. The JA museum always gives me a nostalgic feeling when I visit as I think of him and my first trip to Paris. If you are overwhelmed by the likes of the Louvre, I recommend the home-converted-museum of Jacquemart-Andre, or L'orangerie for Monet's water lilies and Musee D'Orsay for Impressionists.
It was then onto another night out together! We went to one of Abby's favorite streets for bars from her time abroad in Paris, called Rue Princesse. It was filled with all 20-something Parisians and a few visitors like us. We started out at Little Temple and made our way around to the other bars.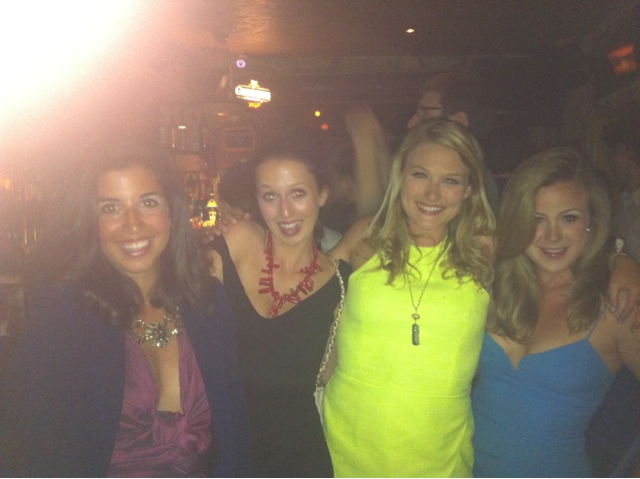 Me (far left) and the girls!
I couldn't be happier seeing old friends and new ones meeting. Tomorrow onto more site-seeing and eating!